How to start your Essential Oil Blog TODAY with 5 easy steps
I'm about to get real and down to the facts about how to start an Essential Oil Blog. My hope is that I make it super simple to understand so you will learn exactly how to start an Essential Oil Blog.  There are hundreds if not thousands of Essential Oil blogs out there, now wait don't run away just yet. I didn't say that to scare you off. I am pointing it out because it's
AWESOME
Do you want to know why it is awesome? Because it proves the growing popularity of Essential Oil blogs! What is wonderful is that there is the only one you and you will blog completely different and have a different style and voice from everyone of those other Essential Oil blogs.
This Niche of blogging is growing in popularity and you have the chance to be hugely successful at it especially if you have one thing.
Passion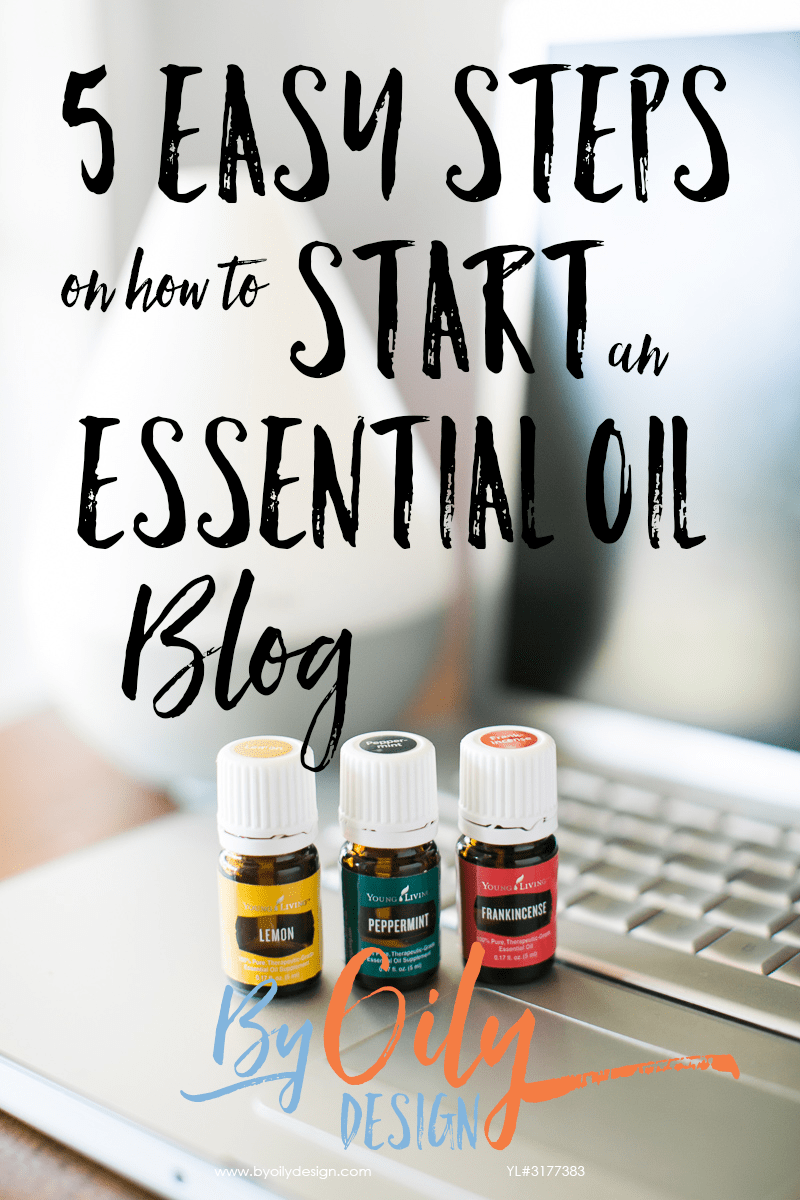 1-Passion is the first step in how to start an Essential Oil Blog
Passion and not expertise is the first step on how to start an essential oil blog.
I am not an Essential Oil expert and I doubt I ever will be. Yep, I said it, I am NOT an Expert.
What I do on my blog is share my passion for oils and how I use them. So many times I get told the excuse, I can't share about Essential Oils because I don't know everything about Essential Oils. Can I share a secret with you? I had my kit all of a couple of months before I decided to jump into the Essential Oil business and create a blog.  Mom's like us don't want an expert they want the real life and what works. I'm making money sharing my love and passion for Essential Oils not for showing off my expertise. So Passion is the first step.
Your passion can be for Essential Oils, for family wellness, for a clean non-toxic living, for cooking, for gardening, lifestyle, making money, beauty or just about anything. Really the list of possible blog topics goes on forever it's up to you to figure out what you are passionate about. And I want to stress your blog doesn't have to be just a blog only about Essential Oils. Feel free to mix it up a little.
My Passion is a mix of wanting family wellness using Essential Oils, fun DIY and showing others how to make money with an essential oil blog and business. By the way, NOTHING is more freeing than having a healthy family from using essential oils, getting your oils paid for, having money to pay bills and extra left over to have fun. All made from creating an Essential Oil Blog and working the Essential Oil Business.
*To sell Essential Oils with Young Living, you will first need a wholesale membership that you get with the purchase of a Premium Starter Kit. To get your kit and be a part of my growing team get your kit here. I offer free coaching by me to each of my business builders and assist them with their blogging questions. If you want to work hard and succeed I'm here to help in any way I can.
To get started in the Essential Oil business get your Premium Starter Kit here with me as your enroller. I'm so excited to have you join my team!
Curious about how much you can possibly make blogging about Essential Oils? Check out the below Young Living Income Disclosure Statement.
What Rank would be a game changer for you?
I've known business builders who hit the rank of Silver in just a few months. It all is based on your passion and willingness to hustle.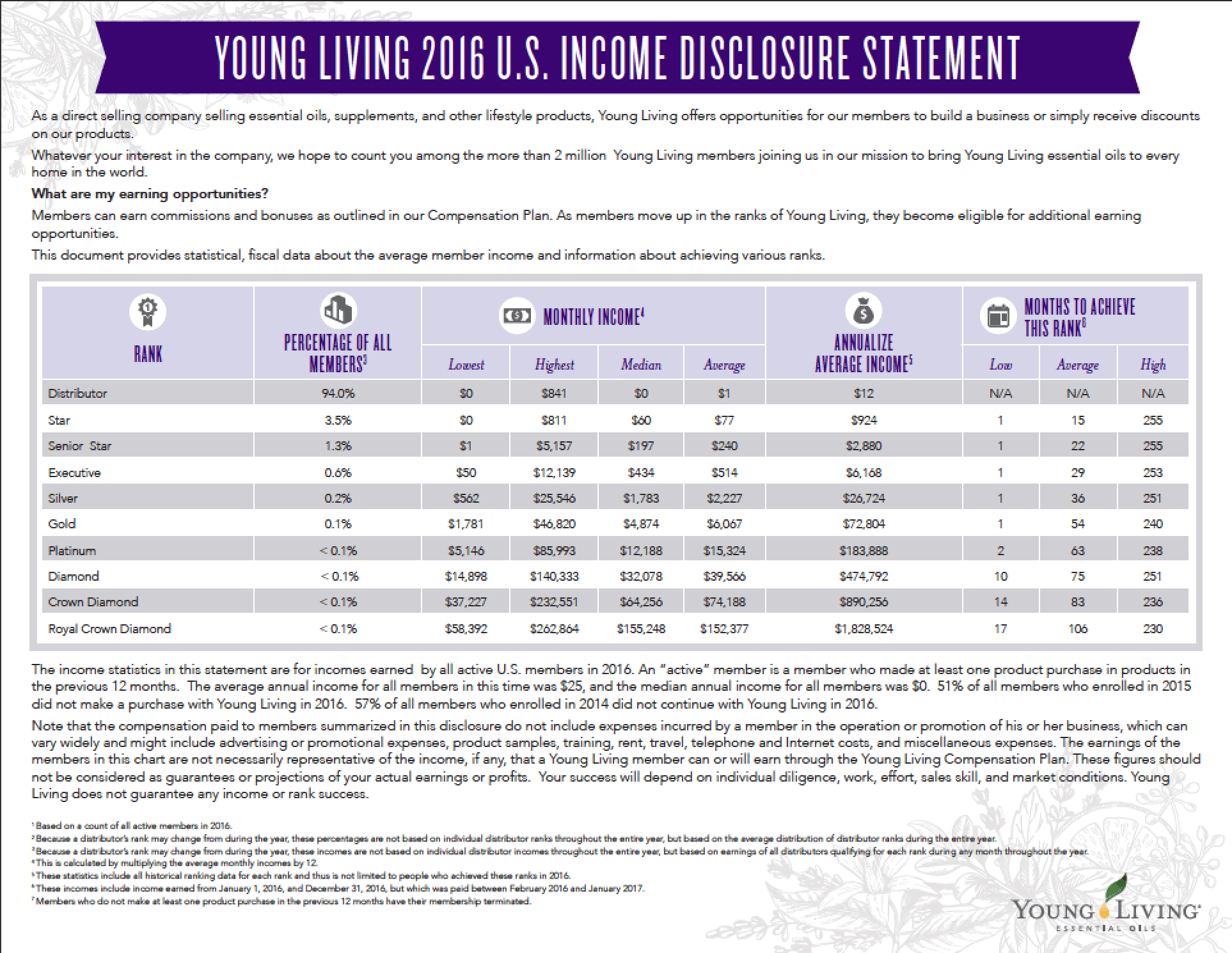 2- Getting your URL & Hosting
So you've got passion and know what will be the focus of your new Essential Oil blog. The next step is creating an Essential Oil blog name, selecting a URL and Signing up for web hosting.
Essential Oil Blog Names
Your Essential Oil Blog name and URL is where some people tend to worry and stress way too much about. Don't let this be a stumbling block. My suggestion is to not get too fancy or trendy. I personally made a list of about 20 – 30 different essential oil blog names and surfed the web and social media to see what was taken and what was available.
Another key to selecting an Essential Oil blog name is setting a timeframe to get this part completed. That way you avoid not making a decision and never getting your amazing future blog started.
Logos
From the possible Essential Oil blog names that were available I created a couple of mock-up logos. I personally used Photoshop to design mine but there are free sources like Canva and Adobe Spark to create them in. I think the easiest type of logo start out with is just a logo that is a nice font of the blog name your using. I know most graphic designers would shoot me for calling a name with a pretty font attached to it a logo. But we are trying to keep it simple at the start. You can invest in a graphic designer creating for you a real logo later.
If you are using Photoshop you can get some great Graphics and Fonts for your blog's branding from Creative Market. It's where I purchased the font for By Oily Designs Branding. If you upgrade to the paid version of Canva you can import your purchased fonts and use them. Further down in this blog post I have several great Fonts that would look amazing for an essential oil blog.
I'm a very visual person and doing this step of designing a couple of different logos really helped me make a final decision on the direction and style of my Essential Oil Blog and branding.
URL and Hosting
Once you have chosen your Essential Oil blog name and URL hold onto it and don't buy the URL yet. I'm going to show you how to get it free! No sense in spending money if you don't have to right?
Hosting is next on your task list. I've used Ipower for my photography business web hosting since 2005 and can't imagine using anyone else. Plus they have excellent customer service. Their live chat is pretty fast at helping and fixing things I manage to mess up.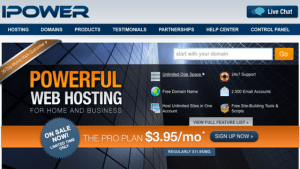 I have step by step instructions on how to purchase your web hosting and setting up your Free URL here. I promise it is so easy! It should take you about 30 mins or less. Plus the cost of your first year's web hosting is super economical compared to other hosting out there. 
Once you are done with purchasing your hosting from Ipower come back here. There are several more important steps you don't want to miss out on how to start an essential oil blog.
Think you might like extra help in figuring out this whole blogging thing.
Join my FREE 5 Day- Blogging To Grow Your MLM business course.
The 5 Day- Blogging To Grow Your MLM business course is packed full of action steps to get you blogging and building your business in just a few days. You can check out the course curriculum here- clicking on this link or you can sign up below
3- Selecting A Blog Theme
In the setup of your hosting and URL, I took you thru the installation of WordPress. WordPress is a web system that allows you to manage content, pages, media and the overall look of your blog. The look of WordPress straight out of the box is pretty boring and plain. Bloggers use what is called a Theme to give their site style and a unique look.
With the installation of WordPress, you are given a few free options for blog themes. To be honest, they are not very pretty for the most part. But if budget is important you can make one of the free themes work. Here is a sample of a standard wordpress free theme.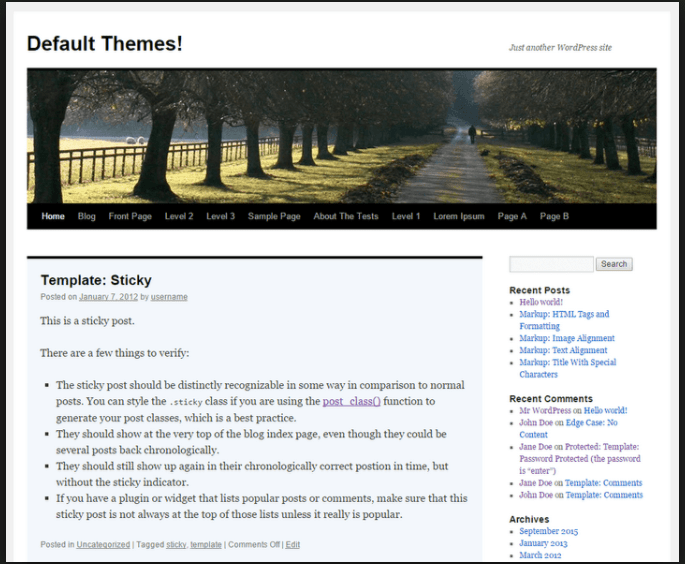 Or if you are like me, you want to purchase a theme that has style, looks amazing and professional like this one.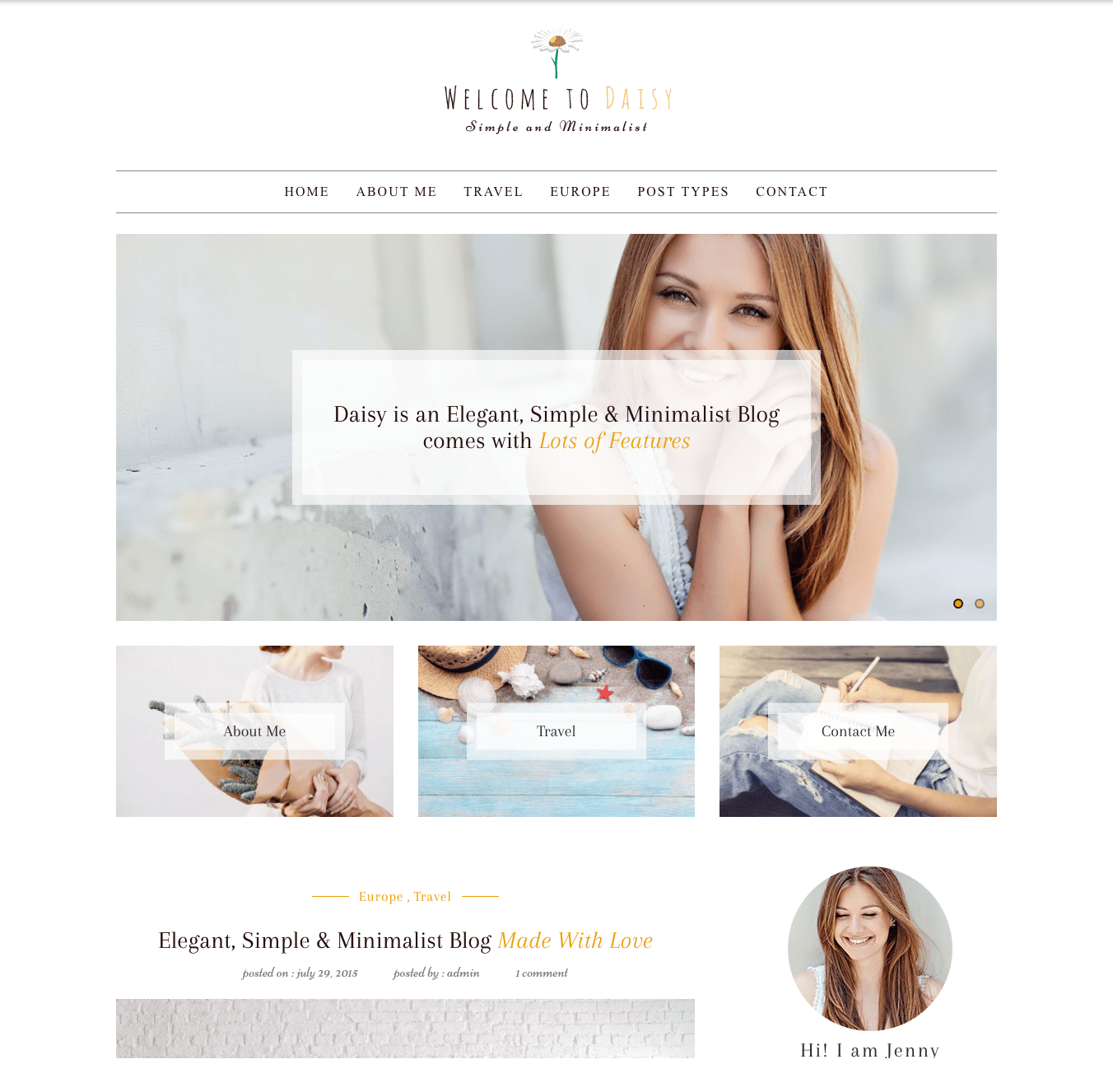 Most themes run about $20-$70 dollars. I strongly suggest making sure the theme is mobile responsive. Most people are using their phones for surfing the internet so you want to make sure your theme looks great on a phone and being mobile responsive is a must. 
My favorite place to purchase themes is
Mojomarketplace plus they are easy to install from the Ipower control panel. If you're worried about installation they can even install the theme for you. Here are a few of my favorite themes that would be amazing for an essential oil blog.
Once you purchase a theme you will install it to your blog and begin the actual setup of what people will see.
You install the theme by logging into your blog's WordPress dashboard then follow the basic steps below-
In your WordPress dashboard, go to Appearance > Themes > Add New.

From there you'll see an option for "Upload" at the top of the screen. Click the "Browse" button, navigate your computer files and select the .ZIP file for your downloaded extension.
I know the above can be scary for new bloggers, so for all my new business builders who want to start a blog, I am happy to help them by personally working them thru the above steps.
4- Branding your Essential Oil Blog
A consistent look is key, in your target market recognizing your blog and wanting to come back over and over.
You will want to select about 3-4 main colors you will use with your site. Pinterest is a great place for researching website palette colors. Again I'm super visual and seeing branding boards and images really help me.
My colors are Orange, Blue, white and a black gray
You will also want to pick two fonts that you stick with for everything. For By Oily Design, all text on the blog is Open Sans and then I picked a font family from Creative Market for all my stylized work.
Check out these great fonts to consider for your essential oil blog.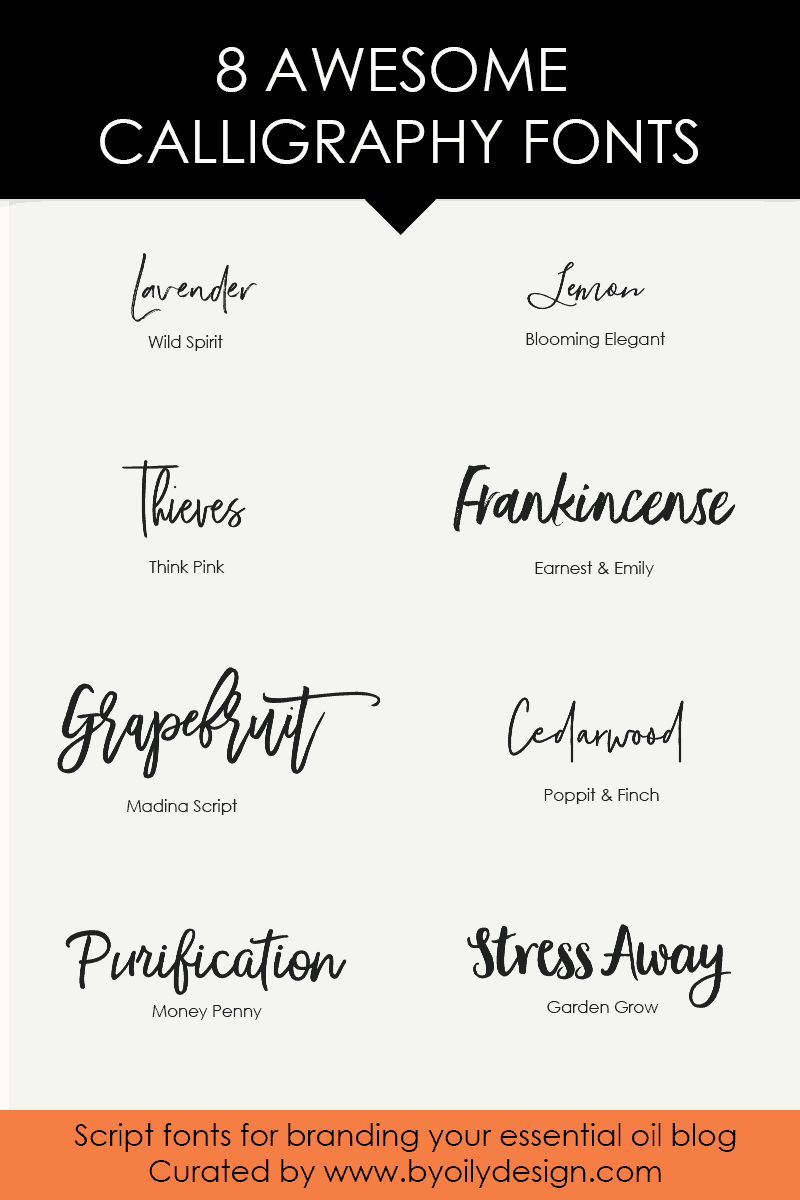 Wild Spirit  ||  Blooming Elegant
Madina Script  ||  Poppit & Finch
Yes, these are all paid fonts. I know there are lots of great free options out there but I have found that when I purchase my fonts it really sets my branding apart from others. I still download free fonts but for the main branding, I use fonts I purchase. If you do decide to use free fonts, check the license. Many only allow for personal use which using it for your essential oil blog would be considered business.
Check out my 5 Day- Blogging To Grow Your MLM business course.
The 5 Day- Blogging To Grow Your MLM business course is packed full of action steps to get you blogging and building your business in just a few days. You can check out the course curriculum here- clicking on this link or you can sign up below
4- Before you go live on your Essential Oil Blog a little setup is in order
Setting up how your site will layout.
You really want to put some thought into this. Organizing your site from day one will be so helpful as your blog grows. Trust me. I just spent days reorganizing my essential Oil blog in preparation of changing themes.
By this time you should have narrow down your focus area. From your focus, create Categories for your post to fit into.
By Oily Design's Categories are- Diffusing, Rollerballs, Beauty, DIY & Cleaning, Business, Usage & safety, Lifestyle.
Some examples of categories depending on your blog's focus or niche could be-
Cooking
Gardening
Homemaking
Homeschooling
Health
Animals
Kids
Organization
Life
DIY
Parenting
Exercising/ workouts
As you write post and pages you will label each with one of these categories. It allows for organization of your site and for easier searchability for your user.
Once you have your categories you can design your menu options. I suggest keeping your main menu to no more than 9 options.
Create your About Me page
People want to know who is sharing all this amazing information on this new essential oil blog they have found. Your about page should give them a glimpse into your life and who you are.
A good About page should answer the following questions:
Who Am I?

What is this Blog About?

What you should expect to see on this Blog & what goals you have for the blog
I suggest including a short testimonial on this page about how you use oils in your life. Just remember to remain FDA compliant as you tell your story.
Create a disclaimer page and a disclosure policy
A disclaimer page is where you state that the information you share and create on your essential oil blog is not meant to diagnose, treat, cure, or prevent any disease. You will be sharing about the essential oil company you are now a distributor for and it's best to announce this.
I put a short one sentence disclaimer on each of my essential oil posts and also link to my disclaimer page on each post I make that has anything to do with Essential Oils. You can check my disclaimer out here. Feel free to use my wording. 
A disclosure policy is required on all websites that take part in affiliate marketing. If you plan on linking to your Essential oil company, Amazon or other affiliates you will need this policy as required by the FTC. The disclaimer needs to always be placed near the beginning of your post so that your viewers are informed about the affiliate marketing.
You can create your own Disclosure policy here for free-
Set up your Purchase A Premium Starter Kit page
When you purchase your premium starter kit from Young Living your wholesale sign up automatically sets you up as a distributor. All you have to do is log into your Virtual Office and copy your free personal sign up link and attach it to your page.
You can find your sign up link here- https://www.youngliving.com/vo/#/link-builder
I've seen various ways to set up a purchase page and I think there is no one right way to do it. I'm still revamping mine all the time to test to see what is working and what is not.
My suggestion is to think about what information you feel you would need to make an educated purchase. Then create your Purchase a Premium Starter Kit page to speak to you and your audience. If you wouldn't buy from your page, neither will your audience.
Some items you definitely want to consider including on your purchase page.
A photo of the premium starter kit
Details on the 11 oils included in the kit and kit extras
Information on the Diffuser options
Instructions on how to order
Explanation detailing the difference between a wholesale member and a retail member
One last step before going live
Now comes the real work. Writing.
5. Writing and Going Live
Before I went live on my blog I created 6 posts and had them ready so that when I hit the live button on my blog I would have more than just one post for readers to check out.
I then made it a goal to add at least 1-4 post a month. I will be honest. In the beginning, I was able to write and produce like no one's business. But then life got busy and there were a few months I didn't write at all. I'm so glad I had already created a library of work in the beginning.
One extremely important factor you MUST pay attention to if you are blogging about Essential Oils and selling them as a business with Young Living. Each Post and Marketing Material must remain FDA compliant.
I personally now find this simple to do, while others struggle with it. But learn from my mistake. I thought I knew what being complaint was but I found out I wasn't as compliant as I thought.  I ended up almost losing my Young Living business right in the beginning. Thankfully Young Living was super helpful and got me on the straight and narrow. So now everything is good because I work to make sure my post, comments and marketing material all stay FDA compliant.
How do you know what is compliant?
Young Living supplies a list of hot words that should not be used in marketing essential oils. This list can be found in your Young Living Virtual Office. For my business builders, I have a starting the business short course to help educate you on compliance and all things business related. I love supplying my business builders with tools for success.
Lastly, One of the biggest questions I get asked is –
How do you know what to write for your essential oil blog?
The easiest way to know what to write about is to write about how you are using Essential Oils right now.
Your own personal use will help you come up with blog posts. I personally use or test every Essential Oil DIY recipe before I post about it. It's my love of the Essential Oils that keeps me writing about them. Young Living sells over 400 products so even if you wrote a blog post every single day in a year you wouldn't run out of products to share about.
Starting a new business can be scary.
But what I love about the Essential Oil business is that the biggest investment you make is your time and effort. The only requirements for "doing the business" is purchasing your premium starter kit which makes you a distributor and then purchasing 100PV per month to make a commission.
How you market your business is up to you.
I love having an Essential Oil blog because my audience reach is not just limited to my friends, family, and people in my town or on my Facebook list. My reach is worldwide. As of this post I have had one of my post shared over 85,000 times! With several other posts being shared on social media each with over 24K shares.
Who wants to join me in creating an amazing network of Essential Oil blogs? I'd love for you to be apart of my team! Just leave me a comment below and I will be in tounch.
Check out my 5 Day- Blogging To Grow Your MLM business course.
The 5 Day- Blogging To Grow Your MLM business course is packed full of action steps to get you blogging and building your business in just a few days. You can check out the course curriculum here- clicking on this link or you can sign up below