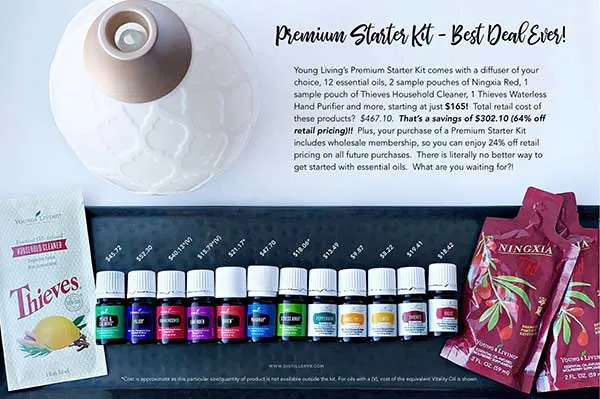 Get the Essential Oils you want
Learn how to use Essential Oils with the Education you need
Become a Confident Essential Oil User
Click on the Buy now button to order your premium starter kit from Young Living. Clicking on the button prepopulates the enroller/sponsor buttons so that my number #3177383 is entered and that means I get to take care of you and teach you all I know about Young Living Essential Oils.
Need more info before Ordering Young Living Essential Oils?
No worries, I have you covered. I remember back when I first started thinking about dipping my toe into essential oils.
All the information at there was so confusing. I just wanted it simple and easy to understand.
And that is my mission with you.
To explain all this oil buying business in simple ways so you can make the best decision for you.
Now let's get started….
Making Essential Oils Easy!
So maybe you have heard your friends talking about Essential Oils or you have seen them on Pinterest. You are thinking,
"I want to check this Essential Oil thing out."
Discover how BY OILY DESIGN has helped others just like you, Become the oily hero of their family!
DO ANY OF THESE SOUND FAMILIAR?
Overwhelmed and confused by all the different essential oil options out there. So you're stuck wondering "What's the difference and why is it so complicated to figure out?" You have absolutely no idea how to start or who to buy essential oils from!
Stuck feeling like your family's wellness just isn't as good as it could be. Like if your kid rubs their nose on your shirt one more time you are scared you just might lose it.
Struggling with your confidence in creating a detoxed home, wishing you could make your home clean without all the harmful chemicals, but honestly you don't have time for researching and figuring all that stuff out.
Oh, let me share with you that you are in the right place!
What if I told you I can make essential oils easy to learn and it can be done at your own speed.
I'm here to help get you started using and loving essential oils.
When you sign up to become a Young Living Member with me as your enroller, I will make getting started in oils easy and stress-free for you!
No complicated stuff, just fun, and easy learning headed your way. I can't wait to share all the many essential oil uses out there!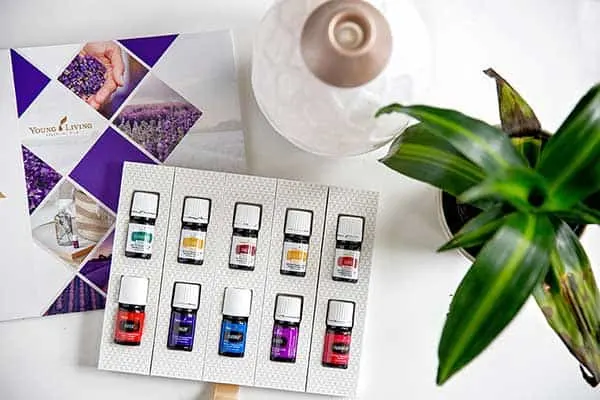 WHAT ARE ESSENTIAL OILS?
Essential Oils are liquids created from the breakdown of plants, usually thru a process called distillation.
Essential Oils have the smell and therapeutic values from the plant they are created from.
When you smell a whole orange as you bite into it, that is the smell that you get when you smell Orange essential oil made from the rind of an orange.
Want to know more about essential oils? Well, you are in the right place. If you are ready to order you can get started right now!
WHY I GOT STARTED WITH ESSENTIAL OILS
I remember thinking there was no way essential oils worked.
I actually bought my first kit because I was tired of my house smelling like a pickle.
I had just had my first kid and I wanted a cleaner, less toxic home for her. I was using vinegar to clean but wasn't in love with the pickle smell and thought maybe I could mask it by diffusing a few oils.
Once I made that first investment in a premium starter kit I wanted to prove to my husband I hadn't just wasted my money so I started creating all sorts of fun DIY cleaning products and beauty products.
My house was smelling and looking so clean and I was saving money on cleaning products but, what convinced me about the awesomeness of oils was when I made a face serum.
In a few short days, the skin serum that I made with oils from my starter kit made my skin glow. Family members and friends were asking me what was so different about me.
I realized then, WOW, these essential oils can be used for tons of cool stuff! and I started sharing my oily love.
WHY YOUNG LIVING OILS?
For me it was all about answering the questions:
Where are the essential oils created?
Where are the plants grown?
How will I ever know if they are of good quality?
Honestly, these questions really worried me, because if I was going to begin using these essential oils to support my family's health and wellness then I wanted to make sure they were the best.
I have a degree in Agriculture from Clemson University.
I know that species of plant, soil, and climate are all important factors in the quality of a plant.
I also know from years working in Quality Assurance that how something is processed and handled before packaging makes a huge difference in the end product.
With Young Living's Seed to Seal Guarantee, these fears were removed.
WHAT IS YOUNG LIVING'S SEED TO SEAL GUARANTEE?
It's Young Living's personal guarantee that the oils you receive from their company are the highest of quality essential oils, exactly the way nature intended.
They control their process from the seed, harvest, distillation, bottling and delivery to you.
This video takes about 3.5 minutes, It's so worth the watch as you hear about the progress Young Living is making and the empact globally not just on plants but also on families around the world.
The Seed to Seal Guarantee gives me peace of mind that what I'm using in my home is safe and the best option for my family.
YOUNG LIVING HAS BEEN 25+YRS IN BUSINESS
This year marks Young Living's 25th year in the Essential Oil business.
Today, Young Living farms and community span the globe. As the world leader in essential oils, their vision is to bring Essential Oils into every home.
I like knowing I'm using a company that is here to stay.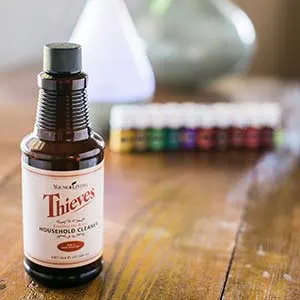 YOUNG LIVING IS MORE THAN JUST OILS
Did you know that Young Living has over 200 single oils & oil blends?
In truth, they have over 400 products to support wellness!
From supplements, skin care, personal care, natural home cleaning, and the list goes on. Young Living is your partner in the pursuit of surrounding you and your family in a lifestyle of all things healthy, natural, and non-toxic.
My favorite products are the kids' line toothpaste, shampoo and body wash. My girls won't use anything else. And I have peace of mind that the products we are using are non-toxic and safe for my family.
I also love their Thieves household cleaner, clothes washing liquid and I now get all my supplements and vitamins from Young Living.
It's nice not having to go to Target and Walmart and stand in line to get all the things we need each month. I just get them delivered to my door from Young Living and in the process, I'm saving time and money.
HOW TO SAVE MORE MONEY- ESSENTIAL REWARDS
Just because you get a kit from YL does NOT mean you have to sign up for Young Living's monthly box program called Essential Rewards.
Seriously, If all you want is the starter kit and diffuser and never to order again that is okay.
But if you find you love oils and like to save money YL's Essential Rewards (ER) Program may be the answer for you!
Make sure you're never without your must-have Young Living products!
ER is an optional build your own box, monthly program that delivers your favorite products hassle-free to your door. You can hop on and off ER as you need, no penalties.
I will be 100% honest, I was scared to death to sign up for Essential Rewards (ER) at first. I was so scared I'd get locked into to some monthly subscription that I couldn't get out of.
But that is NOT the case. I could stop my ER membership tomorrow, But I won't because….
I have saved tons of money on my oils and non-toxic home and personal care products. (ER members can get 10-25% back in points on orders, way better than any credit card rewards program) plus I get free oils with my qualifying purchases.
Hands down I like saving money and ER lets me do that! (you can even now make the purchase of your Premium Starter Kit your first Essential Rewards order.)
Check out this video where I show you how to sign up for your premium starter kit as your first ER order, get 10% back in reward points and you will receive a bonus extra oil from Young Living! – (have questions? feel free to email me and we can chat)
GET YOUR OILS PAID FOR
Once you get a Premium Starter Kit, if you decided you love oils & love sharing about them, you have the option to get your Oils paid for.
This is only if you want too, there is NEVER a requirement to sell.
Did you know Young Living will send you a thank you check for sharing your sign up link with family and friends and you enrolling/sponsoring them to get their own kit?
Yes! You can actually get your Premium Starter Kit Paid for if you get 4 friends/family to get their kit in the same month you get yours!
Once you sign up with me, I will send you your link and show you how you can get your kit paid for.
And if you find you really love your oils and can't stop sharing with friends and family, you can even create your own essential oil business!
I'm here to coach and guide you the whole way!
How your business looks and grows is totally up to you. YL's generous compensation plan gives you the power to take control of your future and build a business that will change your life forever. Check out the Young Living Income Disclosure Statement
It's pretty cool to think you can supplement or replace your income with a Young Living Business. If your interested in creating your own Essential Oil business send me an email and we can chat.
If you are ready to order you can get started right now!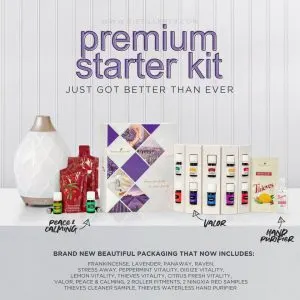 GETTING STARTED WITH OILS
So what do I think is the easiest way to try out essential oils?
I personally think it is by purchasing a YL Premium Starter Kit just like this one.
Why the Premium Starter Kit and not just a single oil or two?
Well for one, the starter kit is a collection of 12 of YL most popular oils. Plus it is priced for amazing savings.
Buying these oils and a diffuser at the retail price would cost you over $400!
but the Premium Starter Kit Cost $165!
That's almost 60% off retail. Talk about a great deal to get started.
Buying the premium starter kit also gets you signed up for a wholesale account with Young Living so any future orders made while you are a member you get at 24% off retail cost!
The oils selected for the kit are popular because of their many uses and how versatile they are. This collection gives you tons of options and opportunities to try out oils for all types of situations and needs.
You also get a choice of a diffuser when you purchase a Young Living Premium Starter Kit.
Why do you need a diffuser?
Using an essential oil diffuser is one of the easiest ways to use essential oils. This specialized diffuser puts just the right amount of essential oil in the air for the best experience and therapeutic effect. And your home will smell so amazing!
| | | |
| --- | --- | --- |
| | What's in the Young Living Premium Starter Kit? | |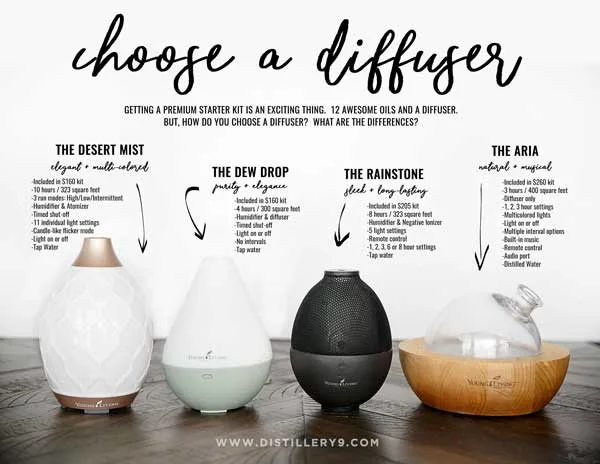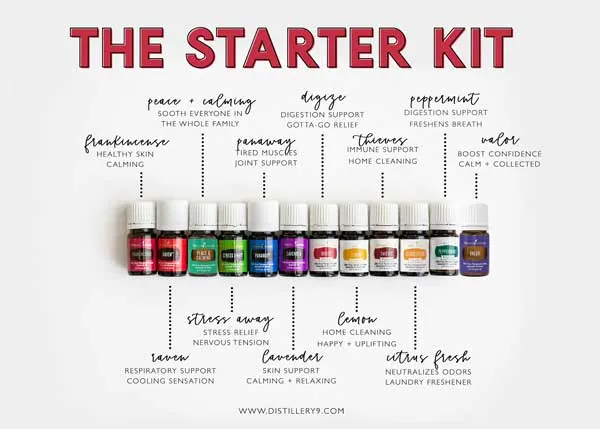 The Young Living Premium Starter Kit Includes:
12 (5 ml) bottles of essential oils: Citrus Fresh Vitality, DiGize Vitality, Frankincense, Lavender, Lemon Vitality, Peace & Calming, Peppermint Vitality, PanAway, Raven, Thieves and Valor. Plus a bonus bottle of the popular Stress Away blend.
Your choice between the desert mist diffuser or Dewdrop diffuser (or you can upgrade diffuser styles for an additional fee) (my favorite is the Desert mist)
Two Aroma Glide roller fitments (to turn any oil into a roll-on)
A sample packet of Thieves Household Cleaner – which can easily make 2-3 bottles (use just 1-2 tbsp in a large spray bottle and add water to dilute). It cleans amazing and I love how natural and safe a cleaner it is.
A Thieves Hand Purifier – use on the go to keep hands clean.
Two NingXia Red 2 oz samples (an antioxidant drink concentrate that's a great supplement for supporting health and wellbeing)
Want an insider tip?
I tell all my friends to get the Desert Mist Diffuser.
Why? Because it is super pretty and the functions for this diffuser are amazing. Check out this quick video on my favorite diffuser.
I also have the Dewdrop which is a great diffuser for the premium starter kit (PSK) You can't go wrong with it. The Young Living Dewdrop diffuser is easy to use and simple to maintain.
Here's a breakdown of the bonus items you get when you enroll with me and buy a YL Premium Starter Kit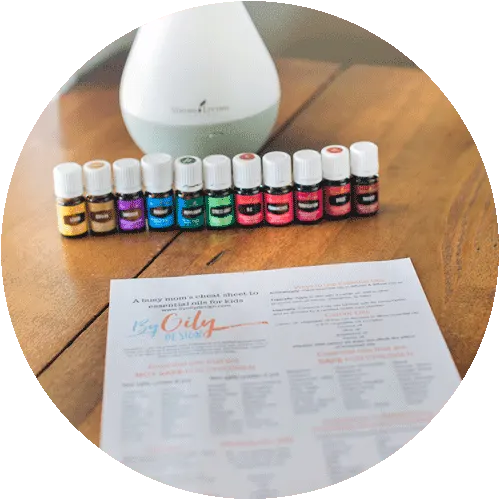 I'm ready to meet you at your comfort level for oils. I'm here to help guide you to the knowledge you need to create your very own way of using essential oils in your life.
I've created an easy and quick email course to help you get started with your oils.
What you'll learn in the BY OILY EDUCATION online Classroom…
>>We will unbox your kit and show you how to get started with it.
>> The three ways to use oils- Diffuse, Topical and Ingestion.
>> How to develop a Personal Wellness Plan using Essential Oils
>> How to safely use oils on your family.
>> Access to download my Essential Oil Recipe Ebook with over 100 essential oil recipes
Plus get access to all upcoming Free Essential Oil Classes I host.
BONUS TWO: YOUR CHOICE OF-
A JUMP START KIT
OR
a $20 PRODUCT CREDIT WITH YOUNG LIVING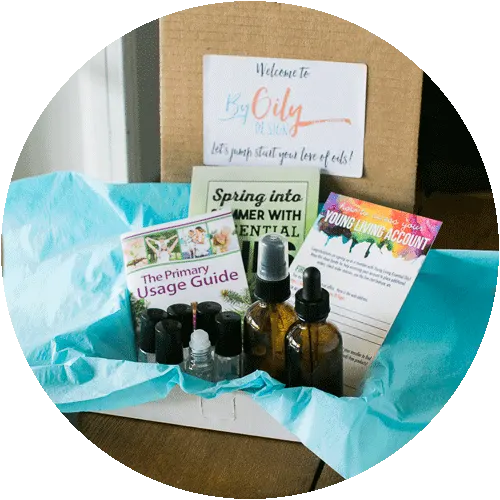 Jump Start Kit
You have purchased an amazing box of oils. Now what you need are the tools to put those awesome oils to good use. This is where the Jump Start Box comes in! I'm going to send you a box full of my favorite essential oil tools so you can get to using your premium starter kit as soon as it arrives!
What you'll receive…
>> Set of Roller Bottles
>> Dropper and Spray Bottles
>> Gel capsules
>> Pocket Reference guide on how to use your oils
>> Diffuser recipes and Roller bottle recipe guides
or
$20 product credit
you can choose to have a $20 product credit that is applied to your Young Living Account for future purchases.
*The jump box is only eligible for US residents. If you are outside of the US and order the premium starter kit you will get a $20 Young Living product credit plus my e-book emailed to you (I cannot ship reference materials or other supplies).
** If you do not finalize your enrollment with a premium starter kit in the same month you start the enrollment process, you will not be eligible for the jump box or the $20 product credit.
BONUS THREE: ACCESS TO PRIVATE FB GROUP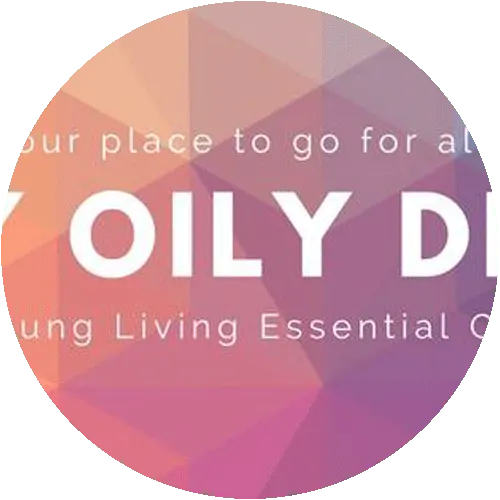 Enjoy membership to the private members only By Oily Design FB Community where we talk oils and you can ask questions to not just me but lots of other essential oil users.
What to expect…
>> Get the latest news in essential oils.
>> Get your essential oil questions answered by myself and other essential oil users
>> Hear testimonies of how others are using essential oils in their wellness.
>> Become a part of a great online community that is a safe place to talk oils.
BONUS: If you also enroll in Essential Rewards with an enrolling order of $200 PV or more, then you will also receive an essential oil reference App for FREE. Not sure how to do this? Just email me at byoilydesign@gmail.com and I'll show you how. You must email me to claim this bonus prize.
If your ready to order you can get started right now!
CHECK OUT THESE TESTIMONIALS
If you are like me, you want to hear from people who have purchased before making the leap. I get it and so do some of my members who wanted to share with you their experience with Getting started-
"These oils have transformed my life. Better sleep, fewer missed days of work and just having a natural solution to lean on in motherhood when life throws crazy things at you has been so nice. Ruth has been so helpful from the start with providing all the resources I needed and answering all my questions. Best investment I ever made for myself and my family!" Leanne G
"Ruth as an enroller is amazing. She makes even the newbies to oils feel welcome and is so willing to help and share her knowledge. I was a little overwhelmed with the idea of making my home chemical free but once I talked with Ruth and realized she had the same passion for safer and cleaner, I knew I wanted to start my oil journey with her guiding me. I am becoming more comfortable with using my oils and I know I can always ask her questions along the way." – Brandi M
"I have used YL essential oils for years, but it wasn't until following Ruth's blog that I felt like I had a handle on them! Ruth's approachable demeanor and expertise emboldened me to sign up not just for my starter kit. I haven't looked back! She's an amazing cheerleader and a wealth of knowledge. I'm so ready for the amazing future and a long relationship with Ruth."- Jessie M
"Ruth has been there for me every step of the way in my oily journey. When I got my PSK 2 years ago, she held my hand as I learned the basics. She eagerly and patiently answered questions like "What do you use Digize for? Because it doesn't smell so good in the diffuser." Now that I use oils for everything from stinky shoes to tangled hair, I continue to enjoy sharing recipes and ideas with Ruth and all my By Oily Design friends."-Meredith V.
"I tiptoed into Young Living hoping to find some oils and products that were safe and easy to use. When I came across Ruth's website she made it all seem so easy and very accessible, which is what I was looking for. I had ZERO intention of doing a full ditch and switch, but somehow that is exactly what has happened! All of the education and support of others in the oily world has made the process so easy and very enjoyable. I love learning how others and using their oils and getting ideas for my own use as well as sharing my own successes, or not so successful recipes." – Michelle C
READY TO GET STARTED?
In just a few simple steps you can be on your way to a healthier lifestyle using Essential Oils and with By Oily Design as your guide! Let's get you started with a Premium Starter Kit today.
Premium Starter Kit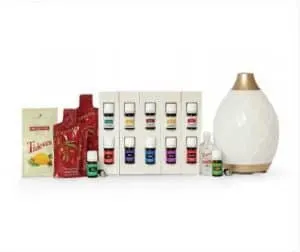 $165*
The YL wholesale membership enrolled with Ruth Rackley includes:
Premium Starter Kit from YL and Wholesale savings of 24% off oils
Jump Start Box or $20 product credit From By Oily Design
Oil Education from By Oily Design
Free membership to the By Oily Design FB Community
* price depends on diffuser selected, sales tax and shipping
Does signing up for a wholesale membership with Young Living lock me in with some monthly requirements?
No, When you purchase a Premium Starter Kit, that is it. You get a kit with some amazing oils and a wonderful diffuser.
If you decide never to use your wholesale membership and save 24% off your purchases that is totally up to you.
There are zero monthly obligations and no requirements to ever buy again if essential oils end up not being your thing.
If you want to keep your wholesale membership then on the anniversary of buying your kit you need to make sure you have spent at least 50pv on oils. The 50PV is basically just to restart your wholesale membership. It's like renewing your Amazon Prime membership but you get a product for doing it!
Can I buy Young living oils outside the US? Can I buy them in Australia or South Africa?
Young Living has farms and warehouses all over the world. If you are in Australia, Canada, New Zealand, the Philippines, China, Mexico, Europe or anywhere on the planet, Young Living can get you oils! I've sold kits all over the world and have helped my enrollees learn about using Young Living oils, no matter where they call home.
Am I required to do Essential Rewards?
You are not required to do Essential Rewards. It's a great way to save even more money on the oils you love. If you decide to sell premium starter kits and create an essential oil business, then to receive commission you would then have to sign up for ER and place a monthly 100PV to receive commission.
If I buy a kit, do I have to sell oils?
Doing the business is a fabulous way to get your oils paid for. But it is a personal decision and you are NEVER required to sell oils.
If I decide I want to sell oils will you help me?
This business is amazing and it is totally what you make of it.
As your enroller, I am there for you if you decided to take the leap and get your oils paid for. I am a cheerleader at heart so I'm there as a business leader, teacher, and supporter for you all the way.
I've seen our compensation plan change people's lives. It became a game-changer for me when I started making enough monthly to not only pay for my oils but to also make a house payment if I wanted. Check out YL'd income disclosure statement
I want to Sell oils but I'm not a blogger. How will I sell oils?
There are so many different ways to share your love of oils and turn it into a prosperous business.
I realize this, so when I coach you we are going to dig deep into what your strengths and weakness are. We are going to find where you shine and then nurture that way. This doesn't mean I'm not going to encourage you to step out of your comfort zone but we will begin the building of your essential oil business playing towards your strengths. Don't worry I will help you figure that out.
I have business builders that build solely on Instagram, others are purely 1 on 1 with classes, some building in their current retail space like gift shops, hair salons, and Chiropractors, and then others are beginning to build their business using Youtube and the list goes on.
Remember I love being a cheerleader and a teacher so I will be there every step of your journey.
Absolutely! Anyone can do this.
Here is how.
You start out with the purchase of a Premium Starter Kit. You know the Box of oils you've seen countless times on my website. It comes with 12 of Young Living's most popular oils and your choice of Diffuser. This purchase gets you the wholesale membership with Young Living which gives you 24% off retail price. You sign up for your membership and kit with me as your enroller and then we start your oily education.
You have two choices HERE…
Continue what you you've been doing and watch yourself become more frustrated with your family's wellness, the state of your house and your own wellness. That can't feel good.
Or you can
Learn all I know and become a busy essential oil lovin momma, loving on her family and enjoying an amazing change for good in your life.
Can you imagine what your life can be like 3 months from now or even one month…
My only regret was not starting essential oils sooner.
A note from Ruth-
Hey there!
As you can tell from my blog, I love essential oils and I love Young Living.
I would find it an honor to help you get started with essential oils, no matter where you live or what your essential oil knowledge may be.
My team and I have created a fun atmosphere for you to learn all about using your oils.
I don't want oils to be scary and/or weird for you. I don't want you to be intimidated by all the essential oil noise out there.
My goal is to see you succeed in using these essential oils in the way that best fits your needs.
Oils are not a one size fits all, it's a balance of knowing your needs and using them in a way you find comfortable and fun.
I can show you how to do that.
And if you are a person who loves sharing about essential oils or a blogger who wants to create an essential oil business, I'd love to be your mentor and coach.
We have an amazing team just waiting to support and cheer you on!
I promise we have all the resources and training you need.
We even supply photography and graphics, lessons on social media and teaching classes, team coaching calls, one on one mentorship, and anything else you can think of that is needed to successfully create and succeed in your own Young Living Business. It's all at your fingertips and we want to see you shine. Email me at byoilydesign@gmail.com if you want to start your business right away!
I hope this encourages you in whichever direction you pursue and I can't wait to meet you and help you on your oily journey!
Delightfully, Ruth
Got questions? Comment below! I'm here to help
Click the get started now button to order your premium starter kit and join the By Oily Design team!