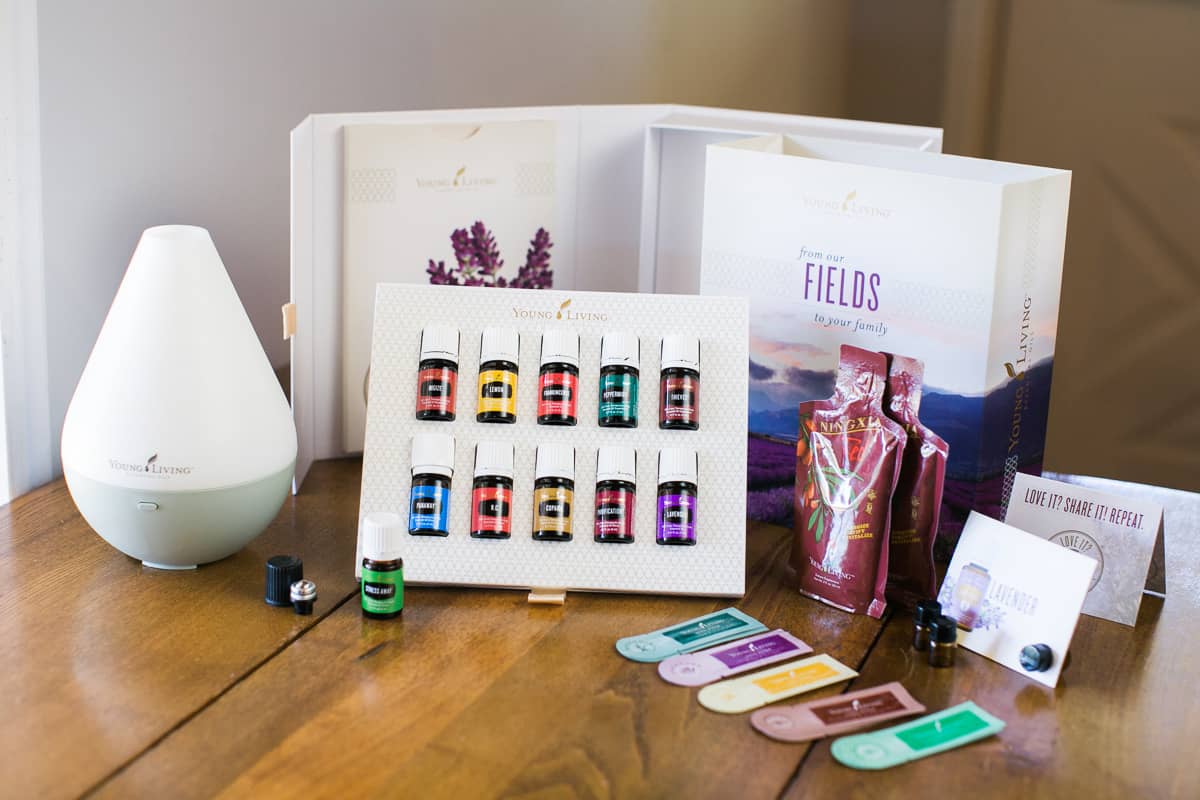 So what is this Premium Kit and why do YOU need it in your life?
Young Living has put together this amazing starter kit, that is going to be your first step into learning and loving your oils. What is so amazing about it? Well, first off, they took all the guesswork out of what oils to start with. For most newbie oilers, they have no clue which are the most helpful oils that will allow them to get more bang for their buck. So with all their knowledge, Young Living has picked 11 oils,  that seriously you don't want to be without.You will find yourself reaching for them for family wellness, cleaning your house, stress relief, bedtime, personal care products, cooking, making your house smell amazing, and the list goes on!
the 11 oils- (5-ml each)
Thieves, Purification, Frankincense, Lemon, Lavender, Peppermint, Copaiba, Panaway, RC, Digize, Stress away
Along with the oils you get to select the diffuser of your choice (this will affect the price of your kit. Kit's start at $160) and you get essential oil samples, 10 empty dram bottles, 2 NingXia Red 2oz samples (Young living's amazing super juice is what I call it!), AromaGlide Roller Ball Filament, and Literature from Young Living.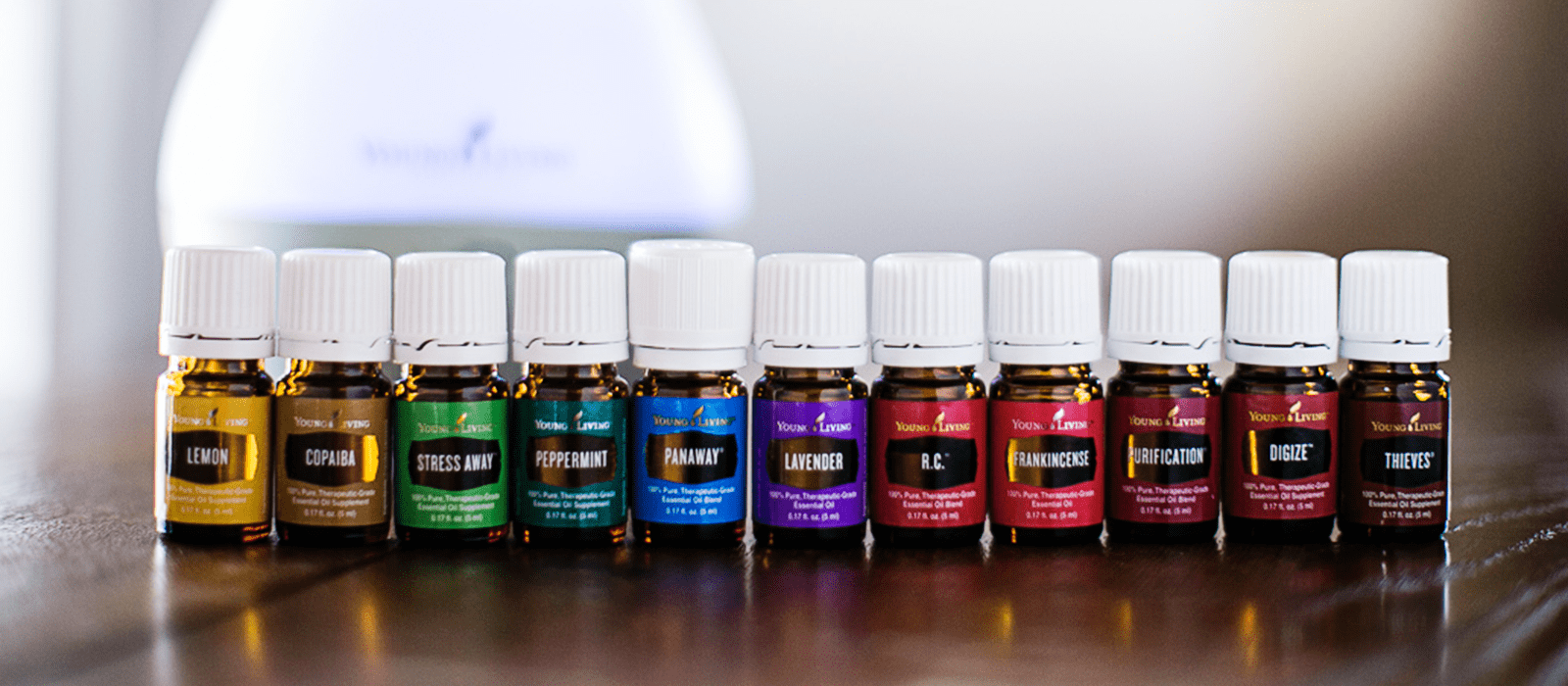 What is this Kit going to cost me?
The Premium Starter kit price is determined by which Diffuser you pick. I typically suggest getting the Premium Starter kit with the Dewdrop Diffuser. This Kit is $160. The Dewdrop is the diffuser in the image above.
If you were to purchase this kit at retail value it would be over $300! So it is an amazing deal for getting started with oils.
You can try and figure out all this oil stuff on your own (which takes tons of time weeding through what is true and what is not)
Or you can purchase your starter kit through me and be using and learning tons of quick and great ways to use oils in just a matter of days.
Frequently asked questions
Is there a monthly fee? No, buying the kit is what gets you a "wholesale" membership to Young Living. If you decide that the kit is all you need, then you never need to buy another oil. But I have a feeling you're going to love your oils! This membership will give you the ability to order more oils at the wholesale price of 24% off retail price. As long as you purchase $50 worth of oils in a 12 month period you keep your wholesale membership from year to year! (think of it like a costco or sam's club membership)
I see less expensive oils at the store, why would I pay more for Young Living Oils? I'm a firm believer of, you get what you pay for. The quality of the oil makes all the difference. Seeing I'm using oils on my family I want to know I'm using the safest and highest quality oils I can. Young Living's seed to seal guarantee promises that their oils are the best out there on the market for my family.
How will you teach me to use oils? I love to help busy mom's learn about oils by actually talking with you one on one, I will send you an email once you order your kit. In the email, I will ask questions on your specific needs and how you envision oils taking apart in your life. From there, I will share with you my thoughts and we will develop a strategy that works for you. My hope is that we will have lots of communication between the two of us. I'm here to hold your hand as much as you need. This communication can be through phone calls, FB messaging and/or email. Whichever is your prefered communication route. You will also be added to the By Oily Design private FB group so you can also get daily inspiration from the group, as people share how oils are working for them.  I also offer Online 101 essential oil classes from time to time that I encourage my enrollees to take.
What is this ER or Essential Rewards thing I've heard about? Young Living has a great program that when you decide you really love your oils and you want to make purchases on a more regular basis you can sign up for ER and get rewarded with free oils and other great stuff for making your oil purchases. Think of it as Stitch Fix but you get to decide what goes in your box.
Will I ever be pressured to sell oils? No. I firmly believe that deciding to do the business is a personal one. I will never ever pressure you to sell oils. I do want you to know that selling will always be an option for you if you want to make money to pay for your oils or if you want to turn this into a true business. I'm there to help you every step of the way, whatever you decide! I personally LOVE this business. It has allowed me to meet and help so many wonderful people in so many amazing ways.
Let's get started!!
Step 1: go to https://www.youngliving.com/vo/#/signup/start?sponsorid=3177383&enrollerid=3177383&isocountrycode=US&isolanguagecode=en&type=member
Step 2: make sure "Member" is selected instead of "Retail Customer." Think of this as joining as a member to Cosco or Sam's Club, it's the only way to get access to the kit and the 24% discount you get afterwards. It's really important! Don't stress over the part in the box that talks about "Participate in the compensation plan and earn commissions just by sharing Young Living. or the section on Essential Rewards" That part is optional and is something we can always discuss later but is never a required part of being a member.
Step 3: make sure my member numbers are in the blanks (they should be entered in there for you if you entered with that link in step 1) 3177383.
Step 4: Fill out all the information. You will create your username, password and pin number. Make sure you write these down so you can login later.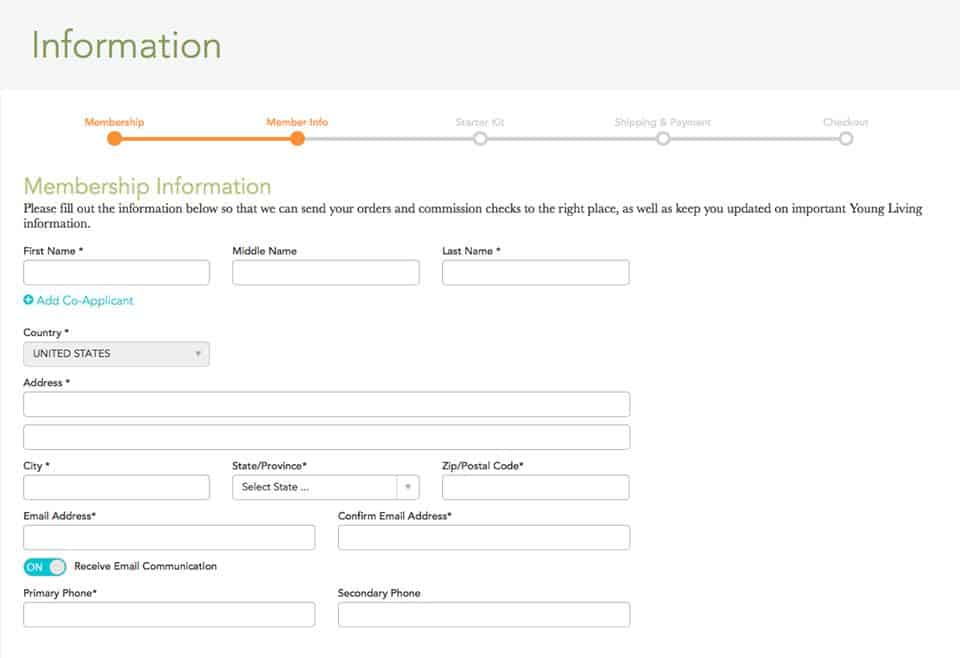 Next it will have a section called Commission Processing Information. Here most people will just select Individual. It will ask you for your ss# but this is only for legal purposes so that you have the ability to bring in a paycheck (YL is a referral based business). If you never sign anyone up, your ss # will never be used.  We do not pressure people into the business end…EVER. We want you to use and love your oils and we love you as a member whether you work the business end or not.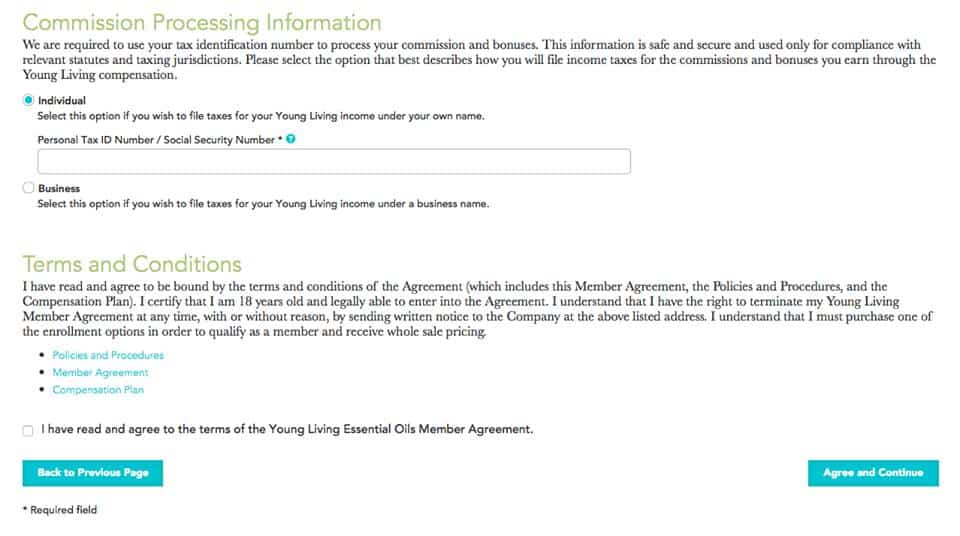 Step 5: Select the "PREMIUM START LIVING KIT" This is the one with the everyday oils kit and the diffuser and the start living kit. It will be $160. The other kits do not include the oils kit. My suggestion is the PREMIUM STARTER KIT with DEWDROP.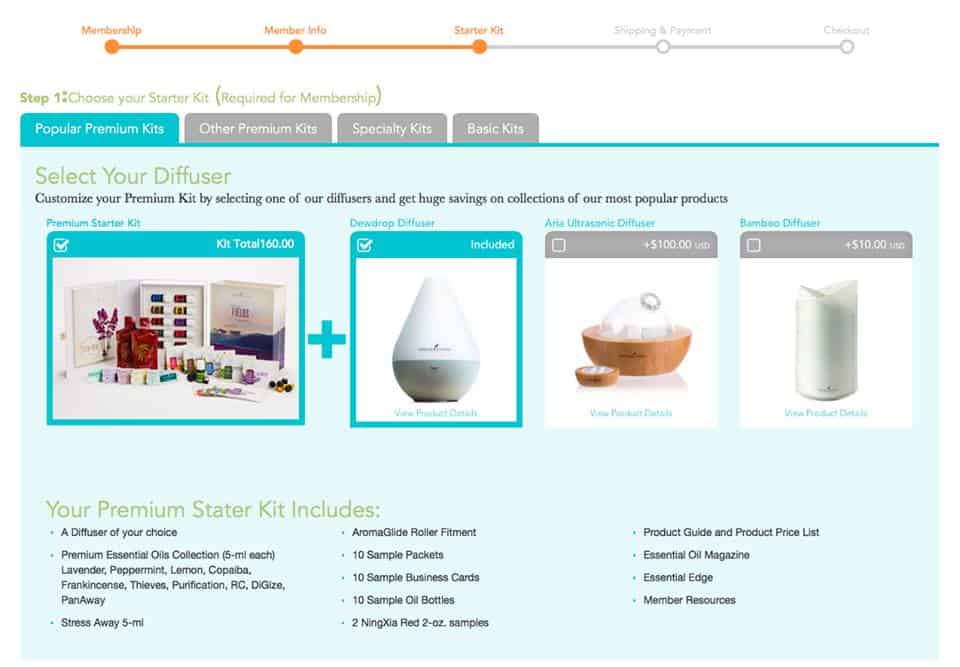 Step 6: Scroll down through the "Essential Rewards Kits"  and click "no thank you, I plan on enrolling in Essential Rewards later" (you are not obligated to sign up for Essential Rewards at this time, but it does have some great benefits). If you have questions about the Essential Rewards I'm happy to talk with you about them.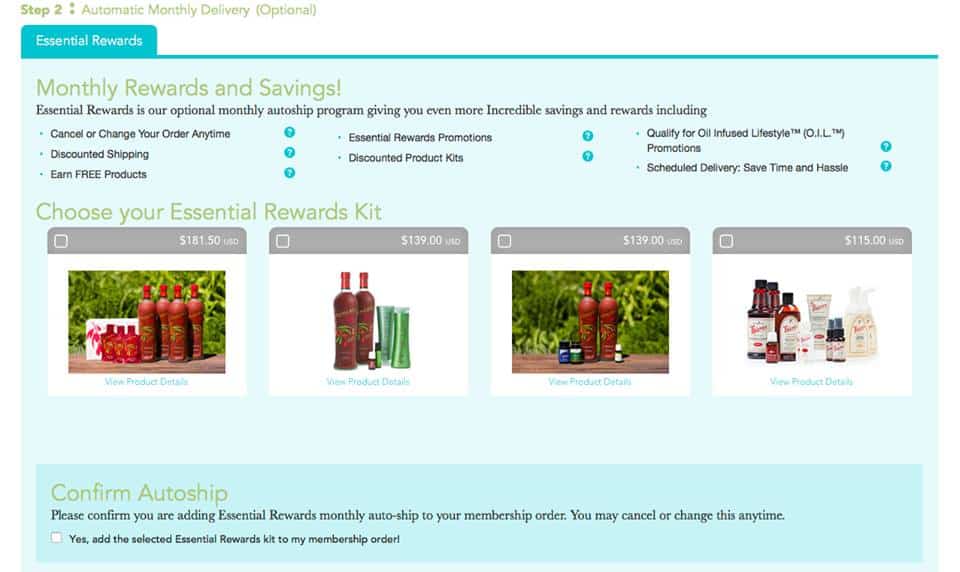 Step 7: Click "I Agree" and "Next"

Step 8: Confirm your enrollment information (you should see my name as your enroller and sponsor).
Step 9: Add any oils, capsules, or products that you would like in addition to your kit if there are any that you would like.
Step 10: Check out and you are DONE! WOOHOO!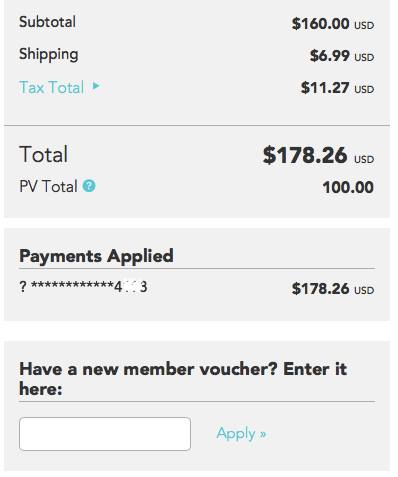 How crazy easy is that! The hard part is now waiting for them to arrive.
Can I just say YAY! You are a member! WooooHoooo. I remember how excited I was to receive my starter kit. Your membership will stay active as long as  you spend at least $50 in a calendar year. You DO NOT have to continue to "renew" your membership…the kit is a one time thing and you will remain a member as long as you spend that $50 a  year. Which trust me…will never be a problem.
And remember, now that you've joined my group, I'm here for you each step of the way. I can't wait to share with you all the ways I use oils and show you how I incorporate them in my life. All while saving money and creating a healthy lifestyle for my family. Keep an eye out for the mail, not only is your kit soon arriving, but I'm sending you a awesome box of goodies to help get you started. Check out all the great bonus items you get for purchasing your kit through By Oily Design!
Once you've ordered Keep an eye out for the great free stuff I've sending your way!