I seriously can't believe summer is almost here! I'm so over the school year and really ready to have both my girls at home for a little while so we can enjoy the sunny outdoors. With thinking about all the great time we will be spending outdoors in the sun, it got me going over in my head what essential oils I am using on a daily basis that could be potential sun issues.
Citrus Oils are labeled photosensitive, so you want to limit your exposure for around 24 hrs after using a citrus essential oil.
Some oils even require longer times out of the sun. What can happen if you are in the sun and are wearing a photosensitive oil?
Well, mainly you have the chance of getting a VERY serious burn in the location of the oil. And to be honest I have no desire to try that out.
*This post contains affiliate links to the essential oils and other products I talk about in the post.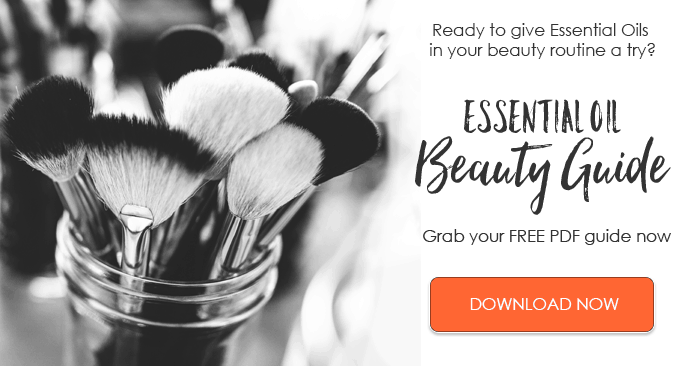 Here is a list of some popular Oils that are Photosensitive
Lemon
Tangerine
Orange
Bergamont
Citrus fresh
Lime
Grapefruit
Joy
Gentle Baby
These are just a small portion of photosensitive oils. Always check first before applying oils when you could be in direct sun.
One of the primary essential oil beauty products I use is the Face Serum I made using oils from my Premium Kit. Man, it is the best natural Face Serum, Check out my post with its recipe here. You won't believe what it did for my skin wellness!
I was sad to remember that one of the key ingredients is Lemon.
Lemon is a citrus oil so it will be on my do not apply list for my face this summer. But I can't do without my face serum, so I decided to do a little research. You see my Essential Oil collection has grown a ton from when I first started and I just knew I had some great options for creating an all-new summer safe face serum.
Want to know more about Sun sensitive Essential Oils? Check out my blog post and download the essential oil safety sheet.
Did you know there are 3 common mistakes you can make when creating a face oil that will make your face serum not work? I wonder if you are doing any of these face serum mistakes like I was.
The Best Natural Face Serum for summer sun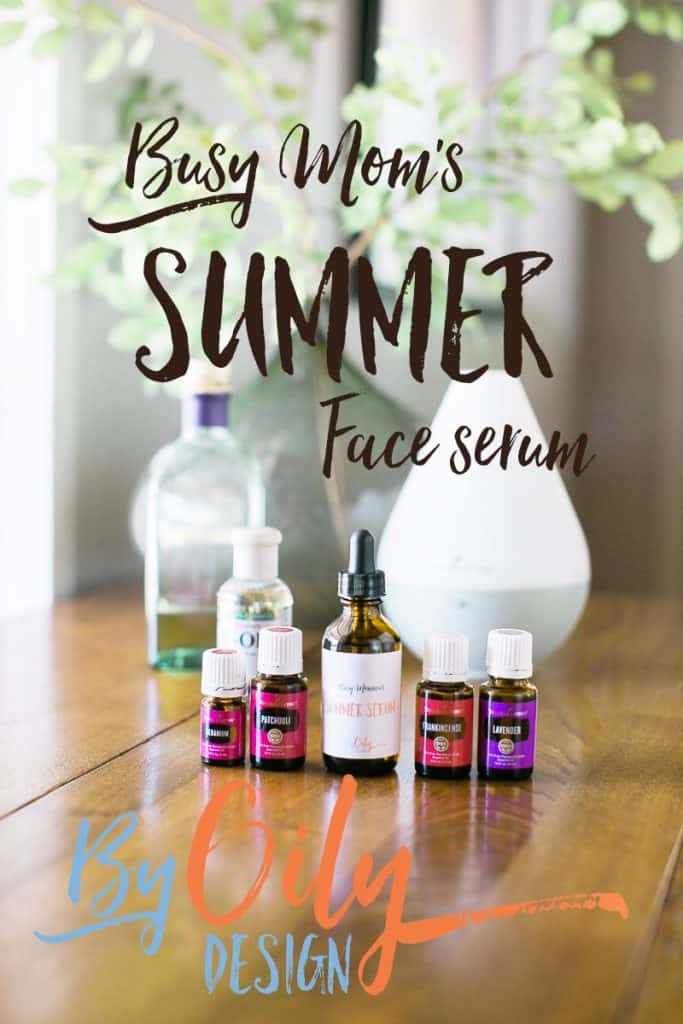 And guess what I found in my little growing collection that is amazing for the Face?
Geranium and Patchouli!
Can you say wow! That has got to smell amazing? Cause yes mam it does!
I bought the Geranium when I made some homemade hand cream that smells amazing and works wonders on soothing skin.
Plus geranium just smells awesome diffused.
Geranium may help soothe and maintain an improved appearance of tender, red, and swollen skin.
Patchouli was just one of those oils that I kept seeing pop up for diffuser recipes. I will be honest I haven't utilized this oil as much as I should so I was so happy to find out it may be used for promoting skin care.
Of course Lavender is just amazing for everything and Frankincense is fabulous for anything dealing with skin.
Worried that making your own face Serum will be hard?
Check out this quick video where I show you just how fast and easy making any face serum can be. you will be so glad you did!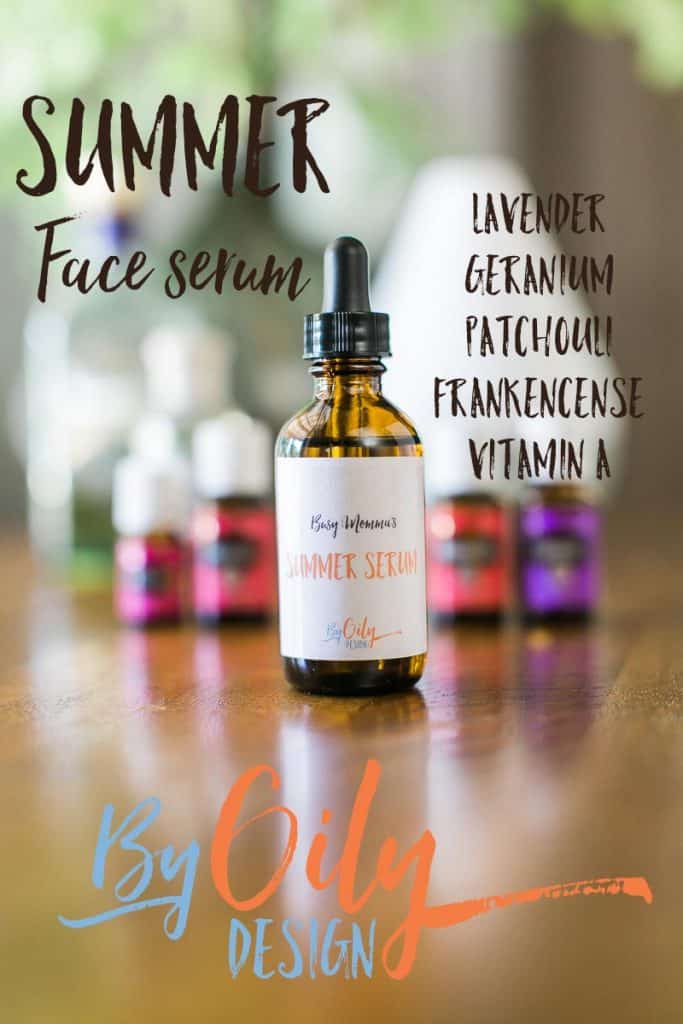 Summer Essential Oil Face Serum Recipe
Ingredients
15 drops of Lavender
20 drops of Geranium
15 drops of Patchouli
15 drops of Frankincense
10 drops of Vitamin E
1/4 Cup of Carrier Oil ( I use Grapeseed)
Instructions
Put all the above ingredients into a glass jar. (I like to use a glass dropper bottle) lightly swirl to mix.
Apply to skin as needed.

Need Essential Oils you can get them HERE!
Get your dropper bottles – HERE

I used Grapeseed oil for my carrier oil.
Vitamin E oil (where to buy)
I've been using this serum for about two weeks. I absolutely LOVE the smell and how it feels.
I'm so glad I added the Vitamin E to the mix! With all the great qualities of the oils and the fact it is safe to wear out in the sun, I plan on using it in the morning and evening times after a wash my face.
In my research, I found quite a few other oils I can't wait to try in another face serum. but for now, this is my newest favorite of the summer. I hope you will give it a try and let me know how it works for you.
Would you love the chance to find someone to help mentor you through the process?

What if I told you I would help you for FREE!

I'd love the opportunity to walk you through essential oils and help you choose the best oils to use for you. When you purchase a Premium Starter kit through me you will receive Free one on one mentoring from me to help you get comfortable and using essential oils in your life. I promise by the time we are done you will be a rockstar user of essential oils!

The above recipes are made using Young Living Essential oils. They are the only essential oils I trust to use on my family. The reason I use only Young Living is pure and simple, I know the quality that goes into Young Living oils.  I only want the best and purest to use on my family and Young Living Guarantees that with their Seed to Seal pledge. If you are new to essential oils or have been using different brands, I'd love the chance to introduce you to Young Living essential oils. Let me help you get started on a healthier lifestyle for you and your family. To find out more, I'd love for you to check out my post on

It's a fun and informative post about how this normal, plain jane mom got started with essential oils and how you can too! check it out here- How to get started with Essential Oils.

Purchase a Young Living Premium Starter Kit thru

BY OILY DESIGN

and receive:

One on One support from Ruth

free access to the By Oily Design online library that is constantly growing with information,

Access to the private By Oily Design Facebook chat group to talk oils with other momma's just like you

a FREE Welcome Jump Start Box full of goodies to get you going (rollerballs, spray and dropper bottles and more!)

A BONUS FREE E-BOOK- Essential Oils Everyday Uses (It is loaded with over 100+ recipes!)

Check out our FREE JUMP START KIT!

Available only for those who purchase their Premium Starter Kit through By Oily Design!

Getting started with essential oils? Let me help you start out with the young living Premium Starter kit.

When purchasing your kit thru me you will receive a Jump start kit with recipes and everything you need to get started with oils.

As a BONUS I will also include The By Oily Design Ebook- Essential Oils Everyday Uses! This new Ebook contains over a 100 tried and tested Essential Oil Recipes to get you started loving and using your oils. The Ebook is ONLY available to By Oily Design Members!

Plus several other great free resources all to help you learn and use your Essential Oils!

byoilydesign.com YL member #3177383

So you don't have a kit yet? Well, I'd love to help you get your hands on this box of awesomeness. Click here to get your Premium Starter Kit now! 

I hope once you try this you will leave me a comment and tell me how it has rocked your world too!

COPYRIGHT: © Ruth Rackley and By Oily Design, 2015. You may use the URL of this post to share it on social media. You may also use the URL of this post to link to it from another website/blog. However, no part of the text of this post may be copied and used in a social media status update or on another website/blog without prior written permission of the author. You may share the graphics/s associated with this post on social media as long as they are not edited in any way. However, you may not use the graphic/s associated with this post on another website/blog without prior written permission of the author. This post and the graphic/s associated with it may not be printed and distributed without the prior written permission of the author. Unauthorized use and/or duplication of this material is strictly prohibited.

ISCLAIMER: The information on this website is based upon my research and personal use of Young Living essential oils. The statements made and the products mentioned on this website have not been evaluated by the Food and Drug Administration. They are not intended to diagnose, treat, cure, or prevent any disease. Please read the full disclaimer here