Kid Friendly Diffuser Recipes
Kids love Essential Oils. I don't know why, but they are just drawn to them. My girls, even though they are small, love to smell and talk about the different essential oils I have for our family's use. Recently, I decided to create a list of diffuser recipes that my girls ask for over and over. Some of the essential oil diffuser blends for kids that I list might even remind you of some of your childhood favorite smells!
In this post, I'm going to share our top 6 essential oil diffuser blends for kids, my top suggestion for a kids essential oil diffuser and a few popular essential oils safe for kid use.
*This post includes affiliate links to Young Living Oils and to non oil products mentioned.

Why create essential oil diffuser blends for kids?
Not all essential oils are safe for kids. Especially babies and small kids. For a list of oils to avoid using around small children check out my post- "Are you using essential oils safely?" I even include a free PDF download of my safety cheat sheet.
With safety and fun in mind, I created the below essential oil diffuser blends for kids list.  Now we have a go to list of fun, simple essential oil blends. I even feel safe enough to diffuse these blends in my kids essential oil diffusers in their bedrooms.
Speaking of Diffuser for kids room
I get asked a good bit about kids essential oil diffusers. Which ones do I suggest being used?
I'm a huge fan of the Young Living brand of diffusers. For my girls' rooms I like the Home Diffuser or the Dewdrop Diffuser. Both are made with Medical grade plastic and in our house they have been dropped a number of times and still keep on working. I'm telling you they take a hard lick and keep on diffusing. What is also nice about the Young Living diffusers is they have a 1 year guarantee.
I personally really like the Dewdrop diffuser for diffusing essential oils for baby cough and congestion. The Dewdrop is labeled as a humidifier.  I like having a diffuser that can act as a humidifier and as a source of diffusing essential oils that are safe to use around babies with a cold. I'm always mindful to leave their bedroom doors open while diffusing so they are always getting fresh air.
I hope in the future to get my girls one of the Young Living diffusers created for Kids. My girls have surprised me how much they like the Young Living Dino land Diffuser and the Dolphin Reef Diffuser. Maybe one day soon I can get them one!
6 Essential Oil diffuser blends for kids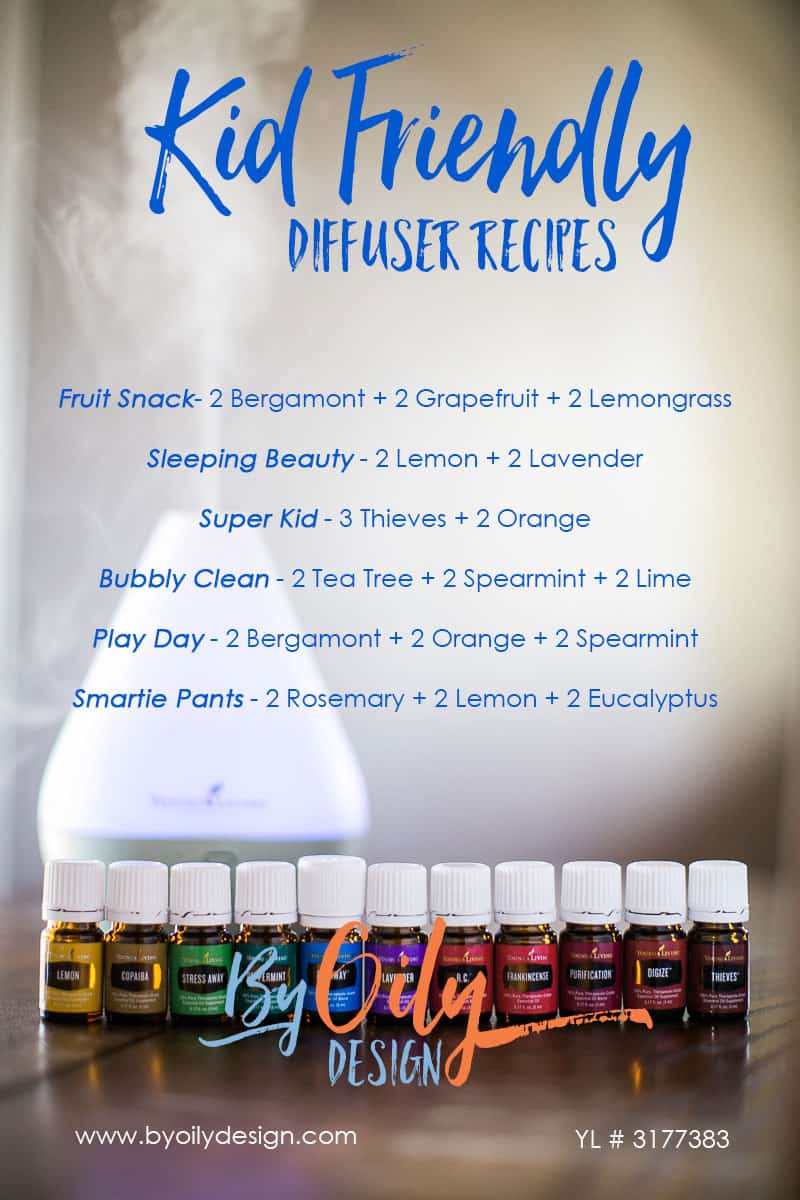 Essential Oils Safe for Kids
If you are new to essential oils these blends may be a little strong for first time use. Until you and your family are comfortable using oils it is always best to do singles oils at first. Then work your way up to combining oils like the blends above. For the first time using these blends, try one drop each of the listed oils for that blend. Once your family is use to diffusing essential oils, have fun and experiment with oils. Come up with your own family favorites.
Some great oils to diffuse around kids are-
Lavender- has a nice gentle soothing floral fragrance
Lemongrass- Clean refreshing scent
Roman Chamomile- Calming and relaxing scent
Lemon- Fresh citrus scent
Orange- Fresh citrus scent
Tea Tree- Cleansing scent
Tangerine- Fresh citrus scent
Sandalwood- Relaxing woodsy scent
Ravensara- Cleansing scent
Grapefruit– Fresh citrus scent
Neroli– Fresh citrus scent
If you have enjoyed these diffuser recipes check out my other diffuser recipe posts-
Diffuser recipes for beginners
Getting your Kids to Bed without the fight
Using Essential Oils to spark Creativity
Would you love the chance to find someone to help mentor you through the process?
What if I told you I would help you for FREE!
I'd love the opportunity to walk you through essential oils and help you choose the best oils to use for you. When you purchase a Premium Starter kit through me you will receive Free one on one mentoring from me to help you get comfortable and using essential oils in your life. I promise by the time we are done you will be a rockstar user of essential oils!
The above recipes are made using Young Living Essential oils. They are the only essential oils I trust to use on my family. The reason I use only Young Living is pure and simple, I know the quality that goes into Young Living oils.  I only want the best and purest to use on my family and Young Living Guarantees that with their Seed to Seal pledge. If you are new to essential oils or have been using different brands, I'd love the chance to introduce you to Young Living essential oils. Let me help you get started on a healthier lifestyle for you and your family. To find out more, I'd love for you to check out my post on
It's a fun and informative post about how this normal, plain jane mom got started with essential oils and how you can too! check it out here- How to get started with Essential Oils.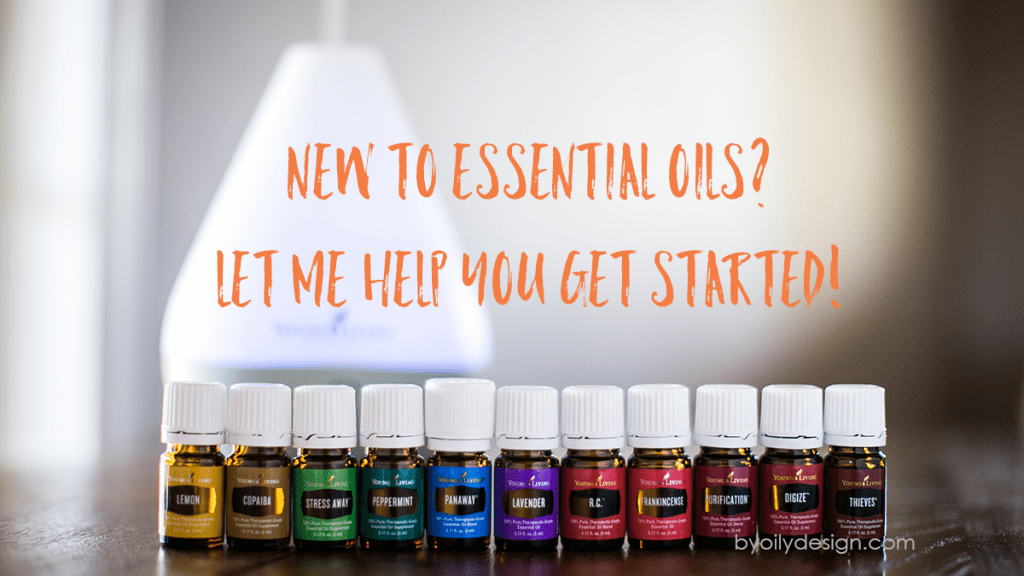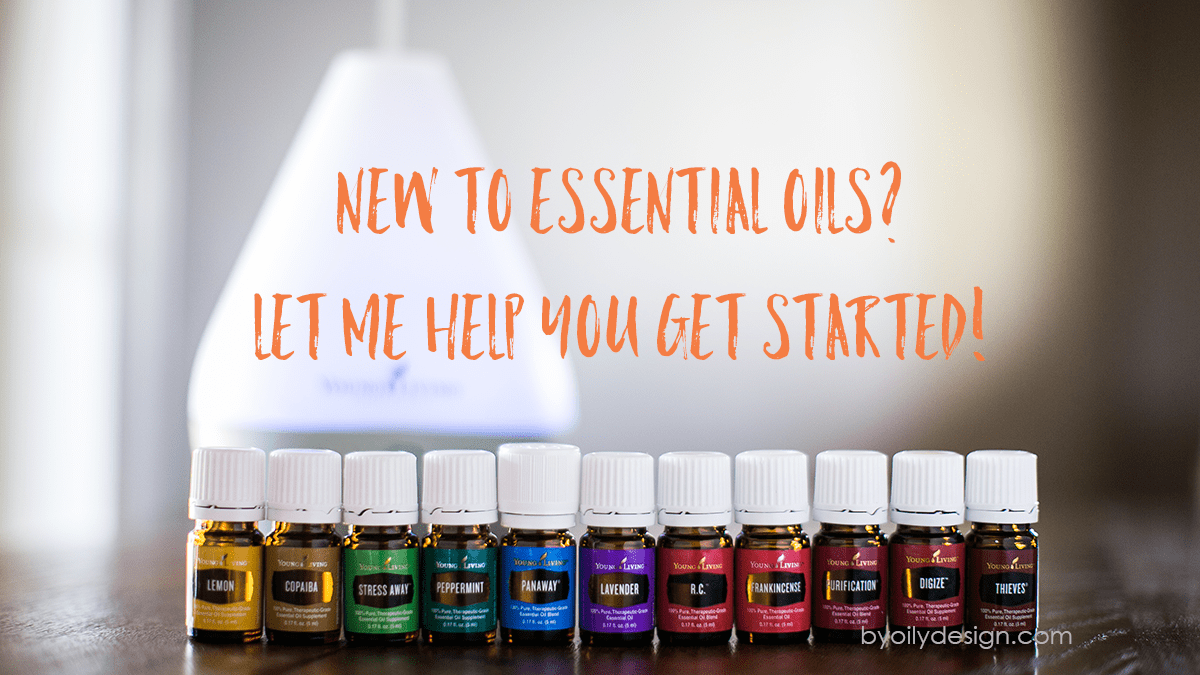 Purchase a Young Living Premium Starter Kit thru
BY OILY DESIGN
and receive:
One on One support from Ruth
free access to the By Oily Design online library that is constantly growing with information,
Access to the private By Oily Design Facebook chat group to talk oils with other momma's just like you
a FREE Welcome Jump Start Box full of goodies to get you going (rollerballs, spray and dropper bottles and more!)
A BONUS FREE E-BOOK- Essential Oils Everyday Uses (It is loaded with over 100+ recipes!)
Check out our FREE JUMP START KIT!
Available only for those who purchase their Premium Starter Kit through By Oily Design!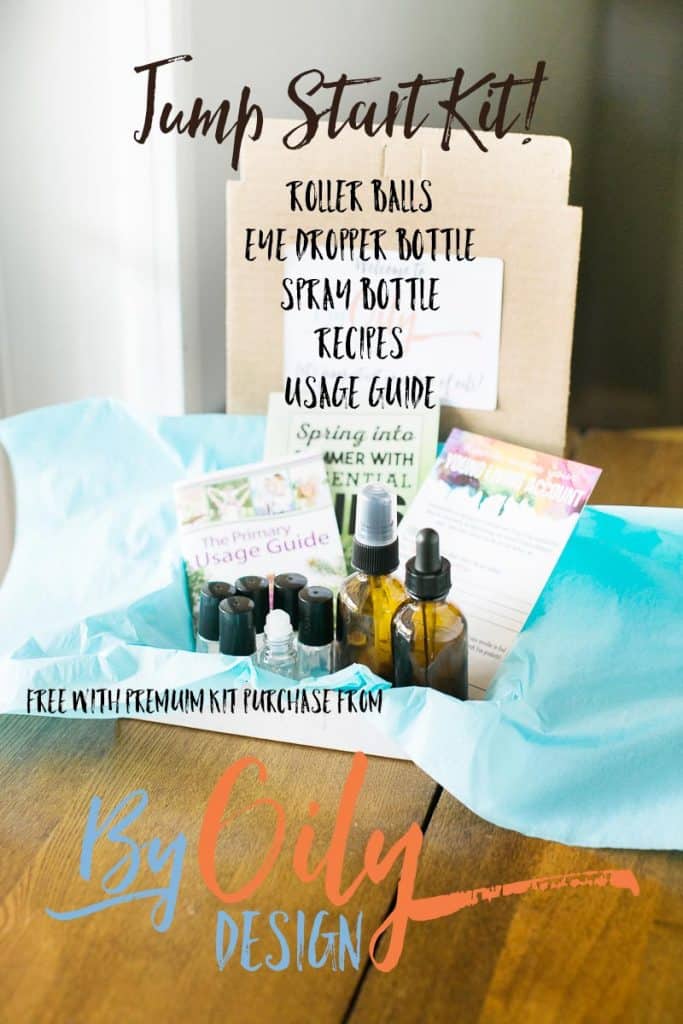 Get started with essential oils! Let me help you start out with the young living Premium Starter kit. When purchasing your kit thru me you will receive a Jump start kit (a $15 value) with recipes and everything you need to get started with oils. As a BONUS I will also include The By Oily Design Ebook- Essential Oils Everyday Uses! This new Ebook contains over a 100 tried and tested Essential Oil Recipes to get you started loving and using your oils. The Ebook is ONLY available to By Oily Design Members! byoilydesign.com YL member #3177383

So you don't have a kit yet? Well I'd love to help you get your hands on this box of awesomeness. Click here to get your Premium Starter Kit now! 
COPYRIGHT: © Ruth Rackley and By Oily Design, 2017. You may use the URL of this post to share it on social media. You may also use the URL of this post to link to it from another website/blog. However, no part of the text of this post may be copied and used in a social media status update or on another website/blog without prior written permission of the author. You may share the graphics/s associated with this post on social media as long as they are not edited in any way. However, you may not use the graphic/s associated with this post on another website/blog without prior written permission of the author. This post and the graphic/s associated with it may not be printed and distributed without the prior written permission of the author. Unauthorized use and/or duplication of this material is strictly prohibited.
DISCLAIMER: The information on this website is based upon my research and personal use of Young Living essential oils. The statements made and the products mentioned on this website have not been evaluated by the Food and Drug Administration and are not intended to diagnose, treat, cure, or prevent any disease.Please read the full disclaimer here
Thanks for checking out my post, Essential Oil diffuser blends for kids. I'd love to hear what your favorite kid friendly diffuser blends are.