So for some of you coming from Pinterest, you may find that the original post I created that went with the pin you clicked had to be rewritten in its entirety, pictures, roller names, labels and all! Just so I can remain compliant with FDA requirements. They can sort of be party poopers, which at times makes bragging about the awesomeness of these oils kind of hard. But hey, once you and I become good friends, which I hope we do, we can chat one on one all day long about them. Until then, I'm going to share with you the complaint, let's keep Ruth out of trouble post. okay!
*This post does contain Affiliate links to products I use to create this recipe.
Essential oil rollerballs for kids
When I first started using Young Living Essential oils I had an Eye-opening experience. I realized how unprepared I was as a mom. Yes, I am that mom, the hot mess one! At least that is how I envision me.
Before Essential oils, when my kids got under the weather, I was forever running around like a chicken with my head chopped off. Trying to find this or that to make things better. Half the time, a run to the store was necessary because whatever I needed, I typically didn't have or it was so expired and I was scared to use it. Heaven forbid I was under the weather too. I also got so tired of having to call my Mother-in-Law to come to my rescue and to make a grocery/ drug store run. I do have a limit to how many times I look like a panicked, crazed, bumbling mom. As a mom, I do have some pride you know.
Then I started using essential oils. I realized real quick the easiest way to actually use them was to be proactive and have things already made and ready to use. What, me? actually, I have my ducks in a row. I know, what a staggering revelation!
But to actually be prepared for my kids inevitable under the weather moments wouldn't take all that much time. It takes about 20 minutes to get most of what I need prepped and ready. Once ready, the key is to keep it handy at all times. Which is simple.
I've narrowed it down to what I think is the top 5 essential oil rollerballs for kids. That any prepared mom wants to keep on hand to help make life a little easier.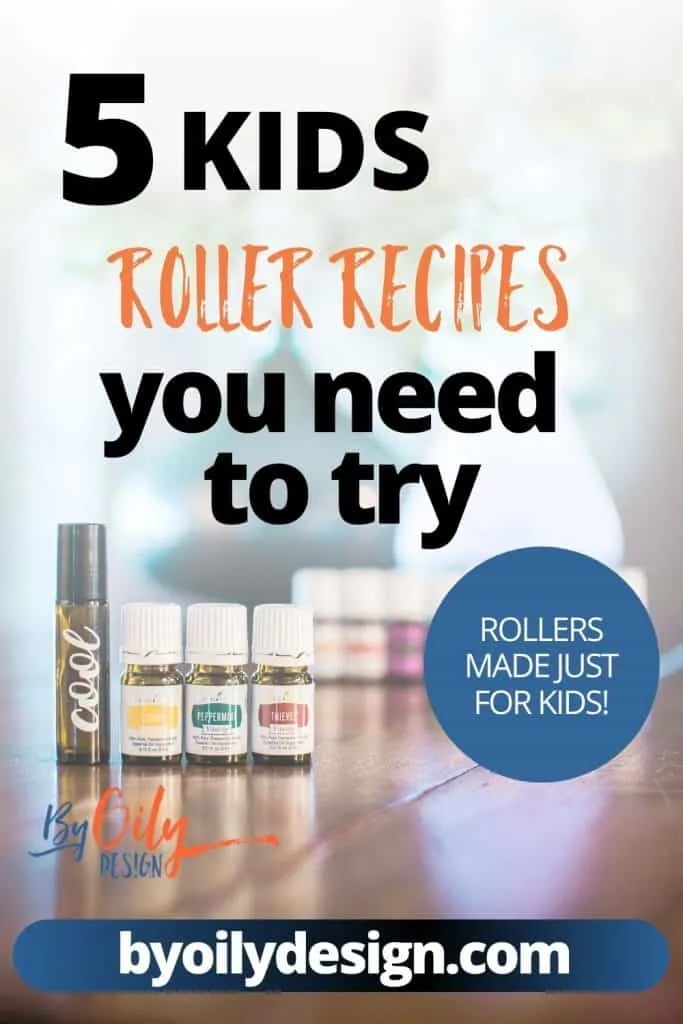 When you think about it, there are 5 times with kids, moms just need some help.
When your kids falls and the tears begin to flow. Man, I hate seeing the tears! Love this "Oh-no" roller for helping make smiles appear.
The Sniffleme roller is a refreshing, energetic aroma to help perk up little ones. Roll a little on their chest.
Dreaded hot head, it's when you know your little one is under the weather! Put "Cool Down" on their pulse points to help soothe and cool their skin.
"Tummy-time", this blend is gentle and soothing with just a little rub on the tummy.
When you kids just need a little help to calm down before you lose it! yeah, sometimes I use this on me too. I roll this "Calmer" on the back of their neck and on their feet and wrist. For a soothing aroma
Do you want to know what is awesome? Almost all 5 essential oil rollerballs for kids contain only kit oils. The only exception being the Calmer Roller which has two oils, not in the kit (although one of the oils is a small sample found in the kit that you could use!) Recipe for all rollers is below the image.
5 Essential Oil rollerballs for kids
Never made an Essential Oil Roller?
Check out this super short video where I show you how I make my favorite roller Called the Daily Roller. (you can find the post about it HERE) Bonus to watching this video? You get to see the quirky fun side of me 🙂
www.byoilydesign.com/enrollnow
So what is in each of these essential oil rollerballs for kids? The recipes I'm sharing below are for kids 2-6 in 5ml roller bottles. For dilution ratios for bigger kids download my Oil safety sheet from here with Dilution Ratios for big and small kids.
Ouchie Roller
3 drops each of Purification and Lavender. Then fill with a carrier oil. Roll over scrapes and ouchie.
Sniffles Roller
3 drops each of Lavender, Thieves, and RC. Then fill with a carrier oil. Apply to the chest.
Cool down Roller
3 drops each of Lemon, Thieves, and Peppermint. Then fill with a carrier oil. apply to forehead, pulse points and underarms.
Tummy Roller
3 drops each of Lemon and Frankincense. 1 drop Peppermint. Then fill with a carrier oil. Roll on the tummy area.
Calmer Roller
3 drops each of Lavender, Peace and Calm (a sample in your kit. this sample is about 2-3 drops) and Valor (not a kit oil). Then fill with a carrier oil. Roll this on the back of their neck and on their feet and wrist.
Check out how to get the same essential oils that I use, below.
I like to make these Rollers in the 5ml roller, mainly because that makes them small enough to fit my pockets without getting all bulky.
For the roller bottles, I suggest these-

For Carrier Oil I use-

Would you love the chance to find someone to help mentor you through the process?
What if I told you I would help you for FREE!
I'd love the opportunity to walk you through essential oils and help you choose the best oils to use for you. When you purchase a Premium Starter kit through me you will receive Free one on one mentoring from me to help you get comfortable and using essential oils in your life. I promise by the time we are done you will be a rockstar user of essential oils!
The above recipes are made using Young Living Essential oils. They are the only essential oils I trust to use on my family. The reason I use only Young Living is pure and simple, I know the quality that goes into Young Living oils. I only want the best and purest to use on my family and Young Living Guarantees that with their Seed to Seal pledge. If you are new to essential oils or have been using different brands, I'd love the chance to introduce you to Young Living essential oils. Let me help you get started on a healthier lifestyle for you and your family. To find out more, I'd love for you to check out my post on
It's a fun and informative post about how this normal, plain jane mom got started with essential oils and how you can too! check it out here- How to get started with Essential Oils.
I hope once you try this you will leave me a comment and tell me how it has rocked your world too!
PIN THIS!