We've all heard of the numerous benefits of using essential oils to support your skin health. Often, the equally essential best carrier oils for your skin get ignored in the process.
You should not use essential oils on your skin without mixing them with appropriate carrier oils. You can also use these carrier oils on their own as they contain nutrients like linoleic acid, linolenic acid, and omega fatty acids, which are beneficial for your skin.
But finding the right carrier oil for your skin can be a challenging task.
A search online or a trip to the market can be confusing as there are so many carrier oils to choose from. What is the best carrier oil to mix with essential oils? Which is the best carrier oil for oily skin? Which is the best carrier oil for dry skin? Will a carrier oil help reduce my wrinkles or acne? These questions and many more must be making your head spin.
Read on as we guide you about the best carrier oils for your skin and the correct ways to use them.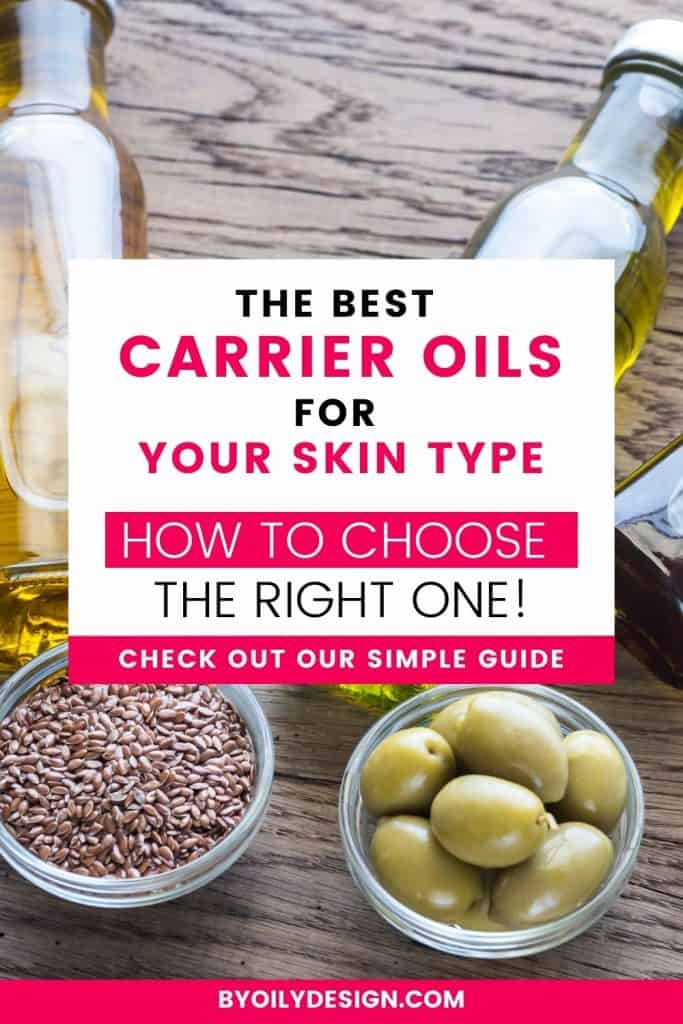 *This post contains affiliate links to the essential oils and other products I talk about in the post. Purchasing them here from my blog is no extra cost to you but I do earn a commission that helps in the cost of running this blog. Thanks for your support!
What is a carrier oil?
If your new to essential oils or DIY skin care you maybe curious as to what is a carrier oil.
Carrier oils are base oils that are used to dilute essential oils. They are usually extracted from seeds, kernels, or nuts of the plant.
We cannot use essential oils on the skin directly as they are highly concentrated and can cause irritations. Aromatherapists usually use carrier oils to dilute essential oils while formulating skincare products.
Carrier oils usually have a neutral or very little fragrance, and they do not interfere with the beneficial properties of the essential oil. Carrier oils are also packed with essential fatty acids and vitamins that improve skin health and promote healing. However, you must choose unrefined, unbleached, and unfiltered oils that are extracted with minimum heat so that they retain most of their benefits.
Best carrier oils for your skin type
Not all carrier oils are created equal. Some are heavier and may not suit people with oily skin, while others are lightweight. Many other oils that can help reduce the signs of aging as well. We have prepared a list of carrier oils best suited for different skin types for you.
Best carrier oils for oily skin
These oils are packed with nutrients and will help improve your skin. They are also non-comedogenic, which means they will not clog your pores and cause breakouts.
1. Grapeseed oil
Grapeseed oil contains antioxidants and vitamin C, which is useful for people who tend to have breakouts. It helps to regulate and balance the sebum production in the skin and also protects the skin. It is also a great base oil for massage oil. For women with acne-prone skin, grapeseed oil is one of the best choices thanks to its astringent properties.
2. Rosehip oil
Rosehip is a lightweight oil that is quickly absorbed by the skin. This oil is rich in fatty acids, antioxidants, and vitamin A, which can help provide you a smoother and even-toned complexion. It is highly recommended for the oily skin type, but people with other skin types can also use it.
3. Argan oil
Oily skin produces more sebum, which can lead to breakouts. Argan oil balances the sebum production so that the skin does not make excess oil. Argan oil contains vitamin E and oleic acid, which can improve skin permeability.
4. Hemp Seed oil
Hemp seed oil suits all skin types as it can moisturize your skin without clogging your pores. It hydrates the skin and regulates oil production, which is beneficial for oily skin. Hemp Seed Oil contains vitamin D and vitamin E, which help to keep the skin healthy. It is also one of the best carrier oil for acne-prone skin.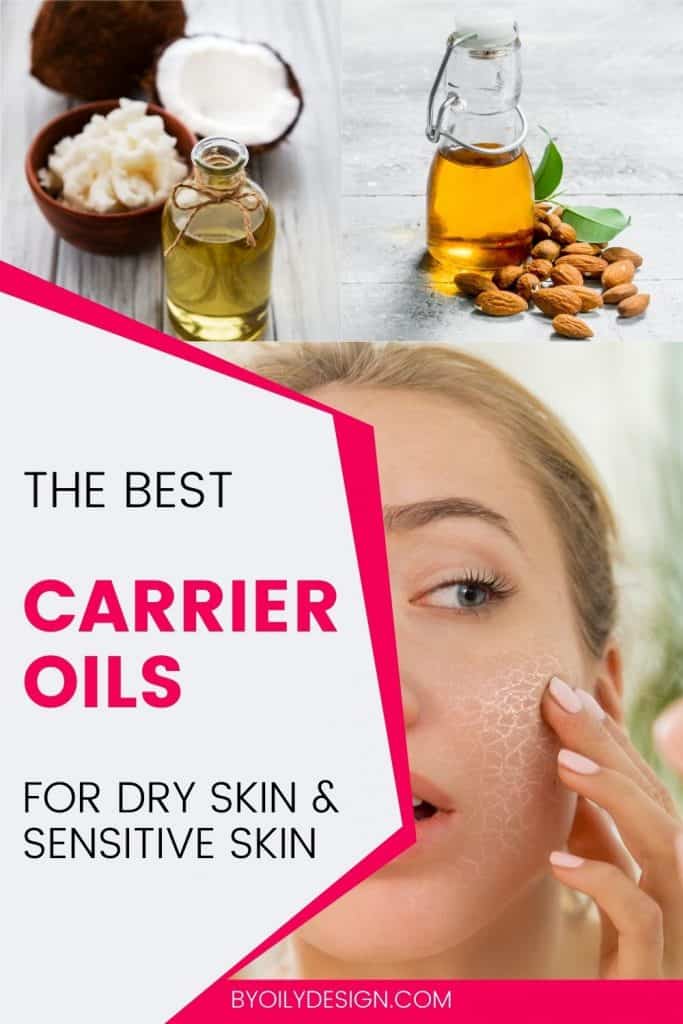 Best carrier oil for dry skin
1. Sweet almond oil
Sweet almond oil contains vitamin E, fatty acids, proteins, and minerals, which can nourish your dry skin. The fatty acid content in the sweet almond oil helps to retain the moisture of the skin and the vitamin E soothes any skin irritation. The vitamin E content in the sweet almond oil also helps to reduce the damage caused by UV exposure.
2. Avocado oil
Avocados contain natural fatty acids, which make avocado oil the ideal choice for moisturizing dry skin. Avocado oil also contains vitamin E, potassium, lecithin, and many nutrients that can moisturize and nourish your skin. The oleic acid in this oil promotes the production of collagen, which helps to fight signs of aging.
3. Evening primrose oil
Evening primrose oil has been popular in Europe for centuries. It is rich in gamma-linolenic acid, a fatty acid known for its beneficial properties for those suffering dry and itchy skin. Its moisturizing and nourishing properties benefit dry skin.
4. Olive oil
Olive oil is a natural humectant, which means it attracts moisture to dry skin. It contains antioxidants, vitamin K, and vitamin E that you can apply to dry patches of your skin.
Best carrier oils for sensitive skin
If you have sensitive skin, you need an oil that soothes and nourishes your skin.
1. Apricot oil
Apricot oil is light, mild, and non-irritating, which makes it perfect for sensitive skin. It is rich in vitamin E, which protects the skin. It also contains oleic and linoleic fatty acids, which are quickly absorbed and are nourishing for the skin.
2. Moringa oil
Moringa oil is rich in fatty acids and antioxidants, which soothe and protect the skin. It also contains vitamin A and vitamin, and palmitoleic and linoleic acid. Moringa oil is used in many cosmetics due to its moisturizing, cleansing, and emollient properties. It can also help counteract breakouts and help you get clearer skin.
3. Sesame seed oil
This popular oil keeps your skin soft and supple. Sesame oil contains minerals like calcium, phosphorus, vitamin E, vitamin B, vitamin D. It is useful in healing redness and dryness. It also protects against harmful UV rays.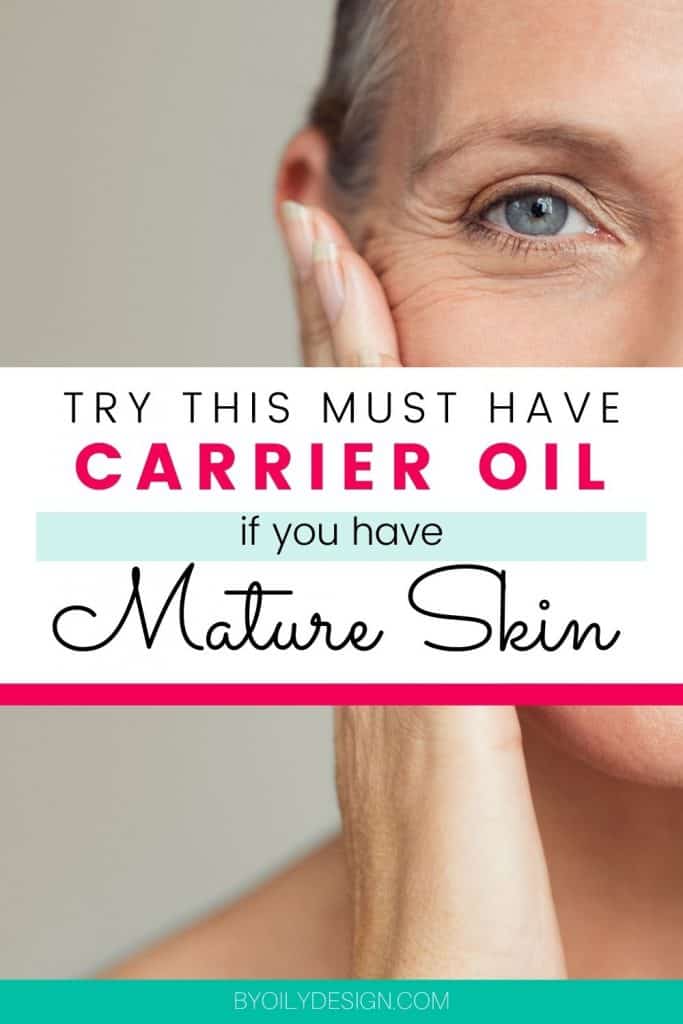 Best carrier oils for mature skin
1. Pomegranate seed oil
Pomegranate oil contains vitamin K and polyphenolic compounds like punicic acid, flavonoids, anthocyanidins, and tannins. Therefore Pomegranate oil may help regenerate and repair the skin, and it reduces and prevents wrinkles. Its nourishing and moisturizing properties help to soften the skin. Pomegranate oil can be added to serums, creams, lotions, and balms for the face and the body. It is one of the best carrier oil for face wrinkles.
2. Extra-virgin olive oil
Extra-virgin olive oil is rich in chlorophyll, antioxidants, vitamins, minerals, proteins, and essential fatty acids, which help to reduce all signs of aging significantly. It helps reduce dry skin and prevents wrinkle formation.
Some of the other oils that are effective in reducing the signs of aging include sesame oil, rosehip oil, jojoba oil, apricot oil, and almond oil.
Best carrier oils for normal skin
1. Coconut oil
Coconut oil is rich in antioxidants and vitamins which promote cellular repair and prevent moisture loss. It also helps in reducing damage caused by UV rays. Coconut oil has a high comedogenic rating, so use it sparingly. Coconut oil is also one of the best antifungal carrier oils.
2. Sunflower seed oil
Sunflower oil is a good source of vitamin E and antioxidants. It helps the skin to retain its moisture and also helps in combatting several skincare issues.
How to use carrier oils?
Always buy organic, cold-pressed carrier oils. Before you use them, always do a patch test to see if they cause an allergic reaction. Put a small amount of carrier oil on the inside of your wrist or behind your ear and observe it after 24 hours. If there is no adverse skin reaction, you can continue to use this oil for your skin. If you are allergic to nuts, avoid oils like sweet almond oil, argan oil, and apricot kernel oil.
When mixing carrier oils for the face, you can dilute the essential oil at 1% (6 drops to 6 teaspoons of carrier oil). If you are using it for the body, you can go up to 5% essential oil dilution (30 drops of essential oil in 6 teaspoons of carrier oil)
Antifungal carrier oils
Carrier oils are essential for the success of aromatherapy projects. However, there is a chance that your product or serum may develop mold if you do not use the right product. Certain carrier oils have antifungal properties that can make your product last longer.
These include jojoba oil, coconut oil, almond oil, argan oil, and neem oil. The antifungal properties of these oils make them the ideal ingredient for your skincare products.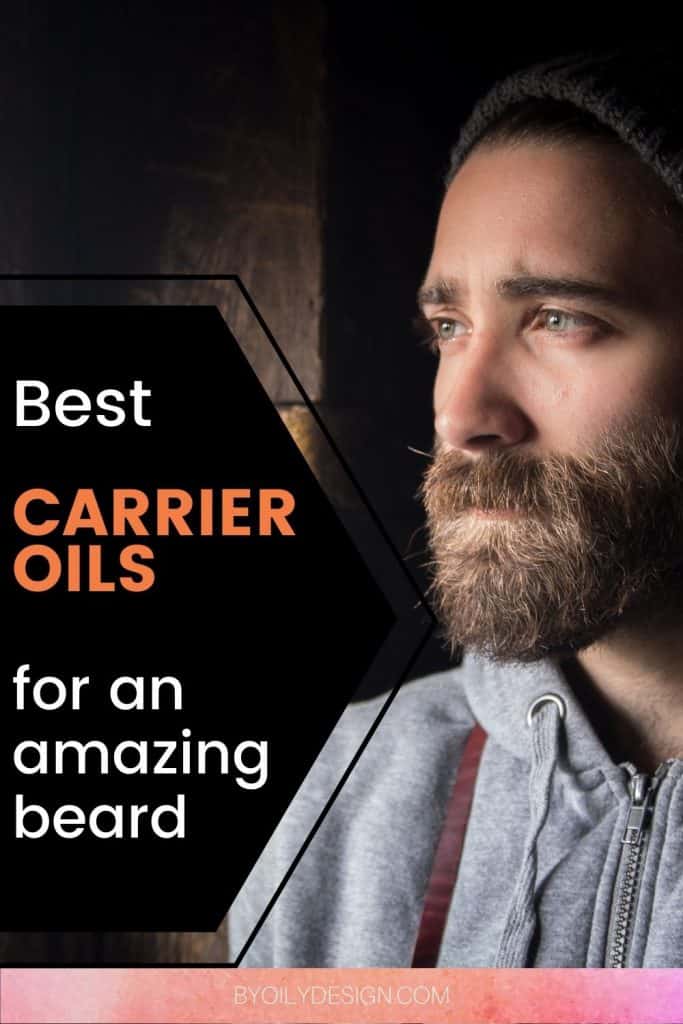 Best carrier oil for beards
Skincare is essential for men and women alike. Men are often confused about how to look after their beards and keep it looking sleek and tidy.
Applying carrier oils to beard can help it grow in thickness and a uniform direction. Carrier oil also helps prevent ingrown hair and keep the skin looking hydrated and soft.
Some of the best carrier oils for beards include argan, jojoba, sunflower, avocado, coconut, castor, rice bran, sweet almond, and grapeseed.
Best carrier oil for perfume
Oil is one of the main ingredients to be used for home-made perfumes. There are over 50 carrier oils in the market and which oil you use for perfumes is up to you. Here's a list of carrier oils that are the most recommended for use in perfumes –
Jojoba oil
Sweet almond oil
Apricot kernel oil
Coconut oil
Grapeseed oil
Avocado oil
Grapeseed vs. Almond oil for skin
Two carrier oils that are commonly used for skin are Grapeseed and almond oil. But which of these two is a better choice?
Grapeseed oil contains linoleic acid, which has healing properties. It is quickly absorbed into the skin and it and has a neutral scent. It is rich in vitamin E, which helps to reduce wrinkles and heal the skin.
Sweet almond oil is equally light and easily absorbed into the skin. Unlike grapeseed oil, it has a strong nutty aroma. It is often used in massage oils, bath oils, and soaps.
Final thoughts
You can add different carrier oils to your skincare routine and reap their benefits. Whether you have oily skin, dry skin, sensitive, mature, or acne-prone skin, there are carrier oils available for all skin types. So go on try these carrier oils and find the perfect oil for you.
Want to get started using essential oils? I'd love to coach you!
When you sign up with me as your enroller you get amazing support and education.
I even have an FREE Essential oils reference app just for those that enroll with me! I want you loving your oils and getting the most out of them you can.
Ready to get started? Click on the below image and let's get the starter kit in your hands.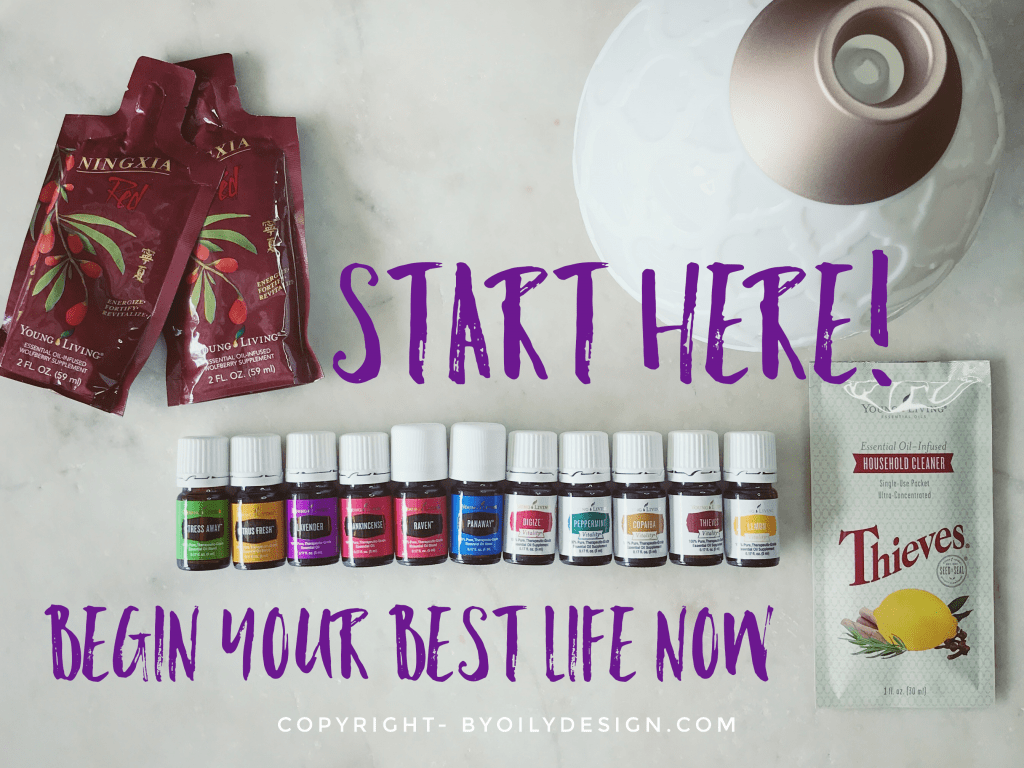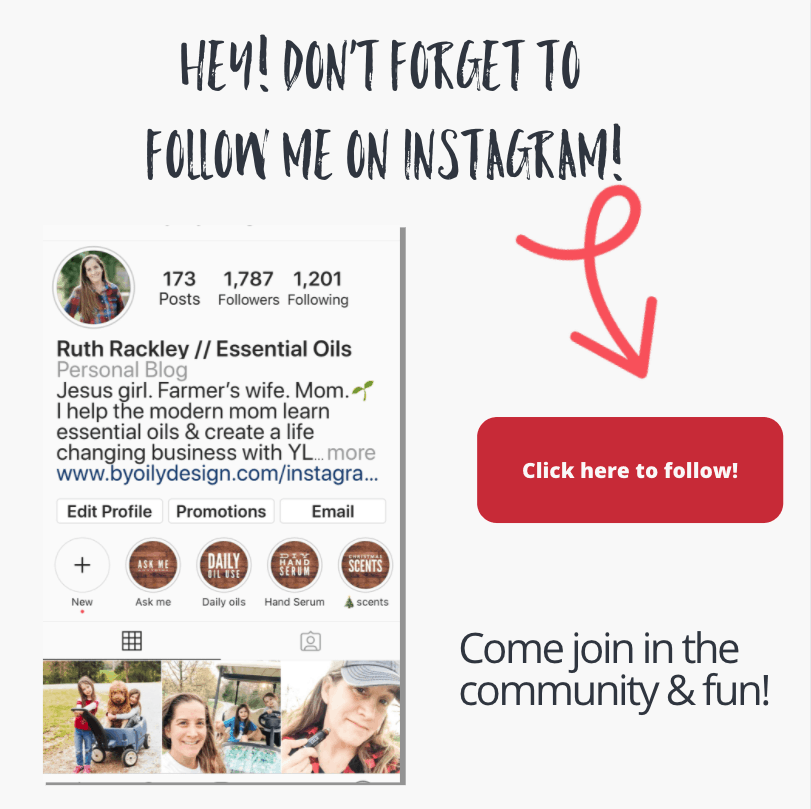 Written by Manveen Grewal , Edited by Ruth Rackley
List of carrier oils