With more people adopting healthier lifestyles than ever before, the beauty industry has also seen a change.
Green beauty products, including natural hair care products, are steadily gaining popularity. You have plenty of different options for carrier oils for your hair available now, which makes selecting the correct carrier oil for your hair quite confusing.
Read on as we tell you about the best carrier oil for your hair.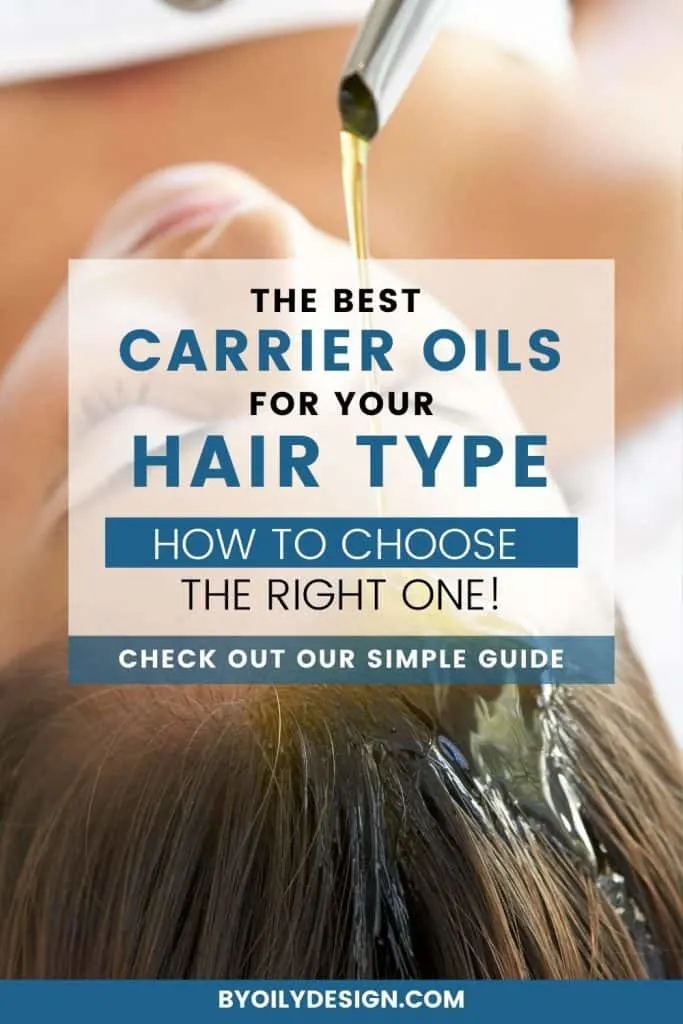 *This post contains affiliate links to the essential oils and other products I talk about in the post. Purchasing them here from my blog is no extra cost to you but I do earn a commission that helps in the cost of running this blog. Thanks for your support!
What is a carrier oil?
A carrier oil is a plant-based oil that is derived from nuts, kernels, or seeds. These oils have little or no scent and are generally used to dilute essential oils. Diluting essential oils in carrier oils makes them less potent so that they can be used topically. Since carrier oils do not evaporate quickly, mixing essential oils in carrier oils also helps improve the absorbency. Carrier oils also have their own nourishing benefits, which can improve the texture of your hair, make them stronger, and prevent breakage.
Best carrier oils for hair
Whether you are looking for an oil to nourish your dry hair or looking for oils for growth of black hair, our list of carrier oils has something for you. Here are some of the best carrier oils for hair –
1. Coconut oil for hair
Coconut oil contains natural fatty acids that can improve your hair by repairing damage and improving the texture of your hair. It prevents protein loss when used as a pre-wash grooming product. Coconut oil contains proteins, minerals, and carbohydrates that help the hair grow longer, thicker, and faster. It nourishes the scalp and removes the build-up of sebum from hair follicles.
Want to know why I selected this one as number one. Well it's because of this research article on the penetration of coconut oil into human hair fibers. It's a pretty cool research article you might want to geek out on.
How to use: Apply to your hair and roots and leave it on for 30 minutes. Wash with your regular shampoo. If you have oily hair, you should not apply this oil to roots.
2. Olive oil for hair
Olive oil contains oleic acid, palmitic acid, and squalene, which possess softening qualities. It is a versatile oil that has protective and moisturizing properties. It penetrates the hair shaft and preserves the moisture in the hair. Olive Oil is rich in vitamin E, which makes your hair healthy and prevents hair fall. It coats the hair shaft and protects keratin.
How to use: Apply the oil on your hair and cover your hair with a shower cap. Leave it on for at least 30 minutes and then shampoo your hair.
3. Argan Carrier oil for hair
Argan oil is extracted from the kernels of the fruit of the argan tree. It contains fatty acids and antioxidants like vitamin E, which are beneficial for the hair. Argan oil contains linoleic acid and linolenic acid, which lubricate the hair shaft and help maintain moisture. Vitamin E helps to reduce fizziness. Argen oil also has beneficial properties that can improve the skin conditions that affect the scalp and reduce hair loss.
How to use: Massage eight to 10 drops of argan oil into your scalp and cover your hair and leave overnight. Wash it the next morning.
4. Sweet almond oil for hair
Sweet almond oil contains vitamin E, fatty acids, proteins, antioxidants, and magnesium, all of which can improve your hair. This oil is an emollient, which means it can fill in the gaps in the hair at a cellular level and makes them smoother. Almond oil also strengthens the hair and prevents breakage during styling. You can also use almond oil on your scalp to treat dry scalp.
How to use: Rub some sweet almond oil between your palms and apply it on your hair, specially the hair ends. You can also rub some oil and apply it on your scalp.
5. Jojoba oil for hair
Jojoba oil is technically not an oil but a wax ester. Its composition is similar to that of sebum, which the skin produces naturally for moisturization. When you apply jojoba oil on your hair, your hair will become soft and manageable. Jojoba oil can also moisturize the scalp and prevent dandruff.
Jojoba oil is rich in vitamin C, vitamin E, B vitamins, copper, and zinc, which strengthen the hair and prevent hair loss.
How to use: Apply it to your scalp and leave overnight. Wash your hair the next day. You can also add a few drops of jojoba oil to your hair conditioner.
6. Grapeseed carrier oil for hair
Grapeseed oil contains antioxidants and essential fatty acids that is essential for the growth of healthy hair. It contains natural conditioning agents that help fight frizz and restore the moisture of the scalp. It is a lightweight oil, so it conditions your hair without making it oily.
How to use: Coat your hair with grapeseed oil and leave it on for 10 minutes. Rinse it with cold water to get shiny and conditioned hair.
7. Castor oil for hair
Castor oil is pressed from castor beans. It is loaded with vitamin E, fatty acids, and minerals. It is a natural emollient, so it can be used to condition your hair. You can also use it to treat dry and irritated scalp and dandruff.
Even though there is much hype about castor oil being one of the best oils for hair growth, there isn't much scientific evidence to prove that it works. It does contain ricinoleic acid, which helps to lock in moisture and keep your scalp healthy.
How to use: Castor oil is thick, so you must mix it with coconut or olive oil for easier application. Apply this on your hair and scalp and leave it on overnight. Wash it the next morning.
8. Avocado oil for hair
Avocado oil is an excellent source of vitamins A, D, E, potassium, and lecithin. Since it is rich in oleic acid, the avocado oil can penetrate your hair shaft and moisturize your hair. It can also penetrate and moisturize your scalp and prevent dandruff. The vitamin D content in this oil also helps to encourage hair growth.
How to use: Massage avocado oil on your scalp to moisturize the scalp, promote circulation, strengthen the roots, and promote hair growth. This oil can also be used as a detangling agent.
9. Evening primrose oil for hair
Evening primrose oil is rich in omega -6 fatty acids like gamma-linoleic acid, stimulating healthy hair growth. It also contains arachidonic acid, which helps existing hair shafts grow longer and promote new hair growth. Many considered it the best carrier oil for hair growth. It also helps to repair the damage caused by hair styling treatments.
How to use: Heat the oil slightly by rubbing it on your palms and apply it on your scalp. Leave it for 30 minutes and then wash your hair.
10. Apricot kernel oil for hair
Apricot kernel oil contains vitamins A, C, E, and potassium. It also contains oleic acid, which makes the hair soft and manageable. It also contains linoleic acid, which stimulates hair growth and prevents moisture loss.
How to use: Take some apricot kernel oil in your palms and rub your palms together to heat it slightly. Massage it gently on your hair and scalp.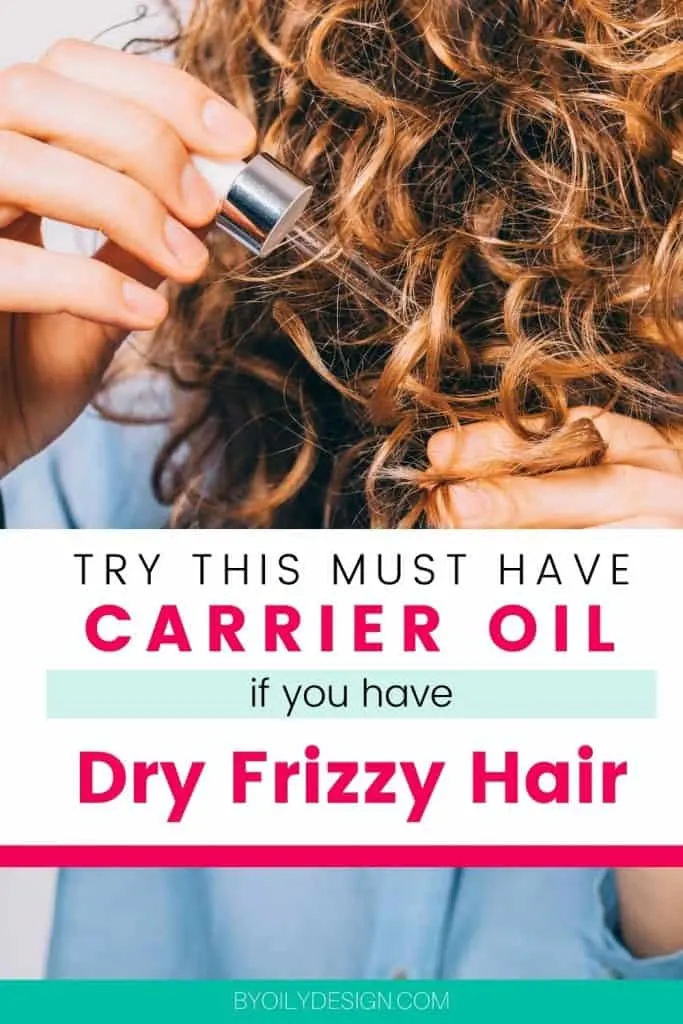 What is the best oil for dry hair?
Argan oil's growing popularity stems in large part for its ability to nourish and moisturize dry frizzy hair. Users love that it conditions hair leaving it with less frizz and more shine.
Best carrier oils for beard care
Beards also need as much looking after as the hair on your head. Beards can also develop itching, dandruff, and split-ends. You can use carrier oils to strengthen, repair, and promote the growth of beard hair. These oils can hydrate, condition, and gently cleanse your skin and beard hair. Here's a list of carrier oils best suited for beard care –
Argan
Avocado
Rice bran
Castor
Sweet almond
Jojoba
Coconut
Grapeseed
You may also want to check this super popular post on a DIY Beard oil I created that has been a huge hit with my husband and all of his friends.
How to mix carrier oils with essential oils for hair?
You must choose the right carrier oil for your hair. If you have dry hair, coconut and avocado will be suitable for you. If your hair is oily, lighter oils like sweet almond oil, apricot kernel oil, and grapeseed oil are the best for you.
You can mix two or three drops of the essential oil of your choice in one tablespoon of carrier oil before using it on your hair and scalp.
One of the most popular combinations for hair is lavender oil with coconut oil.
Which is better for hair olive oil or coconut oil?
While both coconut oil and olive oil have many beneficial properties that can work wonders for your hair, olive oil wins this battle. It softens your hair and is more moisturizing than coconut oil. It is also cheaper and has a longer shelf life. If you have thick and curly hair, olive oil is more suitable for you.
How many carrier oils can you mix together?
You can mix two or three carrier oils to maximize their benefits. However, do not mix too many oils at one time. If you develop a reaction, you may not be able to figure out which of these oils has caused the problem.
Should you use carrier oil for your hair every day?
Oiling your hair once or twice a week is enough. Doing it every day can strip natural oils from your hair. You should also avoid massaging oil into your hair vigorously as it can cause breakage.
Final thought
From coconut to olive, sweet almond to the apricot kernel, there is a whole range of carrier oils that you can choose from to nourish and condition your hair. These oils offer numerous benefits for your air, including stimulating hair growth and treating dry scalp and dandruff. Choose the oil suitable for your hair type and always use high-quality, minimally processed oils.
Want to get started using essential oils? I'd love to coach you!
When you sign up with me as your enroller you get amazing support and education.
I even have an FREE Essential oils reference app just for those that enroll with me! I want you loving your oils and getting the most out of them you can.
Ready to get started? Click on the below image and let's get the starter kit in your hands.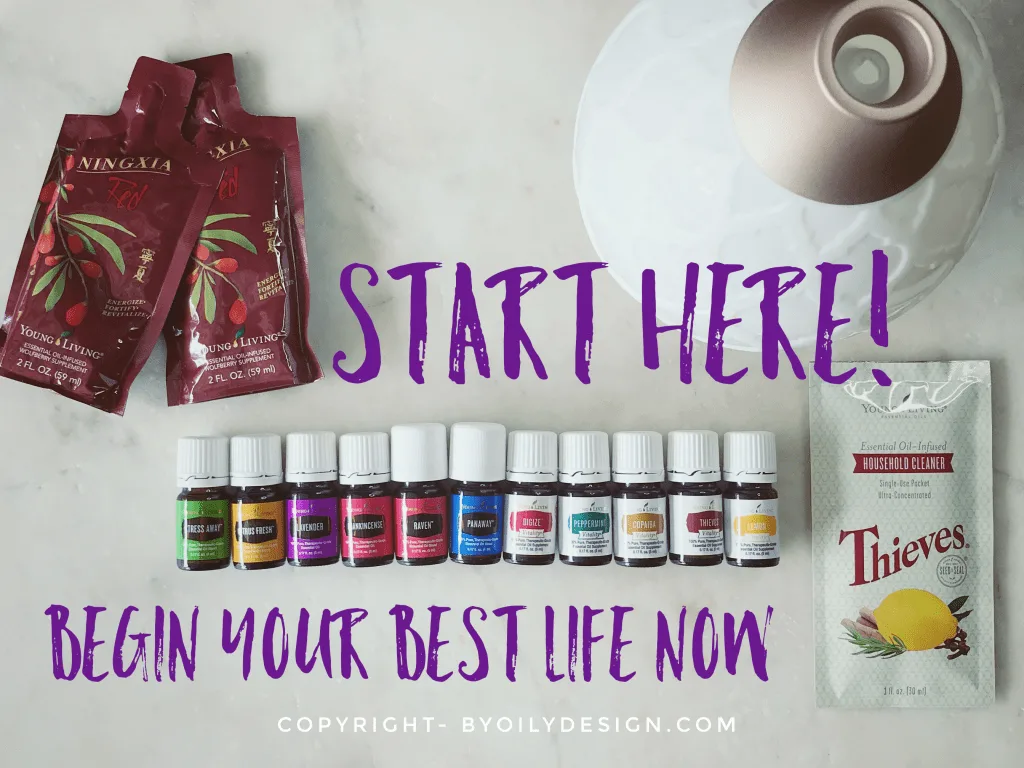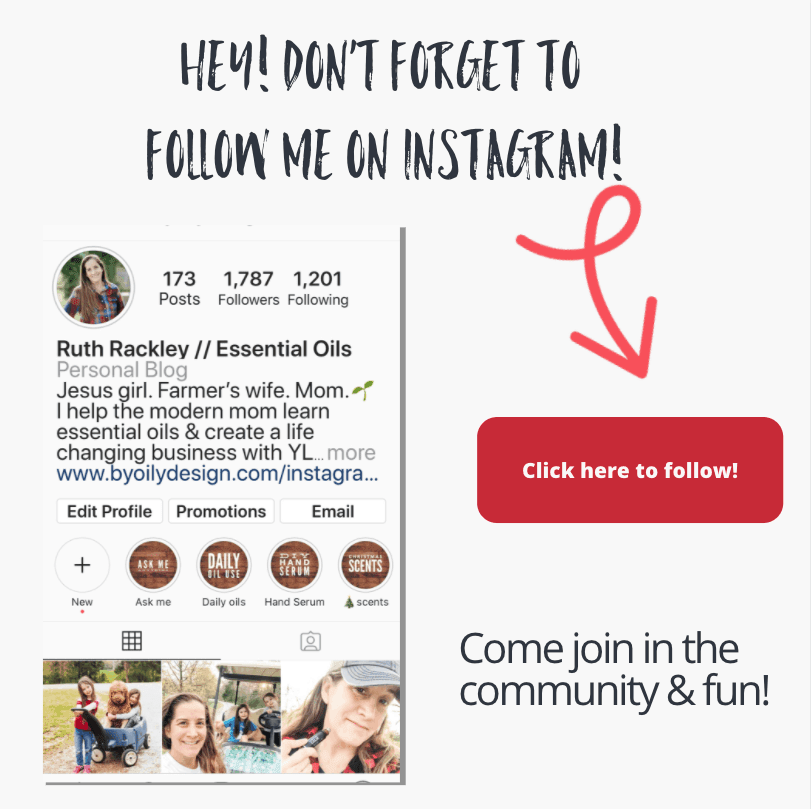 Written by Manveen Grewal , Edited by Ruth Rackley
Best oils for hair growth