Carrot Seed Oil for skin – Benefits and Uses
Mention the word carrot, and your thoughts immediately go to the healthy, crunchy vegetable that is an integral part of our diet and probably not to Carrot seed oil.
Today, however, I'm not talking about this super healthy vegetable, but the amazing essential oil that is derived from its seeds.
I'm talking about carrot seed essential oil, which is derived from the seeds of the wild carrot plant – Daucus carota.
In this post, I'm going to cover so many fun facts about this little known oil with it's earthy aroma.
For instance, Did you know Carrot Seed Essential oil is good for your face?
Yes, Carrot Seed essential oil benefits for your skin are so surprising.
Just wait till I tell you about what it can be used for.
I will let you in on a little secret, I was totally surprised
Oh, and I'm going to debunk some crazy myths around this Essential Oil so read on my friend, and let's chat about this rarely used oil and where you can buy Organic Carrot seed oil online.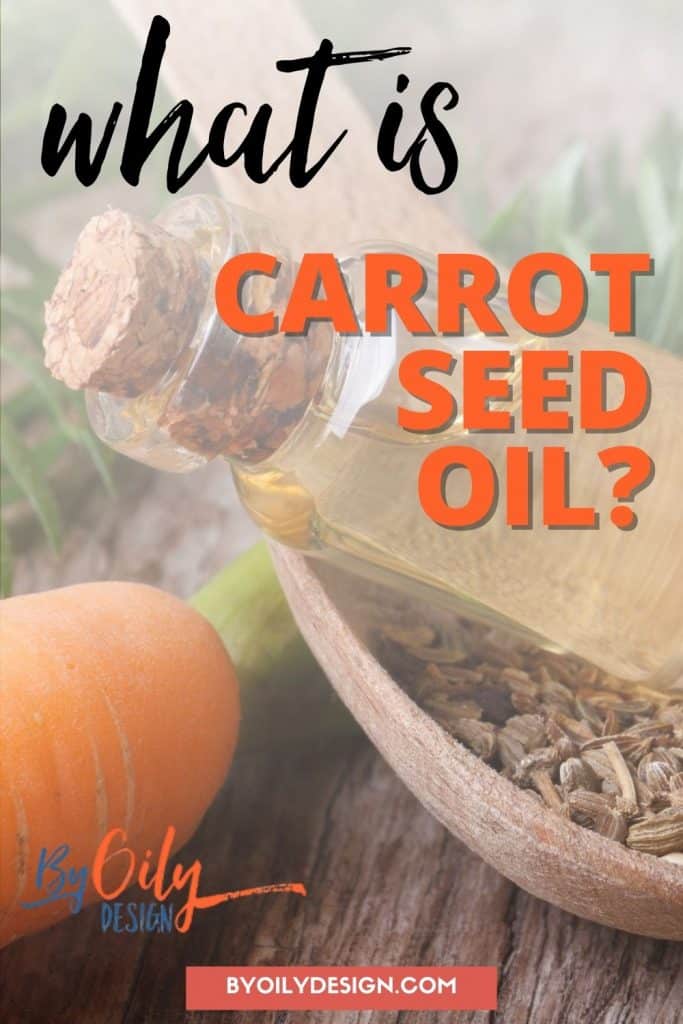 *This post contains affiliate links to the essential oils and other products I talk about in the post. Purchasing them here from my blog is no extra cost to you but I do earn a commission that helps in the cost of running this blog. Thanks for your support!
What is carrot seed oil?
Carrot seed oil is a highly beneficial essential oil that is extracted via steam distillation from the seeds of the Daucus Carota plant.
This flowering plant, also known as Queen Anne's lace, is known for its white blossoms and scented roots.
Many call it the unsung hero of the essential oil world as it is highly beneficial for the skin and hair thanks to its high carotenoid content.
The use of this oil can be traced back to the time of the ancient Greeks, Romans, Egyptians, French, and Indians, who used it to soothe gastric troubles.
Botanical name – Daucus carota
Common Method of Extraction- Steam Distilled
Plant part used- seeds
Chemical constituents- Carotol, Daucene, beta-Bisabolene,and Daucol
Color – Golden yellow
Consistency – Thin to medium
Aroma – Earthy, woody and warm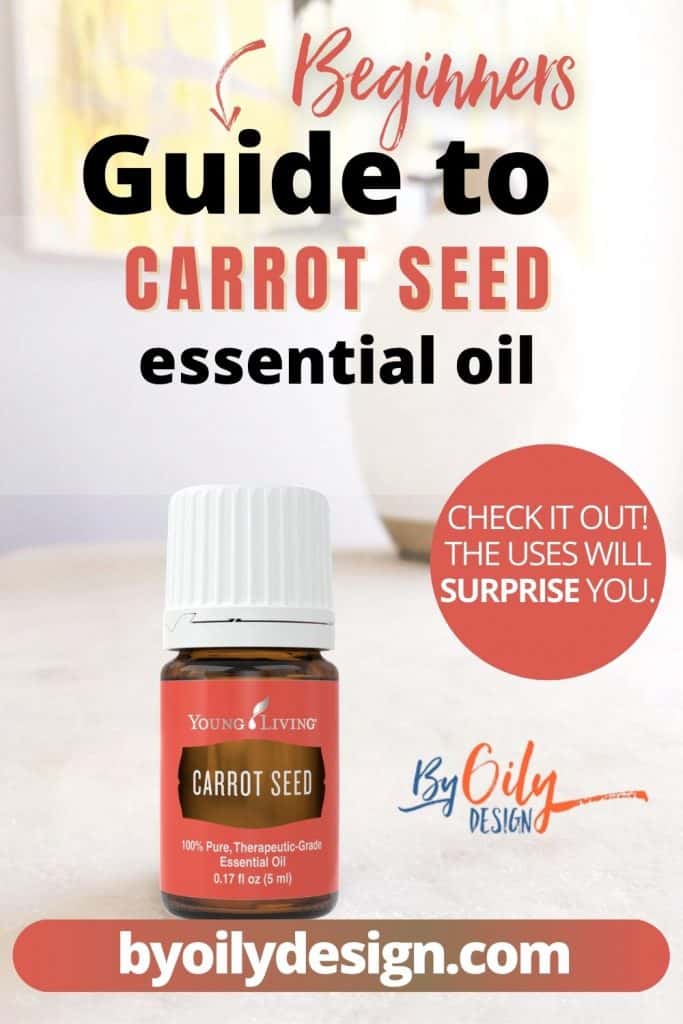 Benefits of carrot seed oil for skin
1. Supports the growth of healthy skin
It contains vitamin A, which helps in promoting and maintaining healthy skin cells.
This is the reason why it can help support healthy skin growth from damage caused to the skin by pollution and stress.
2. Reduces the look of fine lines
Besides vitamin A, it also contains collagen-boosting vitamin C, and moisturizing vitamin E, all of which help to maintain a youthful appearance.
Carrot seed benefits skin by helping skin feel smoother and more pliable
3. Reduce the appearance of blemishes and scars
This essential oil has antioxidant properties that can help reduce the look of blemishes and scars. Plus it can help address uneven skin tone that all women want to avoid.
It has high levels of beta-carotene and vitamin A and E, which help to support brighter looking skin.
4. Brightens the skin
If your skin is looking drab, dull, and tired, then this oil is just what you need. Its skin brightening properties can add a glow to your skin.
It's just a guess, but I think that the amazing skin benefits I have shared are why Carrot Seed Essential Oil is an ingredient in the Young Living's Bloom Skincare line. It's a powerhouse of goodness for your skin.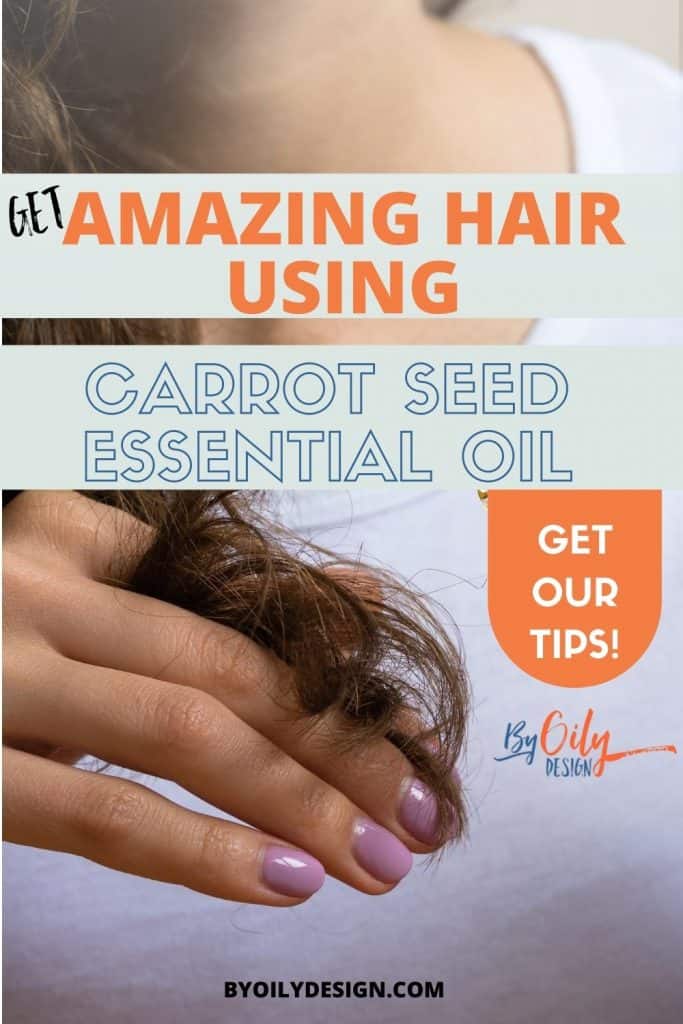 Other Carrot Seed Oil Uses
5. Strengthens hair
If you have dull, brittle, and lifeless hair, you must check out carrot seed oil for hair use.
This essential oil is rich in beta-carotene and vitamins, which supports blood circulation and supports the growth of new cells.
All these qualities support the hair so it can grow faster and thicker.
Using carrot seed oil for hair DIY products helps to moisturize, condition, and improve the texture of your hair.
6. Relieves tired overworked muscles
It can help soothe tired muscles. You can add a few drops to your massage oil or mix it with your bath water with Epsom salt.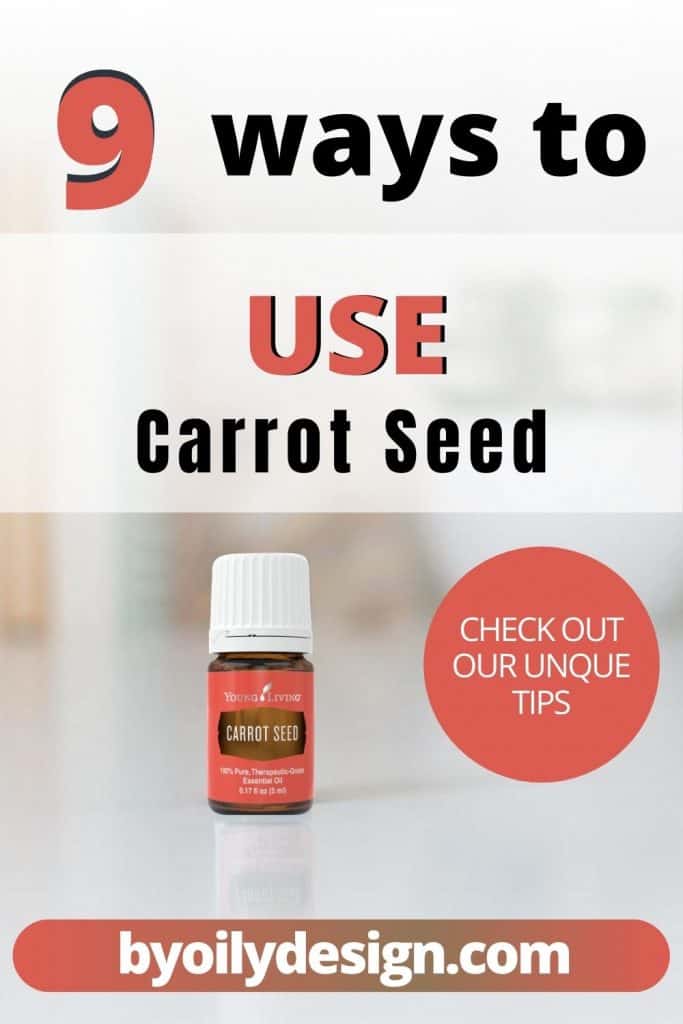 What is carrot seed essential oil used for?
Carrot seed essential oil is used in many cosmetic products as it provides great moisturizing properties and supports more youthful-looking skin. It's a great oil for all skin types.
The moisturizing properties of this oil aren't limited to skincare. You can nourish your hair with a hair serum made with carrot seed oil.
Here's a list of uses –
1. Moisturizer
You can dilute it and apply it to your face and neck as a night-time moisturizer that will nourish and support dry skin and oily skin.
2. Support a youthful appearance
You can help mature skin appear younger by supporting your skin elasticity. Dilute this oil with a favorite carrier oil and apply it on your dry and dull skin to support skin health.
3. Under-eye cream
Add carrot seed oil to your recipe of home-made under-eye cream for additional benefits.
4. Calm the mind
Put some carrot seed oil in the diffuser and promote a relaxing and calming environment. Some say Carrot See oil has an earthy grounding fragrance.
5. Conditions hair
Add a few drops to water and spray it on your hair to condition and add moisture to it.
6. Soothe Split ends
Apply it on the bottom of your hair strands to moisturize split ends.
7. Improve scalp
Massage diluted carrot seed oil on to your scalp to improve it and to support hair health.
8. Muscle relaxation
Add a few drops of this soothing essential oil in your bath water after physical activities.
9. Support sleep
You can diffuse in the air an hour before you sleep to promote restful sleep.
Can carrot seed oil be applied directly to your skin?
There are differing thoughts on if Carrot Seed oil can be applied directly to your skin.
First it really depends on the quality of the oil and the brand you use. Always follow the label on the bottle.
According to the Young Living website, this Essential oil can be applied 2-4 drops directly to the desired area.
If you have sensitive skin, you should not apply carrot seed oil directly to your skin.
Like all essential oils, it is always best to mix this Essential Oil with a cold-pressed carrier oil like coconut oil or sweet almond oil before you use it on your face.
When you apply it topically, it can cause photosensitivity, and increase your risk of developing a rash or sunburn so don't apply and then go out into the sun.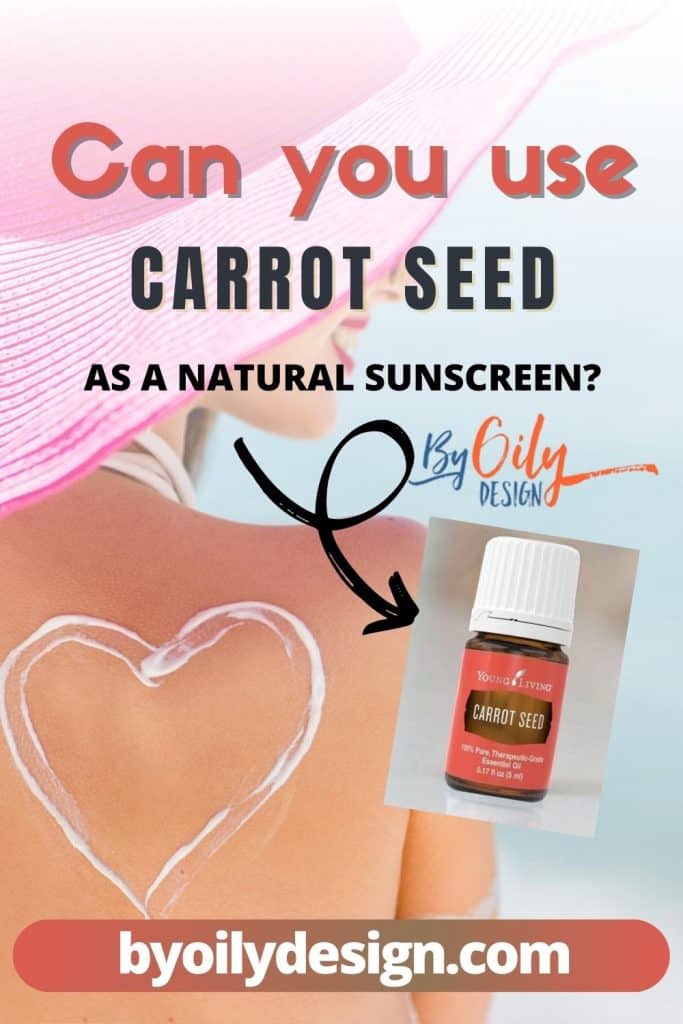 The Truth about Carrot Seed SPF
If you have been around a while in the essential oil world, you may remember the craze of everyone wanting Carrot Seed Essential oil to create their own all-natural sunscreen.
I personally had my doubts so I steered clear of all DIY Carrot Seed SPF Sunscreen.
Unfortunately, several of my friends gave it a try and came home with a sunburn. Yeah, no thanks.
Here is the truth on Carrot Seed SPF.
Though plenty of people claim it is an effective natural sunscreen, this is far from the truth.
Some blogs and even a 2009 study claim carrot seed SPF to be in the range of 38 to 40.
However, no other research since then has proved it's SPF to be good enough to be used as a sunscreen.
Here is the latest research I found on Pubmed. Formulation and evaluation of carrot seed oil-based cosmetic emulsions
SAFETY NOTE—- Carrot seed oil has no known SPF and should not be used as a sunscreen.
So do yourself a favor throw away all those Carrot Seed SPF Sunscreen Recipes.
This essential oil has many skin benefits, but sun protection is not one of them.
Does carrot seed oil darken the skin?
No, it does not darken the skin.
Don't worry I was curious about this too.
My niece when she was a baby would only eat carrots. And she turned into one orange looking, baby.
So not really knowing much about how to use this essential oil on my skin, I certainly didn't want my skin to darken to some weird orange color.
In truth, carrot seed oil can help leave your skin lighter, brighter, and radiant.
Sun exposure and pollution can lead to dull and lifeless skin.
Carrot oil supports new cell renewal, which helps to brighten skin.
Some tanning oils and accelerators do have carrot oil in them, but it is added only to moisturize the skin. If you look carefully at the label, you will realize that they contain carrot oil and not carrot seed oil.
What is the difference between carrot seed oil and carrot seed essential oil?
Organic Carrot seed oil is often confused with carrot seed essential oil, but the two have completely different properties.
Carrot seed
oil is derived from the seeds of wild carrots, whereas carrot oil is made by infusing crushed carrots in a carrier oil like coconut oil or olive oil. It is left for some time, and then the oil is filtered out.
Carrot oil is often used for cooking, while carrot seed is an essential oil that is typically not supposed to be ingested.
Young Living does have a Carrot Seed Essential Oil that is a part of its Vitality line that is FDA labeled safe for ingestion.
If you are looking for a pure Organic Carrot Seed oil that is safe for ingesting I would purchase the Young Living Carrot Seed Oil because of its seed to seal promise. Which guarantees an amazing better than organic carrot seed oil.
Side effects and precautions
Carrot seed oil is generally considered safe for external use. However, it is important to take a few precautions when you use it.
Use caution when applying the essential oil to your skin directly as it may lead to rashes and redness. Use it with carrier oil instead.
Before using a large amount preform a skin patch test to insure there is not skin irritation from the oil.
It may also cause photosensitivity and increase the risk of sunburn. Limit your sun exposure after you apply it on your skin and cover the skin that the oil has been applied to.
Never use carrot seed essential oil during pregnancy as it can cause contractions, which can lead to miscarriage.
Consuming this oil should only be done with an Essential Oil brand like Young Living that has a dedicated Line for ingestion.
DIY Beauty Products you can make with Carrot Seed oil
Treat your face to a night time Face mask. Take our popular Activated Charcoal mask recipe and add 5 drops of Carrot seed oil, 5 drops of Lavender, 5 drops Geranium, and 3 drops Frankincense apply to face and leave for 10 minutes, remove with warm water and watch your dull skin cells begin to glow.
Boost the moisture in your dried tired feet. Apply a drop of carrot seed oil to your feet with your favorite carrier oil to soothe and refresh.
Nourish your hair with a DIY leave-in conditioner. I also like to use this recipe to help detangle my girl's hair. Using a 24-ounce glass spray bottle I like to use Carrot Seed oil, Rosemary essential oil, Cedarwood essential oil. I put 8 drops of each oil into the bottle. Then add 1/2 cup of my favorite Young Living Conditioner and add distilled water to just below the neck of the bottle leaving enough room for the sprayer tube to be added. Shake to combine and then spray on wet hair after a shower.
Where to buy Carrot Seed Oil
It's important to purchase pure essential oils from a company you can trust. Not all essential oils companies are the same and I like knowing that with Young Living I have the seed to seal guarantee which means their oils are pure and reputable. Young Living also has a vitality line of oils that are labeled and approved by the FDA for ingesting.
Final Thoughts on Carrot Seed Oil uses
Carrot seed oil is an effective essential oil that is extracted from the seeds of the Daucus Carota plant.
Besides beta carotene, carrot seed oil also contains vitamins A, C, and E.
I'm excited to be using the Young Living Bloom Skincare line with Carrot Seed Oil as one of its powerhouse oils to create radiant skin.
I actually have this oil in my essential oil collection so I have plans to finally put it to use. Up until now I just wasn't quite sure how to get the best benefits of Carrot Seed.
After my research for this post, I plan to give it a try in my hair serum to see if I can tame my crazy hair.
And stay tuned I may revamp my essential oil face serum to include it too!
Written by Manveen Grewal , Edited by Ruth Rackley