Best oil diffuser for cars
Whether you need an energy boost during a long ride or tend to get negatively affected by motion, diffusing essential oils in your car can help you a lot. Essential oil diffusers for cars are not just meant to make your car smell good; they also help you to get into the right frame of mind and promote alertness and mental clarity while driving.
But what is the right way to use essential oil diffusers in a car? Which is the best oil diffuser for a car? Which are the best essential oils to use in a car? Before you go on your next road trip, read on as we answer all these and more questions about oil diffusers for car.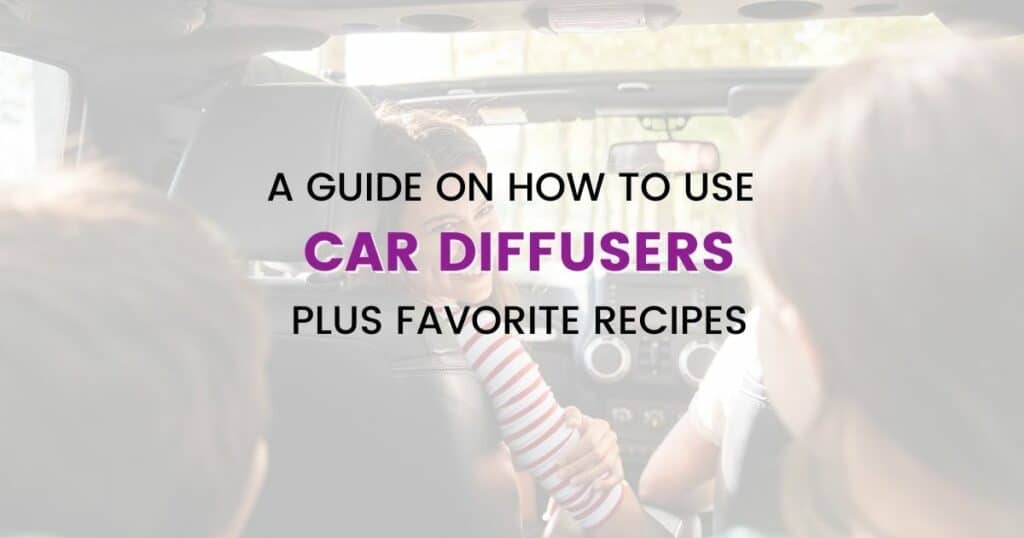 *This post contains affiliate links to the essential oils and other products I talk about in the post. Purchasing them here from my blog is no extra cost to you but I do earn a commission that helps in the cost of running this blog. Thanks for your support!
Top 3 essential oil car diffusers that will do what you want!
I know your busy so if you want the quick low down of my top three car diffusers here they are.
This USB InnoGear Car Diffuser is my main car diffuser. I've had this same diffuser for 7 years! I load it up with peace and calming or stressaway and off we go on long trips where everyone is happy and momma is stress free. I love I can take it into hotels or where ever we are staying and use it there too. if you can snag it for under $20 get it!
If you are short on cup holders this is the one you need. Trust me, spilling essential oils and water all over your car is zero fun. The MIGHTYDUTY Car Air Humidifier is a one button control so easy to adjust while driving.
just want a simple no water diffuser this felt clip design will be perfect for you. if you see them under $10 that is a great price to grab a few.
But read on we have tons of great info and some major dos and don'ts with using an essential oil car diffuser. yes, there are some dangers you need to be aware of tpp!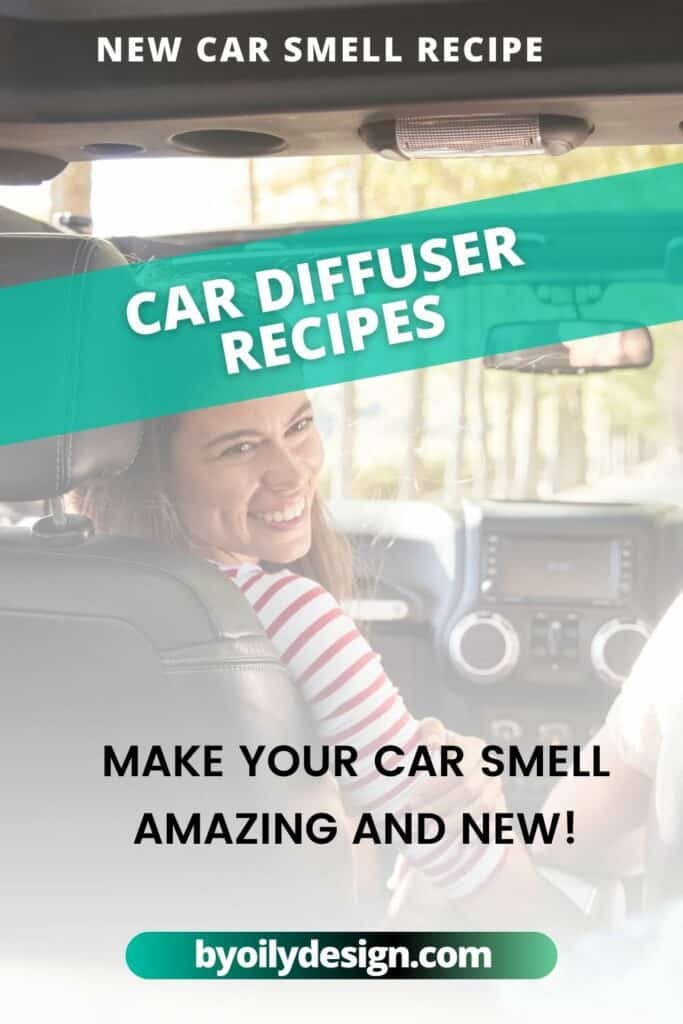 What is an in-car essential oil diffuser?
An in-car essential oil diffuser is a small device that you can attach to your car's vent and enjoy a fragrant car ride. It helps to maintain a fresh, moisture, and odor-free environment in your vehicle.
Why do you need a car diffuser?
Using an essential oil car diffuser in your car can help you in a lot of different ways. These include –
1. Staying alert
If you feel groggy on your way to work and feeling like your energy levels are not quite where you need them to be, a car diffuser can provide you an energy boost and help to stay alert. An essential oil car diffuser can also help you stay energized during long road trips. Peppermint essential oil is one such oil that you can add to your car diffuser to help you stay alert while driving your car. But remember the best solution when your feeling sleepy while driving is to stop driving and get rest.
2. Calming your mood
Long commutes and traffic can often lead to anger and frustration. Diffusing lemon or sweet orange oil in your car can reduce frustration, prevent road rage, and help you feel more relaxed. One of my favorites is an oil from Young Living called Stress Away. It became a favorite of mine because it put me in a positive attitude while I waited daily in the school car line.
3. Improving the air quality
Diffusing essential oil also helps to clean and purify the air inside your car. It can help you fight unhealthy particles in the air.
Car diffusers also double up as humidifiers. They can improve the air quality of your vehicle's cabin and save you from dry weather.
4. Getting rid of bad smells
Whether it is smelly gym clothes or uneaten snacks on the back seat, they can all make your car unbearable to sit in. Diffusing essential oils in your car can freshen up the air in the vehicle. You also don't have to worry about any embarrassing odors if you have passengers. With a car diffuser, your car will feel fresh every time you get in. You can also unplug it anytime you think the scent is getting too powerful.
How to use an essential oil diffuser in a car?
Diffusing essential oils is quite popular nowadays. People like to diffuse oils everywhere, including their cars. This is the reason why you may find a whole range of different car diffusers online and in aromatherapy shops. How to use an essential oil diffuser in a car depends on which kind of diffuser you choose to use. Here are some of the popular types of car diffusers for essential oils and the best way to use them.
1. Vent clip diffusers
Vent Clip diffusers are a type of passive diffuser. Passive diffusers allow you to enjoy the scent of your favorite oils without the worry of a power source or water level.
These are a popular kind of car diffusers as they are an inexpensive and easy way to diffuse in your car. You can clip them onto the car air vents in your car. As you heat or air-condition your vehicle, the essential oils dissipate into the car slowly. A few vent clip diffusers use felt pads that soak in the oil; you can replace the scent pad from time to time. Other vent clip diffusers have a refillable reservoir.
These stainless steel lockets are vent clips that are a great choice for passive diffusing in your car.
2. Plug-in diffuser
Another popular option is the plug-in car diffuser. You can plug these diffusers into either the power point (cigarette lighters) or the USB port in your car. Some of these diffusers have a small water tank (50 ml) to which you add essential oils, This type of diffuser is an ultrasonic diffuser. While other USB diffusers use only essential oils. They both send mist into the air at varying speeds. Another benefit of these diffusers is that they double up as small humidifier using only a small amount of water.
If you spend a lot of time in your car, this essential oil car diffuser and humidifier will create the perfect environment for your car rides.
My favorite USB diffuser for my car can also be used anywhere you can plug in a USB cable so being able to take it to my hotel room or the office at work is a great bonus. Plus, it has the option for different colors for the night light feature and different choices of spray modes. I have had this model for three years and I have used it countless times and it works amazing!
3. Rechargeable car diffusers
The design and the functioning of rechargeable diffusers like this cute wooden one are pretty similar to plug-in diffusers. The only noticeable difference is that these diffusers don't have to be plugged in all the time. Once charged, you can place this portable essential oil diffuser anywhere in your car. However, you may have a problem with battery life.
If these options do not suit your style or pocket, you can always opt to make a homemade car diffuser.
Check out this post where I dive deep into the best essential oil diffusers you can buy.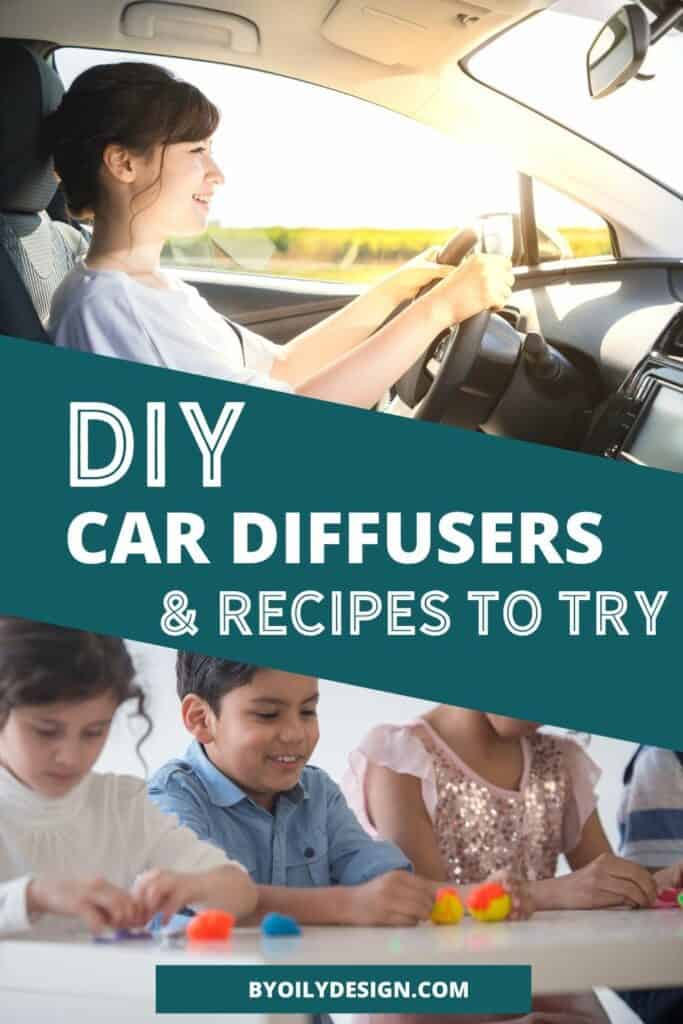 How to make a diffuser for a car?
DIY car diffusers are a great gift. They are easy to make, require only a few craft supplies, and can keep your car smelling fresh with your favorite scent all year round. Here are some easy essential oil car diffuser CHeck out the best car DIY diffusers that you can make at home –
Clothespin diffuser
What you need
A small wooden clothespin
The essential oil of your choice
Directions
Put five drops of any essential oil of your choice on the clothespin.
Clip it on the car air vent of your car, and your essential oil car vent clip DIY is ready.
Mason jar diffuser
What you need
A 4 oz mason jar
The essential oil of your choice
Baking soda
A small nail
Cardboard
Directions
Remove the lid of the mason jar.
Use the lid of the jar to trace a circle on the cardboard and cut out the circle.
Remove the metal lid but keep the ring.
Poke holes in the cardboard with a nail.
Fill half the car with baking soda and add around 15 drops of essential oil to it.
Close the lid with a cardboard and metal ring.
Place the jar in the cup holder of your car.
Hanging car diffuser
What you need
Rolling pin
Crochet doily
Drinking straw
Cookie-cutter
Wooden beads
Ribbon
Baking paper
The essential oil of your choice
Directions
Roll out the clay to a thickness of 5mm.
Place a crochet doily over it and roll the rolling pin over it to create a pattern.
Use a cookie cutter to cut the shape you desire.
Use the drinking straw to cut out a small hole on the top of the shape.
Leave it to dry for one or two days.
When the shape is dry, string a ribbon through the hole and thread a bead through the cord's two ends. Knot the two ends to secure them.
Add a few drops of the essential oil of your choice to the clay diffuser and hang it in your car.
When the oil fades away, you can add more drops.
Felt car diffuser
What you need
Felt in a favorite color
Cotton ball
Scissors
Yarn or ribbon
Directions
Cut two identical pieces of felt.
Sew them together, leaving a small hole.
Squeeze the cotton ball into this hole.
Add a few drops of essential oil to the cotton ball and then close.
Make a hole towards the top of the felt and string yarn or ribbon through it.
Hang this DIY diffuser in your car.
What is the best essential oil for car interior?
Studies show that smells can influence human behavior. Diffusing the right scent in your car can help you stay alert, be calm and be a safe driver. If you're looking for the best essential oil for car diffuser, read on –
1. Lemon essential oil
Diffusing lemon essential oil in your car can clear your mind and improve concentration. It is pleasant and fresh and induces positive feelings. If you or any of your family members are prone to car sickness, diffusing lemon essential oil in the car can help.
2. Rosemary essential oil
When diffused in the car, rosemary essential oil can relieve anxiety, improve mood and induce alertness. Rosemary can also improve attention and help you make quick decisions while driving.
This essential oil can be a bit strong for children, so use only one or two drops if you have children in the car.
3. Eucalyptus essential oil
I love the refreshing smell of Eucalyptus essential oil. It is ideal for long car rides as it helps overcome mental exhaustion and sluggishness. Eucalyptus oil is also an excellent essential oil car freshener. If you have spilled anything inside your car or it smells musty, you can use eucalyptus essential oil to make it smell fresher.
4. Wild orange essential oil
Wild orange is a calming essential oil that also has uplifting properties. It is the perfect essential oil for car interior as it helps you stay awake and calm at the same time.
5. Mandarin essential oil
Mandarin essential oil can help reduce stress and other negative emotions. It calms your nerves but does not induce sleep, which makes it the ideal oil to diffuse in your car.
6. Peppermint essential oil
Peppermint essential oil helps you stay awake and alert during long car rides. It is also beneficial when you are tired and stuck in traffic.
Essential oil blend for car
You can use the following blends in your car. You can adjust the ratios in the car diffuser recipes to suit your preference. Stick to 2 to 3 drops at a time.
rough travel blend
If you are prone to getting under the weather during long drives, this essential oil diffuser car recipe may support better feelings –
1 Drop lemon essential oil
2 Drops spearmint oil
Alertness blends
Long drives and traffic jams can make you sluggish and tired. These car diffuser essential oil recipes using some of my favorite essential oils will help you stay alert –
Alert blend
1 Drop peppermint essential oil
1 Drop bergamot essential oil
Awake blend
1 Drop basil essential oil
2 Drop lemon essential oil
Happy blend
This essential oil car freshener recipe will keep you and your passengers in a pleasant mood.
1 Drop grapefruit essential oil
2 Drop lemon essential oil
1 Drop orange essential oil
New car smell essential oil blend
The experience of owning a new car and its smell is unique. You can recreate that experience by diffusing this blend in your car –
1 Drop wild orange essential oil
1 Drop wintergreen essential oil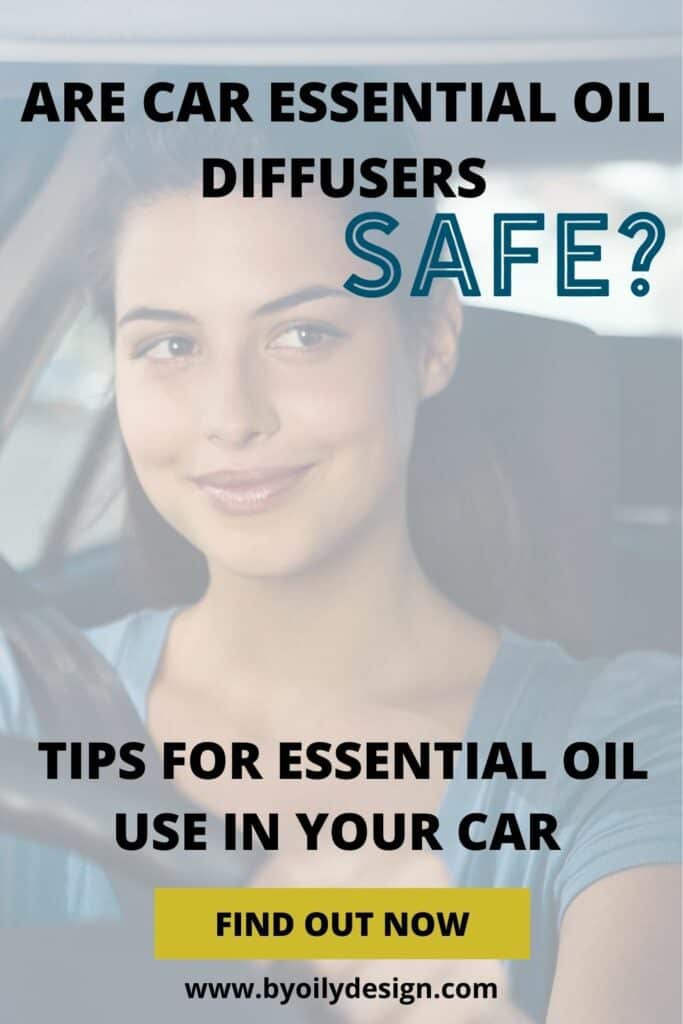 Are car diffusers safe?
Car diffusers can help you and your family during your travels. However, you can't diffuse essential oils any way you like, as they may cause more harm than good if misused. Here are some tips for diffusing essential oils in your car safely –
Ensure you and your passengers are not allergic to the essential oil you are about to use in your car. If you feel you are reacting to the oils in your car, open windows to allow for fresh air.
When it comes to essential oils, less is more. too many drops of oils can leave you overpowered. Use only a drop or two in your oil diffuser for car so that you do not have an overpowering scent.
Don't use your car diffuser for long hours. Please use it on an intermittent mode, turn it off every few minutes on a long drive, or open your car windows at intervals.
When compared to synthetic fragrances, essential oils dissipate quickly. You can add one drop of oil to your diffuser daily to freshen up the scent.
Essential oils are not recommended for pets. Avoid using your car diffuser when you are traveling with your pet.
Using oils that may cause drowsiness like lavender and chamomile in your car should be avoided.
Avoid using oils that may make you jittery and hyperactive.
Don't hang a diffuser from your rearview mirror or any other place where it may block your vision.
Essential oils to diffuse in your car
Here's a list of some other essential oils that can be used to freshen and purify the air in your car –
Balsam fir
Basil
Bergamot
Cedarwood
Cinnamon leaf
Coffee
Cypress
Fir needle
Frankincense
Geranium
Ho wood
Juniper berry
Lemongrass
Lime
Mandarin
Neroli
Palmarosa
Patchouli
Peru balsam
Pine
Spearmint
Spruce
Tangerine
Vanilla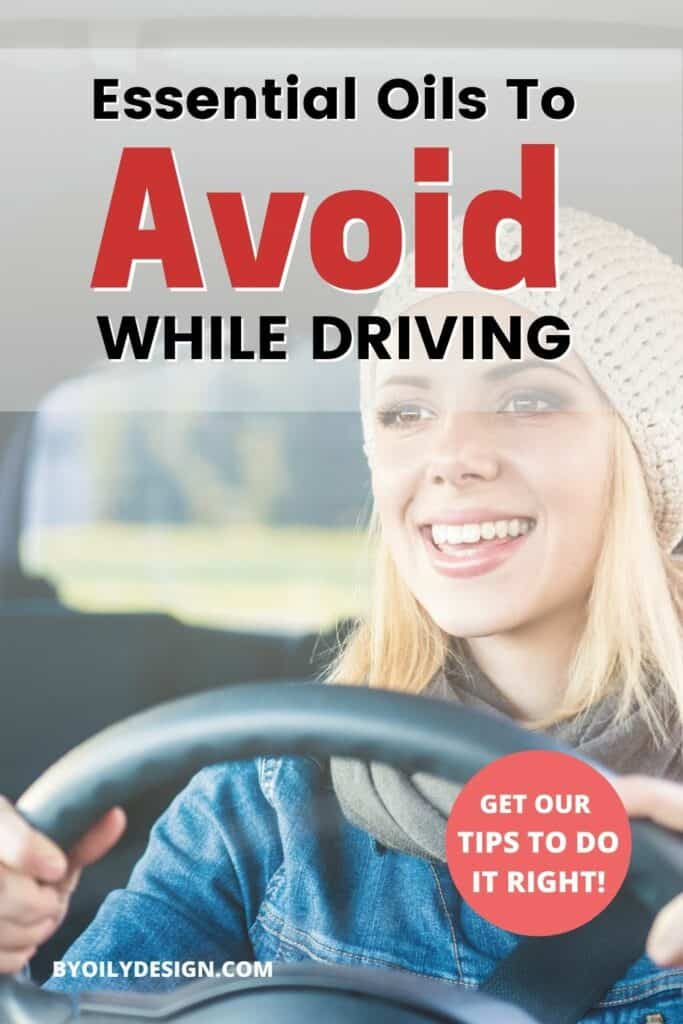 Essential oils to avoid diffusing in your car
To give yourself peace of mind so you don't over relax and fall asleep at the wheel it's best not to diffuse the following oils.
Benzoin essential oil
Chamomile (German and Roman)
Geranium
Lavender
Marjoram
Neroli
Sandalwood
Spikenard
Valerian
Vetiver
Some other important questions about car diffusers for essential oils
Can you leave essential oils in your car?
Don't worry if you have accidentally left any essential oil in your hot car. If pure essential oils are temporarily exposed to heat (if they are left in the car that reached more than 140 degrees), the oil will be as good as new as long as it stayed sealed.
Many of these oils are made through a process (distillation) that uses temperatures between 240 to 260 degrees. So, even if they are left in a hot car, they will remain stable as long as their caps are tightly closed.
Cold-pressed essential oils like citrus oils, on the other hand, should never be exposed to heat. The therapeutic value of these oils is reduced if they are kept in temperatures that exceed 100 degrees.
Absolutes like jasmine and neroli are extracted through chemical solvents, and they are destroyed if kept in temperatures above 90 degrees.
Can you clean your car with essential oils?
Yes, cleaning your car with essential oils can keep it looking and smelling great.
You can mix vinegar and lemon essential oil to make a window cleaner for your car.
To clean your car's tires, mix one part baking soda, one part water, and three drops of lime essential oil.
To clean the dashboard and other non-cloth areas of your car, put two drops of your favorite essential oil on a rag and wipe down the surfaces with it.
Final thoughts
There are many different essential oil diffusers that you can use in your car to enjoy essential oil health benefits. on the go. Vent clip diffusers, plug-in diffusers, and rechargeable diffusers are some of the options available online and in the shops. You can also make DIY car diffusers easily.
When used with the correct essential oils, oil diffusers for cars are a great way to help you stay alert, focussed, and in a good mood while driving. If you tend to have a rough time on long car rides, essential oil car diffusers DIY can help you with that as well.
Car diffuser