Essential oil gift ideas for that essential oil lover in your life.
Looking for that perfect non-DIY essential oil gift idea to give that essential oil fan in your life? Don't worry I've got you covered. If your looking for DIY essential oil gifts check out this post.
You see, I realize that not everybody is as crazy about essential oils as I am.
Case in point my husband.
He loves me like no other and he totally supports me in my use and love of essential oils.
He even requests them quite often for his own personal support. But when it comes to essential oil knowledge and use?
He is completely in the dark. He probably couldn't even tell you a single way to use Thieves. I know shocker for us oil fans. But that's okay.
He has me.
I also know that he wants to surprise me with meaningful gifts at Christmas and on birthdays that I will love. But unless I want a tractor part or a new pair of Muck boots. The man wouldn't know where to start.
So along time ago, I quit expecting him to be a mind reader when it comes to the perfect Gifts. I now put together I list of what I like and then leave it up to him.
That is where this list of the Best Essential oil Christmas gifts came from. But don't worry it's a list that works perfectly for any time of the year when you are looking for that essential oil gift for mom.
In this post, I'm going to share fun gift items that any Essential Oil fan would love to have. This list is made up of NON-DIY essential oil presents. My husband is not much of a crafty DIY person he would rather gift me the tools and let me loose.
And don't worry I'm sharing essential oil gift ideas that are great not only for women but I'm also including essential oil gift ideas for guys. several of these will make great stocking stuffer ideas too!
*This post contains affiliate links to the essential oils and other products I talk about in the post. Purchasing them here from my blog is no extra cost to you but I do earn a commission that helps in the cost of running this blog. As an Amazon Associate, I earn from qualifing purchases from Amazon. Thanks for your support!
Don't forget to go ahead and pin this post for later it would be a shame to lose all these great ideas!
Oh and while you are at it can you do me a favor? Can you share this post with your friends on Facebook? I bet there is another mom out there that could use some gift help from a friend.
Now let's get to talking Essential Oil gifts!
Essential Oil Jewelry
Let's get this gift-giving started with a little bling! Here are a few of my favorite Essential oil jewelry ideas for the guys and girls!
Most of these pieces you will find are made with either Leather, a Lava stone or piece of wood incorporated in the designs.
This is because when wearing essential oils on jewelry, you need something that will absorb the oil and hold it so that it can be diffused as the piece of Essential oil jewelry is being worn. Leather, Lava stone and wood are great for diffusing essential oils.
Don't worry the Jewelry pieces I have selected will not break the bank.
Essential Oil Diffuser Necklace
Seriously, If you want to buy a female essential oil lover the best gift ever I vote for this essential oil diffuser necklace with lava bead and Amazonite stones. I'm pretty sure I would wear this EVERY SINGLE DAY.
To be honest, I could have posted everything from Ashley Madrigal's Etsy store. I adore her simple classic yet modern jewelry. She has this one stone and lava bead necklace in her signature collection that I plan on buying myself!
When I contacted Ashley to talk to her about her one of a kind jewelry she was so amazing. I told her about you and how I know my readers would fall in love with her handmade creations and she offered up a Coupon Code just for my readers!
I also love this simple wooden cypress ball necklace from Ashley's store.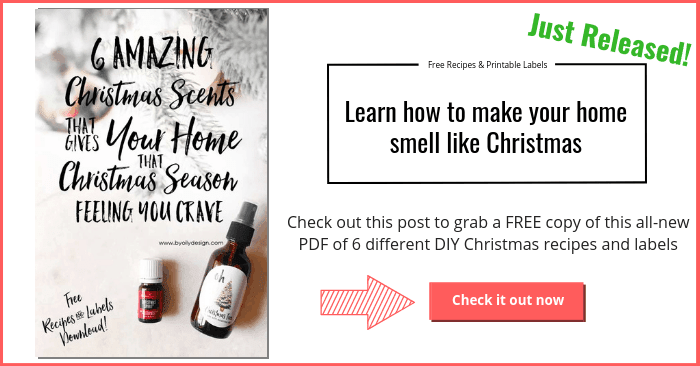 Essential Oil Diffuser Bracelets
How pretty is the bracelet from Drops of Wellness? I love the simplicity of the bracelet and its mix of stone and wooden beads.
This is another piece I would seriously wear EVERY SINGLE DAY.
Alexis the owner of Drops of Wellness has an amazing essential oil testimony and her designs are so incredible. She has so many options for diffuser bracelets that I'm pretty sure there is something in her shop for everyone. You can't go wrong with her jewelry.
When I contacted Alexis about her store she offered up 15% off coupon code for her store. So go check her out! seriously you will be so glad you did.
And how about this adorable Children's Essential Oil Diffuser Bracelet for girls also made by Drops of Wellness?
Adult girls are not the only ones that love their essential oils.
My girls love using essential oils and I'm thinking both of my girls will be getting one of these this year!
Don't worry I didn't forget about the guys.
I love this rugged leather bracelet for men. It's not marketed as a diffuser bracelet but I would totally add a drop or two to the inside of the bracelet. Hidden Message Bracelet for Men
I like that you can add your own personalized message too!
I'm thinking of getting one for my husband from the girls with a sweet message like "We love you Daddy".
Essential Oil Diffuser Earrings
And for the bold, check out these Diffuser earrings by The Path Less Traveled! I have a pair of these feather-light, leather teardrop diffuser earrings in light gray and they are super light and fun to wear.
Essential Oil Apparel
Let's be honest my mom wardrobe consists of a lot of Tshirts and for some reason these days I love them to be fun and quirky. If they show off my oil love then that is even better. Check out this essential oil T-shirt by Jade and Lemon. She has several fun options in her shop to chose from this just happened to be a favorite one of mine.
Essential Oil Diffusers
So I'm of the belief that you can never have too many essential oil diffusers. I have them everywhere from my kitchen, bedrooms, living room, bathroom and car.
I imagine your essential oil fan is probably thinking a new diffuser will always find a place in their home.
There are so many different types of essential oil diffusers out there. That is why I wrote the Buying guide for the best essential oil diffusers on the market, it breaks the different uses of diffusers down into manageable groups and helps you select the best one for your needs.
But I still wanted to list a few of my favorite diffuser you can give as gifts.
Now it must be said, I am biased when it comes to diffusers.
I really like the Young Living diffusers they work forever and are a great investment especially if you get the Desert Mist Diffuser as part of the Premium Starter kit.
This gives them an amazing diffuser plus 12 premium essential oils to diffuse and some great oil product samples to try. This is the ultimate essential oil gift set plus if you use this link they can be apart of my downline and I can take care of them.
Here is my favorite non-Young Living diffuser. I own two and I love that they are small and perfect for the bedroom.
InnoGear Upgraded 150ml Aromatherapy Essential Oil Diffuser
This diffuser is perfect for small rooms. I like the fact that the night light is not too bright. My girls love the purple light option. I love that it has an intermittent mist option so I know they are just getting a light amount of oils. It has a small water well so this diffuser if ran continuously it will run out in a few short hours but for a kids room I'm okay with that.
This Diffuser has over 13,000 reviews and is a best seller. You will be shocked at the great buy this diffuser is!
Essential Oil DIY tools
For the most serious DIY essential oil people having the right supplies on hand to make that perfect essential oil product is key.
Here are a few of my favorite supplies and a few that are apart of my supply dream list.
Using a Cricket Explore Air 2 to create your own personalized labels is so popular. What is really cool about this machine is it a can be used for so much more than just oil stuff. Which makes this a gift that will keep on giving.
The ideas I could pull off for my girl's birthday parties are endless.
I'm no Martha Stewart but with this machine, I could definitely pull off more essential oil DIY projects that look polished and better put together than I do now. It's on my dream list. right now I have a few BFFs that own them so I usually get them to create the things I need and then pay them but to own one of these would be amazing!!
This cricket machine can be used to create personalized roller bottle labels (like the one in the picture below), spray bottle labels and other DIY project labels.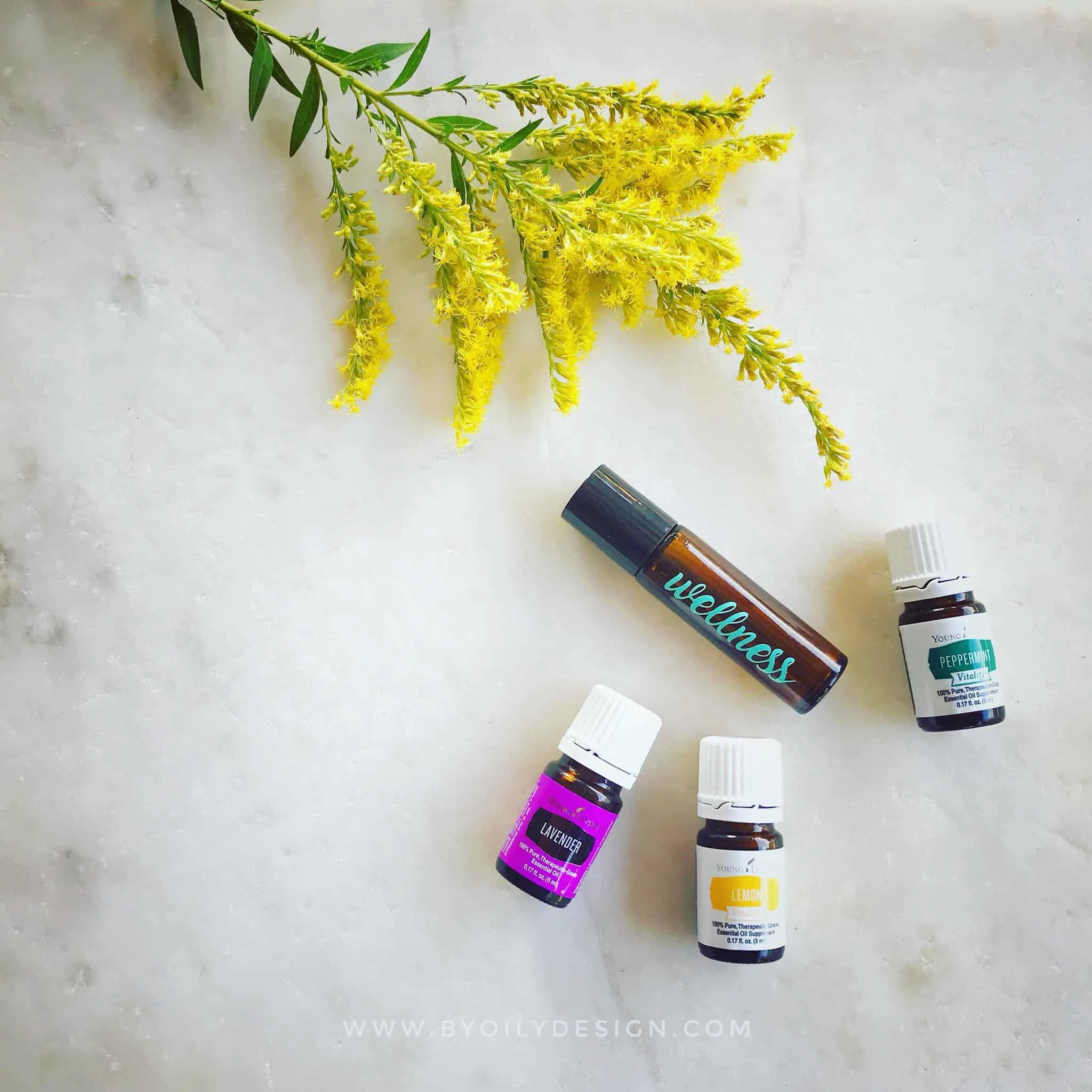 Essential oil rollers
These colorful 10ml gradient color essential oil rollers make the best gift. You can never have enough roller bottles on hand for your DIY projects. I've loved having this set on hand and I think the set would make a great gift for the essential oil fan in your life. Don't let the number of rollers in this set scare you off from giving it as a gift. I promise you in the essential oil lovers world 24 rollers is never too many.
Essential Oil Spray Bottles
Another great and must-have essential oil tool are spray bottles.
I use glass spray bottles for my DIY essential oil room sprays that make my home and car smell amazing and I use glass spray bottles for my DIY cleaning products using essential oils.
I find I use the amber 2oz glass spray bottles the most and then the 16 and 8oz spray bottles too.
This Amber Glass Spray bottle set is the perfect gift. I love that it has 2 of each size 16oz, 8oz, 4oz, and 2oz.
Essential Oil Books and Education Materials
How about hooking your essential oil fan up with some great essential oil education? I love learning more about my passion for essential oils and these are great books that will become to be a much-used reference.
I like the Life Science Publishing book, Essential Oils Desk Reference 2019 Edition for Young Living related oil information. It's on the more expensive side but it is packed with information and my most used resource for essential oils.
Another favorite Reference book for mom's is Gentle Babies by Debra Raybern. It has over 20 yrs of professional knowledge and experience to help moms use oils safely on their family.
The book, Essentials: 75 Answers to Common Questions About Essential Oils and Supplements by Dr. Lindsey Elmore, who is a board-certified pharmacotherapy specialist is a great reference book. What I love most about her is she takes complicated science matters and makes them simple.
Essential Oil Bags
Essential Oil fans love to take their oils on the go. And these bags made for carrying essential oil rollers and bottles are a must-have! I like my oils easy to access, safe from rolling around my purse and stylish. These bags check off all those requirements and then some.
I was clapping for joy when I found these super cute essential oil bags by Three Sprouts Handmade on Etsy. These are Handmade and can be customized by selected the size elastic slots you choose. She has tons of fabric options to choose from.
Essential Oil Bag
I bought the essential oil bag below by Three Sprouts last year and it has held up so amazing! Y'all I'm in love. It's so cute and you can even carry it as a small purse if you want. Inside it has room for your oils and for a few extra things!
This Genuine Leather Essential Oil Roll-Up Pouch by MaishaCo is a new find for me. I absolutely love it. I was thinking of getting it for my husband but the more I look at this beautiful handmade leather pouch the more I want to keep it for myself.
I originally wanted it for my husband to encourage his oil use outside the home, but we will have to see if it ends up in his stocking or not. I also love that MaishaCo is a small company of four sisters, being in business with your sisters must be so much fun. And I love the chance to feature other Christian mompreneurs!
Essential Oil Roller Bottle Bag
I bought several of these roller bottle bags made by Three Sprouts for my team members and they have gone crazy over them. They hold 10ml roller bottles with a little extra room for ID, credit cards, business cards, and lip balm.
How about this essential oil wallet for guys made by Honeyhighfive? Thin striped dark blue makes this a wonderful oil case for the guys! Great for travel, to keep at work or in the car. It also has a thin pocket for cards.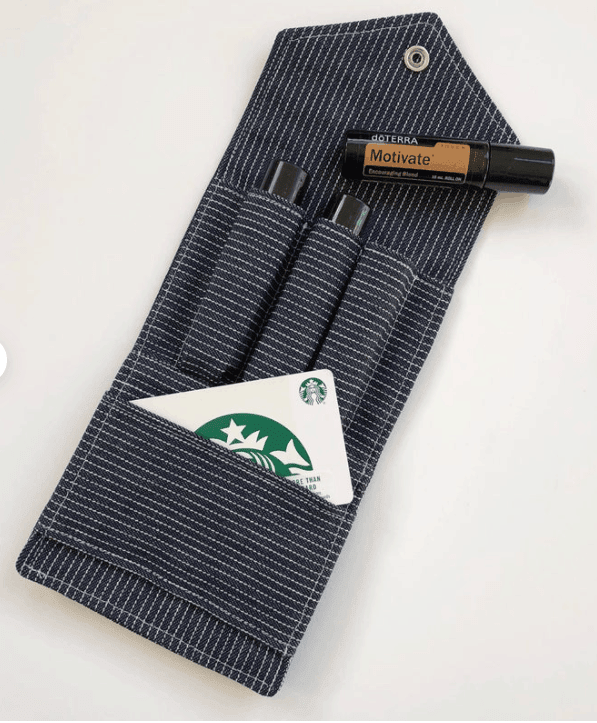 Essential Oil Storage Cases
Essential Oil storage cases make for great gifts. This is a must-have for any oiler and as your oil collection grows you will need more of them. My favorite are ones that I can also take on the road when I travel.
I use to use this case mostly for when we travel via the car for weekend and week getaways when I know I will want a good arsenal of oils on hand. But now, I find myself using it to store the oils in my bedroom. It just makes it so easy to access them and keep them contained right by my bed.
Almost 3 years ago, I bought this Hipiwe Hard Shell Essential Oil carrying case that holds 30 essential oil bottles ranging in size from 5ml, 10ml and 15ml. It looks just like the day I got it and I use it every day. Zipper still works great and has held up great.
What I love the most about this case is the foam inserts and that it zips closed.
I have found that the foam inserts will hold each oil in place so nothing gets knocked around and broken. I also like that it seems like the foam insert will reshape itself once you remove the larger bottles and let it sit awhile. This way you don't have to worry about putting a 10ml bottle in and stretching it to where the next time you use it a 5ml just sits there loose.
Another great plus is this case isn't huge so it's easy to pack and doesn't take up a lot of space when you travel.
Now for my newest favorite way to travel with my oils!! This is going to make a great present for the weekend traveler and for the traveler who is always on the go!
Up until this point I have always just shoved my diffuser in some sort of bag for travel and hoped for the best.
Now I've found a solution for traveling with my diffuser!
I love this 10-bottle essential oil diffuser carrying case tote for travel, the reviews are spot on and it is so cute and handy. I love that it holds not only the diffuser and power cord but it can also hold 10 bottles. They have 5 colors/ patterns to choose from.
*** Note to YL Users- Make sure if you are using this for the Young Living Desert Mist diffuser that you choose the black or pink floral bags as those are XL and will hold the Desert Mist. (I got the black one as you see in the above picture it and it hold everything perfectly.)
Essential Oil Shelf
Displaying your essential oil collection is so popular these days. Not only do those little colorful bottles look cute displayed on the wall but they make you want to reach up, grab one and put that little bottle to use.
Giving your oil lover the gift of displaying what they love will have them so excited!
I've been drooling over this set of Two Small Hexagon Shelves for essential oils by Tucker Design Company who I found on Etsy. It comes with two and they have 5 color options. I really want this for my bathroom.
I'm also thinking of getting this Large hexagon essential oil shelf for my office. Right now I'm just using clear nail polish shelves to hold all my oils. While they definitely do the job of organizing my huge oil collection I'm really wanting a display that will bring that WOW factor and I believe this is it!
Want to gift a shelf that is not so large? How about this small oil shelf for the countertop? Check out this Essential Oil Sign with Holder. I love the Bible Verse in script font "There is Oil in the House of the Wise"
Need Oils? Where to buy the best Essential Oils
Young Living has made getting so easy! There are now, 12 amazing essential oils included in the starter kit. Seriously, you can't go wrong plus you get an amazing diffuser to make diffusing your essential oils easy!
*If you buy essential oils online using my enroller link and number #3177383, you can get your oils at a huge discount and I promise I will actually teach you how to use your oils! Plus I will give you tons of great recipes to help make sure you get the most out of your investment.
So which of these do you think is the best aromatherapy gift for the essential oil lover in your life?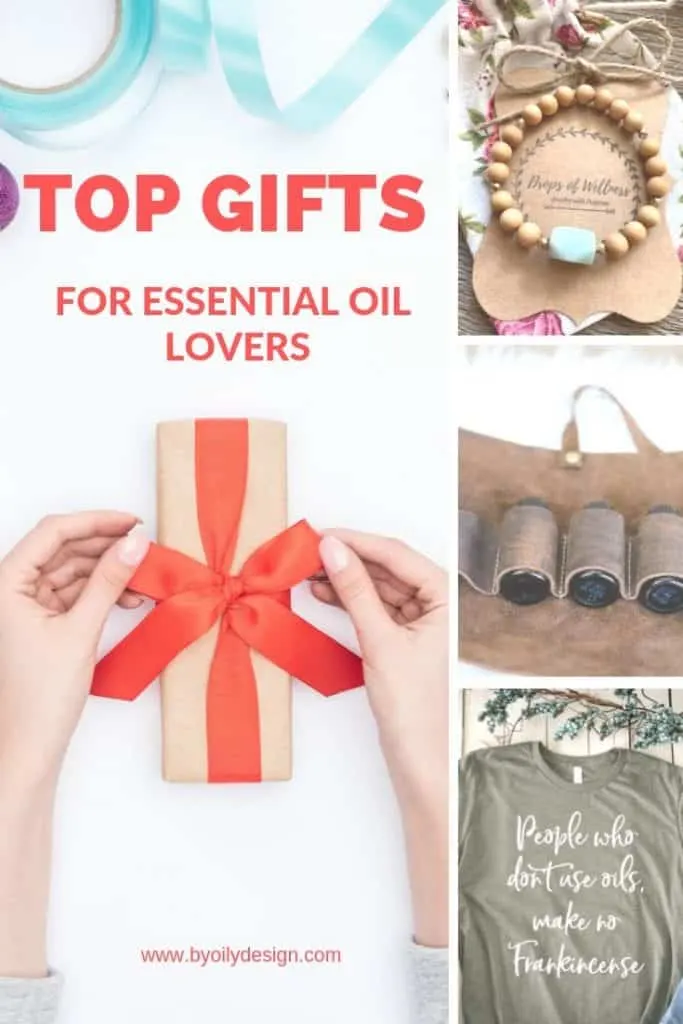 Gifts for essential oil lovers