Homemade foaming hand soap
In the past, I have admitted to being a hand soap snob.
Working for years for the health department will turn you into one.
Or just being a mom to two messy kids. Who love to get sticky stuff all over you. It will drive you to want a hand soap that works to get all the yuck off.
And there might be a tad of a germaphobe in me too.
But Y'all, I seriously wash my hands ALL THE TIME.
My love of the three hand soaps I would buy from the Williams Sonoma store inspired me to create these three easy foaming hand soap recipes with essential oils when I first started oils.
I'm not sure if you have seen how expensive buying wonderful smelling soaps can be but being frugal has lead me to be crafty. Lately, I've been venturing out and trying a few more fun smelling, hard-working foaming soap recipes.
In this post, I'm going to cover the basics of how to create your own homemade liquid hand soap with Castile soap and creating scented soaps using essential oils. I even give you a list to download for free of the 25 best essential oils to use for hand soap recipes.
For those of you new to oils, I bet you are wondering…
Is it safe to add essential oils to liquid soap? I answer this great newbie question in my post- Can you add Essential oils to liquid soap?
*This post contains affiliate links to the essential oils and other products I talk about in the post.
What are the best essential oils for hand soap?
The best essential oils for hand soap is really based on what smells you like. The best part of making this DIY essential oil project is having fun mixing and blending oils for your own unique blend.
The most important part is choosing high-quality pure essential oils so you know you are getting a pure product.
I like to make small batches so I can change blends depending on the time of year, who is going to be using the soap and the essential oils I have on hand.

Here is my list of the best essential oils for hand soap-
Florals– Lavender, Ylang Ylang, Geranium, Melissa, Jasmine, Cistus
Citrus *– Lemon, Lime, Orange, Tangerine, Grapefruit, Citrus Fresh, Lemon Myrtle, Jade Lemon, Bergamot
Mint- Peppermint, Spearmint
Herbs- Rosemary, Marjoram, Basil, Thyme, Dill, Ginger, Sage, Tea Tree, Thieves
Woody and Earthy- Cypress, Pine, Fir, Spruce, Patchouli
Fresh and Clean– Eucalyptus, Lemongrass, Purification, Raven, Melrose
* Use caution when using citrus oils and going out into the sun. For a great lemon smell without the essential oil photosensitivity try Lemon Myrtle essential oil. read my post on how to use essential oils in the sun for more information on safely using oils.

How do I make homemade liquid hand soap with Castile and essential oils foam?
Foaming soap is made by using regular soap that has air added to it by the type of foaming dispenser you use.
The key to really good foaming soap is to cut your soap to a ¼ soap to ¾ distilled water ratio. My basic recipe below should have you really close to the right ratio if you use an 8oz dispenser. I've learned the hard way that to much soap will clog the pump.
How do I make my own foaming hand soap with Essential Oils?
use my basic recipe to make your own blend

using one of the suggested blends I've created below for you.
My Top 25 essential oil homemade foaming hand soap blends you can print
For an easy to print pdf of the essential oil Homemade Foaming hand soap recipes, click on the image below and download the essential oil inspired Hand soap recipes, PDF document and print it out on an 8.5 x 11 sheet of paper.
Before you download this Homemade Foaming Hand Soap essential oil blend recipe page, I was wondering if you could do me a favor? Would you share this post on Facebook using the blue Facebook button below? I'd love as many people as possible to see these great foaming hand soap with essential oil recipes!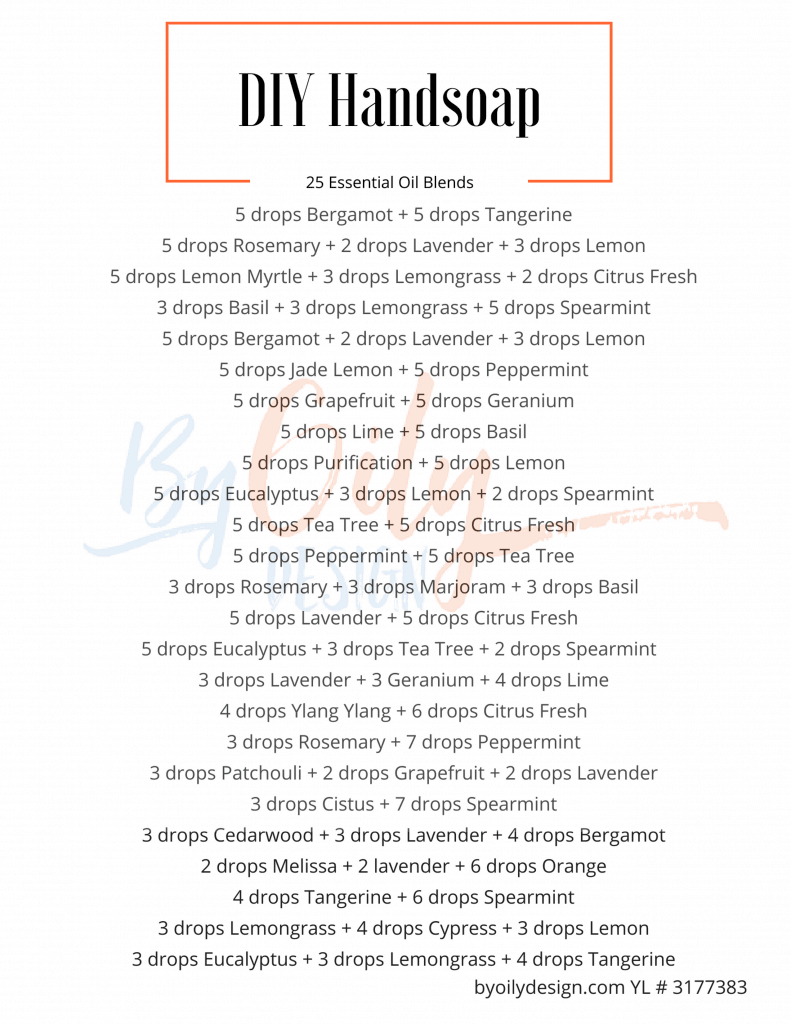 And to recap- The Ingredients you need to make a foaming homemade essential oil hand soap-
7 Easy steps to making your homemade essential oil hand soap
First, Put 2 tablespoons of liquid castile soap into your empty 8 oz soap dispenser. You can use more soap if you have a very large dispenser, or cut the recipe in ½ if you have a smaller container.
Next, selected one of the essential oil blends listed above and add the essential oils to the dispenser.
This step is optional but I like to added for the moisturizing effect it gives. Add your fractionated coconut oil and vitamin E oil if you choose. These will help leave your hands feeling silky smooth. (You can substitute sweet almond oil or other favorite carrier oil)
Fill the soap dispenser with filtered or distilled water making sure you save room for the pump parts. I prefer distilled so I know that I'm not adding bacteria and mold to my hand soap.
Secure the pump to the bottle.
Gently shake to mix everything together.
Use 1 or 2 pumps to wash your hands. Wash hands for at least 20 seconds.
That's all it takes to make your own homemade liquid hand soap with Castile and essential oils.
I really like the instant gratification of being able to use this right as you make it. Plus being able to use whatever essential oils I have on hand is nice too.
Looking for the best smelling essential oil blends to use for your DIY hand soap? Look no further I have a list of some great blends you will love to try.

I hope you have a fun time making these essential oil hand soap recipes. I'd love to hear what your favorite essential oil blends are so comment below and let me know!
New to essential oils and not sure where to begin?
Would you love the chance to find someone to help mentor you through the process?
What if I told you I would help you for FREE!
I'd love the opportunity to walk you through essential oils and help you choose the best oils to use for you. When you purchase a Premium Starter kit through me you will receive Free one on one mentoring from me to help you get comfortable and using essential oils in your life. I promise by the time we are done you will be a rockstar user of essential oils!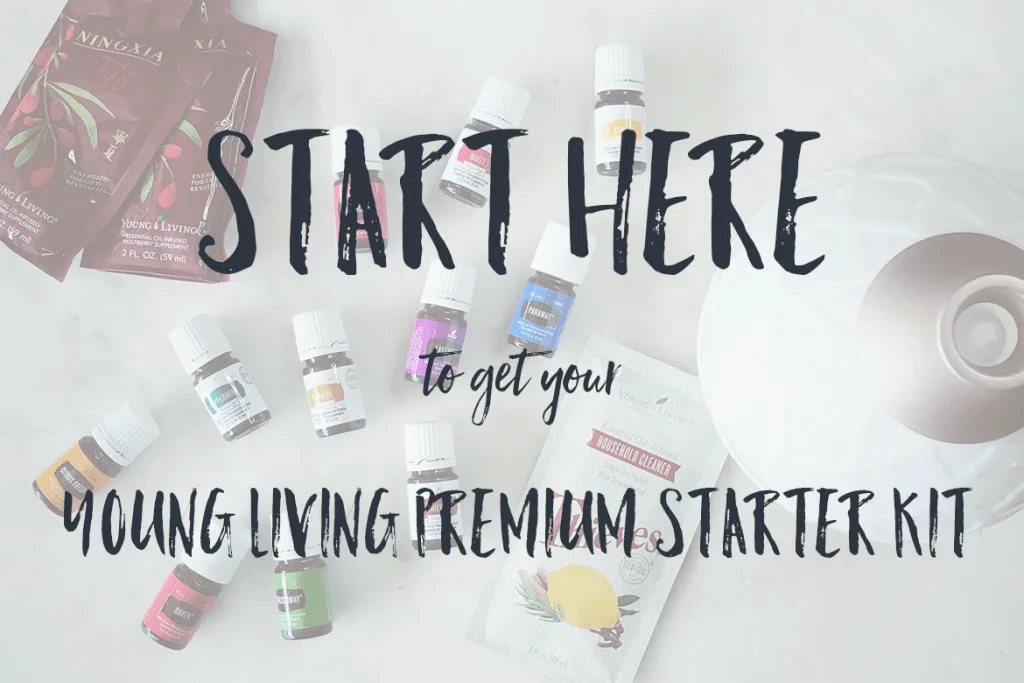 So you don't have a kit yet? Well, I'd love to help you get your hands on this box of awesomeness. Click here to get your Premium Starter Kit now!
DISCLAIMER: The information on this website is based upon my research and personal use of Young Living essential oils. The statements made and the products mentioned on this website have not been evaluated by the Food and Drug Administration. They are not intended to diagnose, treat, cure, or prevent any disease. Please read the full disclaimer here