Lemongrass essential oil benefits
Lemongrass Essential Oil is one of the must-have essential oils in my growing oil collection.
If you have been reading my blog, you may see the theme in my posts of wanting the world around me to be clean and fresh. Whether that is in the diffuser recipes I use to purify the air or how I make a DIY carpet freshner.
I'm no perfectionist when it comes to a perfectly clean kept home but I'm great at creating an atmosphere where it smells that way.
One oil that I believe is overlooked when it comes to a clean scent is Lemongrass essential oil.
With essential oils like Eucalyptus, peppermint and lemon being huge fan favorites most people forget to dig a little deeper and try Lemongrass with it's sweet, citrusy scent with a hint of fresh grass undertones.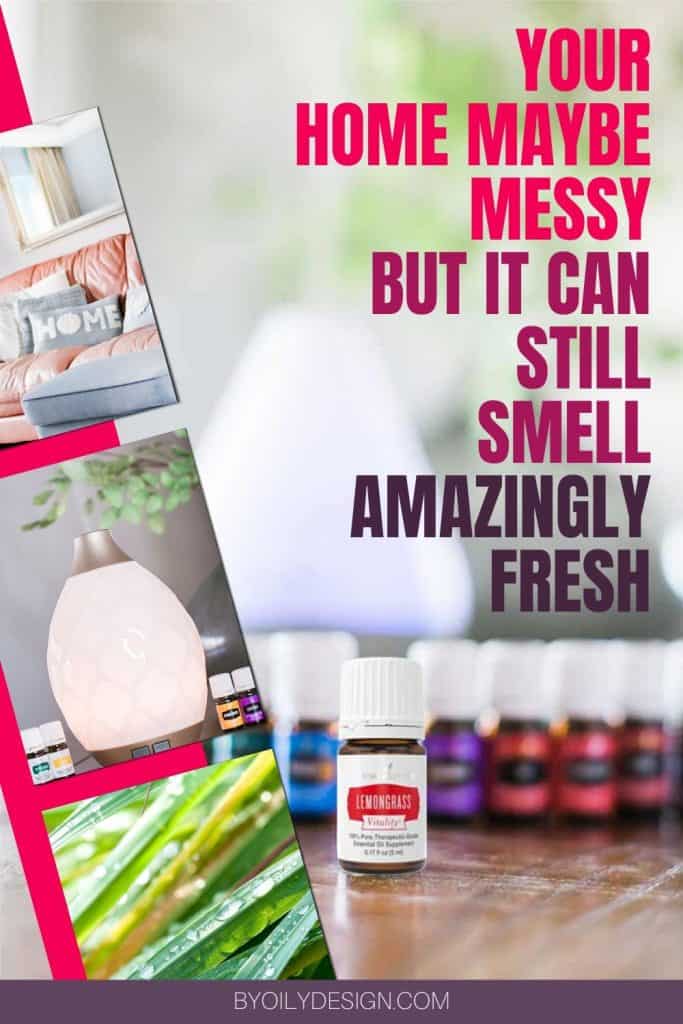 If you are like me, the number of Lemongrass essential oil benefits will surprise you. With this post, I hope to have you grabbing for this inexpensive essential oil to use for all sorts of things around your house.
In this post we will cover–
What is Lemongrass
A list of Lemongrass essential oil benefits
How to use Lemongrass essential oil
Favorite Lemongrass essential oil diffuser blends to make your home smell amazing
Using lemongrass essential oil in your beauty routine
Where YL gets their Lemongrass
What is Lemongrass?
Lemongrass is a grassy plant that loves humid warm places. It thrives best in places like southeast Asia, South America, and other tropical locations. Most of Young Livings lemongrass essential oil comes from its farms in Ecuador and India and is steam distilled on the farms.
If your lucky, you may have even seen it at your local gardening center as a herb plant for your garden. For years I have planted it because it's long green grass leaves are pretty plus it gives off this lemon/grassy scent I love. Unfortunately, it never makes it through our winter but I'm always happy to plant more the next spring.
Living on a farm I like to plant it because the wildlife won't eat it so I've got an ornamental plant that is safe, I'm still mad at the squirrels for eating my Hydrangea. I also like it in abundance around my kitchen door as it helps keep insects away. Given that my girls can never remember to shut the door I need all the help I can get.
Lemongrass for centuries has been used as a flavoring in food and It's super popular in Asian cooking and in tea. So it's fun to grab a handful and use it for the nights I want to kick up my dinner a notch.
Lemongrass is super popular for its powerful citrus scent that has a hint of grass so it's found in soaps and other personal care products. I'm going to share some of my favorite DIY tips using lemongrass below so keep reading.
What are the benefits of lemongrass essential oil?
First off I think the best part of lemongrass is its scent. I use it all the time in my diffuser to freshen up the smell of my home if it begins to smell musky to me.
Lemongrass is also known for its relaxing qualities, it's skin-cleansing benefits and it's support for digestion.
If you want to get all sciency about the benefits of Lemongrass check out this article from Pubmed or this one from Medical News today I think they will really open your eyes to some great potential uses of Lemongrass.
What can lemongrass oil be used for?

Lemongrass has a ton of different uses but I'm going to share here just a few ways I use Lemongrass oil in my home and daily routine. I think you will be pleasantly surprised by how much you can do with lemongrass.
Can I diffuse lemongrass essential oil?
Yes! you can diffuse lemongrass.
Diffusing lemongrass is actually my favorite way to use it.
I have some amazing diffuser blends for Lemongrass that I have a feeling you are going to fall in love with Lemongrass as I have.
So I imagine you are curious as to what does lemongrass essential oil blend well with?
Lemongrass has a perfumery note of Top to Middle and has a Medium to Strong Aroma.
Lemongrass blends well with all of the citrus oils, and I love it with most of the florals like Rose, Geranium and Lavender. And it's amazing with both Cedarwood and Eucalyptus Radiata.
Young Living recommends diffusing Lemongrass up to 30 minutes 3 times daily.
10 Lemongrass Essential Oil Diffuser Recipes for a fresh-smelling home.
To print a copy of the Lemongrass inspired diffuser recipes just click the print button at the top of the recipes.
Before you download this Lemongrass Inspired Diffuser recipe page, I was wondering if you could do me a favor? Would you share this post on Facebook using the blue Facebook button below? I'd love as many people as possible to see these great diffuser recipes!
Oh and don't forget to pin it to your essential oil diffuser board on Pinterest that way you can come back to this post any time you need it!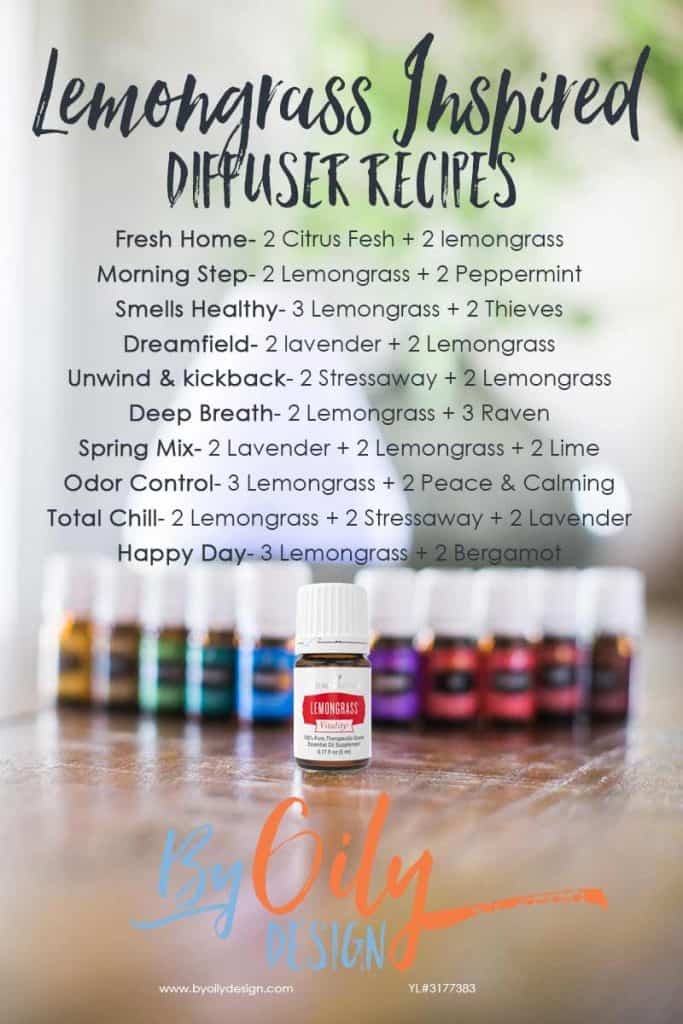 How do I use Lemongrass essential oil on my face?
There are a number of ways you can use lemongrass for the skin. Just remember that it needs to be properly diluted before applying to the skin to prevent any sensitivities to the oil.
Young Living recommends the following for Topical use of Lemongrass Essential Oil:
Dilute 1 drop with 4 drops of V-6 Vegetable Oil Complex or olive oil. Test on a small area of skin on the underside of your arm and apply to desired area as needed.

Young Living
Can you take Lemongrass essential oil internally?
Young Living has Lemongrass as a part of its vitality essential oil line. This means that with the white vitality label lemongrass can be used internally.
I strongly suggest following labels on the oils and only making the decision to ingest with oils properly labeled for ingestion.
I personally don't ingest oils and less it's a part of a Young Living supplement like their Ningxia Red juice or vitamin line. I have a not so strong digestive system and essential oils can be damaging if not properly diluted.
It is always recommended to speak with your Dr. and Pharmacist before ever ingesting essential oils to ensure the oil doesn't react with a medication you are taking.
Interested in using Essential oils to clean your house? I'd love to help you get started.