Homemade room spray
Before my introduction to essential oils, I would monthly spend a small fortune on air freshener sprays that contained toxic chemicals and other different chemicals that I really didn't want my family to be inhaling.
Now I know from research that fragranced consumer products, such as cleaning supplies, air fresheners, and personal care products, are a primary source of indoor air pollutants and can cause some really adverse health issues and affect the immune system.
Soon realized that Essential oil room sprays are a great way to create an amazing, clean, and relaxing scent for your home.
Nothing is more inviting and relaxing than a home that smells amazing.
But what if your home is just a little musty, bland or stale-smelling? Well, I have a list of some fabulous essential oil room sprays, all created from some of the best smelling essential oil blends.
What I love is when these essential oil recipes are used, they will help you create that relaxed and uplifting environment you crave for your space.
In this post, I'm going to share with you what are essential oil sprays and how to make your own DIY essential oil sprays.
Plus I'm including my favorite 12 summer-inspired recipes for essential oil sprays and free printable labels of some of the most jaw-dropping labels for Essential oil room sprays!
You are going to want to download the free printable Essential oil labels in this post, they are so cute and will make for some of the best DIY gifts! Check out my other free holiday room spray printable essential oil labels. TheseChristmas room sprays will have your home smelling like a live Christmas tree.
*This post contains affiliate links to the essential oils and other products I talk about in the post. Purchasing them here from my blog is no extra cost to you but I do earn a commission that helps in the cost of running this blog. Thanks for your support!

What are Essential Oil Sprays?
I love essential oil DIY projects because they help me create products for my home that are all-natural and healthy without breaking my pocketbook.
One of my favorite essential oil DIY projects are homemade natural room spray because
They are an all-natural healthy replacement for toxic room sprays, candles, and plugins.
You create the blend you want using your favorite essential oils and simple ingredients
They are the perfect gifts for all occasions- Teacher appreciation, new neighbor gifts, mother's day gifts, and Christmas.
They are super simple to make and I can get my girls involved to help me. I'm all about fun kid-safe essential oils projects!
And the best part is…
Homemade Essential oil sprays are super inexpensive compared to commercial room sprays and candles!
Essential oil sprays are where you put drops of essential oils in a glass spray bottle, then mix in water and something to help emulsify the oil. Then you can use your homemade essential oil spray as a way to scent your environment and have your home smell amazing.
So how do you create your own essential oil room sprays? You won't believe how simple and easy they are to make with this diy recipe.
Let me walk you through my simple recipe.
Basic Essential Oil Room Spray Recipe
The key to making essential oil sprays is to pick the right ingredients to bind to the essential oil.
If you remember, Oil and Water don't mix.
So creating a homemade essential oil room spray without something to blend and emulsify the oil to the water will cause you a watery mess with little smell.
And that is because all your essential oil will sit at the top of the water and the only thing spraying will be water.
So what's the solution?
The solution is simple, it's using a natural emulsifier to bind with the oil and the essential oils so they become one nice blend.
My go-to natural emulsifiers are-
Rubbing alcohol
Grain Alcohol such as Vodka
Vinegar
Salt –Epsom salt,Himalayan Salt, orSea Salt
Here is an article about other natural emulsifiers for essential oils if you are looking for other options.
My favorite natural emulsifier to use for essential oil spray DIY is salt. The reason I like salt is it's inexpensive. Plus it doesn't add an extra scent to the already best smelling essential oil blends I have created. And as a bonus, it helps make these homemade air freshener recipes a little more kid-friendly. I like the aloe juice but salt is way easier to clean up with our favorite stick vacuum if spilled than aloe vera juice. And my kids will spill a lot!
My basic essential oil spray recipe is made for a 2 ounce glass bottle for Essential Oils these spray bottles give a nice fine mist setting. You can get larger bottles 4oz, 8oz and 16oz and double this basic recipe to fit the glass spray bottles for essential oils you choose. I typically do 2 oz spray bottle. I do like to make a 4-ounce spray bottle for bathroom spray.
You can use plastic bottles but pure essential oils may eventually eat the plastic bottle causing harmful toxins to be released so it's best to use glass when you can.
What you need to make your own blend and air freshener
10-15 drops of your favorite essential oil
1 tsp of salt or a tablespoon of witch hazel
Distilled water

How to make essential oil spray
I have a little trick for how to mix essential oils for sprays.
The trick is to always add your water last. Nothing is more frustrating than adding everything and then finding you put too much water in and now you have wasted oils.
Steps to make room spray:
Start by adding your 10-15 drops ofessential oil inthe spray bottle
Add your 1 tsp of Salt, I typically useHimalayan Salt. Using asmall funnel like this one makes this step easier.
Stir bottle to mix essential oil and salt.
Fill rest of bottle with water. I like to fill to just below where the bottle begins to curve up to the neck. That way there is plenty of room for the sprayer parts.
Add sprayer top and shake well. Dry bottle and label your spray. Shake the water mix well before each use.
You can use your new Essential Oil Room Spray immediately but I like to give it a day or two for everything to blend well together. I've noticed it makes the scent stronger
Now don't forget the free download of my favorite recipes and the swoon-worthy labels below to really make your glass bottles for essential oils sprays shine.
This is a great little video I found for making the room spray with witch hazel.
What not to use when making this simple DIY room spray recipe
Many people ask me if they can use tap water. I typically say no because tap water contains bacteria and that can cause mold and bacteria to grow in your room spray. this can affect the smell and healthiness of your room spray. This means it is best to use distilled water when making room sprays.
Use pure essential oil oils and not some sort of cheap essential oil. Cheap essential oils can contain artificial fragrances that defeat the purpose of creating a natural room spray.
12 DIY Essential Oil Room Spray Recipes
I've created 12 of what I think are the best smelling essential oil blends for room sprays. These 12 sprays are summertime inspired and use some of my favorite Young Living oils. Many of these oils come as part of the Young Living Premium Starter kit. Check out this great list of essential oils used in the Essential Oil Spray Recipes.
Bergamont
Citrus Fresh*
Eucalyptus
Grapefruit
Jade Lemon
Joy
Lavender *
Lemon*
Lemon Myrtle
Lime
Northern Lights Black Spruce
Nutmeg
Orange
Peppermint*
Patchouli
Spearmint
Stress Away*
Tangerine
Thieves
Vetiver
Feel free to adjust the drop amounts to your liking.


Essential Oil Spray Bottles
One of the fun parts of making homemade essential oil room sprays is decorating the glass spray bottles for essential oil sprays with fun labels.
When I first got started making room sprays I would just use a plain mailing label or a piece of cute washi tape and label it with a marker. They made for quick essential oil labels but they were not so cute to look at.
But now I'm more inspired by using labels for my glass bottles like these Free Printable Essential oil labels I've created for you.
Free Printable Essential Oil Labels
Before you download the DIY Essential Room Spray recipes page and Essential oil label template free for your personal use, I was wondering if you could do me a favor? Would you share this post on Facebook using the blue Facebook button below? I'd love as many people as possible to see these great Essential Oil room spray recipes! Don't forget to pin it to your Pinterest DIY board or your other Inspiration boards. That way you have this post for easy reference later if you need it!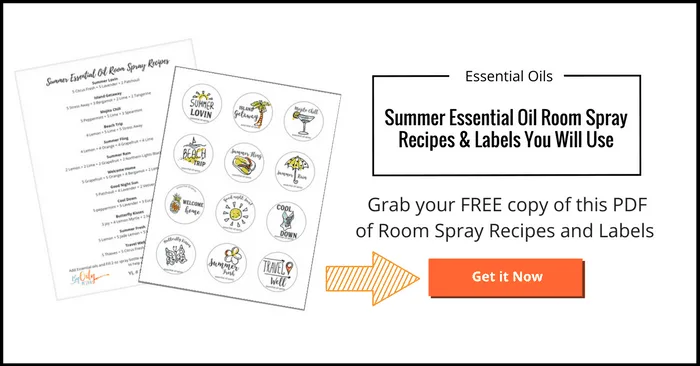 Now for the awesome and super cute labels. I made these by creating a template specifically for the Avery 22817 Labels. If you use another brand or other Avery label with a different product number I can't guarantee this template will print properly. But these should print just perfectly. I strongly suggest that you run a trial run with plain paper first. It took a few tries to get my printer to print them correctly. Mainly my issue was that Canon does not offer a label type paper so I couldn't select the correct paper type. But once I got my printer to print exact page size, no border and regular paper printing was a breeze.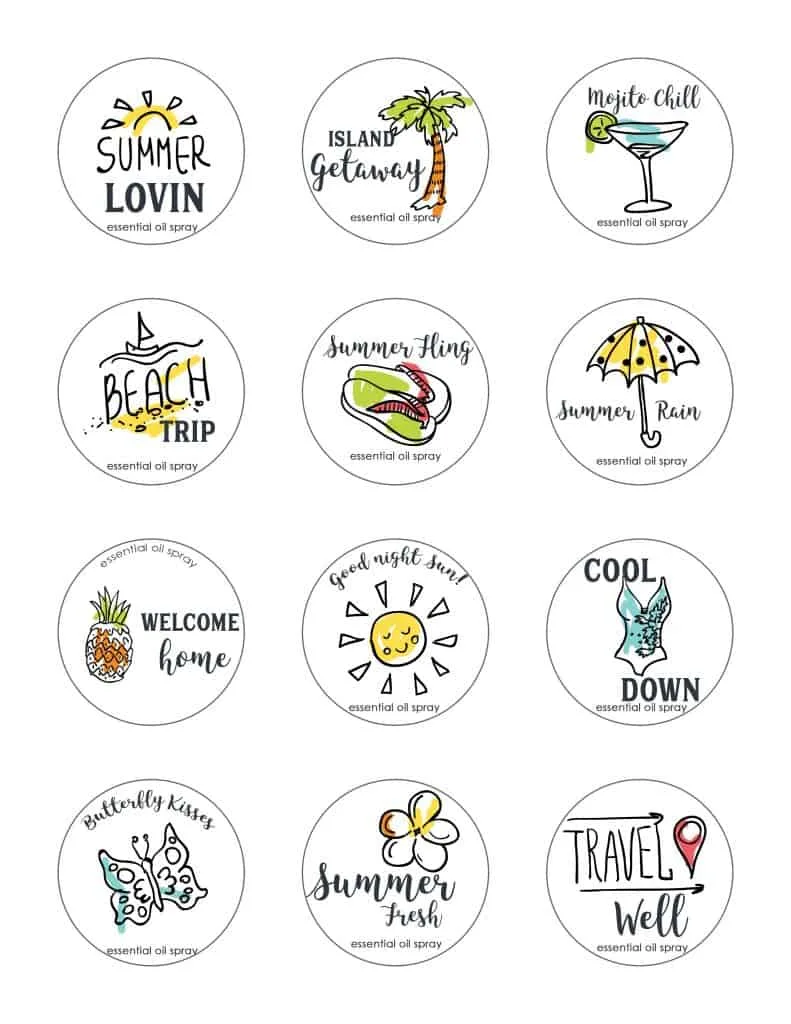 As always, my templates are free of charge, but I do ask that you share my printable to-do list post with all your friends on Facebook and Pinterest! Because you know the more, the merrier! :=) You can use the handy little icons below this post to do so. Click the Get it Now button below to get your downloads.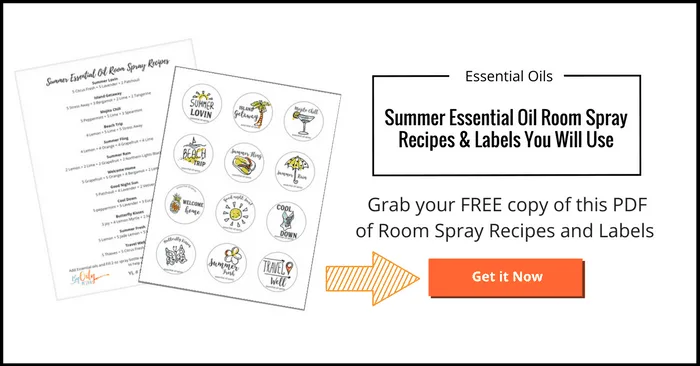 These are the exact bottles and labels I used for this Essential Oil DIY projects
Where to Buy Essential Oils
Need Essential Oils to make this happen? My favorite way to get started is with a Premium Starter Kit from YL. It comes with many of the oils in the recipes I supply and add a few oils like Lime, Orange, Jade Lemon and Spearmint for more options!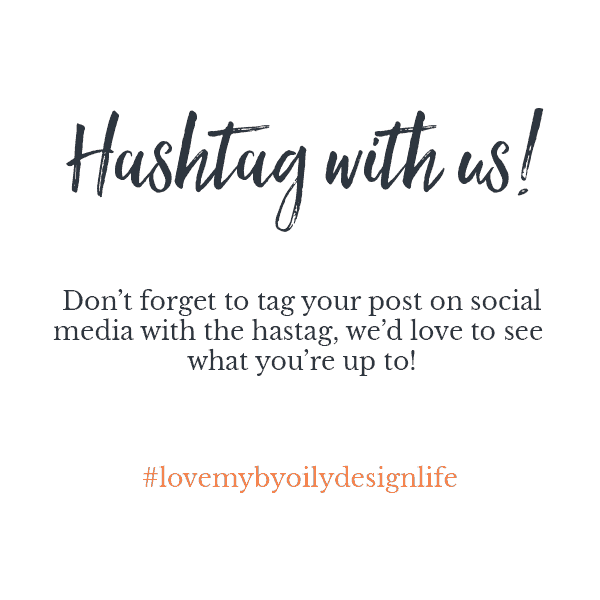 Don't forget to follow me on Instagram too! BYOILYDESIGN on Instagram.