Getting my Young Living Premium Starter Kit
When I bought my premium starter kit all I could think about was Diffusing Essential Oils.
I had dreams of Diffusing Essential Oils, making amazing scents all around my home and loving it.
The absolute first thing I did when I got my Young Living Premium Starter Kit was a happy dance, diffusing essential oils here I come. I was about to be a master diffuser.
So yes, right there in front of the kids, I happy danced as the mailman was driving away. They all had a great laugh.
The very next thing was I unpacked my diffuser and oils in lighting fast speed. I was so excited I just couldn't even stop long enough to even take in the kit.
I was a woman on a mission, I had been spending the last week researching diffuser combinations and I couldn't wait to try my first one.
So I cracked open my essential oils, Purification and Lemon, and went to work putting the recipe together with water and turned on the diffuser.
Then it happened, about five minutes later I was unplugging the diffuser opening up windows and wondering what the crap did I just spend my money on.
My eyes were watering and my nose was a faucet of nastiness. I grabbed my cell phone and texted my enroller asking, what am I doing wrong? This stuff is killing me! I couldn't understand. I had followed that great recipe on Pinterest, how could I fail?
What did I learn from my first diffusing? I was no master diffuser and that I was seriously in need of a "Diffusing Essential Oils 101 for the busy mom" class. In this post, I'm going to teach you what I learned.
*This post contains affiliate links to the essential oils and other products I talk about in the post.

Diffusing Essential Oils 101 for the busy mom
One of the first things I Learned about Diffusing was to "take it easy."
Those great recipes you see online are wonderful, but if this is your first go or even your fifth, you have to take it easy.
My first mistake was to underestimate these little bottles of oily goodness. It takes time to build up to many of those online diffuser combinations you see.
My suggestion is to take whatever recipe you see and divide it by half. If the recipe calls for 5 drops of Purification and 3 drops of Lemon. The first try of the recipe I would do 2 drops Purification and 1 drop Lemon.
Even after diffusing became old hat for me, when I try a new oil for the first time I always take it easy and 1/2 the recipe just to test our sensitivity to it.
So how did I save my first diffusing disaster?
Fixing a Diffusing Essential Oils disaster
MOM TIP- Dilution is the solution
I poured my mix in a mason jar and added LOTS and LOTS of water.
I tried the new watered down mix in my diffuser and guess what? It was still too strong, lol I know! I told you I had underestimated those little bottles.
So I watered it down a third time, and that one was just right! So don't be afraid of try and if you mess up, use lots of water.
Looking to buy another diffuser check out my guide to picking the right essential oil diffuser type for your home! It includes a few diffusers under $20!
 Favorite Diffusing Essential Oils for beginners Recipes
So below are some of my favorite Diffusing Essential Oils kit oil recipes- they've been made for the newbie in mind. But feel free to dilute even more if they are still too strong. Remember we each react differently to oils so do what is best for you.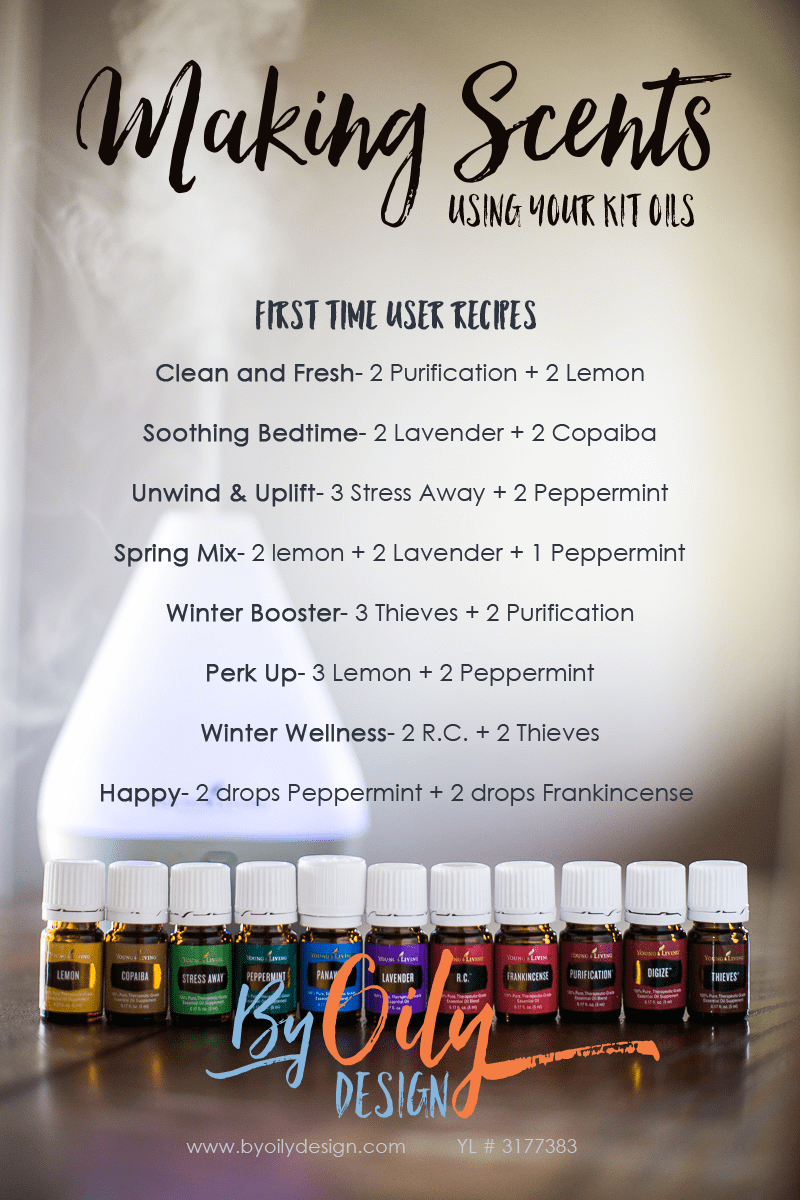 If you like these recipes I hope you will try out my other Diffusing Essential Oils recipe posts!
Thinking about giving Essential Oils a try?
Would you love the chance to find someone to help mentor you through the process?
What if I told you I would help you for FREE!
I'd love the opportunity to walk you through essential oils and help you choose the best oils to use for you. When you purchase a Premium Starter kit through me you will receive Free one on one mentoring from me to help you get comfortable and using essential oils in your life. I promise by the time we are done you will be a rockstar user of essential oils!
The above recipes are made using Young Living Essential oils. They are the only essential oils I trust to use on my family. The reason I use only Young Living is pure and simple, I know the quality that goes into Young Living oils.  I only want the best and purest to use on my family and Young Living Guarantees that with their Seed to Seal pledge. If you are new to essential oils or have been using different brands, I'd love the chance to introduce you to Young Living essential oils. Let me help you get started on a healthier lifestyle for you and your family. To find out more, I'd love for you to check out my post on
It's a fun and informative post about how this normal, plain jane mom got started with essential oils and how you can too! check it out here- How to get started with Essential Oils.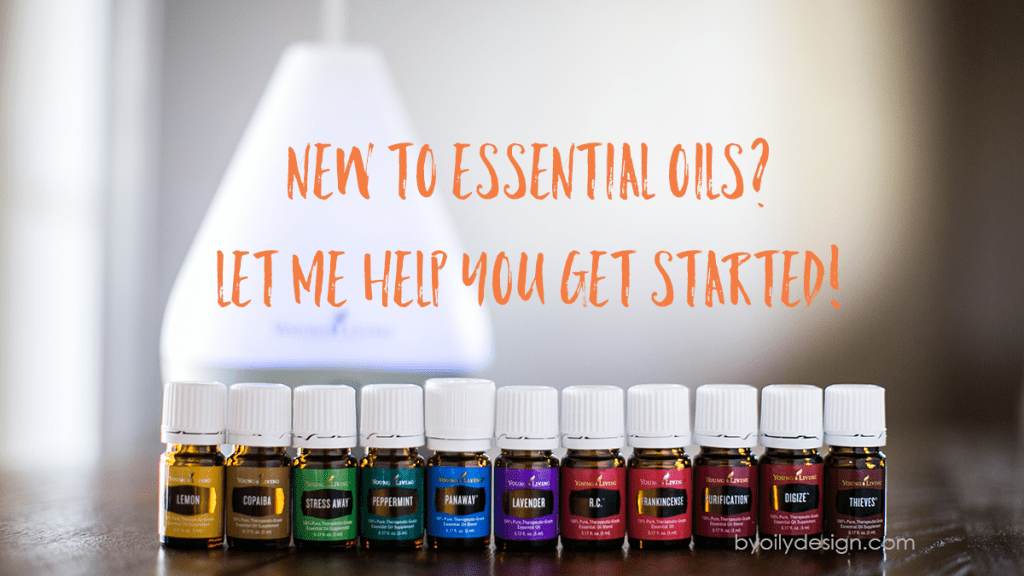 Purchase a Young Living Premium Starter Kit thru
BY OILY DESIGN
and receive:
One on One support from Ruth
free access to the By Oily Design online library that is constantly growing with information,
Access to the private By Oily Design Facebook chat group to talk oils with other momma's just like you
a FREE Welcome Jump Start Box full of goodies to get you going (rollerballs, spray and dropper bottles and more!)
A BONUS FREE E-BOOK- Essential Oils Everyday Uses (with 100+ recipes!)