Can I tell you, it's been rough here this weekend. With the whole family sick and momma playing nurse It's been so tiring and stressful. Now two days later the storm is clearing and I'm in need of a stress relief. It's not often that I get to actually get to take a relaxing bath, but tonight's the night. With the girls tucked away, this mommy is going to enjoy some pamper me time in the form of a Stress Away soak. Stress Away is one of the eleven oils found in the premium starter kit. With a hint of vanilla, lime, lavender and Cedarwood it smells amazing! I have to remind myself to get out of the tub before I seriously fall asleep.
When making this soak or any bath soak using essential oils, it is important to remember to add the essential oil to the salt and then add the mixture to the tub. If you add the oil straight to the water, the oil will only sit on top and not disperse. This is important to remember because oil and water don't mix. If you were to use another oil that is considered a HOT OIL you could potentially burn your skin and that my friend would not be relaxing.
*This post contains affiliate links to the essential oils and other products I talk about in the post.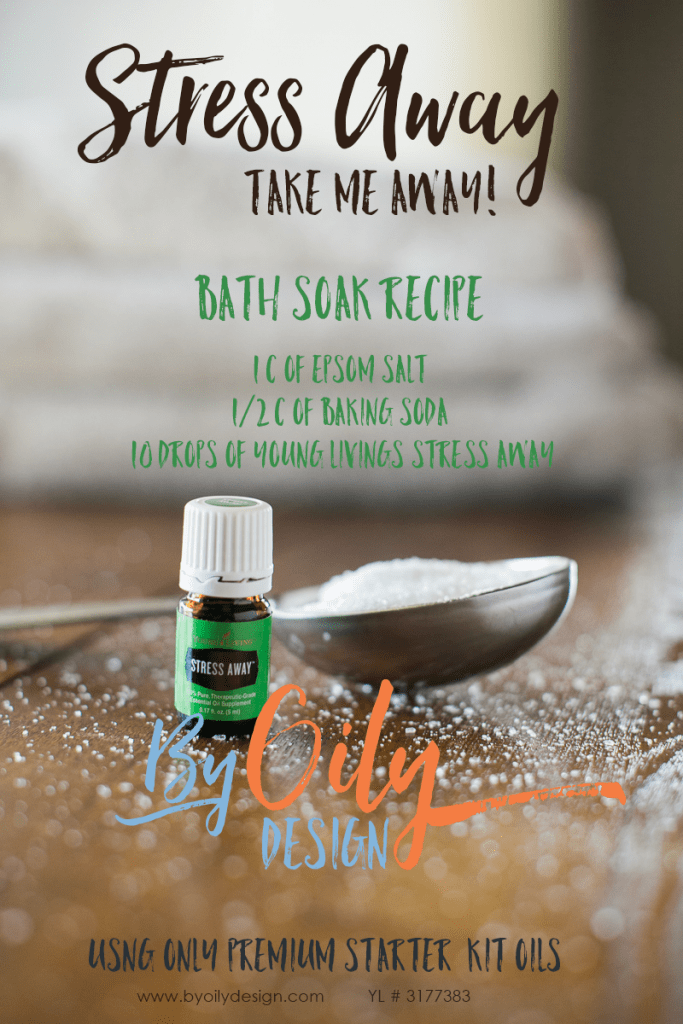 Instructions:
1. Combine Epsom Salt, Baking Soda, and Stress Away Oil
2. Add these ingredients to the water while drawing your hot bath
3. Soak for 20 minutes
4. Rinse off with a cool shower for 5 minutes to wash away all excreted toxins and to close your pores. You'll be amazed at how good you'll feel afterwards! I will be honest, sometimes my brain is so relaxed I totally forget this part, but it's an important step. Especially if you forget, then you sort of feel all salty afterwards and that kind of ruins the relaxing part.
I'd love the opportunity to walk you through essential oils and help you choose the best oils to use for you. When you purchase a Premium Starter kit through me you will receive Free one on one mentoring from me to help you get comfortable and using essential oils in your life. I promise by the time we are done you will be a rockstar user of essential oils!

Purchase a Young Living Premium Starter Kit thru
BY OILY DESIGN
and receive:
One on One support from Ruth
free access to the By Oily Design online library that is constantly growing with information,
Access to the private By Oily Design Facebook chat group to talk oils with other momma's just like you
a FREE Welcome Jump Start Box full of goodies to get you going (rollerballs, spray and dropper bottles and more!)
A BONUS FREE E-BOOK- Essential Oils Everyday Uses (It is loaded with over 100+ recipes!)
Check out our FREE JUMP START KIT!
Available only for those who purchase their Premium Starter Kit through By Oily Design!
a $15.00 value!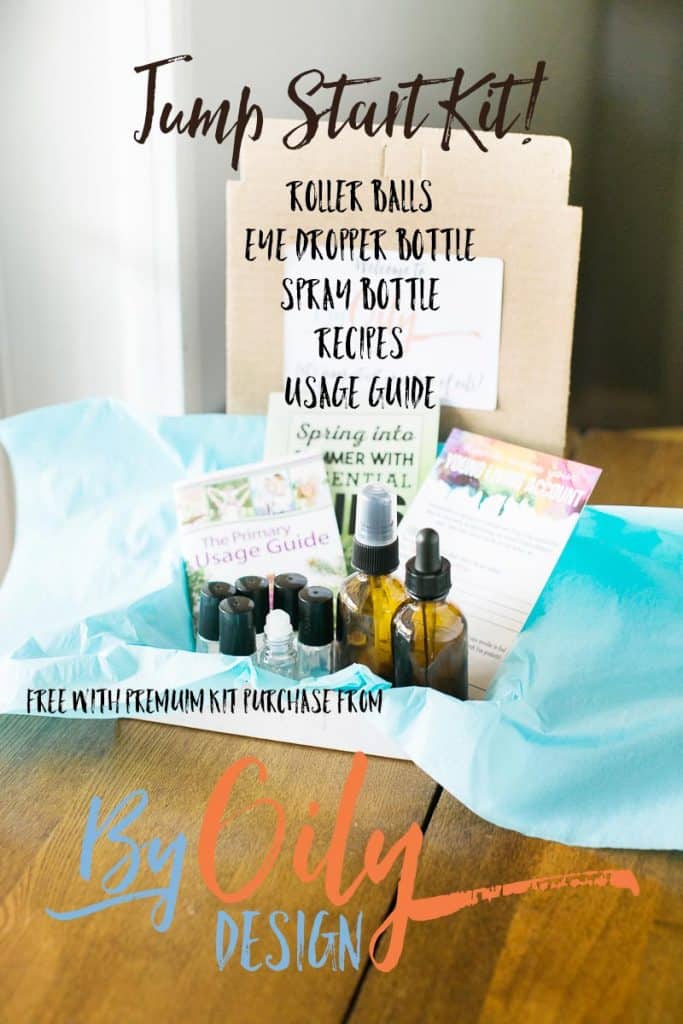 Get started with essential oils! Let me help you start out with the young living Premium Starter kit. When purchasing your kit thru me you will receive a Jump start kit (a $15 value) with recipes and everything you need to get started with oils. As a BONUS I will also include The By Oily Design Ebook- Essential Oils Everyday Uses! This new Ebook contains over a 100 tried and tested Essential Oil Recipes to get you started loving and using your oils. The Ebook is ONLY available to By Oily Design Members! byoilydesign.com YL member #3177383

So you don't have a kit yet? Well I'd love to help you get your hands on this box of awesomeness. Click here to get your Premium Starter Kit now! or see the button below.
I hope once you try this you will leave me a comment and tell me how it has rocked your world too!
COPYRIGHT: © Ruth Rackley and By Oily Design, 2015. You may use the URL of this post to share it on social media. You may also use the URL of this post to link to it from another website/blog. However, no part of the text of this post may be copied and used in a social media status update or on another website/blog without prior written permission of the author. You may share the graphics/s associated with this post on social media as long as they are not edited in any way. However, you may not use the graphic/s associated with this post on another website/blog without prior written permission of the author. This post and the graphic/s associated with it may not be printed and distributed without the prior written permission of the author. Unauthorized use and/or duplication of this material is strictly prohibited.
DISCLAIMER: The information on this website is based upon my research and personal use of Young Living essential oils. The statements made and the products mentioned on this website have not been evaluated by the Food and Drug Administration and are not intended to diagnose, treat, cure, or prevent any disease. Please read the full disclaimer here