What mom doesn't hate the dreaded diaper smell?
It doesn't matter if you are using cloth diapers or disposable diapers. They are going to stink.
I will never forget when I was pregnant with my oldest daughter, a sweet family member gave me this smell good stuffed animal as a gift.
I remember it smelling like strawberry shortcake.
As I opened the gift she announced, "Everyone of our friends, when we walk in their house, we can always smell the diapers. It's a mom's curse. Hopefully, this will help."
At that very moment, I seriously became addicted to plug-in air fresheners and the room sprays.
In my mind, it was how I was going to battle the stink, cause I was on a serious mission not to be that house that smelled of yucky, stinky diapers.
Even though my house "smelled nice" it gave me headaches and quite frankly it was getting expensive just to mask the smell.
My new mission when I started using essential oils was to figure out a cost-saving and healthier way to help kill the odor.
In this post, I'm going to share my hacks and tips on how to avoid the Diaper Pail smell and my favorite recipe for using essential oils to neutralize the smell you do have.
*This post contains affiliate links to the essential oils and other products I talk about in the post. Purchasing them here from my blog is no extra cost to you but I do earn a commission that helps in the cost of running this blog. As an Amazon Associate, I earn from qualifying purchases from Amazon. Thanks for your support!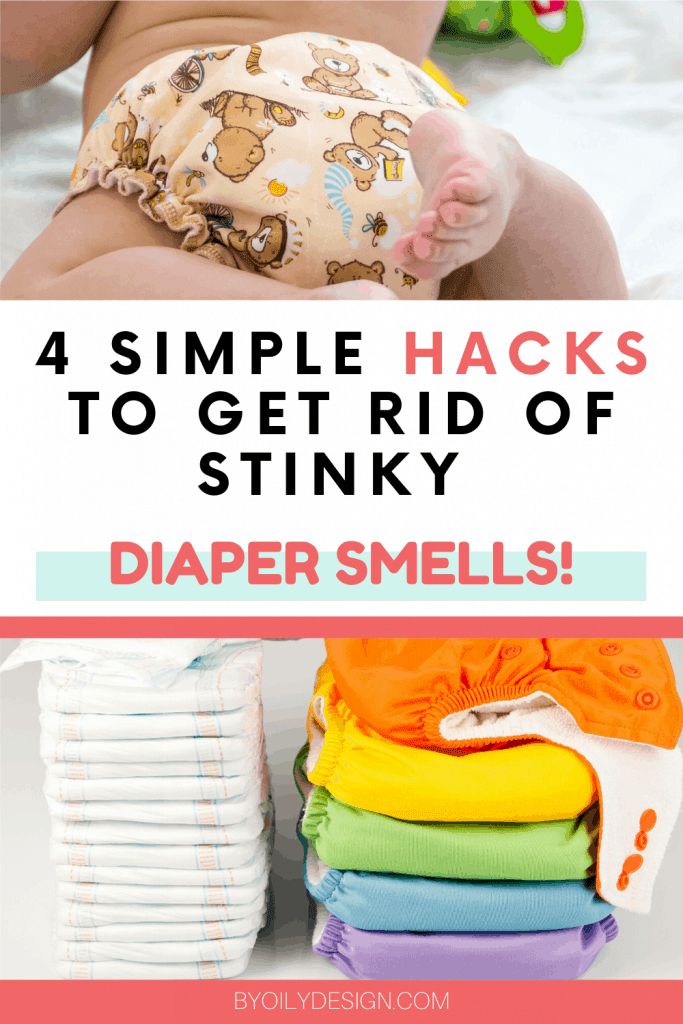 How do you keep your dirty disposable and cloth diapers from smelling up your whole house?
Now I have 4 Hacks and Tips I can give new mom's battling the dreaded diaper smells -Once you change a diaper if it is a disposable one, take it straight outside to a designated diaper trash can. I used a closing trash can like this one and I kept it right beside my backdoor going into the garage.
Store your dirty Cloth diapers in a breathable mesh bag and a Diaper pail. If I'm in the cloth diaper mood that week and use my favorite super cute reusable pocket cloth diapers, it goes into a mesh bag like this one that is stored till wash time in what I think is the Best Diaper Pail, it's an Odorless Cloth diaper pail.
Change diapers in one location. I moved this around till I found the best location in my house which was our Laundry room. It turned out the best place because it was close to the back door for easy disposal of diapers and I wasn't lugging dirty cloth diapers through my house to the washer. Everything was right there!
But even with these three Hacks, you may still have "That Smell" and here is where my favorite tip for Neutralizing the smell comes in and it uses some of my favorite essential oils that really smell amazing.
How do I keep my nursery from smelling?
Here is how I neutralize the stinky diaper smell and save a ton of money! and most importantly, I'm neutralizing the diaper smell in a nontoxic way. So I don't have to worry about toxic chemicals around my baby.
I made one batch of the below recipe and it has lasted me almost three months.
I use this spray bottle at least thirty times a day.
Every diaper change gets a spray or two.
Someone uses the restroom, a spray or two.
The dog sneaks inside a spray or two.
I'm cooking in the kitchen and I burn supper, about a dozen sprays.
You get the picture right. This stuff gets a workout. What I love, is that it doesn't hang out masking the odor, it neutralizes it and then your house just smells fresh. No perfume smell or cover-ups.
One batch of this spray will cost you about $0.64 if you use only Young Living Premium Starter kit oils it can be even less! I just have a fascination with all things Eucalyptus and Purification.
Only have a Young Living Premium Starter Kit?
Now if you want to use just Young Living Premium Start kit oils you can replace the eucalyptus and Purification with Peppermint and Citrus Fresh and it will make a great smelling spray for you.
This is a light smelling spray.
Because oil and water don't mix you will want to lightly shake the bottle before you spray to evenly disperse the essential oils.
If you like a stronger more lasting spray feel free to use more drops of oils. This recipe was just how I like it, light, clean, fresh with not much lingering effect.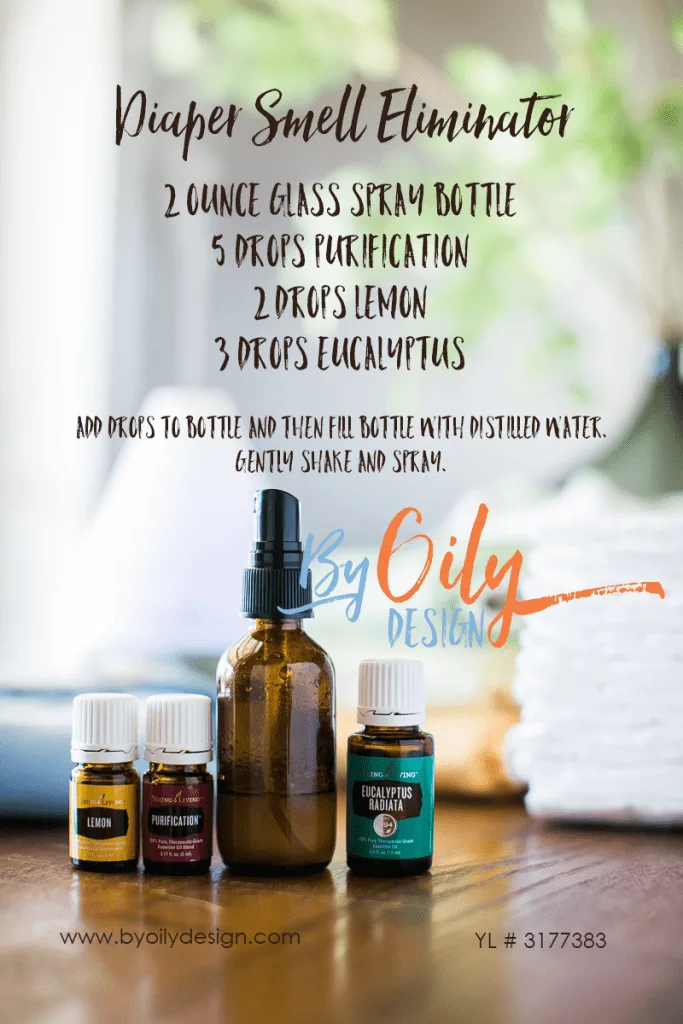 So the big test for this spray came a few weeks ago.
We had some out of town friends stop by to say hello. I had just finished changing a diaper when my friend came into the house. Her first comment was, "How do you get your house to not smell of diapers!" Yes, I was a happy momma.
Want to know where you can buy the best essential oils?
Click here to get your Premium Starter Kit now!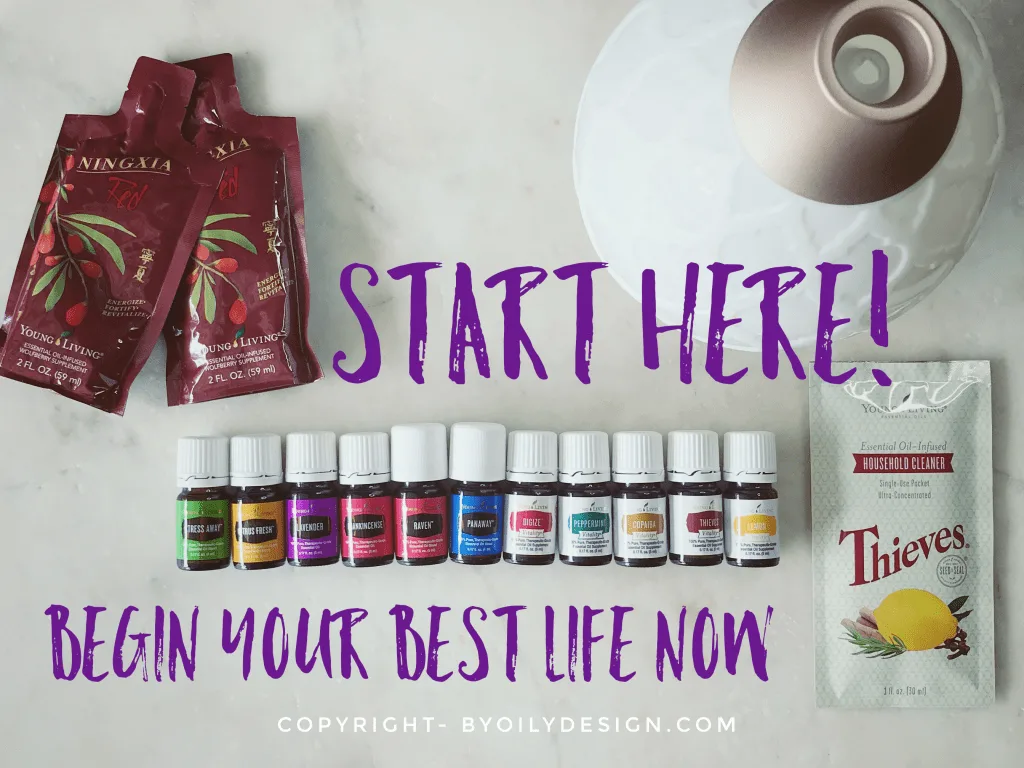 Would you love the chance to find someone to help mentor you through the process of learning all about essential oils?
What if I told you I would help you for FREE!
I'd love the opportunity to walk you through essential oils and help you choose the best oils to use for you. When you purchase a Premium Starter kit through me you will receive Free one on one mentoring from me to help you get comfortable and using essential oils in your life. I promise by the time we are done you will be a rockstar user of essential oils!
The above recipes are made using Young Living Essential oils. They are the only essential oils I trust to use on my family. The reason I use only Young Living is pure and simple, I know the quality that goes into Young Living oils. I only want the best and purest to use on my family and Young Living Guarantees that with their Seed to Seal pledge. If you are new to essential oils or have been using different brands, I'd love the chance to introduce you to Young Living essential oils. Let me help you get started on a healthier lifestyle for you and your family. To find out more, I'd love for you to check out my post on
It's a fun and informative post about how this normal, plain jane mom got started with essential oils and how you can too! check it out here- How to get started with Essential Oils.
I hope once you try this you will leave me a comment and tell me how it has rocked your world too!