There are a lot of things in this world that can be unsafe for our babies.
For me, as a new mom, I stressed out about making sure each little thing was perfect for my girls.
I can admit it now,
I probably went a little WAY overboard at the first.
As momma's, we want to create a healthy loving home that our babies can grow and be loved.
But the fear of doing something wrong, at times, paralyzed me from actually doing something wonderful.
You see, I was so scared to use essential oils when my girls were little.
✅Mom Truth- I was unsure of how safe it was to use essential oils around babies.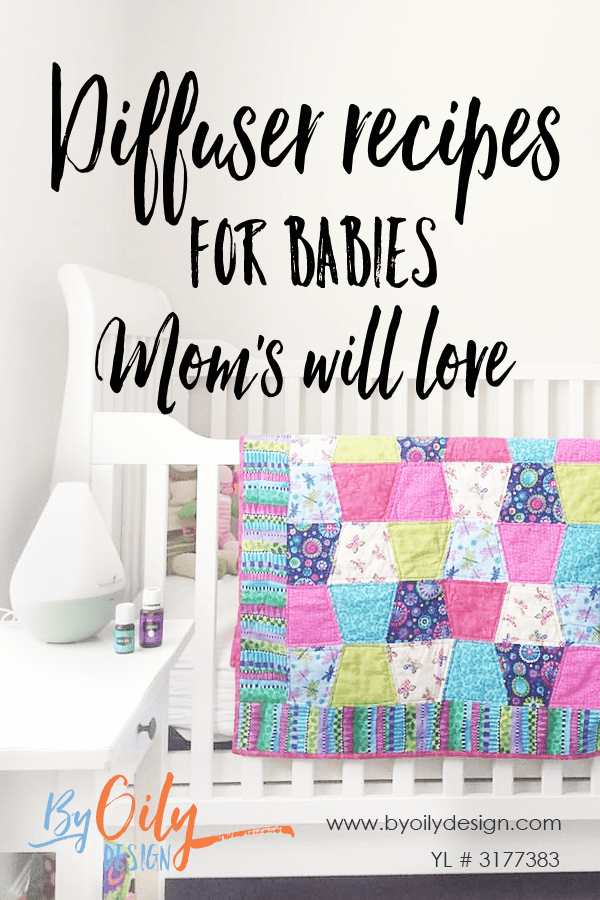 *This post contains affiliate links to the essential oils and other products I talk about in the post. Purchasing them here from my blog is no extra cost to you but I do earn a commission that helps in the cost of running this blog. Thanks for your support!
So, I just pushed off getting started with essential oils until I could wrap my post-pregnancy brain around it and actually study up on it. Once I did, I was so surprised how much I missed out on and I was kicking myself for being such safety freak.
What I found was using essential oils with babies is a totally natural way to care for your baby. It's why Young Living has created an entire line of healthy, natural baby products I now use on my girls.
And the wonderful benefits, especially diffusing essential oils around babies, far outweigh the negative.
Yes, there are safety measures you will want to follow. But they are no different than other safety steps you take for your baby. It really is simple and safe.
In this post, I'm going to simplify and show you the wonderful essential oils you can diffuse around your baby. I am going to start you off with 10 safe diffuser recipes for babies you will feel confident using. I think you will love the scents you create while diffusing them and you will really enjoy the benefits of the oils as well. I will also show you the safety measures you will want to take while diffusing around your baby.
How to diffuse safely around Babies and Small Children
The key to using essential oils around babies and small children is this-
Dilution is the Solution
In other words, you can never go wrong with diluting essential oils. With diffusing that means if a diffuser recipe is too strong then you will add more water to it.
I tend to air on the side of caution and so with babies and small children, I keep my essential oil dilution ratio to 1-2 drops total of oil to 150ml of water.
You will want to check your essential oil diffuser to see what the water well is measured to hold. Some smaller diffusers will hold less than 150ml and some larger essential oil diffusers will hold upwards to 300ml+.
My favorite essential oil diffuser to use for families is the Desert Mist Diffuser by Young Living. I love this diffuser because it has intermittent mist settings and the choices for nightlight colors make it so easy to use as a night light for your baby's room. The candle flicker mode is a super nice and perfect amount of light for a nursery. The Desert mist diffuser can also be used without oils as a humidifier for a small room.
6 tips on how to safely diffuse essential oils with your baby.
Use only high quality, pure essential oils like the ones I use from Young Living. It's so nice to remove the worry of, "is there something added to this oil that could be harmful?". With Young Living's Seed to Seal promise I know I'm only getting 100% pure essential oil.
Set up your essential oil diffuser across the room from where the baby will be lying down.
Never diffuse with the door shut. Access to fresh air flow is important.
Diffuse for no more than 15 minutes at a time. This Smart Wifi essential oil diffuser will allow you to control your diffuser from your phone. I wish when my girls were babies I had this as an option. Can you imagine not having to get up from nursing and rocking your baby when you forget to turn the diffuser on? All you have to do is turn it on from your phone. It also lets you program the On/Off time so you know you are diffusing for only the time you need. Young Living also has two diffusers that come with remotes that I own and love.
Diffuse 1-2 drops max for 150ml diffuser
Use an essential oil diffuser with intermittent mist, like this intermittent diffuser that is great for babies, to help keep the essential oil concentration lower.
My Favorite Essential oils that are safe for use around babies
These oils are my favorite essential oil choices from the list of safe oils because many are in the Young Living Premium Starter Kit**. The other oils not in the kit are inexpensive oils that are easy to add to your oil collection. I'm including Gentle baby which is a blend made by Young Living and it is amazing! So relaxing and perfect for little ones and it is diluted for topical use too.
If your worried about oils that should not be used around babies check out my post on using essential oils safely with your family. It includes a free pdf download of the list of oils and the age groups when you can not use them.
Lavender**
Lemon**
Frankincense**
Orange
Grapefruit
Lemongrass
Tea Tree
Cedarwood
Bergamont
Citrus Fresh**
Roman Chamomile
Gentle Baby
** oils found in the premium starter kit
Want to see 10 of my go-to diffuser recipes for babies?
I hope these essential oil diffuser recipes for babies will become some of your favorites too. As a momma it makes me feel so much better when I know what I'm doing for my family is safe and healthy.
I think these diffuser recipes will bring lots of snuggles and bonding time that you and your baby will love.
Remember, Newborns and babies only need small amounts of essential oil to enjoy their benefits. To much essential oil can be harmful. Even after diffusing became old hat for me, when I try a new oil for the first time around a baby or someone new to essential oils I only add 1 or 2 drops maximum to the diffuser at a time.
[social_warfare buttons="Facebook, Pinterest"]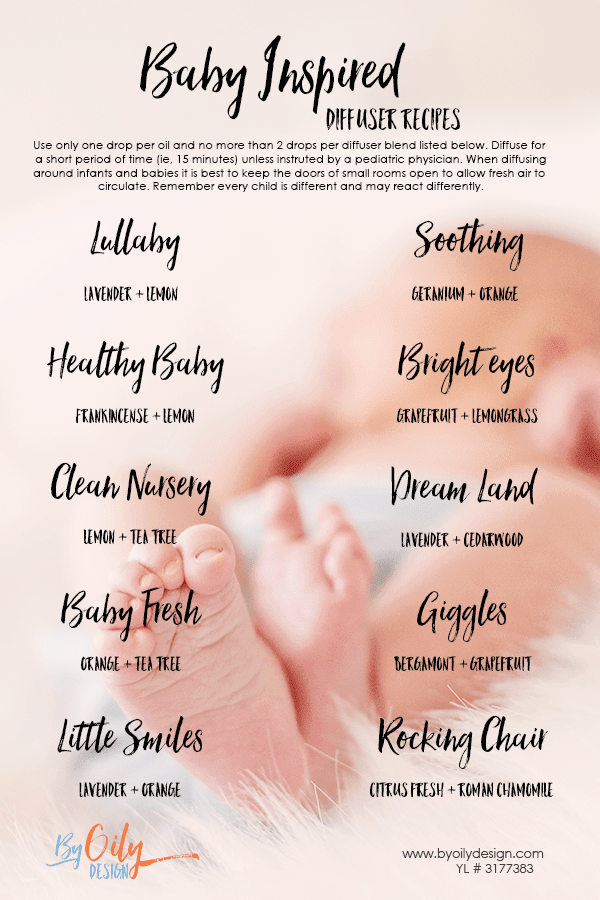 For an easy to print pdf of the essential oil diffuser recipes for babies, click on the image below and download the baby inspired Diffuser recipes, PDF document and print it out on an 8.5 x 11 sheet of paper.
Before you download this Baby Inspired Diffuser recipe page, I was wondering if you could do me a favor? Would you share this post on Facebook using the blue Facebook button below? I'd love as many people as possible to see these great baby safe diffuser recipes!
[social_warfare buttons="Facebook, Pinterest"]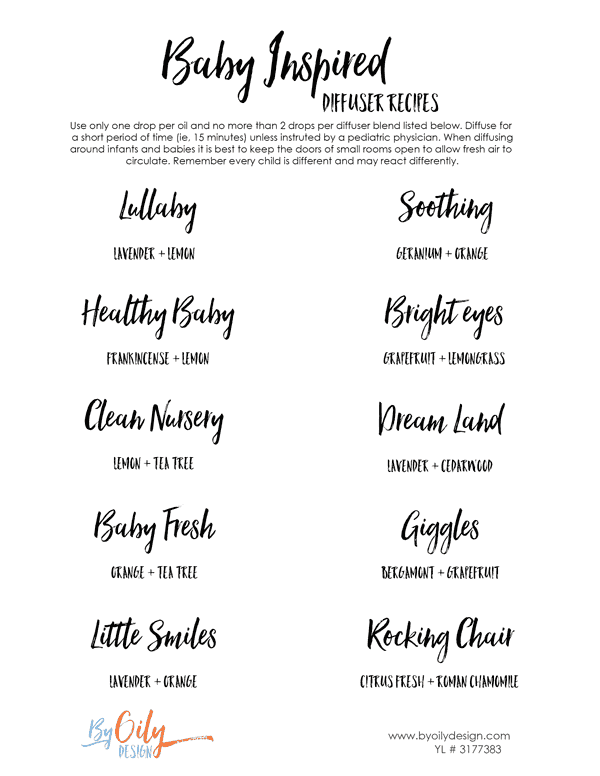 As always, my templates are free of charge, but I do ask that you share my printable to-do list post with all your friends on Facebook and Pinterest!
[social_warfare buttons="Facebook, Pinterest"]
Because you know the more people loving these essential oil diffuser recipes for babies the merrier! :=) You can use the handy little icons below this post to do so.
Don't forget to follow me on Instagram too! BYOILYDESIGN on Instagram.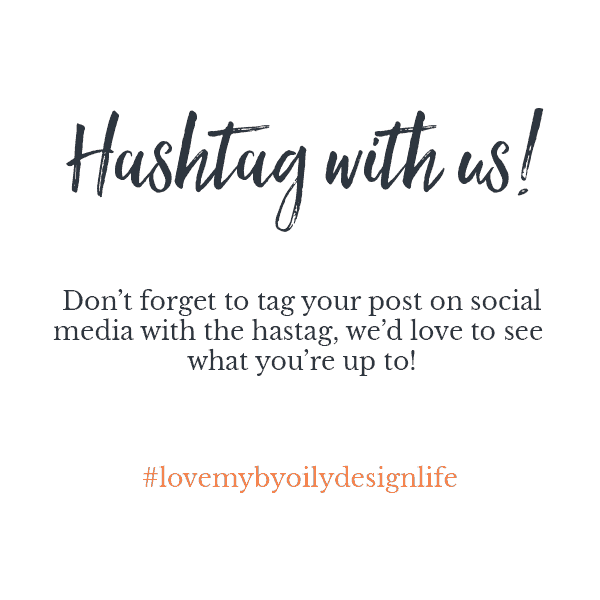 Looking to buy another diffuser check out my guide to picking the right essential oil diffuser type for your home!
[recent_posts style="1″ rows="one" title = "Amazing Content" text_excerpt="Y" mode="selectable_posts" posts_num="" selectable_posts="9240″ text_color="undefined" hide_author="" ][/recent_posts]
If you like the above recipes I hope you will try out my other diffuser recipe post! I've got lots of free downloadable PDF recipes as part of these post.
[recent_posts style="1″ rows="one" title = "Amazing Content" text_excerpt="Y" mode="selectable_posts" posts_num="" selectable_posts="6631, 6133, 5562, 5525″ text_color="undefined" hide_author="" ][/recent_posts]
Are you wanting to begin the process of detoxing your home from harmful chemicals? But don't know where to start?
Does the idea of learning all about Essential Oils feel like it's more information than you can handle?
Would you love the chance to find someone to help mentor you through the process? Someone who can help simplify and make learning fun?
What if I told you I would help you for FREE!

Feel Free to share the love of safely diffusing for babies by sharing these baby inspired Diffuser Recipes on social media!