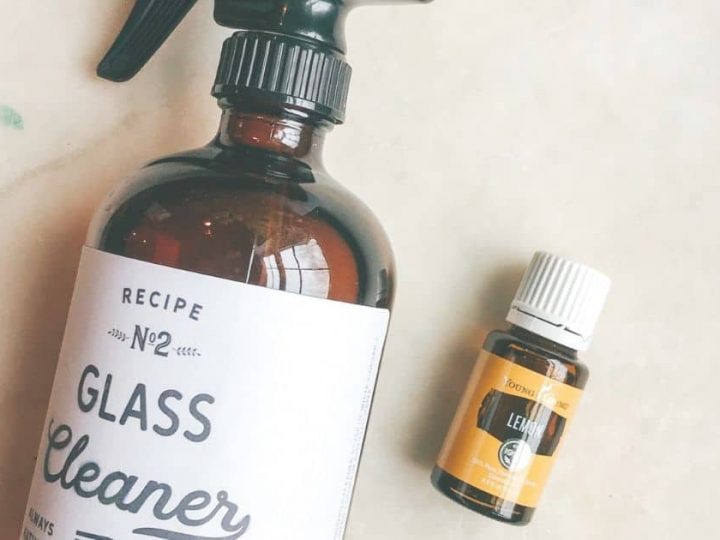 DIY glass cleaner
The spring season is just around the corner here. For many of us, it means it's time to clean up the house.
This year why don't we all ditch the chemical-laden store-bought cleaning products and opt for natural cleaning products and solutions.
This post will focus on natural glass cleaners and why they are better than commercial glass cleaners. You will also learn various tips to clean glass surfaces around the house.
What's wrong with your commercial glass cleaner?
Commercial cleaning products contain chemicals that can be harmful to your and the environment. Here are some of the chemicals that are present in store-bought glass cleaners –
Butoxyethanol
Several window cleaners contain 2-butoxyethanol, which can enter the body through skin contact and direct inhalation. Inhalation of this chemical can irritate the throat and lungs, and high exposure from this chemical can lead to liver and kidney damage.
Ammonia
Ammonia is another chemical commonly found in glass cleaners. This nitrogen-based compound is water-soluble and has a low evaporation rate. The ammonia found in Windex and other window cleaners is called ammonium hydroxide. Exposure to this chemical can lead to burns and respiratory issues. Ammonia triggers olfactory adaptation, which makes it harder to smell the more you are exposed to it. Though it does not take much to make a homemade window cleaner with ammonia, we recommend avoiding it as this ingredient has the potential for acute aquatic toxicity.
Chlorine
Chlorine is used in glass cleaners as it kills microscopic biological impurities and leaves the surface clean. Light exposure to chlorine can irritate the eyes and nose, while direct contact can cause severe chemical burns. Since chlorine is heavier than air, using it in poorly ventilated areas can result in asphyxiation.
Fragrance
Many glass cleaning products manufacturers add fragrances to their products to mask the smell of butoxyethanol, ammonia, and chlorine. If these fragrances are organic, they are not harmful. Some cleaning products also contain fragrance containing synthetic chemicals like diethyl phthalate or diethylhexyl phthalate. Phthalates are believed to disrupt hormones and can be carcinogenic.

Isopropyl alcohol
Isopropyl alcohol, also known as rubbing alcohol, is another critical ingredient in glass cleaners. It dissolves all oil or grease on contact. Isopropyl alcohol is extremely flammable and can be toxic to humans in concentrated doses.
Plus commercial cleaners are expensive and creating your own DIY streak-free glass cleaner will save you so much money.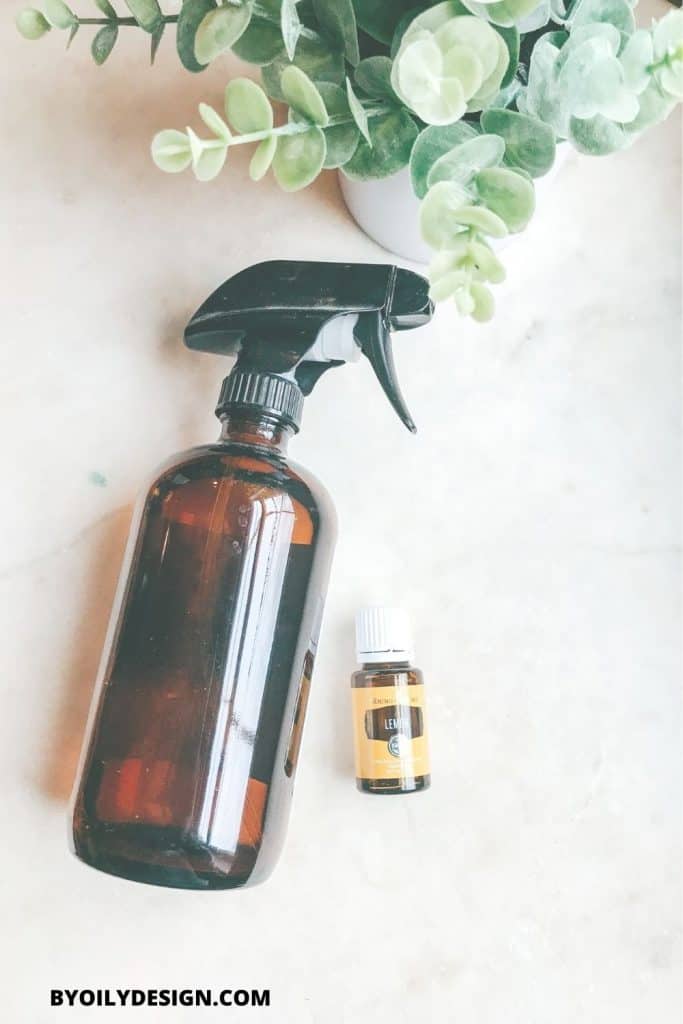 *This post contains affiliate links to the essential oils and other products I talk about in the post. Purchasing from the links here on my blog is no extra cost to you. However, I do earn a commission that helps in the cost of running this blog. Thanks for your support!
Opt for homemade glass cleaners that contain natural ingredients
Homemade window cleaners made from natural ingredients have many advantages over store-bought cleaners. They are eco-friendly, good for your health, and relatively inexpensive. Many homemade glass cleaner recipes require products that are already lying at home. You can make these at no extra cost.
Another benefit of our DIY glass cleaner recipe is that you can adjust the recipe as per your need. You can change the quantity of the ingredients and choose the quality of the ingredients as per your preference.
Here are some of the best recipes for streak-free window cleaner –
This homemade glass cleaner without alcohol is ideal for cleaning all glass surfaces around your home.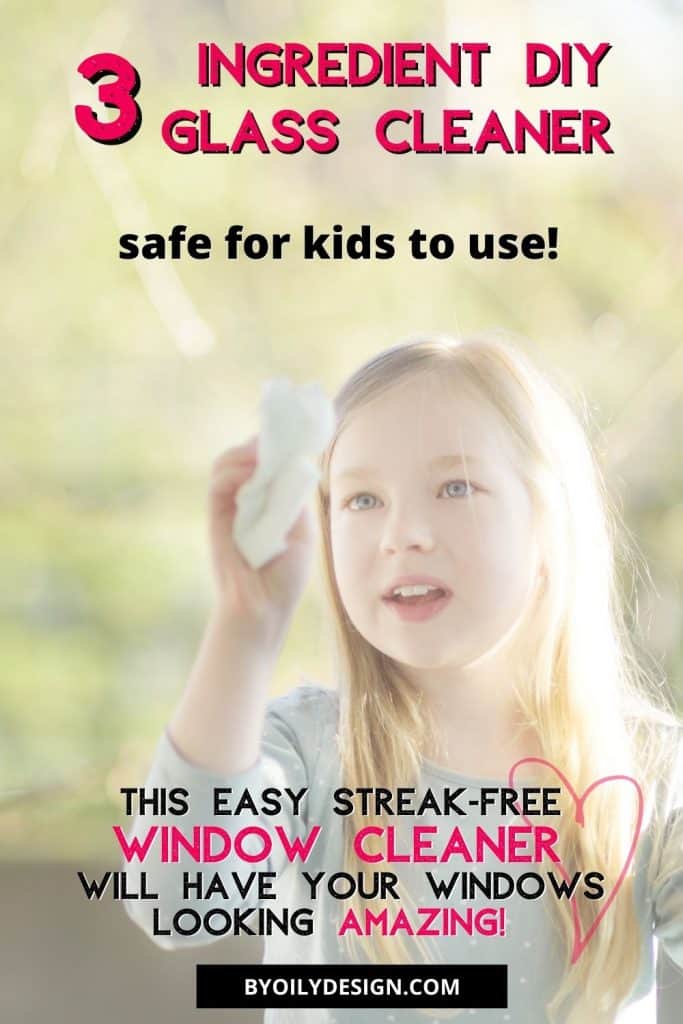 The above recipe is my favorite for my kids to use when I have them cleaning glass surfaces as part of their chores. It's kid friendly and diluted so if they were to get any on them it won't burn or cause irritation. If they do get it in their eyes flush eyes with milk or vegetable oil.
Best non-toxic glass cleaner
Homemade glass cleaner without vinegar
Many of us do not like the strong smell of vinegar. Here's a recipe for a homemade glass cleaner without vinegar.
Let us now learn what role these natural ingredients play in the cleaning process.
How do essential oils help in cleaning windows?
All of our homemade glasses cleaner recipes have essential oils in them. While these essential oils provide a fresh, clean scent, this is not the only reason they are used in the recipes. Essential oils like lemon, orange, and grapefruit also help to disinfect and deodorize the surfaces. Their degreasing and disinfecting properties make them a necessary part of these recipes.
Is vinegar good for cleaning windows?
White vinegar can work wonders for your windows and mirrors. Vinegar is acidic, which helps to break down any grease that may have accumulated on the glass surface. When you clean windows and mirrors with a solution that contains vinegar, you will get sparkling clean and streak-free windows.
Is baking soda good for cleaning windows?
Baking soda can be used to clean windows as it helps to remove and scruffs of stains from the windows. It can be added to glass cleaner recipes as it is non-toxic and does not create any harmful fumes. However, you should avoid using it on stained glass windows as it can scratch and damage them.
How does cornstarch help in cleaning windows?
Cornstarch contains fine granules, which make a natural abrasive. When used in a window cleaner recipe, it removes grime effectively and gives your windows a streak-free shine.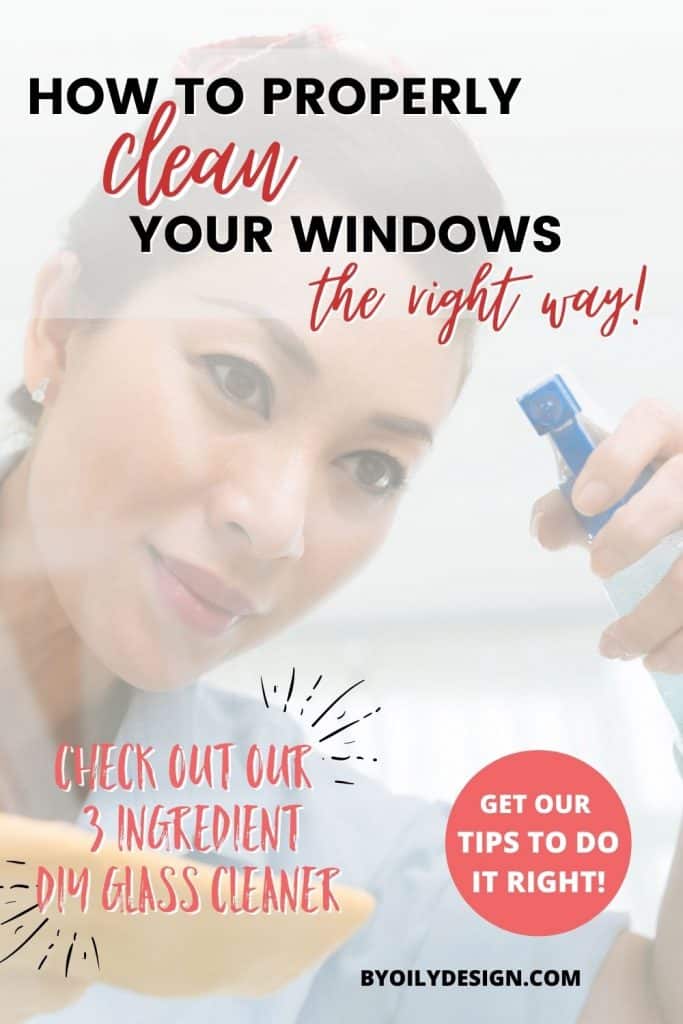 How to clean windows inside and out?
Cleaning windows is not rocket science, but many of us get the simplest of chores wrong. Here are some tips on how to clean windows inside and out so that you can get the maximum amount of direct sunlight into your home and enjoy lush outdoor views. You can choose from any alternative glass cleaner recipes mentioned above and make some for your home.
How to clean inside of windows?
1. Place a large towel below the window before you begin to catch any spills.
2. Take a large bowl of clean water and add a few drops of dish cleaning liquid to it.
3. Clean the window with a sponge and water. Start at the top and work your way to the bottom.
4. Spray the window thoroughly with any of the cleaners for windows that you have made.
5. Use a lint-free towel or black and white page of a newspaper to completely dry the window. Repeat this step if you find some streaks or dirt remaining on the window.
How to clean outside of windows?
1. The outside of windows is dirtier and may require extra effort. Use a garden hose to clean the windows from outside.
2. Use diluted dish soap and a microfiber cloth attached to a pole to clean the window.
3. Spray the window with your homemade glass cleaner. Use a rubber blade squeegee to clean the window from the outside. Move the squeegee from top to bottom and wipe it clean every time.
4. Spray the stubborn stains like bird droppings with more glass cleaner and let it stand for a few minutes before cleaning it.
How to clean windows with newspaper?
Using newspapers is a popular way to clean windows. You may have seen professional window cleaners use newspapers as well. Newspapers make effective cleaners as they are made from soft fibers that are tightly packed together, so they do not scratch the glass.
However, you must use the newspapers properly, or else they can leave black smudges of ink on your window frames. To use newspapers properly, you must –
1. Spray the window with our homemade glass cleaner.
2. Rub with the newspaper in a circular motion.
3. Wipe vertically and then horizontally to ensure all the liquid is absorbed, and there are no streaks left.
Other surfaces you can clean with DIY glass cleaner
You can use these natural ingredients like essential oils and vinegar to clean other surfaces like mirrors and reading glasses.
Whether you wear prescription glasses or shades during a sunny day, you may have faced the problem of smudges. You can put a few drops of tea tree oil to a microfiber cloth to make your very own DIY glasses cleaner.
Dirty bathroom mirrors and glass shower doors are tough to clean and can make a clean bathroom look messy. You can use the recipes mention earlier to make your bathroom mirrors and shower doors sparkle. In addition, you can use a scrub sponge with baking soda to clean tough stains.
Final thoughts
The best things in life are free or at least relatively inexpensive. Our natural recipes for glass cleaners are cheap and easy to make. Since they are non-toxic, you can also let your children help you clean. Follow the tips mentioned above, and you can have windows and mirrors sparkling clean in no time.
Want to buy the best essential oils so you can enjoy creating your own DIY cleaners like this streak-free window cleaner? I'd love to help get you started!
When you sign up with me as your enroller you get amazing support and education for not only the Lavender, peppermint, and lemon oils you need for a fresh smelling home, but all the wonderful essential oils and non-toxic products Young Living has to offer.
I even have an FREE Essential oils reference app just for those that enroll with me! I want you loving your oils and getting the most out of them you can.
Ready to get started? Click on the below image and let's get the young living starter kit in your hands.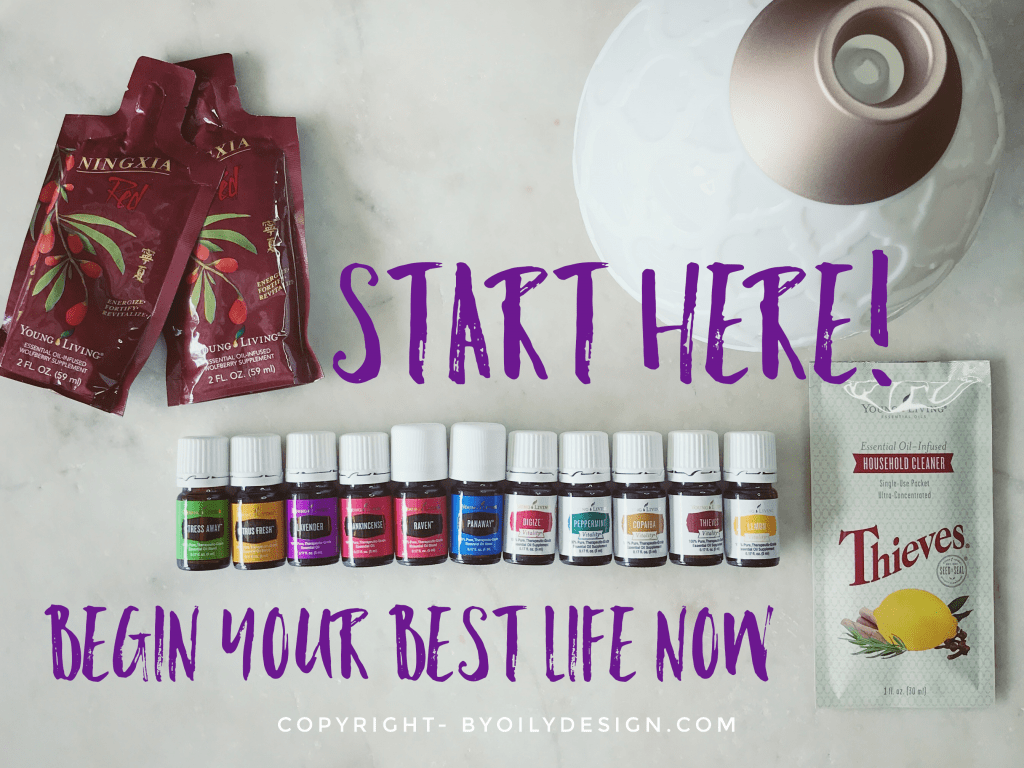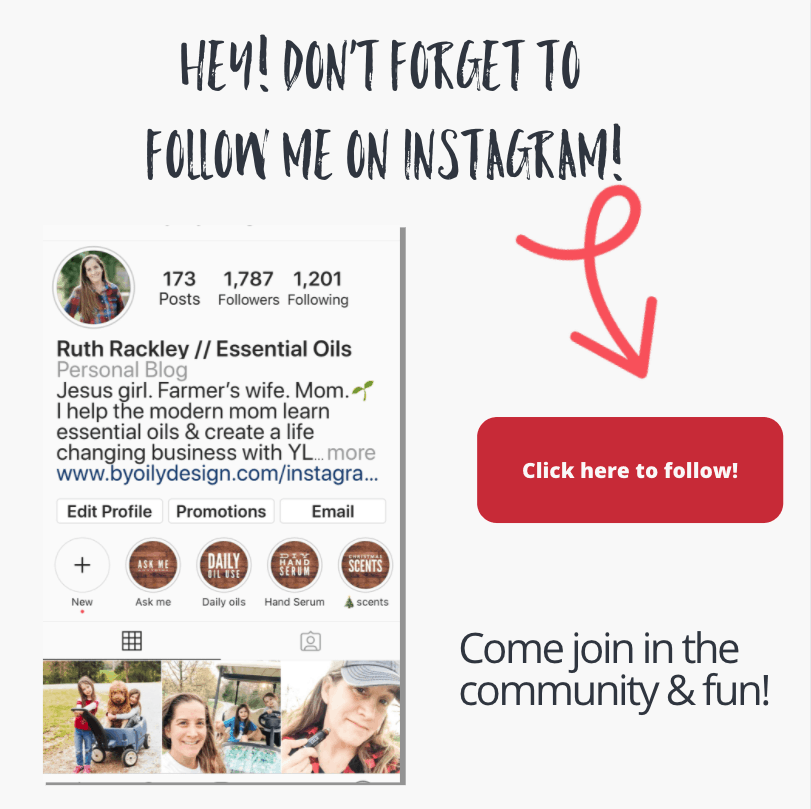 Written by Manveen Grewal , Edited by Ruth Rackley
How to make glass cleaner