Are you feeling low and stressed? Now imagine yourself in a garden surrounded by fragrant flowers. Doesn't the thought immediately calm your mind? Did you know, Floral aromas have a positive effect on the mind and can reduce stress? Essential oils can create the same experience for you and help uplift your mood.
In this post, we have compiled a list of the top fifteen essential oils that may uplift your mood and possibly have a positive effect in supporting your emotional health.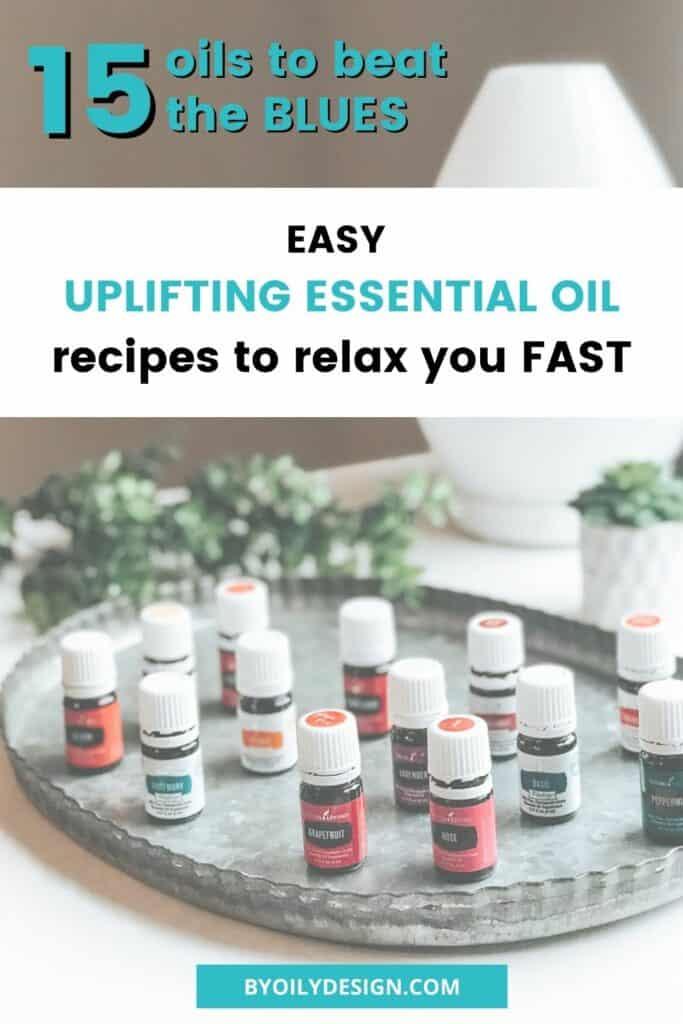 *This post contains affiliate links to the essential oils and other products I talk about in the post. Purchasing from the links here on my blog is no extra cost to you. However, I do earn a commission that helps in the cost of running this blog. Thanks for your support!
1. Lavender essential oil
The scent of lavender essential oil can be both uplifting and calming. It is a natural remedy for relieving stress and improving sleep. This floral oil promotes a sense of wellbeing, which has a comforting effect.
2. Bergamot essential oil
The beautiful scent of bergamot is a natural antidote for stress and nervousness. This invigorating oil helps fight tiredness and can provide an energizing boost in the morning. This oil can help reduce nervousness and you can diffuse it before an important interview or meeting. We have a post all about Bergamot oil uses you should check out.
3. Peppermint essential oil
The refreshing aroma of peppermint essential oil provides a natural energy boost. It also helps to improve your mood and focus. The high menthol content of this plant provides a cooling effect. You can use it for an uplifting massage or add it to a foot bath to soothe your tired feet.
4. Jasmine essential oil
Jasmine essential oil is known to have an uplifting effect on a tired body. When used in massages, jasmine essential oil relieves tensions and enhances relaxation.
5. Frankincense essential oil
Frankincense essential oils is one of the best essential oils to uplift and energize your mood. It can improve your mood if you are stressed or nervous. The warm and spicy scent of his oil helps to improve your energy levels and concentration.
6. Lemon essential oil
A few drops of lemon essential oil is all that you need to awaken your senses and get a boost of energy. The zesty fragrance of this oil is energizing and uplifting. Lemon essential oil also acts as a mood enhancer.
7. Ylang-ylang essential oil
Ylang-ylang essential oil has miraculous uplifting qualities. Its exotic scent can help calm your nerves and stress when you are emotional or tired. You can also use this oil to curb negative thoughts and reduce feelings of irritability.
8. Orange essential oil
The citrus properties of orange essential oil make it uplifting for the body and mind. The cheerful and exhilarating scent of orange essential oils boosts focus and dispels anxiety and depression. FOr me this is like sunshine in a bottle
9. Myrrh essential oil
Myrrh essential oil uplifts your mood and promotes awareness. It helps maintain peaceful feelings and promotes emotional balance and well-being.
10. Basil essential oil
Basil essential oil promotes mental awareness and clarity of thought. Its refreshing and uplifting scent relieves fatigue and revitalizes energy levels. You can use it the diffuser to simulate, clarify, calm, energize and uplift the mind.
11. Rosemary
Rosemary essential oil has a refreshing herbal aroma. It prevents negativity and uplifts the mood. When used in a diffuser, it can also improve memory and concentration.
12. Lemongrass
The strong citrusy scent of the lemongrass essential oil is uplifting, purifying and cleansing. It boosts mood, sharpens focus, and evokes enthusiasm. When diffused into a room, it freshens the environment and relaxes the atmosphere.
13. Sandalwood
The warm woodsy aroma of sandalwood oil improves mental clarity and focus. It also helps to balance your emotions which helps to uplift the mood. When used as a massage oil, it promotes relaxation.
14. Grapefruit
Grapefruit essential oil promotes a positive outlook and uplifts the mood. It decreases mental fatigue and triggers motivation.
15. Rose
This incredibly fragrant essential oil offers a whole range of benefits. Diffusing rose essential oil helps to uplift the spirits and bring about the feelings of love, care and comfort.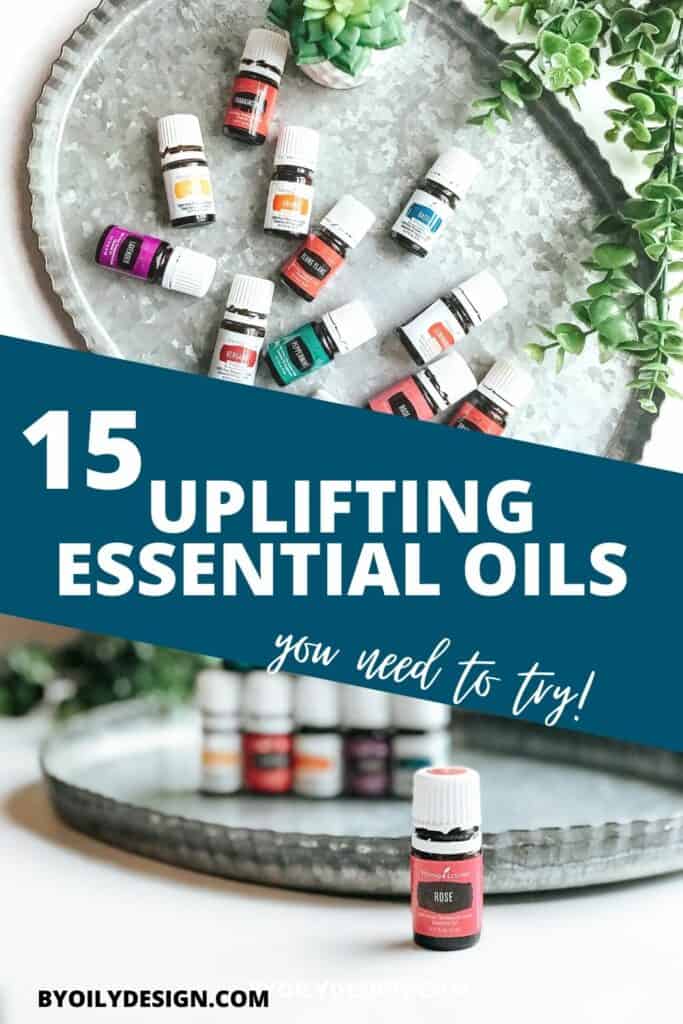 How to use uplifting essential oils to improve mood and get boost of energy?
Though many people mix essential oils with lotions and cosmetics, the most popular ways to enjoy the benefits of uplifting essential oils are –
1. Massage
You can massage these mood uplifting essential oils into your skin. Make sure you dilute the essential oil in a carrier oil like avocado, coconut or almond oil before you apply it on your skin.
2. Direct inhalation
You can inhale these oils directly from the bottle which works well when you are working in an office. You can also diffuse three drops of oil in water for an hour three times a day.
3. Indirect inhalation
You can use a room diffuser to spread the scent of the uplifting essential oils in the air.
Also, You can add a few drops of oil to a tissue or cotton ball and inhale the scent.
Make a spray of your favorite uplifting essential oil and spray it around your room.
You can also mix two or more of these oils to form mood-lifting essential oil blends and diffuse it in your room.
Another great way to use uplifting essential oils is to add them to your bath routine. Adding the right essential oils to your warm bath can turn a regular soak into a relaxing spa treatment. Remember, you can't add just any oil to your bath water and gain their benefits.
Essential oils are powerful liquids and using the wrong ones can cause you more harm. You must always remember to never add essential oils to your bathwater directly. Essential oils are not soluble in water. When you add them directly, they can adhere to your skin and may cause irritation. Always dilute your essential oil with a carrier oil like jojoba, coconut, or olive oil before adding it to your bathwater.
Three to 10 drops of essential oil in one tablespoon of carrier oil is enough to give you a therapeutic bath.
Best uplifting bath essential oils
You shouldn't add just any oil to your bath. Here are some of the best uplifting bath oils –
Rose
Neroli
Lavender
Ylang-ylang
Jasmine
Rosemary
Uplifting essential oil blends
These essential oil blends will help you feel positive and uplifted. Feel free to experiment with the combinations and find a mood uplifting essential oil blend that suits you the best.
Motivation and confidence
2 Drops orange
2 Drops peppermint
4 Drops bergamot
The peppermint in the blend will help clear your mind and orange and bergamot will motivate you.
Bright spark
4 Drops Lemon
2 Drops Patchouli
2 Drops peppermint
This blend of lemon, patchouli and peppermint will help you feel bright and alert.
Energize
2 Drops orange
2 Drops myrrh
3 Drops frankincense
Using this uplifting diffuser blend will improve your energy levels and confidence.
While diffusing essential oil blends is effective in improving your mood and providing a spirit uplift, there are times when using uplifting essential oil roller blends is much more effective. Roller blends are useful when you cannot be around a diffuser like when you are sharing an office space. They are also useful when you want to affect your own mood but not of those around you. When applying essential topically, you must dilute them first.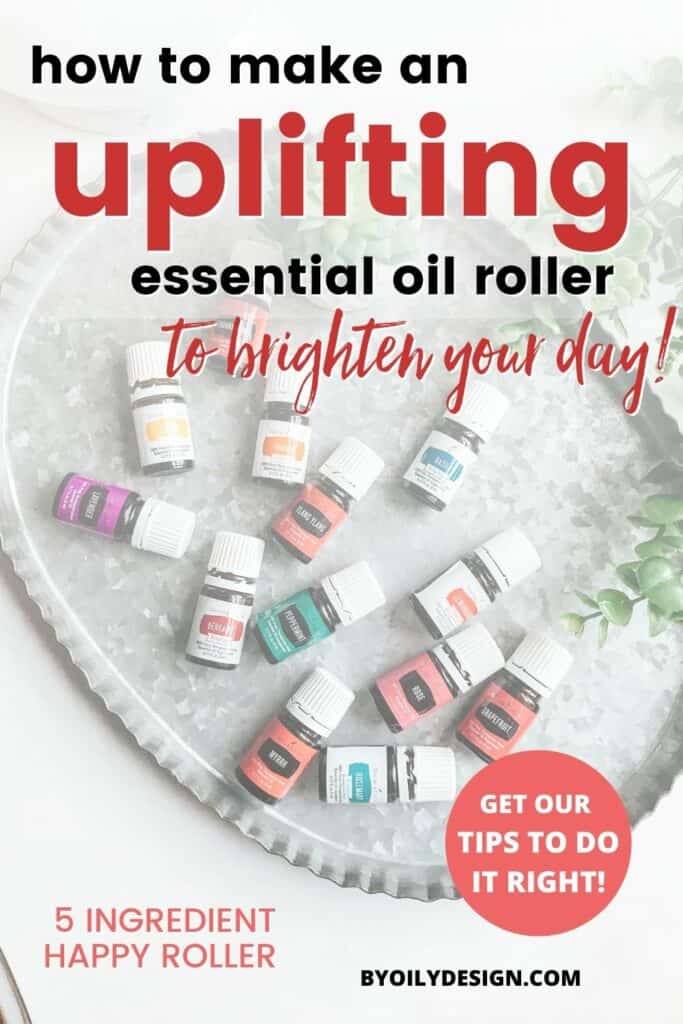 Here is an uplifting essential oil roller blend recipe that calms your mind and uplifts your mood –
2 Drops lemon
2 Drops grapefruit
3 Drops orange
3Drops Bergamot
Add these to a 10ml roller ball bottle and fill the rest of the bottle with fractionated coconut oil. Snap on the roller ball and shake well. Apply this blend to your wrists or behind your ears.
Refreshing essential oil blends
The aromas of these essential oil blends will refresh your home or office and boost you spirits.
Happy essential oil blend
3 Drops lavender
2 drops lemon
2 drops rosemary
This blend will refresh your mind and promote a feeling of well being.
Sunshine
2 drops Bergamot
4 drops Orange
2 drops Ylang-ylang
This citrusy blend mixed with the unique scent of ylang ylang will reduce irritability and boost your spirit.
Fresh and clean
2 drops Peppermint
5 drops Lemon
4 drops Lemongrass
The refreshing aromas of the essential oils in this blend are an immediate mood-booster.
Relaxing essential oil blends
If you are feeling stressed or nervous, essential oil blends can reduce your stress and provide a sense of calm. Using relaxing essential oils for diffuser have become a popular alternative to traditional medications.
Serenity
4 Drops Lavender
4 Drops Orange
2 Drops Frankincense
Lavender and frankincense oil help reduce stress and orange uplifts your mood.
Unwind
5 Drops sandalwood
3 drops clary sage
2 drops bergamot
The woodsy scent of sandalwood is calming. When blended with bergamot and clary sage, it has a relaxing effect.
These essential oil blends kickstart your morning with an energy boost-
Morning boost
2 drops peppermint
1 drops orange
3 drops grapefruit
2 drops lavender
Recharge
2 drops peppermint
3 drops rosemary
2 drops lime
Some common questions about essential oils for uplifting mood
Can essential oils change your mood?
Not only do essential oils smell good, they can also shift your emotions and change your mood. As soon as the aroma of the essential oil reaches your nose, it connects with the olfactory bulbs inside the nasal cavity. These bulbs send messages to the limbic system of the brain where memories and emotions are stored. Essential oils can boost your mood and have a positive effect on your stress response.
What are the most calming essential oils?
Calming essential oils can help you relax after a stressful day at work. They provide you a sense of peace and contentment if you live in a constant state of stress. Here's a list of the best calming essential oils –
Patchouli
Spearmint
Lavender
Neroli
Rose
Bergamot
Ylang-ylang
Lemon
What essential oils make you feel happy?
These are the essential oils that counter stress and self-doubt and promote happiness –
Lavender Oil
Bergamot Oil
Jasmine Oil
Basil Oil
Lemon Oil
Rose Oil
Final thoughts
Next time you find yourself feeling low or stressed, do not reach out for a cup of coffee or a sugary drink. Diffuse some uplifting essential oil blends instead. There are a whole range of essential oils that can boost your mood and provide a spirit uplift. We have also compiled a list of different uplifting essential oil blends that you can use. Diffuse them, use them in a roller ball bottle or add them to your bath water. You will definitely benefit from the experience.
Looking to buy the best essential oils so you can enjoy creating your mood-boosting essential oil blends? I'd love to help get you started!
When you sign up with me as your enroller you get amazing support and education for not only the Rose, lemongrass, and bergamot oils you need for a mood boost, but all the wonderful essential oils and non-toxic products Young Living has to offer.
I even have an FREE Essential oils reference app for you just for enrolling with me! I want you to love your oils and getting the most out of them you can.
Ready to get started? Click on the below image and let's get the young living starter kit in your hands.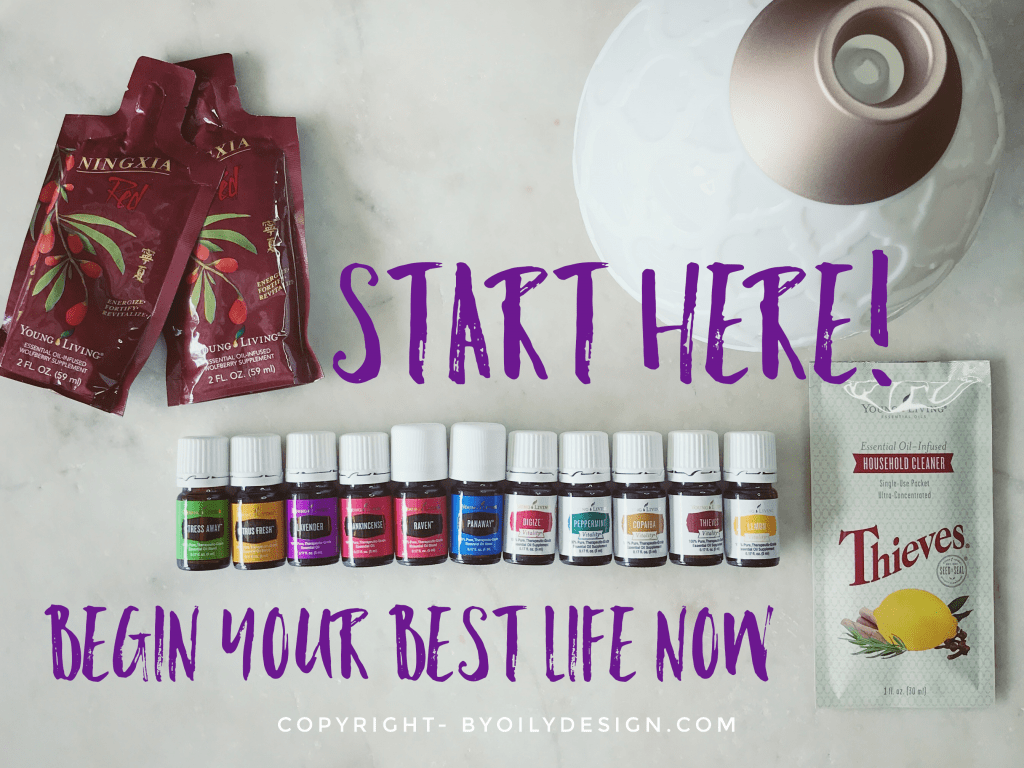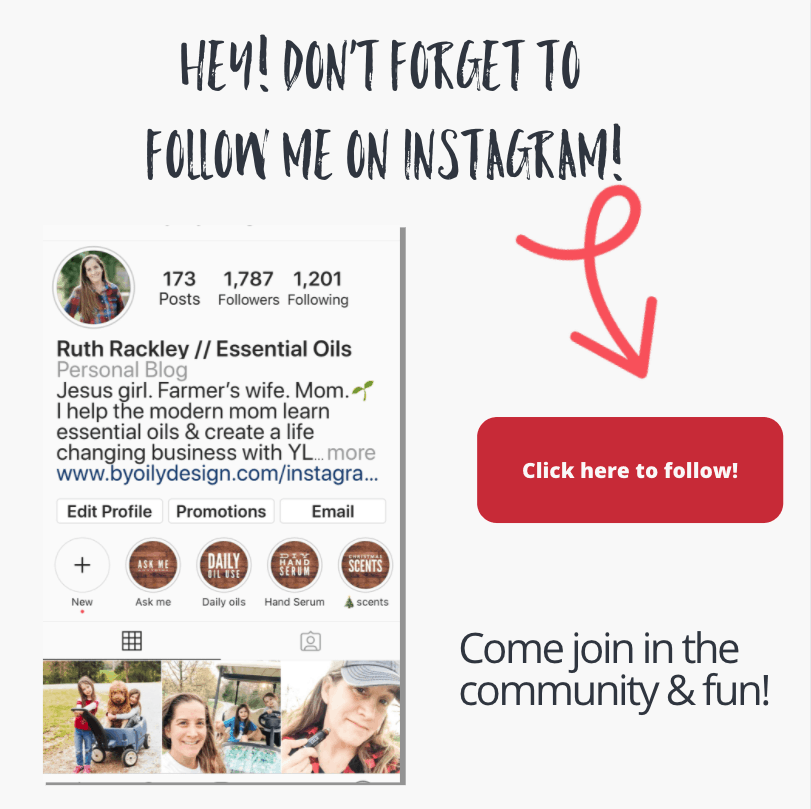 Written by Manveen Grewal , Edited by Ruth Rackley
Spirit uplift