Are you looking to start the new year with clear, glowing skin? Well, good news! You don't have to look any further than your kitchen cabinet. Honey, the clear golden liquid that we often use to add flavor and sweetness to our recipes, can also do wonders for your skin. The benefits of honey for skin include moisturization, exfoliation, and complexion improvement. It acts as a pore cleanser, helps treat sunburn, and reduces wrinkles and fine lines.
Honey is a powerhouse of beneficial nutrients and has been a favorite of naturopaths and beauty experts for many years. Read on to know more about honey benefits for the skin and how to use honey for the face in the best way.
I've totally fallen in love with all the honey mask benefits and I think you will too!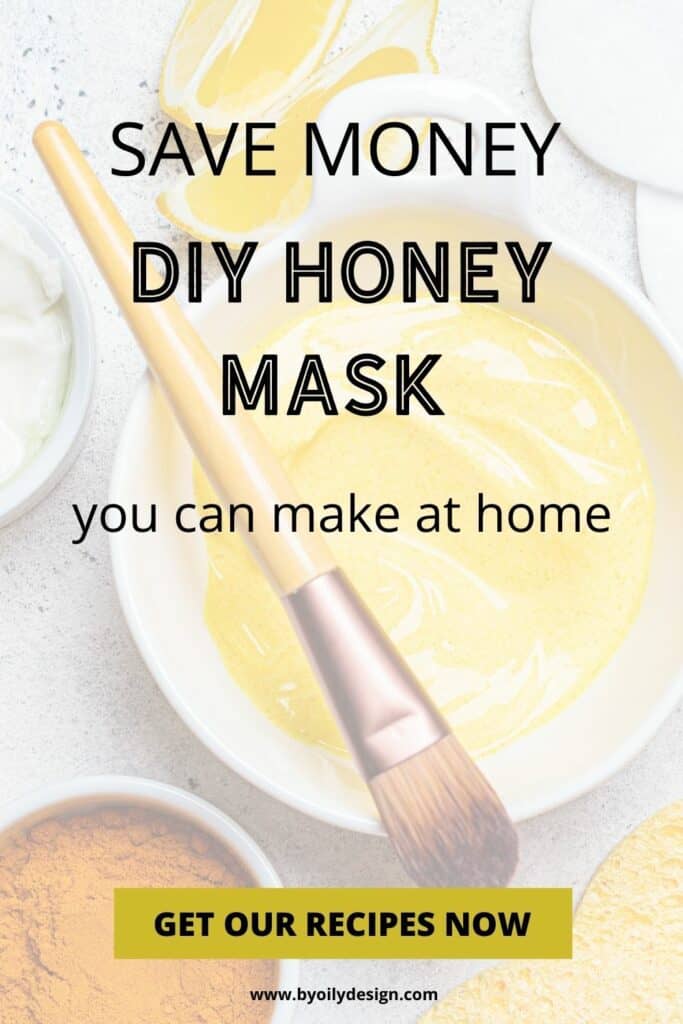 This post contains affiliate links to the essential oils and other products I talk about in the post. Purchasing them here from my blog is no extra cost to you but I do earn a commission that helps in the cost of running this blog. Thanks for your support!
Benefits of honey on face
Honey is known as the nectar of Gods as it was used to treat health and skin problems during ancient times. Here are some of the skin benefits of honey that make it the ideal ingredient for face masks.
Honey helps moisturize dry skin
The enzymes present in raw honey enable it to seep into the skin and moisturize it from within. This is why it is an essential ingredient of many moisturizing creams.
How to use honey as a moisturizer?
You may be familiar with using carrier oils for skin moisturizing. Combining Honey with the best carrier oil for your skin type is a match made perfect for moisturizing your skin.
Take one teaspoon of honey and two teaspoons of jojoba oil. Mix them in a bowl and apply them all over your face. Let this mixture dry, and then wash off the honey facial mask with warm water.
Take one teaspoon of honey and three teaspoons of coconut oil. Mix them in a small bowl and apply them over your dry skin. Leave it on for 30 minutes and rinse off.
Honey fights acne and pimples
Honey has antibacterial and anti-inflammatory properties, which help soothe the inflammation around the acne-affected areas. It removes excess oil from the skin's surface and cleans out clogged pores. Leaving clean skin and glowing skin.
How to use honey to fight acne?
Take a small amount of raw honey and apply it to your face. Leave it on for 30 minutes and wash it off with warm water.
Take one teaspoon of honey and two teaspoons of aloe vera. Mix them in a bowl and apply this mixture with your fingertip on the acne. Leave it on for 20 minutes and wash off with water.
Honey reduces wrinkles
The natural antioxidants present in honey can prevent oxidative damage caused to the collagen strands of the skin. Regularly applying honey to the skin helps to improve the elasticity of the skin and gives you a youthful appearance.
How to apply honey on face to reduce wrinkles?
Take one and a half tablespoons of raw honey and half tablespoon of cinnamon powder. Mix the two and microwave for 20 seconds. Allow the mixture to cool, then apply it all over your face in circular motions. Leave it on for 20 minutes and then rinse.
Take two teaspoons of honey, one teaspoon of milk, one teaspoon sweet almond oil, and five drops of rosehip seed oil. Mix all the ingredients together in a bowl, apply it on your face for 20 minutes, and then rinse off.
Honey can remove dark spots and blemishes
The natural polysaccharides present in honey contain enzymes that boost skin cell function. It also helps remove dead skin cells and promote new cell growth. You can use honey to remove dark spots and blemishes and improve your complexion and skin tone.
How to use honey to remove blemishes?
Mix one teaspoon of honey with the juice of one tomato. Massage this mixture on your face for five minutes, and then let it rest for 15 minutes. Rinse it off with cool water.
Honey is an effective sunburn remedy
Honey can reduce irritation and redness caused by sunburn and speed up the healing process. Not only does it decrease inflammation, but it also provides nutrition to the damaged tissues and helps them heal faster.
How to use honey to treat sunburn?
Mix one tablespoon honey, one tablespoon aloe vera, and one tablespoon plain yogurt. Apply this mixture to the sunburnt area and leave it on for 20 minutes. Wash off with cool water.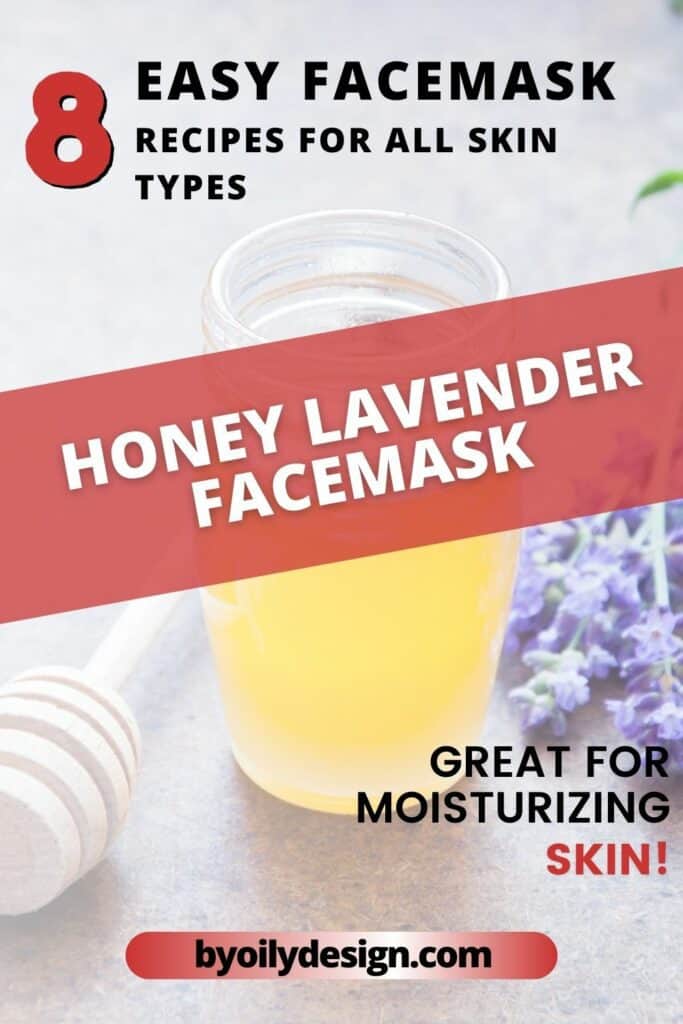 Honey mask recipes
Now that you know the various benefits that honey provides for your skin, let me share some more dos and don't of how to apply honey to face for maximum honey mask benefits.
Honey is easy to use as a skincare product. If you are using only honey, make sure you wet your entire face before applying it. Avoid using it on sensitive areas around the eye area.
The texture and thickness of honey allow it to be mixed with many other beneficial ingredients, including essential oils. You can use honey on all skin types.
Here are some more easy DIY honey mask recipes that you can try –
Honey mask for pimples
Raw honey – 1.5 teaspoons
Coconut oil – 2 teaspoons
Lavender essential oil – 2 drops
Mix the ingredients together with a spoon. Clean your face and apply this mask to your face. Leave this homemade honey mask on for 15 minutes, and then wash it off.
Honey mask for sensitive skin
Raw honey – one tablespoon
Matcha powder – 1 teaspoon
Sweet almond oil – 1 teaspoon
Mix all the ingredients together and apply them to your face. Leave it on for 10 minutes and wash off with warm water.
Honey mask to reduce blemishes
Honey – 1 tablespoon
Lemon juice – 1 teaspoon
Yogurt- 1 tablespoon
Turmeric powder – ¼ teaspoon
Mix all the ingredients and apply the mixture to your face. Leave it on for 20 minutes and wash off with warm water.
Honey mask for glowing skin
Raw honey – 1 tablespoon
Orange juice – 1 tablespoon
Sandalwood powder – 1 tablespoon
Mix all the ingredients and apply this paste to your cleansed face. Leave it on for 20 minutes and wash off with cool water. Use this mask twice a week for glowing skin.
Applying honey on face side effects
Raw organic honey does not cause any side effects when applied to the face. However, you should exercise caution if you are allergic to pollen or bee venom. If you are allergic to any of these, seek medical advice before using honey on your face.
In addition, always follow these steps when using a DIY honey face mask –
When trying out a new face mask recipe, always do a patch test on a small area of your skin by apply a little bit of the honey mixture to your skin.
Always wash off honey from your face before you go to bed. If you leave honey on face overnight, it can attract dust and debris, which could aggravate your breakout.
If you want to use a honey face mask, make sure it is freshly prepared. There is always a risk of contamination and or mold growth if it is not freshly prepared.
Don't use soap after you remove your mask. Regular bar soap may contain harsh chemicals that may aggravate your skin condition.
Use the face masks in moderation.
Use natural organic honey. Some of the products available at supermarkets may contain artificial sweeteners, which may harm your skin.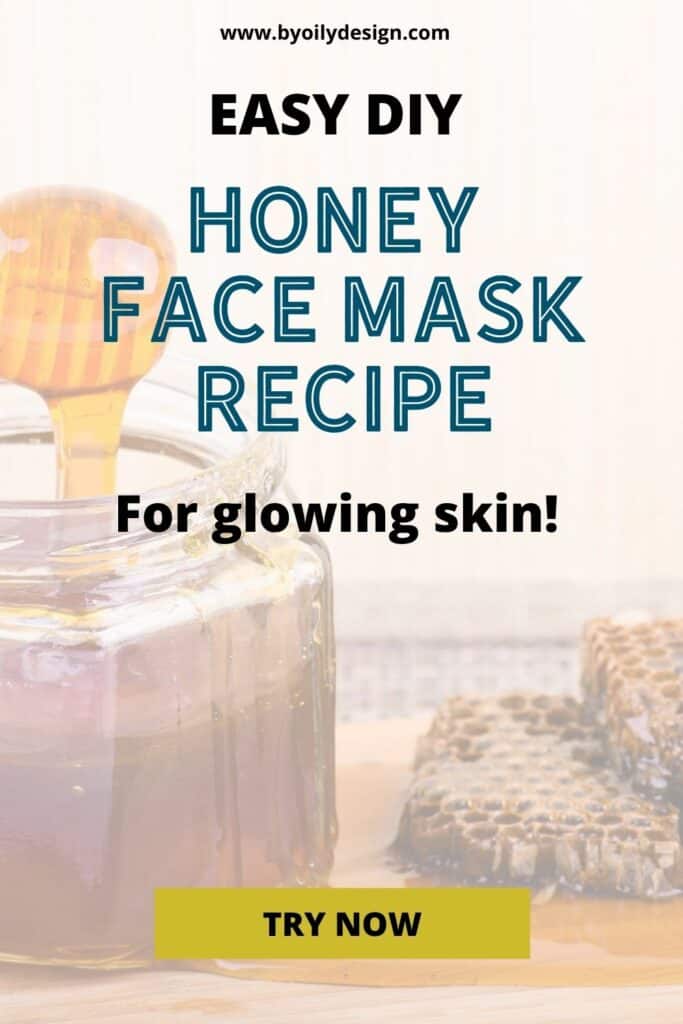 Best honey to use for face masks
Now you may be wondering which types of honey should I use to make the different masks mentioned above. You can use any raw and organic honey in your face masks. Ensure it is not chemically processed and that no artificial sweeteners have been added. If the honey is processed, it loses all its beneficial properties to improve your skin.
Here are some excellent choices for you to create your homemade honey face mask recipes –
Beekeeper's Wildflower Raw Honey
Gideon Spring Organic Raw honey
New Zealand Honey Co. Raw Manuka Honey
Honey face masks FAQs
How long should I put honey on my face?
You can apply honey on your face for 10 to 30 minutes, depending on the face mask you are using. Always wash it off with water to ensure that your skin is clean.
How many times a week should I apply honey to my face?
You can use your DIY honey face mask two or three times a week.
What happens if you put honey on your face every day?
If you have dry or itchy skin, applying honey to your face can help soothe and moisturize your skin. Use raw honey as it has natural healing and cleansing properties.
Can honey make my skin glow?
Honey has many minerals and beneficial compounds that can give you a glowing complexion if you use it regularly.
What happens if I put honey on pimples?
Honey has natural antibacterial and anti-inflammatory properties. Dabbing a thin layer of honey on pimples overnight can help dry them up and reduce redness around them.
How many drops of Lavender can I add to make a good face mask?
Lavender oil benefits for skin are numerous which makes it a natural addition to a honey mask recipe. It is always a good idea to dilute essential oil that is applied directly to the skin and honey is a natural way to dilute an essential oil. One teaspoon honey to 2 drops of a high-quality lavender essential oil will make a simple hydrating face mask.
Final thoughts on honey mask benefits
Honey is a treasure trove of minerals, vitamins, amino acids, and sugars that hydrate and nourish the skin. Its antiseptic, anti-inflammatory, antioxidant and antibacterial properties provide effective remedies for treating skin issues like dry and itchy skin, oily skin, acne, blemishes, and sunburns. You can combine honey with other beneficial ingredients and create an effective mask and the best part is they can be used on all kinds of healthy skin types, including sensitive skin.
Honey is safe to use and does not cause any side effects. However, you must use good-quality honey and ensure you wash off your DIY honey face mask properly.
Use any of the honey diy face mask recipes mentioned above as a part of your nromal skin care routine. Let us know how they worked for you. I would love to hear about your experience.