Everyone wants a great smelling house, but that leaves many of us wondering how do I make my house smell good?
For me I want my house to have a crisp clean scent.
I want clean and fresh no matter the time of year, even around the holidays.
I'm looking for a scent in my home that makes people feel relaxed and at home. A clean fresh smell gives me that feeling.
But what does clean smell like?
A clean fresh smell is not overly perfumy, (is that even a word?) and it definitely cannot be overly floral scented or fake smelling.
Don't get me wrong I like flowers, I just don't want to smell like I'm drowning in them.
For me, a Clean and Fresh smell is the absence of offensive odors with a light touch of the scent of the real outdoors.
This is where commerically created home fragrances miss the mark, for me their fragrance is over the top and fake.
This is why I like to find ways to create a fresh and clean smelling house naturally and frugally.
So how do you make your house smell good?
In this post, I'm going to share my fresh-smelling home tips. My favorite way to naturally scent your home all year long, and the best smelling essential oils for your home so it smells fresh and clean, just like a spa or the scent of the holidays or maybe even a hint of the outdoors.

*This post contains affiliate links to the essential oils and other products I talk about in the post.
6 Fresh Smelling Home Tips
Your first step to make your house smell fresh is to find those hidden odors that you don't want and work on neutralizing smells. This is key to a truly fresh smelling home. Here are some places you can find those offensive odors-
1. Carpets and Rugs-
It's amazing how quickly carpet and rugs can soak up unwanted odors from pets, kids and other household smells. Making your own DIY Carpet Freshener is a super easy way to neutralize carpet smells and make your house smell naturally fresh and clean.
Read: 5 Recipes That Will Make Your Carpet Smell Cleaner Than Ever
2. Air out musty closets-
It's amazing what kind of smells can be hiding behind closed doors. I still can't figure out how my girl's closets can get so stinky. My first step is to always search and find any dirty clothing that somehow got left on the floor of the closet. My 6 yr old is queen at hiding her dirty and clean laundry on the floor of the closet. Drives me crazy. Next, I vacuum the floors and if need be use the carpet freshener recipe mentioned above.
Organizing your closet so that air can flow is also a great way to prevent air from getting musty and stale.
3. Clean your garbage disposals-
This can be a hidden gem for stink. We are on a septic tank so no garbage disposal for us but I know from helping my mom clean hers that using lemon peels and ice cubes and allowing the disposal to chop them up work great.
For my kitchen sink, without a disposal, I will sprinkle baking soda and a few drops of Lemon Essential oil down the drain and let sit. Then a few minutes later I will run hot water in the drain.
Don't forget to also do this with sinks and tubs not used frequently as they can also add to the household odors.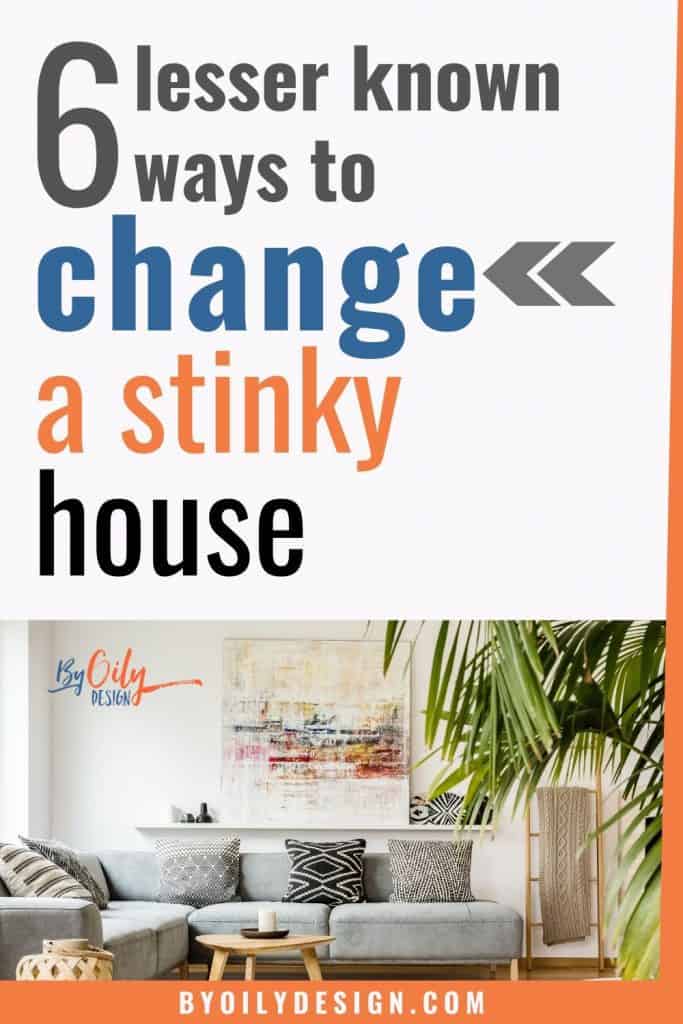 4. Disinfect trash cans-
Can I be honest, this is a job I hate to do and I don't do it enough. I actually need to do this now for our trash cans.
My favorite way is to take all my trash cans outside and with a garden hose rinse them well.
Then I spray them down heavily with a mixture of Thieves household cleaner and water. ( Did you know you can get a Free sample of Thieves Household cleaner when you buy essential oils online.)
Next, I will sprinkle baking soda all over the inside and let it all set for a while. I then use a sponge to scrub clean the outside and inside of the can and rinse. Last I let it sit outside in the sun to air dry.
Watch: How to properly clean a trash can. This is how I do clean my trash cans except I use the Thieves cleaner in my spray bottles and I do the whole process outside.
5. Clean pet toys and bedding-
Pet toys and bedding that can be washed I will throw in the washer and then let air dry out in the sun to combat the pet smell. I stay away from scents when I can with pets so it doesn't irritate them.
6. Use plants to naturally purify the air-
I love houseplants, not only do they help make your home look inviting but the right plants can have a major effect on your air quality.
Did you know NASA did a Clean Air study on air-filtering houseplants? It's pretty sciency but check out this collection of the four best clean air plants for your home it's based on the study and will take the guesswork on what plants you need.
So we have found the hidden odors in our home, but what is the best way to fragrance your home?
Cause remember we want it to smell amazing.

Best Way To Scent Your Home
In the past, I would have hands down told you to buy some room fragrance sprays, a few plugins, and some high-end candles to create the best home fragrance.
Did I tell you my house use to smell like Bath and Body works had exploded in it? Overpowered and fake smelling.
But now I realize that is not the best way to fragrance your home.
The best way to fragrance your home is to do it with natural products.
And ever since I started using this technique everyone who comes to my house asks what I'm using.
I may not always have the cleanest house thanks to 2 girls, 3 dogs and a farmer for a husband but at least it smells amazingly clean and fresh a majority of the time.
Best part, I'm not wasting money on expensive air fresheners but saving money using healthier more natural products.

Get A Fresh Smelling House Naturally
I think one of the best ways to fragrance your home is by using essential oils. It's a simple and easy way to have a fresh smelling house naturally.
By now, most people have heard of Essential Oils.
In the past few years, their popularity has skyrocketed. But just in case you aren't familiar with Essential oils.
A simple definition of essential oils would be they are highly concentrated oils extracted from plants.
For example, for the hugely popular Lemon essential oil, it's oil is extracted from the rine of a lemon and it smells just like a lemon.
This lemon oil can then be used in all sorts of ways to scent and clean your home.
My favorite two ways to scent my home with essential oils is by using an essential oil diffuser and by making Essential oil Room sprays.
The whole reason I got into essential oils was that I wanted to learn how to make my house smell good.
When I first looked at the price of the Young Living premium starter kit I was in a bit of a sticker shock.
But then I realized how far the kit would go and that it had major potential to actually save me money.
Seriously, I can now create scents for my home that cost me pennies compared to the cost of a $8 Room spray from bath and body works.
Plus my essential oils can be used to support my families wellness and can be used to clean our home.
Related: 7 Winter wellness hacks that can help make you healthy
Best smelling Essential Oils for your home
My favorite essential oils to give me that clean, fresh and spa feel to my home are actually found in the Young Living Premium Starter kit.
The Premium Starter Kit comes will 11 oils and an awesome top of the line diffuser.
For me, there are 9 that are total must-haves for making your house smell good and luckily they are in this kit!
Lemon– brings a refreshing, light and sunny smell to your home.
Lavender– a light floral scent that is airy and delicate and so relaxing.
Peppermint– an energizing scent that will liven your home without being overbearing.
Frankincense- one of my all-time favorite oils. I could never understand why people called it grounding. but now I know this oil is great for giving those earthy low notes you need to balance out your best home scents.
Citrus Fresh- This blend is a true clean scent for your home. It's full of all the favorite citrus fruits you love and as a bonus has just a hint of spearmint to brighten the mix.
Copiaba- adds just a hint of a woodsy smell to give your home a touch of a fresh outdoors smell.
Thieves- This is Young Living's most popular blend and no wonder because everyone loves the smell of Fall and Christmas. This blend captures both in one bottle. Do you want to know how to make your house smell good? Diffuse this blend all day every day. end of post. really.
Raven- If you are like me and love the smell of Lemon, peppermint and Eucalyptus then this is an oil blend you will love. It just makes me say AHHH!
Stressaway- Want a home fragrance to remind you of your favorite tropical vacation. Well, it's all in this bottle. I like to also wear this essential oil as a perfume. It is so light and airy.
What is great is all these essential oils can be diffused by themselves or mixed to create your own personalized scents.
So you have tons of options just from these 9 oils.
Figuring out how to get the most out of using your essential oils can be scary to first-time users.
I suggest using a few of my tried and true beginner diffuser blends recipes and with proper essential oil safety you can be using and loving your oils in no time.
If your looking for special Thanksgiving scents or Christmas Scents you got to check out my diffuser recipes. Your house will smell amazing.

*If you buy essential oils online using my enroller link and number, you can get your oils at a huge discount and I promise I will actually teach you how to use your oils! Plus I will give you tons of great recipes to help make sure you get the most out of your investment.
Read: 100 Diffusing Essential Oils recipes you will want to try! and How to diffuse essential oils and not screw up
So how do we get these awesome oils into the air and floating around your home to make your house smell good?
This is the super fun part. We use the awesome diffuser that comes in the premium starter kit you want to buy!

Best Home Diffuser
I own a lot of diffusers, I pretty much now have one in each room of the house.
Why? well, I can be lazy and don't like toting them around.
Plus many times I need to be running multiple diffusers, especially in our bedrooms.
I use essential oils for sleep support and they are a major part of my girl's sleep routine. Which has made going to sleep at my house so much easier. They really love the relaxing scent of the lavender oil found in the premium starter kit and they ask for it every night.
My favorite diffuser, the Desert Mist, is actually found in the Young Living Premium Starter kit.
The Desert Mist has so many great features. I love the flickering candle mode and that it will run ALL NIGHT LONG!
This quick video is so worth the watch, if you are new to diffusing it will show you how an essential oil diffuser works and it showcases the desert mist features that make it such an awesome diffuser.
[video_player type="youtube" style="1″ dimensions="560×315″ width="560″ height="315″ align="center" margin_top="0″ margin_bottom="20″ ipad_color="black"]aHR0cHM6Ly95b3V0dS5iZS9iczRCaE5OOVFGMA==[/video_player]
How To Make Your House Smell Good
Getting your premium starter kit with the included Desert Mist diffuser, using essential oils to scent your home, and putting the above fresh smelling home tips to work are really the simple secrets to How to make your house smell good.
Now when people visit your home they will be asking for how to make their house smell good too!

If you have any questions let me know down in the comments below. I'd love to hear them!