Mention the words lavender essential oil, and the mind immediately goes to the calming properties of this sweet floral oil. But there is more to this essential oil than just its soothing properties. Lavender oil contains amazing properties that help to support the skin. It also contains cleansing properties, which can result in clearer and healthier skin. Lavender oil can also support skin with sunburns, soothe skin with insect bites, and moisturize dry skin.
With so many lavender oil benefits for the skin, it is no surprise that so many skincare products contain this oil. We're sure you too, will add lavender essential oil to your skincare routine when you learn about lavender benefits.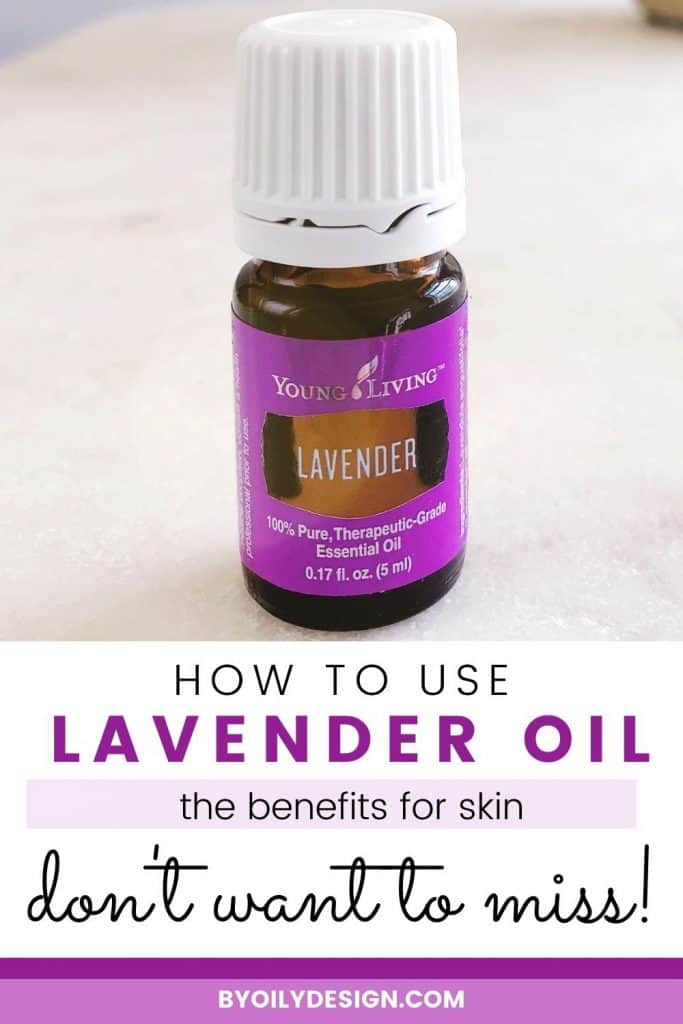 *This post contains affiliate links to the essential oils and other products I talk about in the post. Purchasing them here from my blog is no extra cost to you but I do earn a commission that helps in the cost of running this blog. Thanks for your support!
Lavender facts
Lavender oil is a popular oil and has been used since ancient times. Here are some facts about this fragrant oil.
Common name – True lavender, English lavender, Garden lavender, Common lavender, Narrow-leaved lavender.
Latin name – Lavandula angustifolia
Botanical family – Lamiaceae
Native region – South of France
Scent – Sweet, floral
Extraction method – Steam distillation
Main chemical components – Linalool and linalyl acetate
Who can use it on their skin? – Anyone, except those people who have an allergy to lavender or have sensitive skin
How often can you use lavender oil? – Lavender oil can be safely used in your daily routine
Can be used with – Coconut, jojoba, and grapeseed oil
Ancient historical use – Ancient Romans understood the cleansing properties of lavender essential oil and used it in their bathing rituals.
Modern history – During World War I, many soldiers carried lavender oil with them and used it for its supporting properties.
René-Maurice Gattefossé, a French chemist, discovered the supportive properties of lavender essential oil after burning his hand in a laboratory explosion.
Lavender oil benefits for skin
Lavender oil boasts of a number of beneficial properties that can improve your skin. Applying lavender oil to the skin can improve your skin in a number of ways. These include –
1. Reduces skin flare-ups
When our skin overproduces sebum, it can clog pores and lead to flare-ups. Lavender essential oil helps to keep the skin moisturized and is non-comedogenic, which means it does not clog the pores.
2. Soothes skin
If you have itchy dry patches on your skin, the lavender essential oil can help to moisturize and improve the appearance. This versatile oil offers the same calming effects on your skin as it does for your mind. You can use lavender oil to soothe skin that has become irritated due to sunburn, insect bites, or bacteria.
3. Supports minor scrapes
Did you know that the ancient Greeks used lavender essential oil to care for owies during wars? The supportive properties of lavender oil help to support the skin. You can use lavender oil topically to improve the appearance of skin.
4. Supports more youthful appearance
The antioxidants in lavender essential oil help prevent free radical damage caused by pollution and ultraviolet rays from the sun. Applying lavender oil to your skin can work wonders for your skin and reducing the appearance of fine lines and soothing tired skin.
5. Helps even out skintone
Lavender oil promotes healthy and glowing skin thanks to its beneficial properties. It is also known to protect skin from overexposure and offer hydration. Reducing the appearance of uneven skin tone.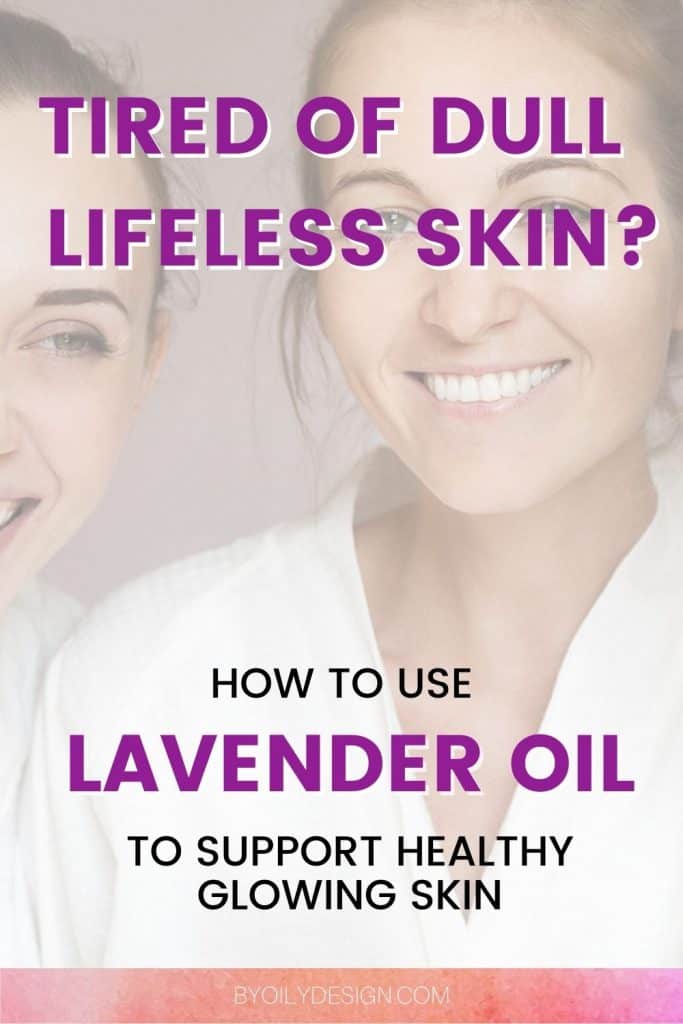 How to use lavender oil for face?
Thanks to its beneficial properties, the lavender essential oil can help support different skin issues. Here are some of the best uses for lavender oil.
1. Lavender oil for nourishing dry skin
Add a few drops of lavender essential oil to distilled water and pour it into a spray bottle. Sprits this mixture on your face, when you feel your skin is dry and dehydrated.
2. Lavender oil for flare-ups
Lavender oil is effective in preventing and reducing flare-ups. Dilute it with a carrier oil and apply it after washing your face.
Learn more about Lavender's cleansing properties in this research article
3. Lavender oil for a more youthful appearance
Mix a few drops of lavender oil in coconut and use this mixture as a moisturizer on your face daily.
4. Lavender oil for glowing skin
You can use lavender oil in a face pack to make your skin more radiant. Mix three to five drops of lavender oil to a tablespoon of plain yogurt. Apply it on your face and let it dry. Wash off after 20 minutes.
5. Lavender oil for soothing support
The lavender essential oil has soothing and calming properties that can help calm over-exposed skin. You can make a lavender oil compress and apply it on the skin to reduce the heat and the sting.
To make the compress, add six drops of lavender oil to a teaspoon of sweet almond oil. Now add this mixture to a bowl of ice and water. Put a washcloth in this bowl, squeeze it and place it on the overexposed skin.
You can also create this amazing essential oil face serum using lavender, lemon, and frankincense essential oil, and enjoy all the Lavender essential oil benefits for skin. I can honestly say it rocked my world. My skin just glows.
Some other uses of lavender oil for skin
6. Lavender oil for soothing minor irritations
In case of minor skin irritations, you can use diluted lavender oil to clean the skin. It also promotes healing and the appearance of healthy skin.
7. Lavender oil for pregnancy marks
Lavender oil soothing properties can help support my supple-feeling skin and reduce the appearance if fine lines. Add a few drops of lavender oil to shea butter and massage gently on your skin daily.
You can also mix lavender oil with coconut oil, jojoba oil, or rosehip oil to create massage oil to support skin stretched by pregnancy.
9. Lavender oil for feet
Rubbing essential oils on your feet can offer many benefits, including sleep support, reduced itchiness, and sweat. Rub some diluted lavender essential oil on the soles of your feet at night to ensure a supported restful sleep.
Best lavender essential oil
Now that you know the numerous lavender benefits and uses, its time you purchased a bottle for yourself. But a visit to the market or an online search for the best lavender essential oil can be quite confusing. There are just too many brands to choose from. How do you decide which one is the best lavender essential oil for you? Here are some tips that will help you choose the best lavender oil –
Choose one that is not manufactured via a chemical process. Chemical distillation can reduce the efficacy and the scent of the oil.
Lavender oil that is packaged in a dark-colored glass bottle will last longer. Avoid purchasing oil that is stored in plastic bottles.
Check the ingredients on the bottle to make sure that there are no additives.
Buy lavender oil from a trusted manufacturer.
Avoid if the label makes outrageous claims.
If all the essential oils of a vendor are the same price, this is a red flag. Some oils like rose, neroli, and jasmine cost much more than ylang ylang or geranium.
Where to buy lavender oil?
In my opinion, it is a better idea to purchase essential oils online. Buying online gives you the opportunity to choose from a much larger range of reputable companies. Your choice may be restricted if you have to buy from a shop locally.
Research the company and its products well before you order. You can send an email to the online vendors asking them about the details of their essential oil products.
I love the Young Living's Lavender Oil. The quality is amazing due to the Young Living Seed To Seal Guarantee.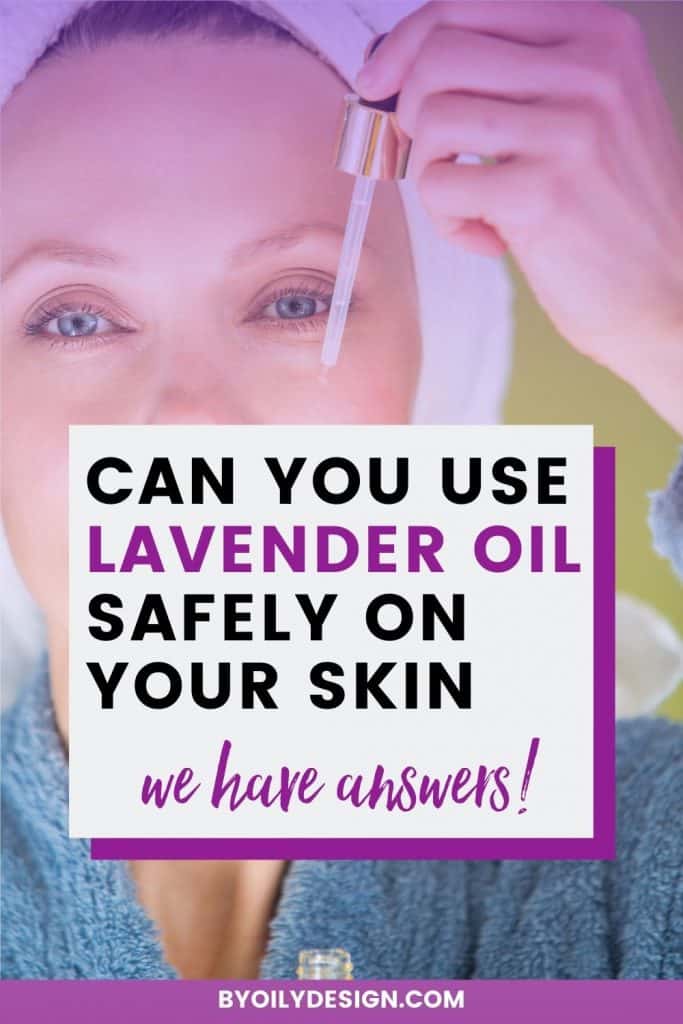 Some FAQ's regarding lavender essential oils:
If you are new to the world of essential oils, you may be worried about how to apply lavender oil safely to your skin. You may also be wondering if it lavender can be bad for skin. Read on as we answer some of your common queries.
Can I apply lavender essential oil directly to the skin?
All essential oils, even lavender oil, can cause skin irritation when applied directly onto the skin. Always dilute the lavender essential oil with a carrier oil before you apply it on your skin.
Learn more about Carrier oils for skin here
Can I apply lavender oil directly to my face?
People tend to believe that essential oils are safe to use on the face as they are natural. Essential oils like lavender oil can cause a skin reaction and should be used with caution. Always mix your lavender oil with a carrier oil before you use it on your face. Make sure it comes from a reputable source.
Check out this super popular skin serum to know how to use lavender oil for face serums
Can you overdose on lavender?
Lavender oil is safe for most people when used properly. However, overuse of this oil can lead to side effects like hives, breathing problems, and allergic problems in some people. To stay safe, always use the lowest effective amount. Do a patch test before applying it topically and watch out for an adverse reaction.
Final thoughts
Lavender oil is a fragrant oil that offers many benefits for the skin. You can use it to moisturize dry skin, calm breakouts, reduce appearance of fine lines, and care for minor cuts and burns. You must always buy essential oils from a trusted source and keep all the safety considerations in mind while using this oil.
Want to buy the best lavender essential oil so you can enjoy all the Lavender oil benefits for skin? I'd love to help get you started!
When you sign up with me as your enroller you get amazing support and education for not only Lavender oil but all the wonderful essential oils and non toxic products Young Living has to offer.
I even have an FREE Essential oils reference app just for those that enroll with me! I want you loving your oils and getting the most out of them you can.
Ready to get started? Click on the below image and let's get the starter kit in your hands.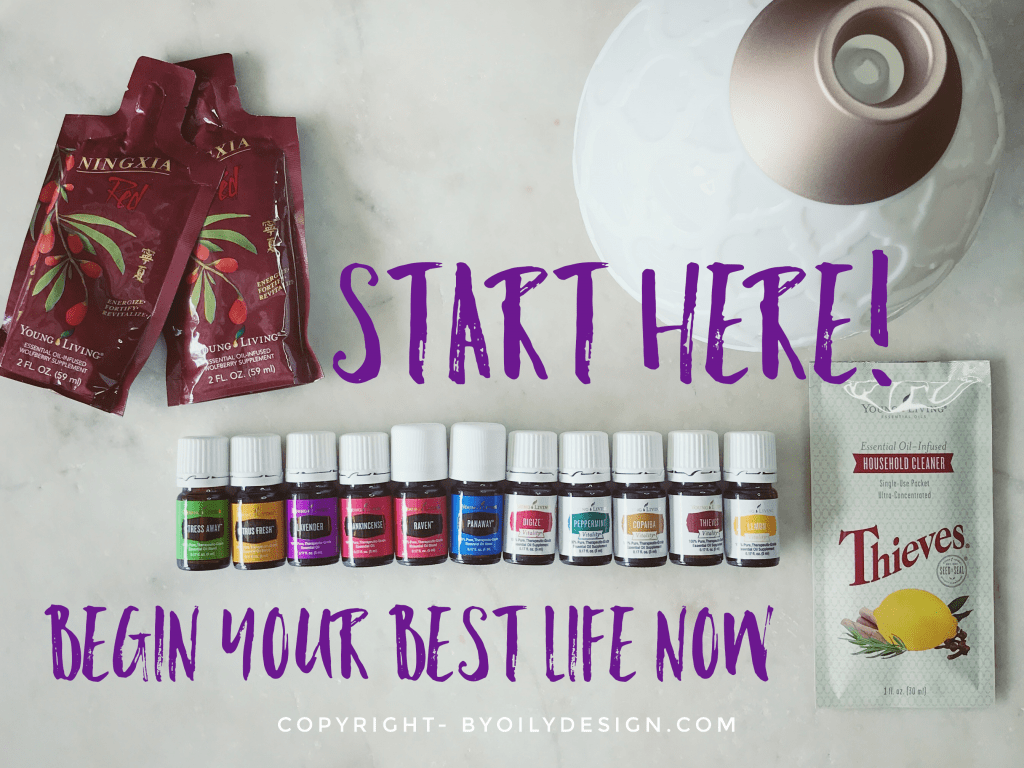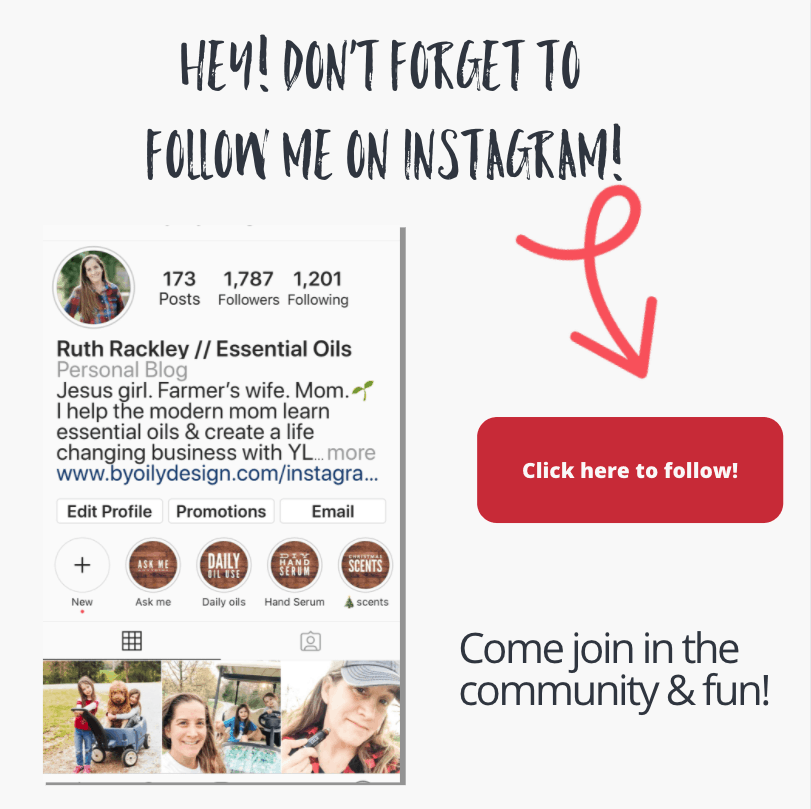 Written by Manveen Grewal , Edited by Ruth Rackley
Lavender benefits