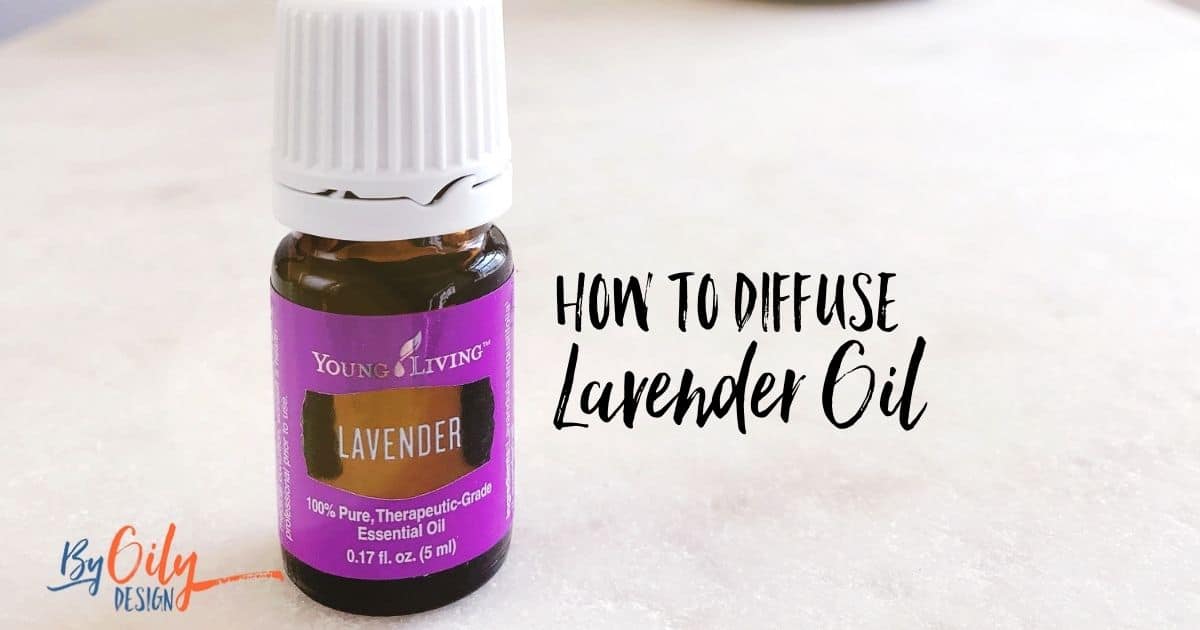 Lavender oil benefits you get from diffusing lavender
Lavender essential oil is one of the most popular essential oils thanks to its unique calming and pleasing aroma. Its sweet, floral scent is known to help you unwind and promote peaceful sleep. This versatile oil has many uses, including soothing irritated skin and removing unwanted odors from home.
In this post, you will learn more about the uses and benefits of lavender oil.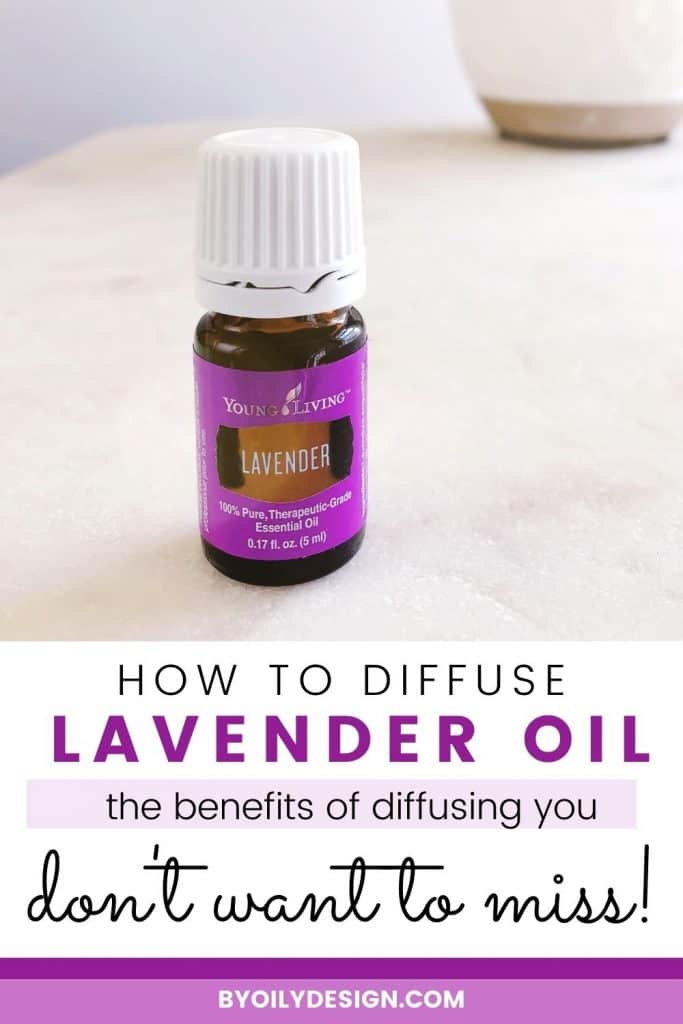 *This post contains affiliate links to the essential oils and other products I talk about in the post. Purchasing them here from my blog is no extra cost to you but I do earn a commission that helps in the cost of running this blog. Thanks for your support!
What is lavender oil?
Lavender essential oil (Lavandula angustifolia) is extracted through steam distillation from the flowers and buds of the lavender plant. Lavender oil has been used for more than 2,500 years. The Romans used it for cooking, bathing, and scenting the air. The Ancient Greeks also used lavender essential oil to treat backaches and improve sleep quality.
Lavender is now cultivated commercially in France, England, Italy, Australia, New Zealand, Canada, and the US. Lavender oil is commonly used in cosmetics; you can diffuse it, use it for massage or in your bath.
Color -Clear with a Tinge of Yellow
Consistency -Thin
Perfumery Note -Top/Middle
Strength of Initial Aroma – Medium
Aromatic Description – Lavender Essential Oil smells floral, fresh, sweet, herbaceous, and sometimes slightly fruity.
Lavender oil benefits
Here are some common lavender oil uses and benefits –
1. Promotes relaxation
One of my favorite lavender oil benefits is it's relaxing nature. Diffusing lavender oil in the air can calm your nerves and help you relax after a hard day at work.
2. Supports sleep
People often wonder – does lavender oil help you sleep? Yes, if you feel tense and unable to sleep, lavender oil can help support you promoting relaxation that may help you sleep better. Diffuse this oil in your bedroom just before you go to sleep. You can also rub a few drops of this oil on your temples or behind your ears to reduce tension.
3. Improves the appearance of skin
Lavender oil has many nourishing and beneficial properties for your skin as well. Mix a few drops with argan or jojoba oil and massage it on your skin for best results.
4. Supports healthy skin
The soothing qualities of lavender essential oil can help soothe and nourish the skin around minor skin irritation. Just mix a few drops of this oil with coconut or moringa oil and apply it on the affected area.
5. Supports healthy hair growth
Applying lavender oil on the hair and scalp helps support blood circulation, which in turn can improve hair growth. It also helps to lower stress levels, which is also a reason for hair loss. Its beneficial properties also help support scalp health and moisturize dry flakey skin. .
Mix a few drops of this oil in coconut or olive oil and apply it on your scalp. Leave it on for ten minutes before shampooing.
6. Outdoor body spray
The aroma of lavender is also known to keep unwanted insects away. To make a spray, mix four drops of lavender oil in one ounce of water and pour it into a spray bottle. Spray this mixture before you go out.
7. Non Toxic Cleaner
Lavender oil is great as a gentle household cleaner. You can mix it with vinegar and clean countertops and sinks with it. You can also add lavender oil to your laundry detergent or wool dryer balls to give your clothes a pleasant smell.
Diffusing lavender oil
Learning how to use lavender oil is a great beginner step for starting oils. Though there are many ways to use lavender essential oil, diffusing it into the air is one of the most preferred methods. Diffusion involved using a small device (diffuser) to disperse particles of essential oil into the atmosphere, allowing easy inhalation. Diffusing lavender oil also helps to –
Scent your room
Calm stress
Promote sleep
Promote focus
So, how to use lavender oil for diffusion?
To diffuse lavender oil, you must –
Place your diffuser on a solid surface or a tabletop. If you are using it on a wood surface, place a towel under it.
Fill your diffuser water tank with room-temperature tap water till the fill line.
Add three to ten drops of lavender oil to the water. Usually, six drops are enough.
Replace the cap of the diffuser and turn it on.
Now enjoy the Lavender oil benefits from your essential oil diffuser.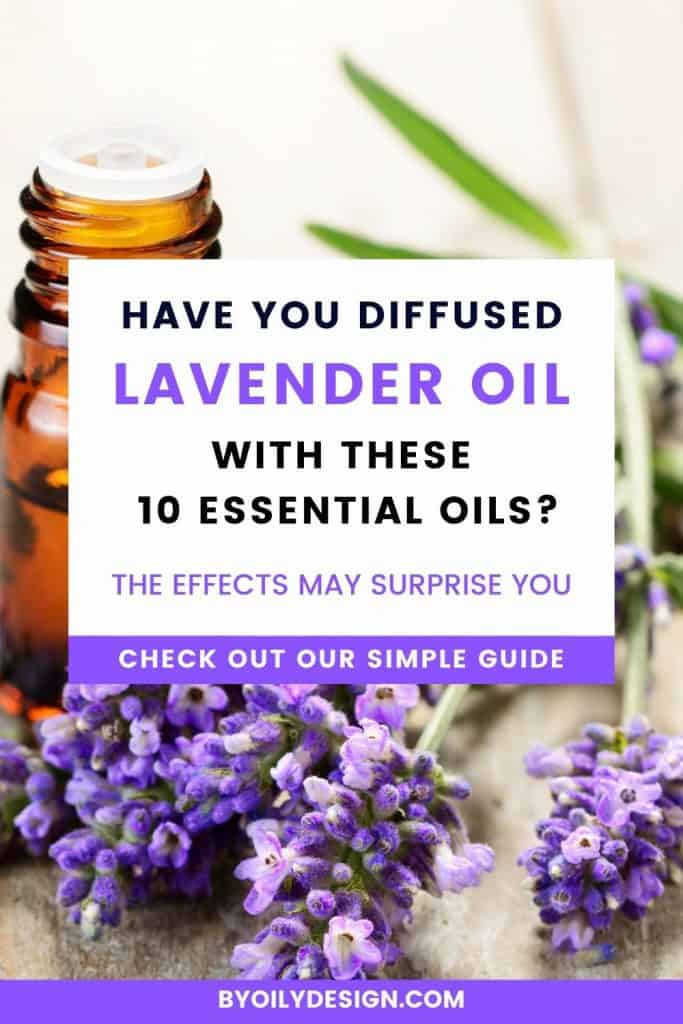 What essential oils blend well with lavender oil?
You can choose to use only lavender oil or mix it with other oils to enjoy further benefits. Lavender oil mixes well with many different oils. You can use these oils to create different lavender oil diffuser recipe blends. These include –
1. Cedarwood essential oil
Cedarwood essential oil has a warm woodsy aroma that creates a calm and comforting atmosphere. It blends well with lavender oil to help you relax and support great sleep.
2. Lemon essential oil
Lemon and lavender essential oil go well together, and they are often used in many different recipes. We know that lavender is excellent for relaxation. The lemon essential oil has properties that boost mood. When these two are put in the diffuser together, they can ease your mind and relax you.
3. Frankincense essential oil
Frankincense essential oil has an earthy, fresh, and uplifting aroma that balances emotions and lessens grief. It blends well with lavender oil to create a calming atmosphere.
4. Ylang Ylang essential oil
Ylang Ylang oil has a sweet, slightly fruity scent that goes well with floral scents like lavender. Mixing the two in a diffuser can awaken your senses and uplift your mood.
5. Tea tree essential oil
Diffusing tea tree oil in the home can purify and freshen up the air. When diffused along with lavender oil, it can soothe tension, open stuffy airways, and support restful sleep.
6. Orange essential oil
The cleansing, stimulating, and toning quality of orange essential oil is an effective remedy for stress and supporting breathing. Mixing lavender and orange essential oils make an exceptionally pleasant blend.
7. Peppermint essential oil
Peppermint essential oil is effective for perking up when you feel the need to stay focused and alert. Lavender oil has calming properties that help to relax you. While these two may seem to have the opposite effects, they are quite good together.
8. Rosemary essential oil
Rosemary essential oil improves alertness, eliminates negative moods, and enhances concentration. Blending these two oils can create a relaxing atmosphere.
9. Patchouli essential oil
Patchouli oil has a rich earthy aroma, which is excellent for your emotional wellness support. Mixing it with lavender oil creates the perfect blend to encourage and support restful sleep.
10. Geranium essential oil
The geranium essential oil has a cheerful, floral scent, which, when diffused in the air, can help you relax and reduce stress. It blends well with lavender oil to release negative emotions and calm your mind.
How to find the best lavender essential oil?
Now that you have figured out how to use lavender oil and what mixes well with lavender essential oil, you may be wondering where to find the best lavender essential oil? With the popularity of essential oils rising, there are many essential oil brands available – and not all of them are pure or high-quality.
Here are some of the things you must look out for on the bottle to ensure that you find the best lavender essential oil –
The label should mention both the common and the therapeutic name of the oil.
The oil should have the word therapeutic written on the label.
It should come in a dark-colored glass bottle.
Always check the expiration date.
Lavender oil is relatively affordable, so a low price is not necessarily a red flag.
Some other frequently asked questions about diffusing lavender oil
1. Can I diffuse lavender and thieves together?
Yes, these two oils go well together, especially if you have a stuffy nose.
2. Can you mix lavender and eucalyptus oil in a diffuser?
You can mix lavender, eucalyptus, and peppermint to create the perfect blend to help you get a restful sleep.
3. Can you mix lavender and lemongrass essential oils?
Lemongrass essential oil blends well with lavender oil. Lemongrass oil reduces fatigue and calms the mind. And lavender also promotes calm and balance. Diffusing these oils restores well-being and reduces agitation.
4. Do lavender and peppermint smell good together?
Hold the bottles of lavender and peppermint in your hand and sniff them together. If you like what you smell, you can use them together.
5. Does vanilla and lavender go together?
Vanilla is sweet, warm, and relaxing. Combining it with lavender essential oil creates a peaceful and calming aroma.
5. Mixing lavender and orange essential oil is that counter productive?
Yes, Lavender oil is known as a calming and relaxing oil while Orange oil is known for energy and stimulation but they blend well for an amazing scent. I think they smell great for a refreshing bed linen spray.
Lavender diffuser recipes
Now that you know all about Lavender oil benefits and some great oils that mix well with lavender essential oil, how about I share some of my personal favorite lavender diffuser recipes? These lavender oil recipes will have your home smelling amazing and you reaping the great lavender oil benefits with very little work on your part. Trust me, learning how to use lavender oil will make you love your essential oils and you will wonder what took you so long to try it.
Want to see 10 of my go-to Lavender diffuser recipes?
Feel free to adjust the drop amounts to your liking. Remember, if you are new to experiencing Lavender essential oil benefits go easy on the number of drops you use.
Even after diffusing became old hat for me, when I try a new oil for the first time I always take it easy and 1/2 the recipe just to test our sensitivity to it.
As always, these inspired recipes are free of charge, but I do ask that you share this post of fun recipes with all your friends on Facebook and Pinterest!
Because you know the more, the merrier! :=) You can use the handy little icons below this post to do so.
Looking to buy another diffuser check out my guide to picking the right essential oil diffuser type for your home!
Pin For Later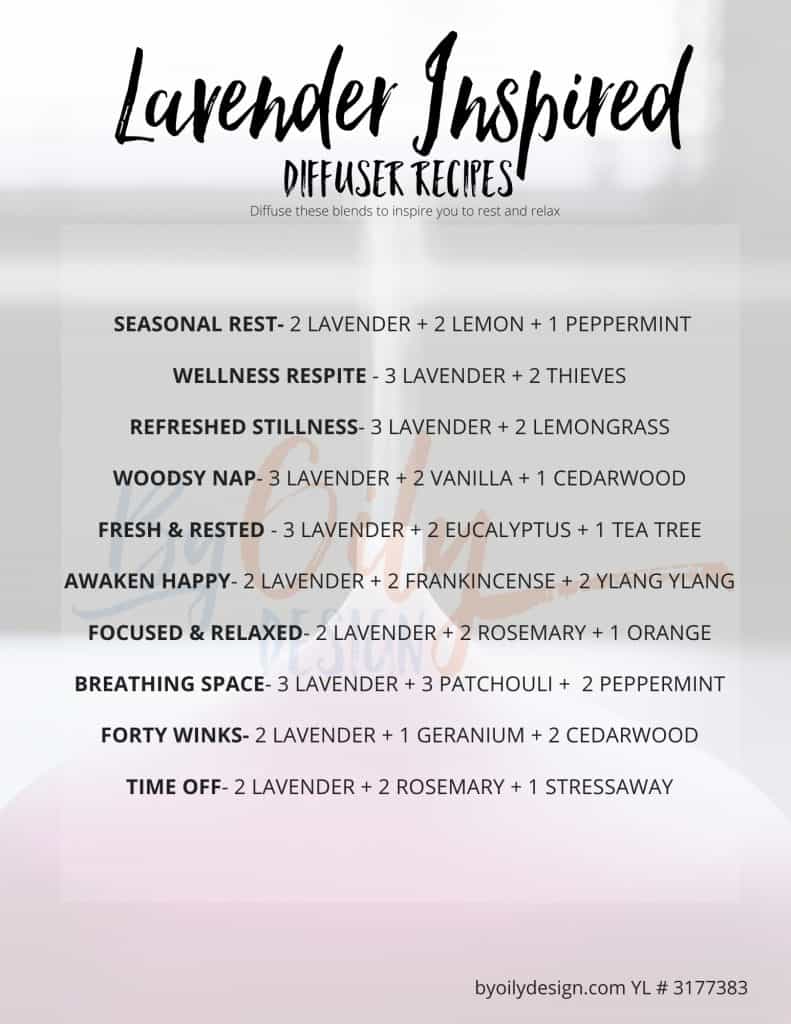 Does smelling lavender relax you? Final thoughts
Lavender essential oil is quite well-known for its calming and relaxing properties. This versatile oil can be used in many different ways. Lavender oil benefits include improving the appearance of skin and supporting healthy hair. However, this oil is most commonly used in the diffuser to calm you and support your sleep. You can also mix lavender oil with other essential oils to create unique blends with additional benefits.
Want to buy the best lavender essential oil? I'd love to help get you started!
When you sign up with me as your enroller you get amazing support and education for not only Lavender oil but all the wonderful essential oils and non toxic products Young Living has to offer.
I even have an FREE Essential oils reference app just for those that enroll with me! I want you loving your oils and getting the most out of them you can.
Ready to get started? Click on the below image and let's get the starter kit in your hands.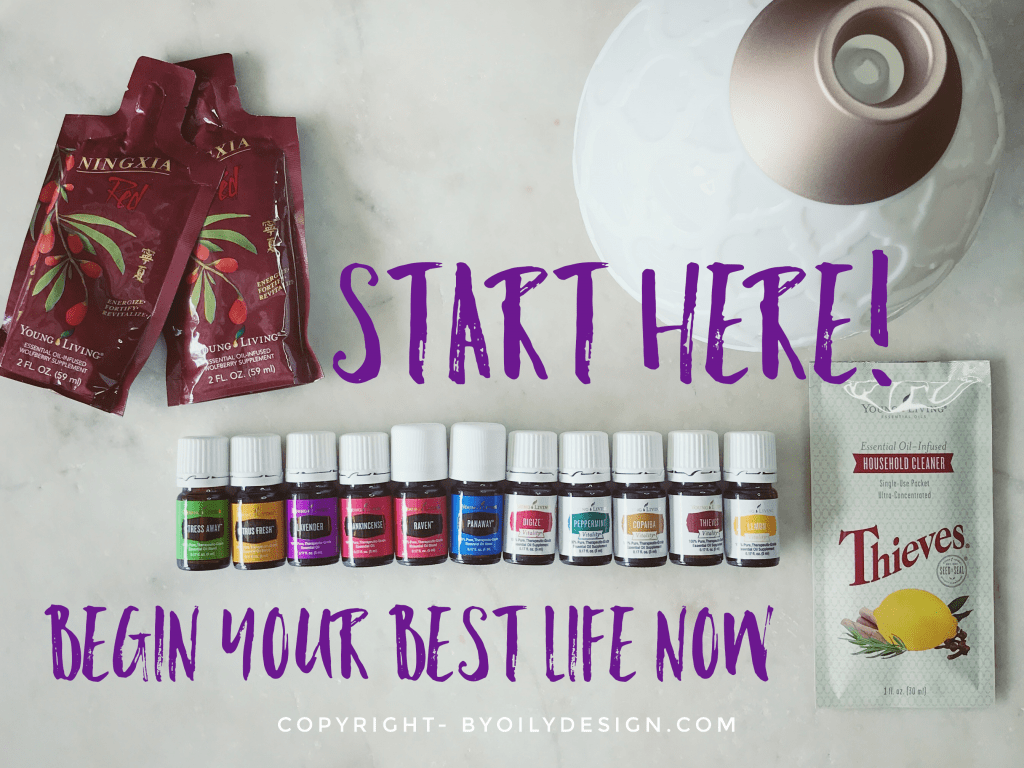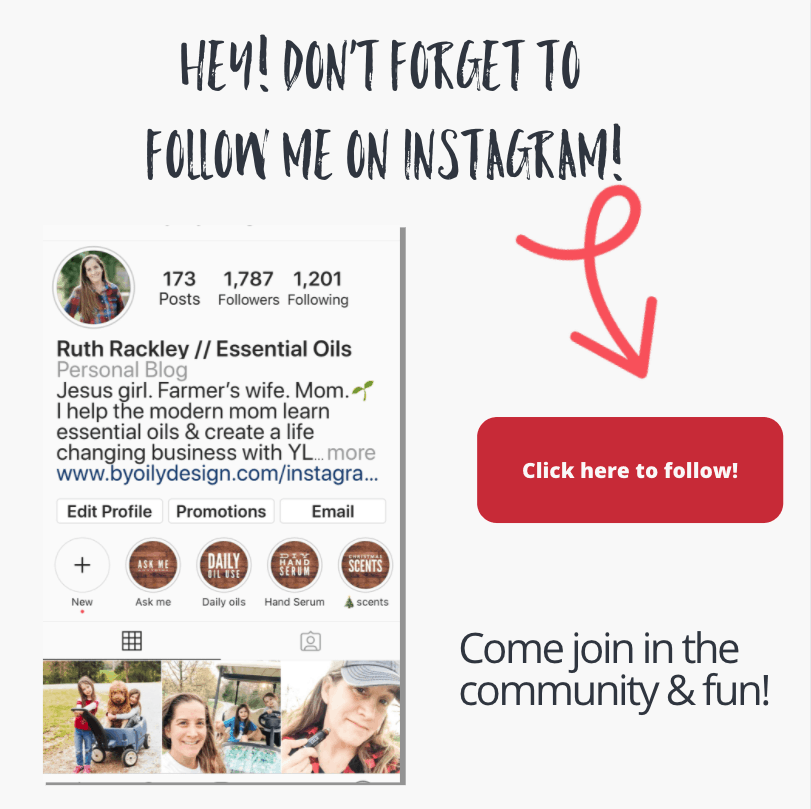 Written by Manveen Grewal , Edited by Ruth Rackley
How to use lavender oil