Peace and Calming essential oil uses
Peace and calming essential oil, how to use this oil to bring a fresh and relaxing spa feel to your home. 9 ways to use the Peace and Calming Blend.
Peace and calming, just those two words make me feel relaxed thinking of them.
I personally think all of us are searching for a way to relax and unwind. Not just for ourselves but for our family too.
If you are like me, you've been running non stop all day and so has your family.
You want to come home to an environment that allows you to kick your shoes off and slow down.
When I first started essential oils I wanted to use them because I wanted my house to smell fresh, light, airy. You know kind of like a spa.
I was searching for a way to turn my upside-down house into a cozy home.
Don't get me wrong I love that my kids run wild and free and that my house is usually a buzz of energy and fun.
But when it's time to flip that switch into rest and downtime mode.
I needed help, like lots of it.
So when I started essential oils my first task was finding an oil or two that could give me that relaxing spa feel.
I wanted to just drop a couple of drops of oil in a diffuser and click the button to turn it on.
Y'all I need easy, and this is easy and quick.
and by using Young Living's Peace and Calming essential oil, that comes in the Young Living Premium Starter Kit along with 11 other oils and a diffuser, it works to create the scene of peace and calm in my house.
And Y'all my house smells amazing!
*This post contains affiliate links to the essential oils and other products I talk about in the post.

In this post, I'm going to talk about the spa amazingness of Young Living's Peace and Calming essential oil blend. I'm going to share information on:
What Essential Oils make up the blend Peace and Calming
Peace and Calming essential oil uses
Benefits of Peace and Calming essential oil
Where to apply peace and calming oil
Is Peace and calming safe for babies and kids?
How to store Peace and Calming Essential Oil
How to diffuse Peace and Calming
My favorite Peace and Calming Diffuser recipes
At the end of this post, you will find a Free Downloadable PDF of my favorite Peace and Calming Diffuser recipes that will make your home smell AMAZING!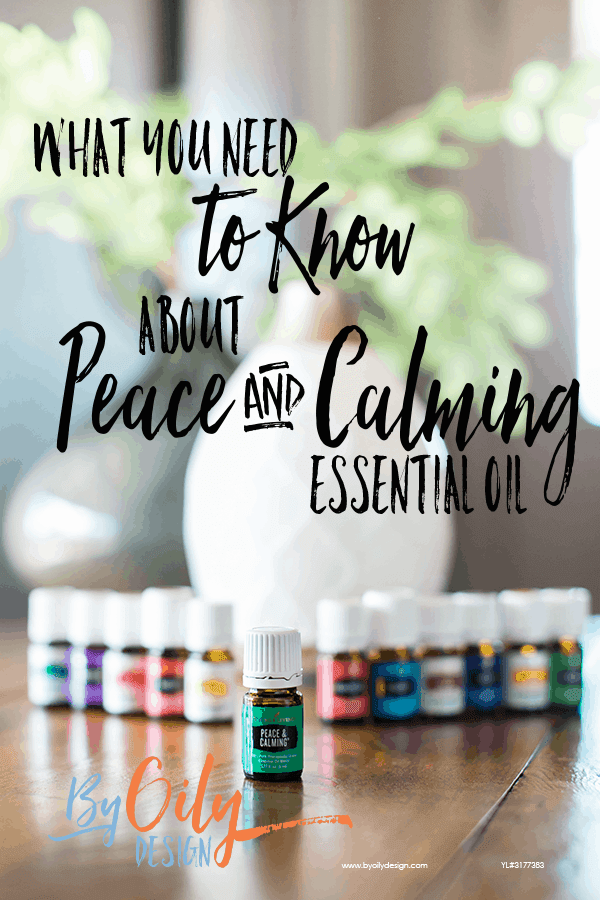 The statements made and the products mentioned on this website have not been evaluated by the Food and Drug Administration and are not intended to diagnose, treat, cure, or prevent any disease. Please talk with your medical professional before using essential oils.
What Essential Oils make up the blend Peace and Calming
I love this quick video from young living that shows you what's inside their Peace and calming blend.
I get so excited when I can see and know where my essential oil is made.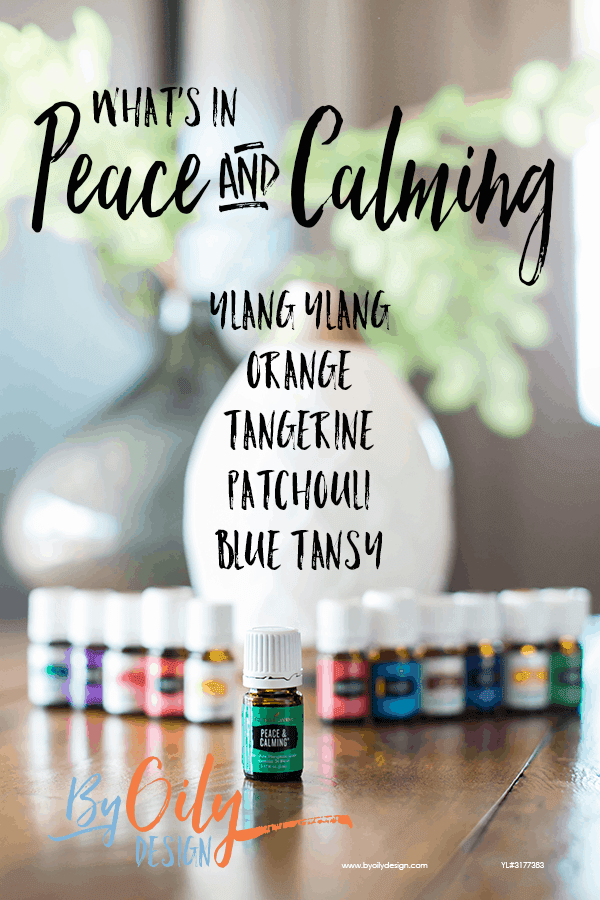 So what oils are in this gentle blend?
Ylang Ylang– know for it's balancing, floral scent
Orange– citrus scent know for its uplifting qualities
Tangerine– citrus scent that is light and uplifting
Patchouli– earthy scent and grounding
Blue Tansy– light floral scent that is Calming
This blend has a Citrusy light floral scent with a sidekick of an earthy aroma. When I want my home to smell like a spa this is one of the first oils I pull from my collection.
Benefits of using Peace and Calming
Peace and calming is most loved for its benefit of creating a sense of relaxation.
Seriously, I dare you to diffuse this oil and not feel relaxed. I honestly don't think it's possible.
As a momma, it's calming aroma is one reason I use it around bedtime for my kids. My girls go from overactive, mommas you will know that last wind kids always seem to find, to relaxed and peaceful.

What is Peace and Calming essential oil used for?
The Peace and Calming blend according to the Young Living label is for aromatic and topical use.
Peace and Calming should never be ingested.
9 Ways you can use Peace and Calming essential oil:
Create a fresh, spa-like smell for your home by diffusing it.
Mix with a carrier oil for a special relaxing massage.
Use during yoga or other relaxation exercises to relax.
Apply to bottom of feet at bedtime to soothe and relax as part of a bedtime routine.
Diffuse to help calm tension in your home and even for your pets.
Diffuse in the car for a relaxing ride.
Make it apart of your bath time routine by adding it to a soaking bath.
Wear as a perfume.
Diffuse a couple of drops to help calm and relax a stressed-out pet.
Where do you put peace and calming oil?
I love to topically apply Peace and Calming and wear it as a perfume on days when I know it's going to be stressful and I want to help support my emotions.
I admit it, sometimes this momma needs extra emotional support and this is a great go-to oil for me.
On those days, I like to apply peace and calming to my wrist and to my feet along with a drop or two of carrier oil. I also love to apply it to my Diffuser necklace or my diffuser bracelet if I'm wearing one. I always get the nicest compliments.
You can also make an easy to apply Essential Oil Perfume Roller with Peace and Calming and another one of my favorite kit oils Citrus Fresh.
Here is a momma tip**** When I apply it around nap time and I'm rocking my youngest, I get the bonus of watching her slow down and relax as she smells this gentle scent. Knocks her out every time and relaxes me too!
✅This is super important-
Safety note- Per the Young Living website "Avoid direct sunlight or UV rays for up to 12 hours after applying the product."
This is because some of the oils in this blend can cause a Photosensitivity. Photosensitivity can cause a sunburn.
Tip- On days I know I'm going to be outside a ton and want to use this oil I will diffuse it or I will apply it to a piece of diffuser jewelry.
Read for more information: Photosensitivity and essential oils

Is Peace and Calming safe for kids?
I love diffusing this in my home with my girls running around. It's totally safe to diffuse around kids and pets.
Peace and calming when applied topically should be used with a carrier oil like grapeseed. Applying it with a carrier oil is typically safe for use with kids over 2 yrs old.
I would just use caution if your child is going to be outdoors in sunlight.
For my girls, I will apply it to their feet with several drops of carrier oil like grapeseed.
Is peace and calming safe for babies?
I personally would not topically apply this blend to a baby. But that is my take. I tend to be a little more on the cautious side.
My hang up is the citrus oils in this blend and a baby's skin is so delicate. I would hate for a citrus blend to irritate my baby's skin.
But I love diffusing this oil in small amounts around babies and small children.
1-2 drops in a full diffuser is all you need. Just keep the door open to a hallway for fresh air if you are diffusing in a nursery. Diffuse for 10-15 minutes.
Can you put peace and calming in a bath?
This oil makes for the most amazing bath experience.
Add 4–5 drops to 1 cup of Epsom salt for a calming evening bath. (for a kids bath I would use 1-2 drop max.) Or
Add it to Young Living Bath & Shower Gel Base for a cleanser your entire family will love.
How to store Peace and Calming Essential Oil
Essential Oils over time can oxidize from exposure to light and air.
Because Peace and Calming contains a blue oil, which oxidizes faster than other oils, you will want to be a little more careful with your Peace and Calming. This way it retains its amazing benefits for as long as possible.
Store in a dark bottle, this includes roller bottles you might use it in.
Keep in a cool dry place.
How to diffuse Peace and Calming
If I'm just diffusing Peace and Calming as a single blend in my diffuser I like to put 4-5 drops of oil in my diffuser and diffuse intermittently for 10-15 mins. And I will do this a couple of times a day.
Why not diffuse until the diffuser just runs out?
Truthfully, you can do that, but I like to space it out so I can enjoy the benefits of Peace and Calming for a long amount of time. Remember those little essential oil particles are going to linger and make your home smell amazing for a few hours so why not space it out so you can have that amazing smell all day long instead of a few hours.
Beginner Essential Oil users- if you are new to this oil, I suggest for the first few times to diffuse 1-2 drops at a time for 10-15 minutes to see how you react to this oil.
Read more- How to diffuse essential oils and not screw up.
Where to buy Peace and Calming
I'm so excited that Peace and Calming has been added to the Young Living Premium Starter Kit! Getting started has never been easier.
Now 12 essential oils included in the starter kit you can't go wrong plus you get an amazing diffuser to make diffusing your essential oils easy!

*If you buy essential oils online using my enroller link and number #3177383, you can get your oils at a huge discount and I promise I will actually teach you how to use your oils! Plus I will give you tons of great recipes to help make sure you get the most out of your investment.
My favorite Peace and Calming Diffuser recipes
Want some great ideas on how to diffuse the Peace and Calming oil you find in the premium starter kit?
Check out these simple essential oil diffuser recipes that will have your home smelling amazing!
Remember as an essential oil beginner you want to take diffusing easy. If you find these diffusing essential oils recipes to strong you can always add more water to dilute the recipe.
[social_warfare buttons="Facebook, Pinterest"]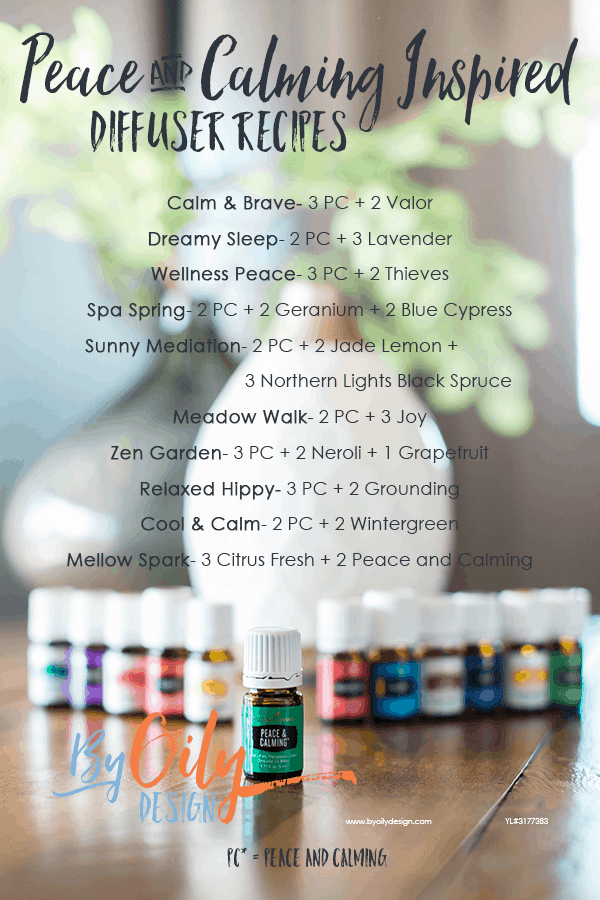 For an easy to print pdf of these beginner diffusing essential oil recipes, click on the image below and download the PDF document and print it out on an 8.5 x 11 sheet of paper.
Before you download this Beginner Inspired Diffuser recipe page, I was wondering if you could do me a favor? Would you share this post on Facebook using the blue Facebook button below? I'd love as many people as possible to see these great diffuser recipes! and don't forget to pin it so you can find easily when you need it.
[social_warfare buttons="Facebook, Pinterest"]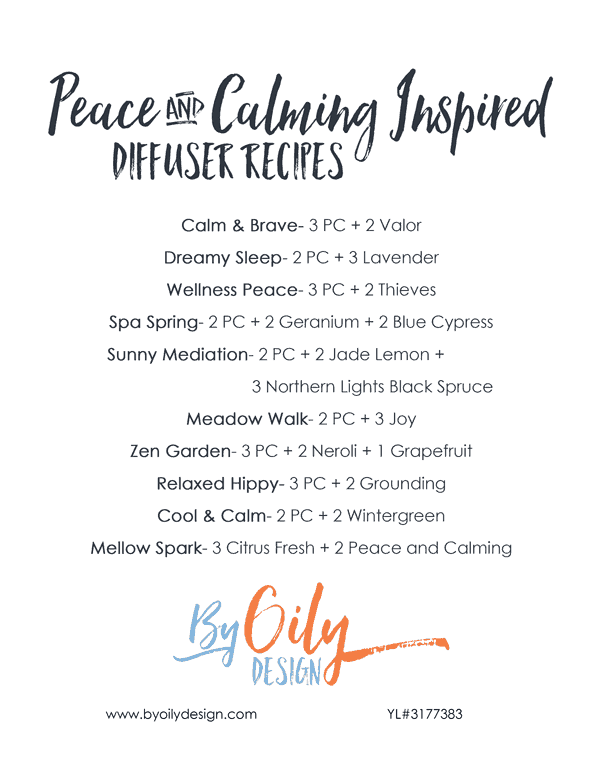 As always, my templates are free of charge. I do ask that you share my printable to-do list post with all your friends on Facebook and Pinterest!
[social_warfare buttons="Facebook, Pinterest"]
Because you know the more, the merrier! :=) You can use the handy little icons below this post to do so.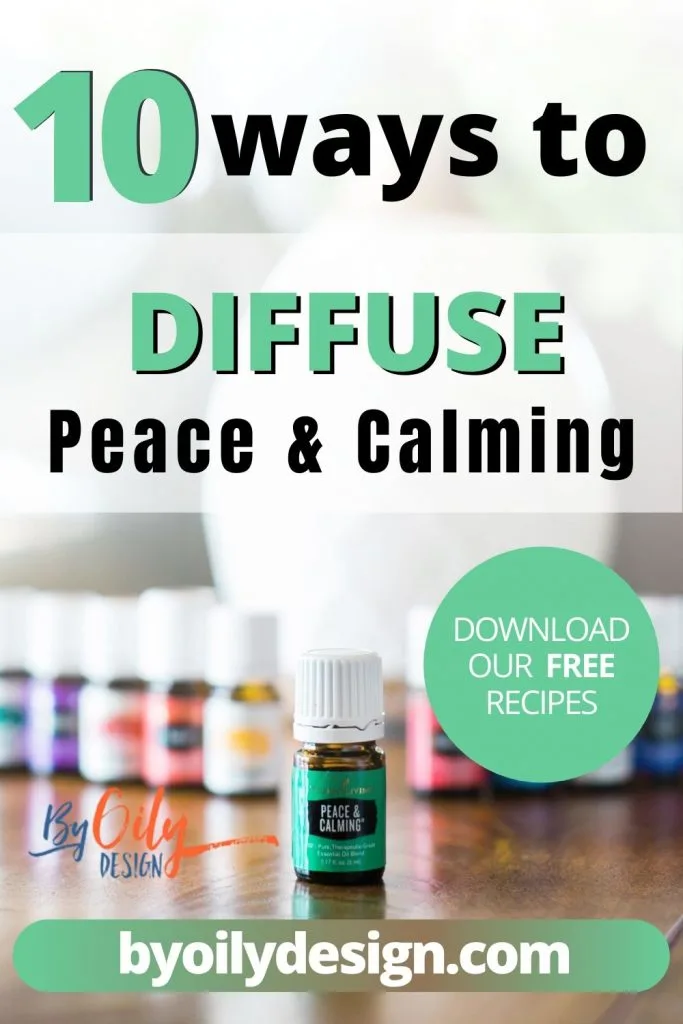 How to diffuse Peace and Calming Essential Oil