These Valor Essential Oil Benefits will have you loving Valor!
Once you experience Valor essential oil benefits your going to be loving this "courage" in a bottle oil like all the rest of us. It's the favorite oil of Most Young Living Members and I'm going to tell you why.
When I first bought my Premium Starter Kit 4 yrs ago the essential oil blend Valor was not included in the kit. The only reason I probably even heard about this oil was that one of my friends was a daily user of Valor and she kept telling me, "Ruth, you have got to try it."
Being the skeptic I was, I put it off.
I mean why in the world would anyone use the same oil every single day?
But then I bought a bottle of Valor.
And truth be told I thought it was stinky, but I'm like that with 90% of the oils I try for the first time. Unless it's Royal Hawaiian Sandalwood or Jade Lemon, then I want to bath myself in it like I'm a 13-year-old boy who finds AXE for the first time.
But despite my first aversion to Valor, it wasn't long before I quickly realized what I was missing out and the benefits of using Valor essential oil every day would bring.
Now I know why essential oil users were stockpiling this oil and when it went out of stock for YEARS there was practically a panic as people started to run out.
*This post contains affiliate links to the essential oils and other products I talk about in the post. Purchasing them here from my blog is no extra cost to you but I do earn a commission that helps in the cost of running this blog. As an Amazon Associate, I earn from qualifying purchases from Amazon. Thanks for your support!

In this post, I'm going to share with you-
What is in Young Living Valor?
What is Valor essential oil used for?
10 fun uses for valor
Where do I apply valor?
How to store Valor Essential Oil
Can you put Valor in a bath?
How to Diffuse Valor
Where can I buy valor essential oil
Favorite Valor Diffuse Recipes for you to try
At the end of this post, you will find a Free Downloadable PDF of my favorite Valor Diffuser recipes that will make your home smell AMAZING and give you all the amazing Benefits of Valor!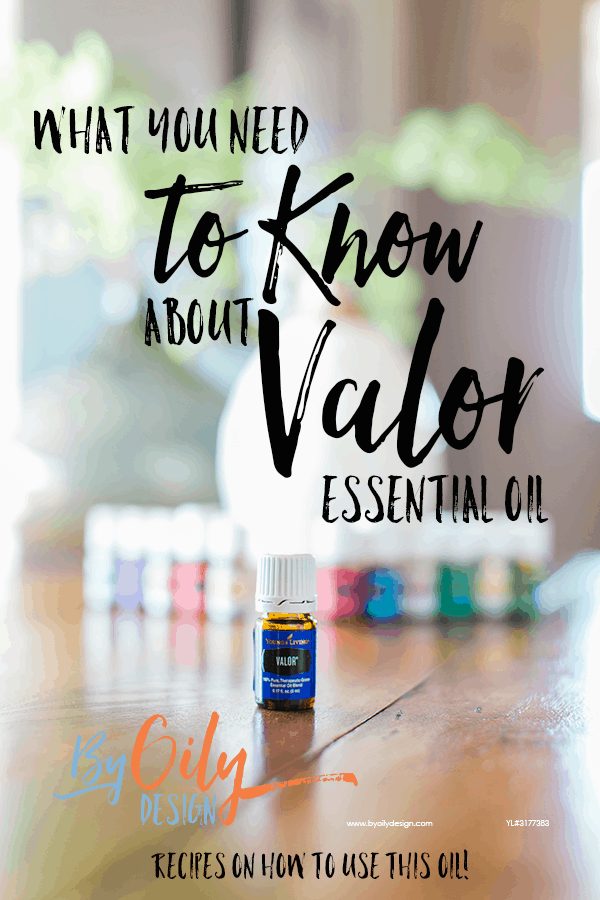 The statements made and the products mentioned on this website have not been evaluated by the Food and Drug Administration and are not intended to diagnose, treat, cure, or prevent any disease. Please talk with your medical professional before using essential oils.
What is in Young Living Valor?
Valor is easily one of Young Living's most popular oils. It is a blend of 5 oils.
So what oils are in this inspiring blend?
Black Spruce– know for it's rich, woodsy scent
Blue Tansy– light floral scent that is Calmi
Camphorwood-Fresh, intense, woody somewhat eucalyptus-like
Geranium– sweet floral scent that is light and uplifting
Frankincense– earthy scent and grounding
Did you know Young Living's Valor has a VIVID Blue color? Blue Tansy is what gives Valor it's blue color.
Valor® essential oil blend joined the Young Living family in 1994. and was one of our Founder's favorite oil blends.

What is Valor essential oil used for?
The Valor blend according to the Young Living label is for aromatic and topical use.
Valor essential oil should never be ingested.
Topical: Apply 2–4 drops directly to the desired area. Dilution not required, except for the most sensitive skin. Use as needed.
Aromatic: Diffuse up to 1 hour 3 times daily.
Young Living's Valor essential oil has a woodsy, earthy scent with a light floral hint. Many people use this oil as a daily perfume scent. I think it's a favorite because it's a bold and confident scent but it's also soothing. It's like a great balance of I'm going to take on the world in this relaxed uplifting way.
I personally use Valor daily as part of my daily routine of oils to inspire confidence and courage.
Did you know that scent can affect our mood?
It's true and if you want to get all science geek you can check out this article by the US National Library of Medicine National Institutes of Health- Influence of Fragrances on Human Psychophysiological Activity
Valor also has several other great uses too!

10 Fun Uses for Valor
1. Use as a personal Cologne.
2. Use as part of an uplifting massage
3. Diffuse to make your home smell amazing
4. Apply to feet for a confidence boost
5. Roll on before a stressful event to calm and uplift.
6. Use to Create a grounded environment for yoga and meditation
7. Use as part of the Young Living Raindrop technique
8. Add it to Young Living's Bath & Shower Gel Base or to a hot bath to invigorate your bath and shower routine.
9. Diffuse in the car for a relaxing car trip
10. Apply to skin as part of your beauty routine to improve the appearance of skin.
Where do I apply valor?
I love to topically apply Valor and wear it as perfume on days when I know it's going to be stressful and I want help to feel confident.
I admit it, sometimes this momma needs the extra emotional support and this is a great go-to oil for me.
On those days, I like to apply Valor to my wrist and to my feet along with a drop or two of carrier oil. I also love to apply it to my Diffuser necklace or my diffuser bracelet if I'm wearing one. I always get the nicest compliments.
You can also make an easy to apply Essential Oil Perfume Roller with Valor and another one of my favorite oils Joy.
Here is a momma tip**** When my girls are feeling a little anxious I like to apply it to their feet to help calm and support them.
How to store Valor Essential Oil
Essential Oils over time can oxidize from exposure to light and air.
Because Valor contains a blue oil, which oxidizes faster than other oils, you will want to be a little more careful with your Valor. This way it retains its amazing benefits for as long as possible.
Store in a dark bottle, this includes roller bottles you might use it in.
Keep in a cool dry place.
Can you put Valor in a bath?
This oil makes for the most amazing bath experience. Young Living actually sells a Bath Bar Soap with Valor! but if you want to use it on your own you can try-
Add 4–5 drops to 1 cup of Epsom salt for a calming evening bath. (for a kids bath I would use 1-2 drop max.) Or
Add it to Young Living Bath & Shower Gel Base for a cleanser your entire family will love.
How to diffuse Valor
If I'm just diffusing Valor as a single blend in my diffuser I like to put 4-5 drops of oil in my diffuser and diffuse intermittently for up to an hour. And I will do this a couple of times a day.
Why not diffuse until the diffuser just runs out?
Truthfully, you can do that, but I like to space it out so I can enjoy the benefits of Valor for a long amount of time. Remember those little essential oil particles are going to linger and make your home smell amazing for a few hours so why not space it out so you can have that amazing smell all day long instead of a few hours.
Beginner Essential Oil users- if you are new to this oil, I suggest for the first few times to diffuse 1-2 drops at a time for 10-15 minutes to see how you react to this oil.
Read more- How to diffuse essential oils and not screw up.
Where Can I buy Valor Essential Oil?
I'm so excited that Valor has been added to the Young Living Premium Starter Kit! Getting started has never been easier.
Now 12 essential oils included in the starter kit you can't go wrong plus you get an amazing diffuser to make diffusing your essential oils easy!

*If you buy essential oils online using my enroller link and number #3177383, you can get your oils at a huge discount and I promise I will actually teach you how to use your oils! Plus I will give you tons of great recipes to help make sure you get the most out of your investment.
My favorite Valor Diffuser recipes
Want some great ideas on how to diffuse the Valor oil you find in the premium starter kit?
Check out these simple essential oil diffuser recipes that will have your home smelling amazing!
Remember as an essential oil beginner you want to take diffusing easy. If you find these diffusing essential oils recipes to strong you can always add more water to dilute the recipe.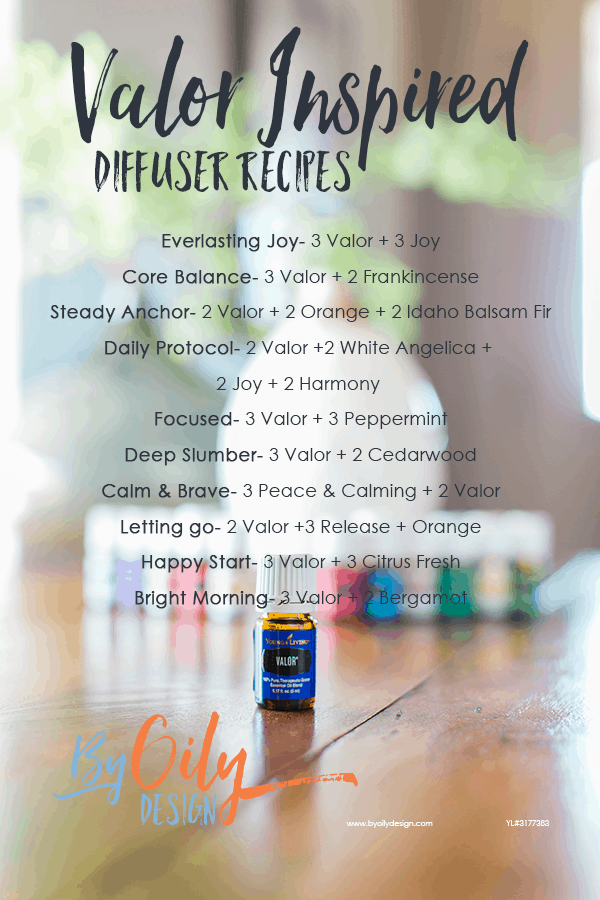 For an easy to print pdf of these beginner diffusing essential oil recipes, click on the image below and download the PDF document and print it out on an 8.5 x 11 sheet of paper.
Before you download this Valor Inspired Diffuser recipe page, I was wondering if you could do me a favor? Would you share this post on Facebook using the blue Facebook button below? I'd love as many people as possible to see these great diffuser recipes! and don't forget to pin it so you can find easily when you need it.
valor essential oil young living