In my quest to find little places in my everyday life to save a little money and to also incorporate a more healthy lifestyle, I started to look at the one thing that continually caused me to feel like I was drowning from. Laundry, it's like a never-ending cycle of piles and piles of dirty clothes in my house. Living on a farm we are never far from a little dirt, from there the Mount Everest of dirty clothes is born.
When I first started thinking about getting rid of unneeded chemicals in my home the thought of paying extra for organic this and that wasn't an option. I just can't afford to spend more even if I thought it would help, so organic all natural dryer sheets were out.
What was a better option and even less expensive? Using essential oils combined with all natural wool dryer balls.
Wool Dryer Balls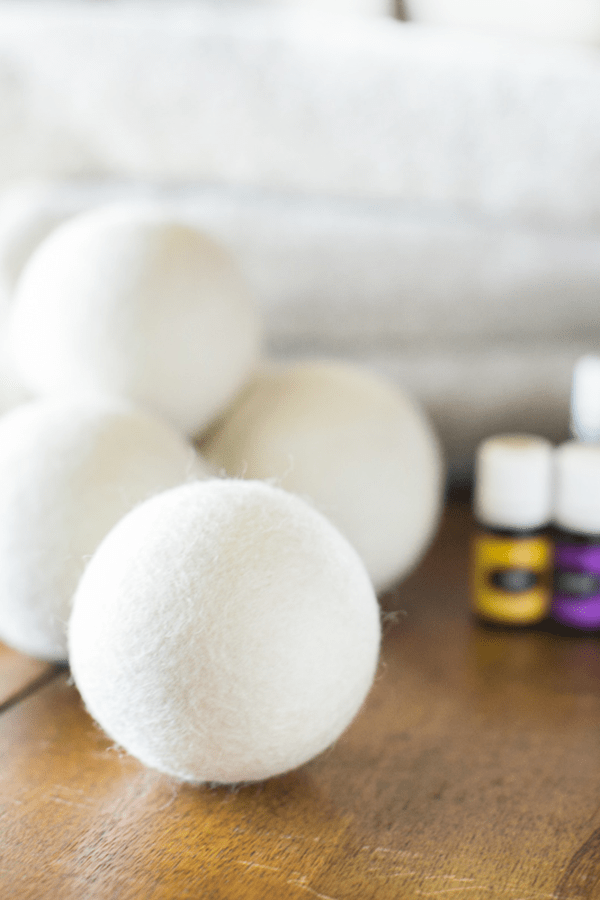 *This post contains affiliate links to the essential oils and other products I talk about in the post.
First thing, I don't know if the claims on the balls saving drying time is real or if I'm now just more aware of how long my stuff is drying. You let your clothes get too dry and the static is crazy, but nothing a little spritz of water can't fix. I now set my dryer timer for 10 mins less than I use to and my clothes come out perfectly dry. There is money saving 101 there, less dry time means less energy. Plus the wool balls last for years. I use a set of 6 wool balls at all times in my dryer.
Next, is pulling out the essential oils and getting creative. Who doesn't love nice smelling clothes? I prefer the scent to be light and not overwhelming. Depending on the oil I use, I will drop 2-3 drops of oil on one (1) ball per dryer cycle. My favorite oil is Purification and I typically use only 2 drops, in doing the math that comes up costing just about the same if not a little less than a regular dryer sheet. Of course, it's up to you on how strong of a scent you want your laundry to have. And there are other oil options that cost less than Purification that can help you save even more money.
Where to get your wool dryer balls:
Here is the link on Amazon to the wool balls I use- Wool Dryer Balls I like this set because it comes with 6 balls.
I've learned that with large loads you will need 5-6 balls to help dry and fluff your clothes.
4 of the best essential oil wool dryer ball recipes to create that clean linen smell you want your laundry to have.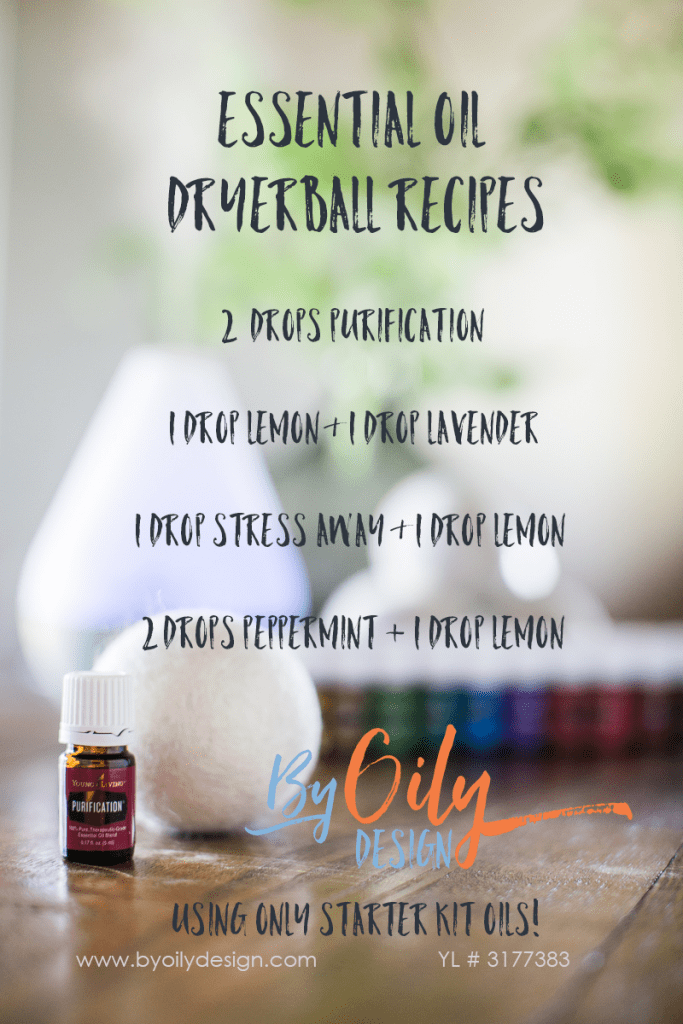 Some other great oil options that are not included in the premium starter kit would be Eucalyptus, Orange, and Tangerine. Can you imagine how amazing your towels could smell?
Young Living Essential Oils are the only essential oils I trust to use on my family. The reason I use only Young Living is pure and simple, I know the quality that goes into Young Living oils.  I only want the best and purest to use on my family and Young Living Guarantees that with their Seed to Seal pledge. If you are new to essential oils or have been using different brands, I'd love the chance to introduce you to Young Living essential oils. Let me help you get started on a healthier lifestyle for you and your family. To find out more, I'd love for you to check out my post on

It's a fun and informative post about how this normal, plain jane mom got started with essential oils and how you can too! check it out here- How to get started with Essential Oils.

Purchase a Young Living Premium Starter Kit thru

BY OILY DESIGN

and receive:

One on One support from Ruth

free access to the By Oily Design online library that is constantly growing with information,

Access to the private By Oily Design Facebook chat group to talk oils with other momma's just like you

a FREE Welcome Jump Start Box full of goodies to get you going (rollerballs, spray and dropper bottles and more!)

A BONUS FREE E-BOOK- Essential Oils Everyday Uses (It is loaded with over 100+ recipes!)

Check out our FREE JUMP START KIT!

Available only for those who purchase their Premium Starter Kit through By Oily Design!

a $15.00 value!

Get started with essential oils! Let me help you start out with the young living Premium Starter kit. When purchasing your kit thru me you will receive a Jump start kit (a $15 value) with recipes and everything you need to get started with oils. As a BONUS I will also include The By Oily Design Ebook- Essential Oils Everyday Uses! This new Ebook contains over a 100 tried and tested Essential Oil Recipes to get you started loving and using your oils. The Ebook is ONLY available to By Oily Design Members! byoilydesign.com YL member #3177383

What you don't have a kit yet? Well I'd love to help you get your hands on this box of awesomeness. Click here to get your Premium Starter Kit now! or see the button below.

I hope once you try this you will leave me a comment and tell me how it has rocked your world too!

COPYRIGHT: © Ruth Rackley and By Oily Design, 2015. You may use the URL of this post to share it on social media. You may also use the URL of this post to link to it from another website/blog. However, no part of the text of this post may be copied and used in a social media status update or on another website/blog without prior written permission of the author. You may share the graphics/s associated with this post on social media as long as they are not edited in any way. However, you may not use the graphic/s associated with this post on another website/blog without prior written permission of the author. This post and the graphic/s associated with it may not be printed and distributed without the prior written permission of the author. Unauthorized use and/or duplication of this material is strictly prohibited.

DISCLAIMER: The information on this website is based upon my research and personal use of Young Living essential oils. The statements made and the products mentioned on this website have not been evaluated by the Food and Drug Administration and are not intended to diagnose, treat, cure, or prevent any disease. Please read the full disclaimer here