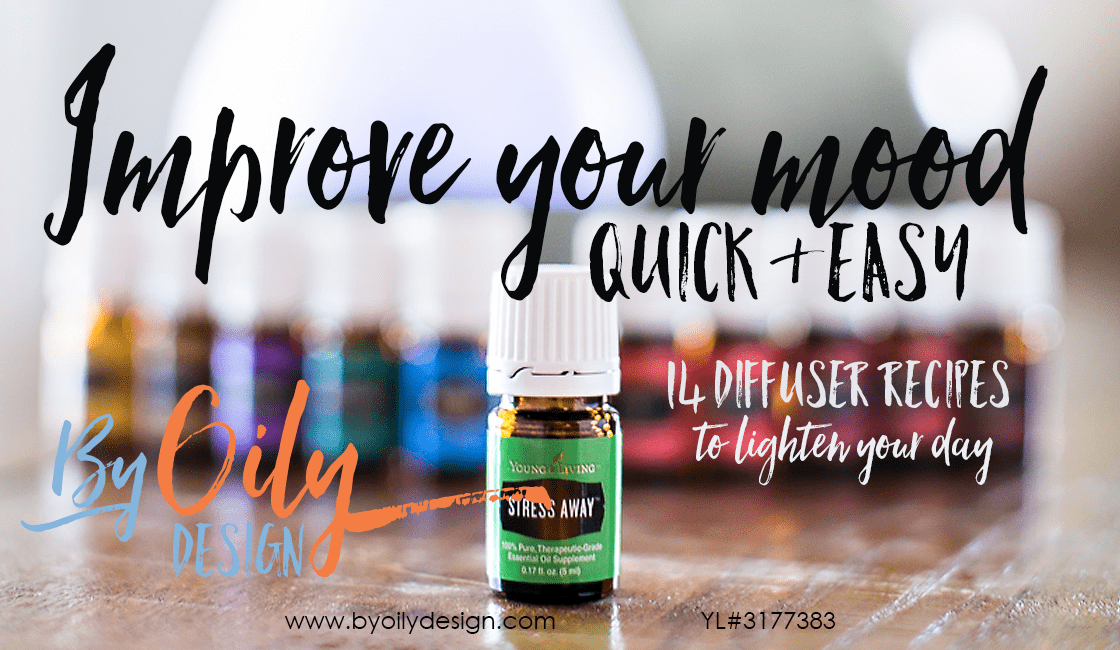 Did you know that essential oils can be used to uplift your mood?
Have you ever had one of those days? Where you just were over the top mad or sad or just in the plain dumps?
I know I have and to be honest it makes it hard to be a good mom, a good wife, and just a good person all around. So on those days, I look for ways that are quick and easy to improve my mood and to tame the inner me. Cause help all those around me, some days I need all the mood taming I can get.
In this post, I'm going to share some popular oils for uplifting your mood and for calming and bringing peace to the soul. Plus give you a free PDF to download of 14 of my favorite Improve your Mood Diffuser recipes.
I look forward to hearing how these Mood Lifting essential oil blends work for you.
Uplifting Essential Oils
You may not be able to change the stressful situations that come into your life, but you can change your response to those situations. Essential oils are great at helping you do that. Some Essential oils are great for uplifting your mood.
Here is a list of essential oils that can help you improve your mood- (*are oils found in the premium starter kit)
Lemon*
Lavender*
Frankincense*
Stress away*
Grapefruit
Patchouli
Bergamont
Lemongrass
Orange
Cedarwood
Sandalwood
Cypress
Roman Chamomile
Ylang Ylang
Geranium
These oils can also have a great effect on improving and uplifting the moods of others in your house or workplace. Who doesn't want and crave a happy home? So the great side effect of you diffusing these great oils is everyone around you benefits from essential oil use to.
Want to see 14 of my go-to Happy Mood Oils Blends?
14 "Improve Your Mood" diffuser recipes and experience a happy home
Feel free to adjust the drop amounts to your liking. Remember, if you are new to experiencing lemon essential oil benefits go easy on a number of drops you use. Even after diffusing became old hat for me, when I try a new oil for the first time I always take it easy and 1/2 the recipe just to test our sensitivity to it.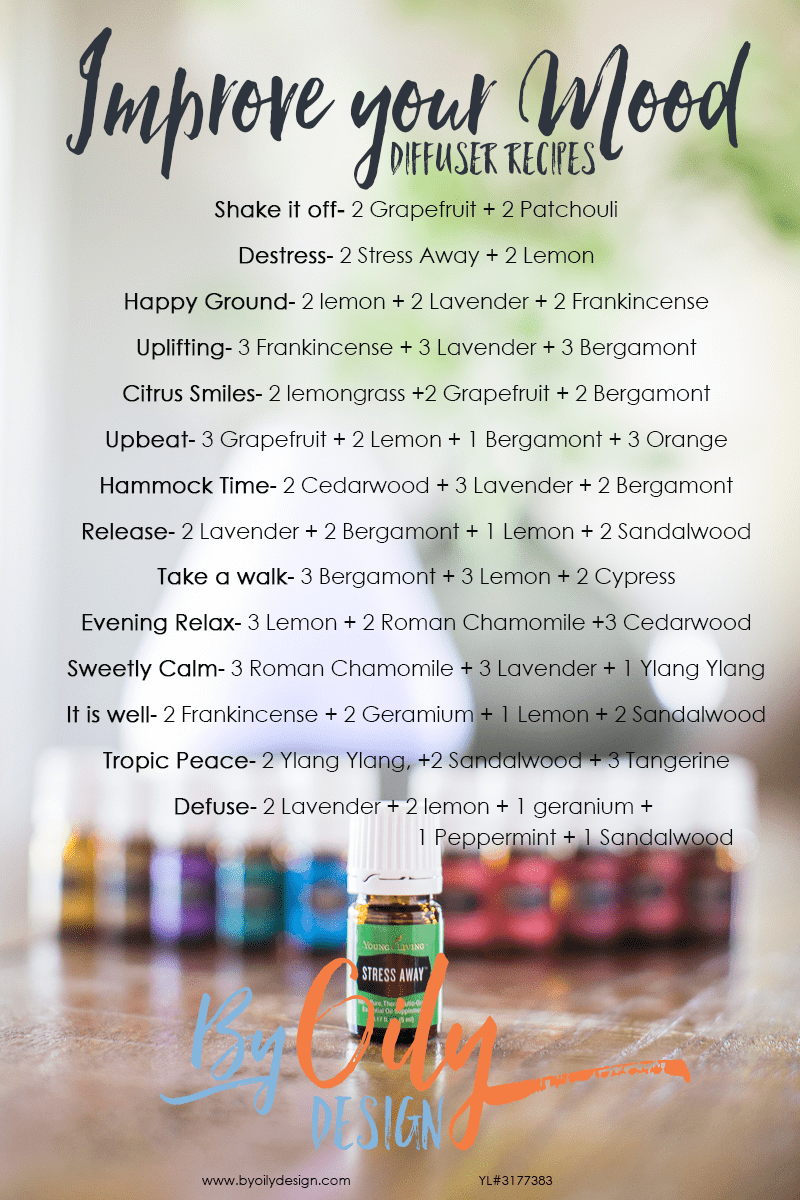 [clickToTweet tweet="Tame your mood. How to uplift & improve your mood with essential oils. Free PDF download" quote="Tame your mood. How to uplift & improve your mood with essential oils. Free PDF download"]
For an easy to print pdf of the Improve Your Mood Diffuser recipes, click on the image below and download the PDF document and print it out on an 8.5 x 11 sheet of paper.
Before you download this Improve Your Mood Diffuser recipe page, I was wondering if you could do me a favor? Would you share this post on Facebook using the blue Facebook button below? I'd love as many people as possible to see these great diffuser recipes!
[social_warfare buttons="Facebook, Pinterest"]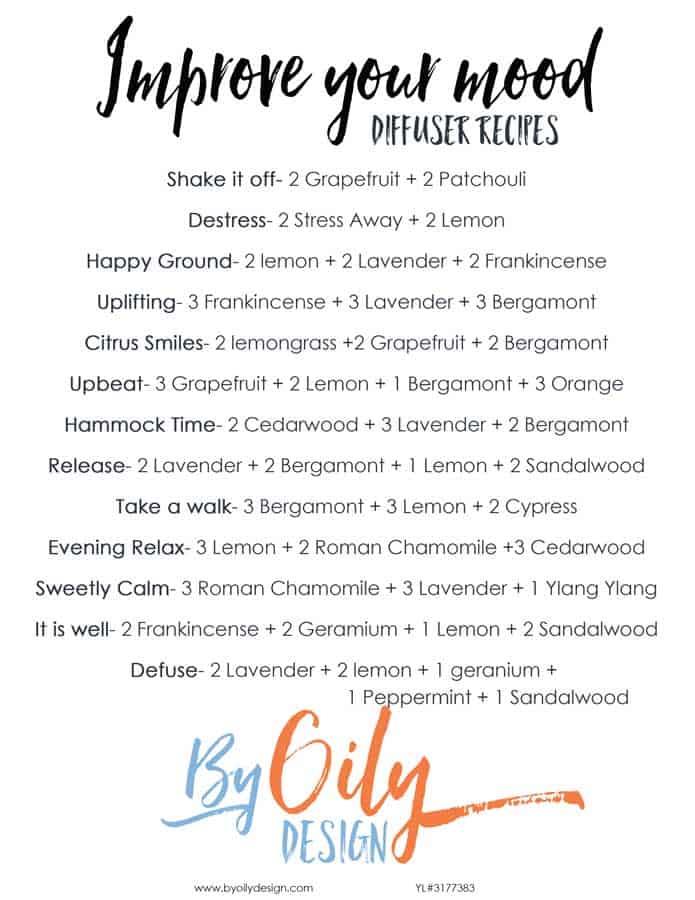 [social_warfare buttons="Facebook, Pinterest"]
As always, my templates are free of charge, but I do ask that you share my printable to-do list post with all your friends on Facebook and Pinterest!
Because you know the more, the merrier! :=) You can use the handy little icons below this post to do so.
Looking to buy another diffuser check out my guide to picking the right essential oil diffuser type for your home!
If you like these recipes I hope you will try out my other diffuser recipe posts!
Are you looking to create a cheerful, fresh smelling home?
Are you wanting to begin the process of detoxing your home from harmful chemicals? But don't know where to start?
Does the idea of learning all about Essential Oils feel like it's more information than you can handle?
Would you love the chance to find someone to help mentor you through the process? Someone who can help simplify and make learning fun?
What if I told you I would help you for FREE!