Let's talk about Essential Oils and Sun. There are a lot of questions on if Young Living Essential Oils are photosensitive. Maybe you are curious if your favorite oil like Frankincense is photosensitive? I've got the answers you need on if Young Living essential oils are photosensitive.
Have you seen the viral photos circulating the internet and Social Media? The photos where after using Essential Oils, one Essential Oil user shows where she is burned and blistered from her using Essential Oils.
I want to share what may be some shocking information with you.
The reaction to her using essential oils could easily happen to any person using essential oils.
Especially when they are not aware of and/or educated on the proper ways of using Essential oils.
What happened to her is a simple mistake many new and veteran oilers can make.
To make sure the same kind of burns and blisters don't happen to you or your children, I'm here to help coach you. My goal is to help teach you the proper use of photosensitive oils so that someone else's mistake hopefully will never happen to you.
First, I want to stress that this is not Essential Oil Brand related. Any Essential Oil that is photosensitive and used inappropriately can cause burns and blisters. No matter the brand.
So what happened?
She simply applied a photosensitive essential oil to her skin and then later exposed her skin to UV rays causing a severe burn and skin discoloration to the areas she had used Essential Oils.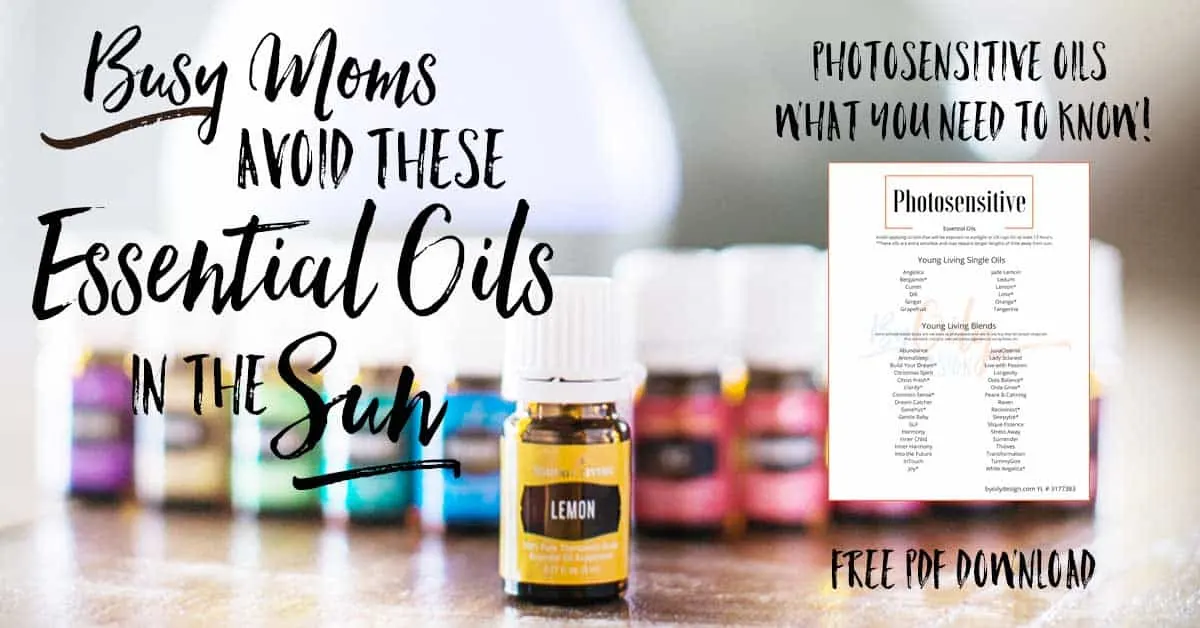 *This post includes affiliate links to Young Living Oils and to non oil products mentioned.
So what does the term Photosensitive Essential Oil mean in the essential oil world?
Photosensitive Essential Oils
It is an essential oil that after being applied to the skin and then exposed to sunlight or Ultraviolet light can cause a chemical reaction on the skin.
Young Living states that after using essential oils that are photosensitive you should "avoid direct sunlight and UV rays for at least 12 hours after application to skin."
The total amount of time to avoid direct sunlight and UV rays will depend on the blend or single oil so it is always a good idea to research each oil to check.
Some Photosensitive Essential Oils will require up to 72 hrs of avoiding sunlight and UV rays.
I like to use the Young Living website to do my research and I do that by looking up the product itself and reading about it in the product description.
When in doubt either don't use the oil or avoid the sun for a minimum of 12 hrs.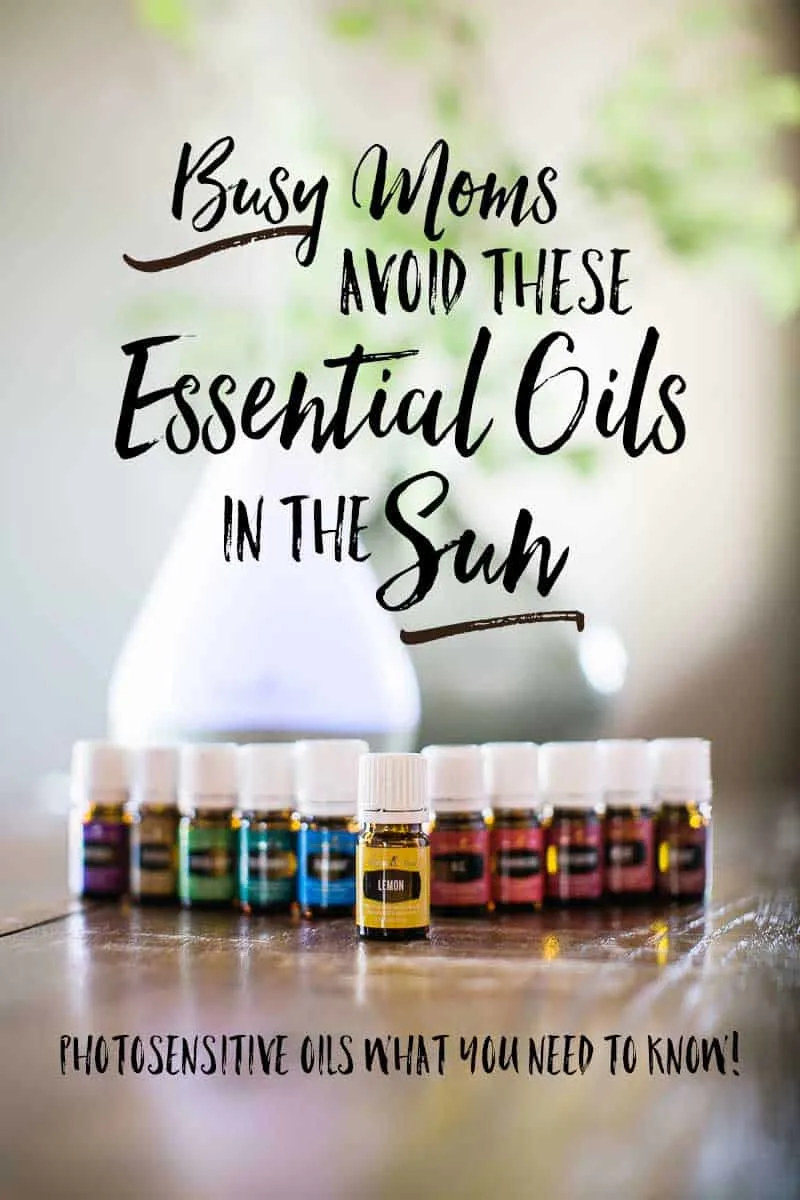 Using Essential Oils that are Photosensitive in the sun
If a photosensitive oil is applied to the skin and then you expose it to sunlight or UV rays you risk the chances of skin discoloration in mild cases to burning and blistering in more severe cases.
A word of caution-
I've had several people tell me, "Well I use sunscreen so I should be okay." Essential Oils are absorbed into the skin where Sunscreen can't reach or protect. So you are still at risk.
others have said…. "Well I will just wash and rinse off the photosensitive oil"- Again, Essential Oils are absorbed into the skin super fast. Using water and soap or even a carrier oil to rinse it off will not help.
My thought is, why risk it?
[clickToTweet tweet="Don't make this painful mistake. Photosensitivity, using essential oils in the sun. Free pdf list" quote="Don't make this painful mistake. Photosensitivity, using essential oils in the sun. Free pdf list"]
How do you know which Essential Oils Are Photosensitive?
To help in knowing if your essential oils are photosensitive check out these lists. Oils listed are for Young Living oils and information has been pulled from the Young Living Website. I still strongly suggest you take the time to educate yourself on each oil.
Young Living Photosensitive Oil- Single Essential Oils
Angelica

Bergamot*

Cumin

Dill

Ginger

Grapefruit

Jade Lemon

Ledum

Lemon*

Lime*

Orange*

Tangerine
*Extra precaution should be taken with starred oils. Sun may need to be avoided for up to 72 hours.
Young Living Photosensitive Oil- Essential Oil Blends
Important Note- A few of these blends if you look them up on the Young Living website, do not specify that they are photosensitive. But in looking at the ingredients, they contain one or more of the Photosensitive Single oils so I've included them in my list. Again, I urge you to do your own research.
Abundance

AromaSleep

Build Your Dream*

Christmas Spirit

Citrus Fresh*

Clarity*

Common Sense*

Dream Catcher

GeneYus*

Gentle Baby

GLF

Harmony

Inner Child

Inner Harmony

Into the Future

InTouch

Joy*

JuvaCleanse

Lady Sclareol

Live with Passion

Longevity

Oola Balance*

Oola Grow*

Peace & Calming

Raven

Reconnect*

SleepyIze*

Slique Essence

Stress Away

Surrender

Thieves

Transformation

TummyGize

White Angelica*
*Extra precaution should be taken with starred oils.
I've created an easy to print Photosensitive Oil List that you can download and print to keep handy. I keep a copy of it with my Life Science Desk Reference Guide
so that it's handy when I'm researching my Young Living Essential Oils.
Click the below image to get your copy of the Young living Photosensitive Oils List.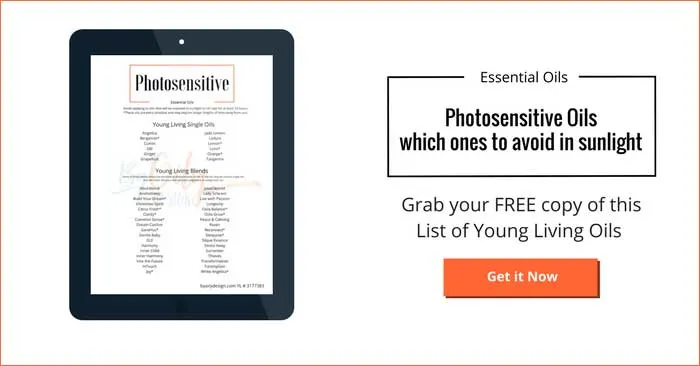 New Young Living Premium Starter Kit Oil Users
If you are new to essential oils and have a Young Living premium starter kit you should be careful of using Lemon, Thieves, and Stress Away in sunlight and tanning beds as they are photosensitive.
Does ingesting citrus essential oils in water increase your risk of sunburn?
I will be honest it totally surprised me when I saw the answer to the question-
When ingesting essential oils, can some oils make you more sensitive to sun?
The answer is yes, it is possible that ingesting citrus essential oils can also increase the risk of sunburn.
Lindsey Elmore who is a pharmacist and essential oil advocate wrote this great article on the effects of ingesting essential oils and the risk of sunburn. She is way more knowledgeable than me on the science of oils and her article really helped clarify my questions.
Products made by Young Living containing Photosensitive oils
The Young Living website states the products such as creams, soaps and beauty products containing Photosensitive oils are created with a process that removes the Photosensitivity so that their products can be used safely in the sun.
I would still use caution and check their website for each product you have questions about to make sure.
Being mindful of photosensitive oils is why I created my Perfect Summer Skin Serum last summer.
The last thing I wanted was to cause a reaction using my favorite Skin Serum made from my Starter Kit of oils.
It contains Lemon, so if you want to still make the Original Favorite Skin Serum with your Young Living Premium Starter Kit oils I would make the recipe and leave out the lemon.
Don't forget all those other wonderful DIY products you've made using essential oils!
Here is a list of some DIY Essential Oil products you may have created and use daily that you might want to double check for using Essential Oils that are Photosensitive.
Sugar Scrubs
DIY Lip Balms
Rollers for Kids- for example, a Calming Roller
It takes just one moment to double check your DIY arsenal when even the minor reaction to photosensitive oils can take weeks to heal.
Does getting started with Essential Oils sound scary, especially after reading about having to avoid certain oils just because of the sun?
Does the idea of learning all about Essential Oils feel like it's more information than you can handle?
Would you love the chance to find someone to help mentor you through the process? Someone who can help simplify and make learning fun?
What if I told you I would help you for FREE!
I'd love the opportunity to walk you through essential oils and help you choose the best oils to use for you. When you purchase a Premium Starter kit through me you will receive Free one on one mentoring from me to help you get comfortable and using essential oils in your life. I promise by the time we are done you will be a rockstar user of essential oils!
Young Living Essential oils are the only essential oils I trust to use on my family. The reason I use only Young Living is pure and simple, I know the quality that goes into Young Living oils. I only want the best and purest to use on my family and Young Living Guarantees that with their Seed to Seal pledge. If you are new to essential oils or have been using different brands, I'd love the chance to introduce you to Young Living essential oils. Let me help you get started on a healthier lifestyle for you and your family. To find out more, I'd love for you to check out my post on
It's a fun and informative post about how this normal, plain jane mom got started with essential oils and how you can too! check it out here- How to get started with Essential Oils.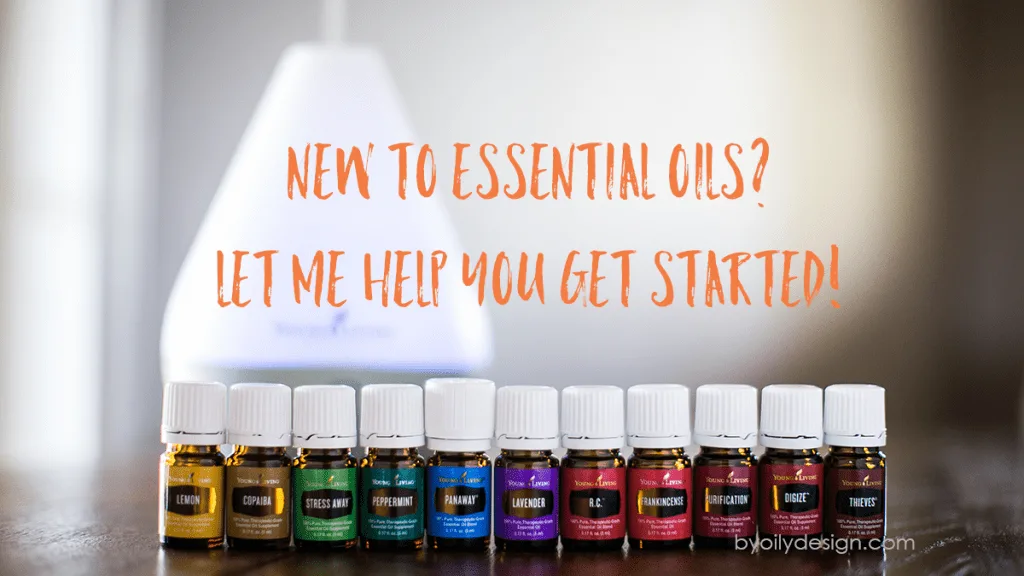 Purchase a Young Living Premium Starter Kit thru
BY OILY DESIGN
and receive:
Free Essential Oil 101 online class that walks you thru the Premium Starter kit and how to use the oils.
One on One support from Ruth
free access to the By Oily Design online library that is constantly growing with information,
Access to the private By Oily Design Facebook chat group to talk oils with other momma's just like you
a FREE Welcome Jump Start Box full of goodies to get you going (rollerballs, spray and dropper bottles and more!)
A BONUS FREE E-BOOK- Essential Oils Everyday Uses (It is loaded with over 100+ recipes!)
Check out our FREE JUMP START KIT!
Available only for those who purchase their Premium Starter Kit through By Oily Design!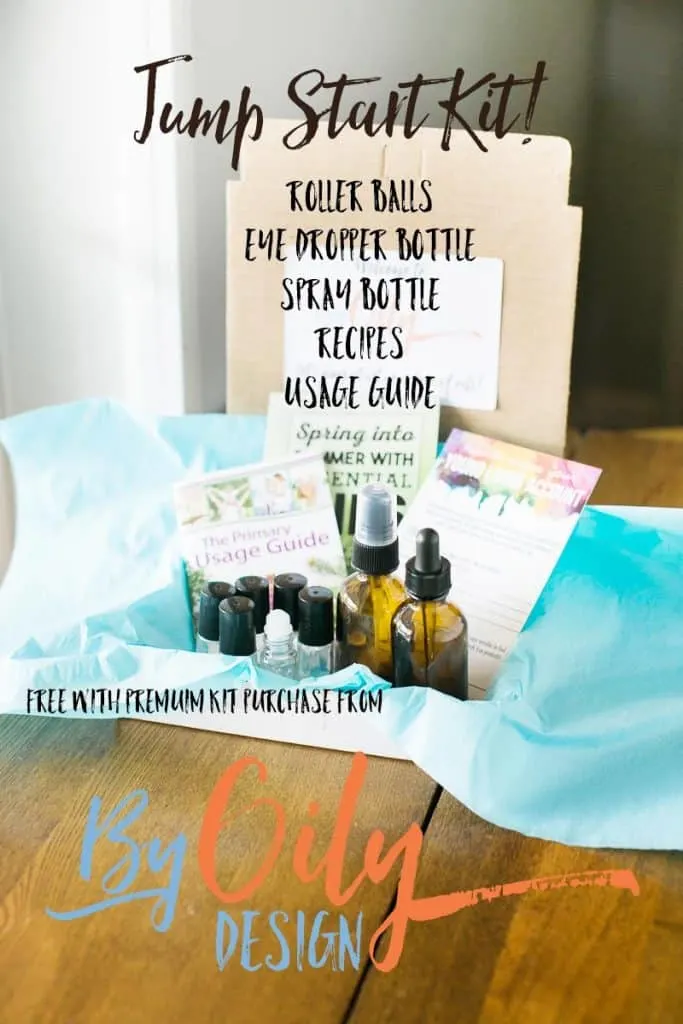 Get started with essential oils! Let me help you start out with the young living Premium Starter kit. When purchasing your kit thru me you will receive a Jump start kit with recipes and everything you need to get started with oils. As a BONUS I will also include The By Oily Design Ebook- Essential Oils Everyday Uses! This new Ebook contains over a 100 tried and tested Essential Oil Recipes to get you started loving and using your oils. The Ebook is ONLY available to By Oily Design Members! byoilydesign.com YL member #3177383

COPYRIGHT: © Ruth Rackley and By Oily Design, 2016. You may use the URL of this post to share it on social media. You may also use the URL of this post to link to it from another website/blog. However, no part of the text of this post may be copied and used in a social media status update or on another website/blog without prior written permission of the author. You may share the graphics/s associated with this post on social media as long as they are not edited in any way. However, you may not use the graphic/s associated with this post on another website/blog without prior written permission of the author. This post and the graphic/s associated with it may not be printed and distributed without the prior written permission of the author. Unauthorized use and/or duplication of this material is strictly prohibited.
DISCLAIMER: The information on this website is based upon my research and personal use of Young Living essential oils. The statements made and the products mentioned on this website have not been evaluated by the Food and Drug Administration and are not intended to diagnose, treat, cure, or prevent any disease.Please read the full disclaimer here