You know how when you get to spend time outside on a sunny day you just can't help but smile and feel happy?
To me, when I try and recreate that sunny day feeling I think of yummy oranges. I know, maybe that is weird or maybe my mom fed me way to many oranges as a kid. I just know that the smell of citrus oil just wakes me up and makes me happy.
My obsession with citrus must be why the Young Living Citrus Fresh essential oil blend is one of my go-to happy essential oils.
For those of you not in the know, Citrus Fresh essential oil is made by Young Living and is an Essential oil blend of some of my favorite Essential Oils. It is also one of my favorite essential oils in the Young Living starter kit.
Yes, give me a bottle full of all my citrus favorites, please.
It's like liquid sunshine to supercharge your day.
And boy do I need a supercharge after a night of 90 million times of being woken up by my girls, or the afternoon after I decide to get up at 4 am to work on my blog and by 2 pm I'm dragging my feet and no amount of caffeine is helping.
Sometimes a momma just needs a little extra help in the energy department and this bottle of oil can help with that.
Orange, Grapefruit, Mandarin, Tangerine, Lemon, and a hint of Spearmint make Citrus Fresh one of the best smelling essential oil blends that is great for encouraging energy and concentration.
*This post contains affiliate links to the essential oils and other products I talk about in the post. Purchasing them here from my blog is no extra cost to you but I do earn a commission that helps in the cost of running this blog. Thanks for your support!

Citrus Fresh Benefits
So let's chat about some of Citrus Fresh benefits. All the delightful citrus oils (there are 5!) and the spearmint oil in the Citrus Fresh blend are known for their uplifting and refreshing aroma which helps create a positive and energy filled room when diffused.
Quick mom tip- Diffuse Citrus Fresh essential oil first thing in the morning to wake up your family and give them a boost.
Right as I'm beginning to cook breakfast for my family, I like to put 3-4 drops of Citrus Fresh in my kitchen diffuser. The mornings I diffuse Citrus Fresh, I see my family is just a little bit more alive and hopefully, with their now awake and cheery attitudes, they will think my breakfast cooking skills a little bit more mouth-watering.
Hey, a girl can hope over burnt bacon you know.
Citrus fresh essential oil recipe
For those of you who haven't yet made the Young Living choice, (um what's your hold up? Just kidding, well not really.)
Here is a simple Citrus Fresh essential oil recipe you can try.
I can only guess as to how much of each of the listed essential oils are in the Citrus Fresh Essential Oil Blend. But with Citrus Fresh being one of Young Living's most economical oils it's no wonder why most people just buy the amazing blend as one of the first oils they try from Young Living.
I love that they are now including it in the 2018 US Premium Starter kits.
Don't have a Young Living Starter kit? Click here and I can get you started because I'm the girl to hook you up.
If I was to try and recreate what I think is one of Young Living's best essential oil combinations I'd probably start my DIY essential Oil blend to fit in a 5ml bottle. A 5ml bottle holds approximately 100 drops which this recipe is just shy of.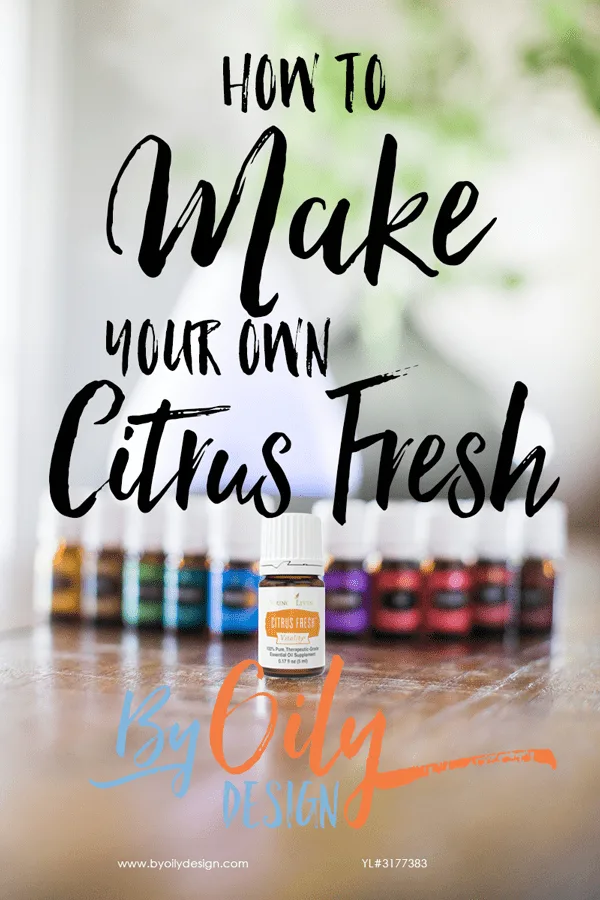 Again this is just my thoughts on how I would make it so feel free to play around and add more of your favorite citrus oil than one of the others.
Citrus Fresh DIY Blend
20 Orange
15 Grapefruit
15 Mandarin
20 Tangerine
15 Lemon
10 Spearmint
Not in the mood to DIY your own Citrus Fresh essential oil blend?
I don't blame you, that's a lot of oil to count out. Plus, when the Young Living Citrus Fresh Essential Oil blend is spot on amazing why mess with perfection.
When you buy Citrus Fresh from Young Living you can also take advantage of it being a Young Living Vitality oil.
Citrus fresh vitality uses
Young Living Vitality oils are labeled as a dietary supplement and are safe for ingestion if you chose to do so. Citrus Fresh has an invigorating citrus flavor. Many like to add it to their water for a refreshing citrus taste and some love to use it to make salad dressings and use it in other recipes.
But to be honest, my favorite way to use Citrus Fresh is as a non-toxic citrus fresh air freshener.
Citrus fresh air freshener
Before ditching chemical based home fragrances like room sprays and candles, I used to love cleaning my home with anything Citrus smelling. Little did I know the harmful chemicals I was spreading all through my home thinking I was doing such a great job cleaning. Because you know how amazing and fresh your home smells when it smells like lemon and orange.
I was making everything from my laundry, my dishes, to my floors and bathroom smell like a citrus garden.
When I started the detoxing my home journey, I thought I was going to have to leave all those wonderful clean smells behind. I guess that's why for a year my house smelled like a pickle. Cleaning with just plain Vinegar wasn't making my house smell as fresh and inspiring as I wanted.
Cause let's face it. No one gets inspired to clean their home if it's not going to smell alive, light and healthy.
Then I was introduced to Citrus Fresh. And AHH my unforgettable citrus fragrance love was renewed.
But this time, it was in the life-changing form of healthy irresistible essential oils.
Oh, and did I tell you the change was effortless, simple and budget conscious?
I love that Citrus Fresh is one of the least expensive Essential Oil blends and it just happens to be one of my favorite essential oils to diffuse. And did I mention it is now an included oil in the 2018 Young Living Premium Starter Kit?
I guess you can tell, I'm just a little too happy over this fact. Because I know you are going to love this essential oil blend as much as I do.
It's just so versatile for use in laundry, to DIY cleaning products, to my favorite Essential Oil Diffuser recipes.
10 Citrus Fresh Diffuser Recipes
The below Citrus Fresh Diffuser recipes will be amazing not only as essential oil diffuser recipes for energy. But these same Citrus Fresh recipes can be used in spray bottles as a quick go to room spray!
Feel free to adjust the drop amounts to your liking. Remember, if you are new to experiencing Citrus Fresh essential oil benefits go easy on a number of drops you use. Even after diffusing became old hat for me, when I try a new oil for the first time I always take it easy and 1/2 the recipe just to test our sensitivity to it.
[social_warfare buttons="Facebook, Pinterest"]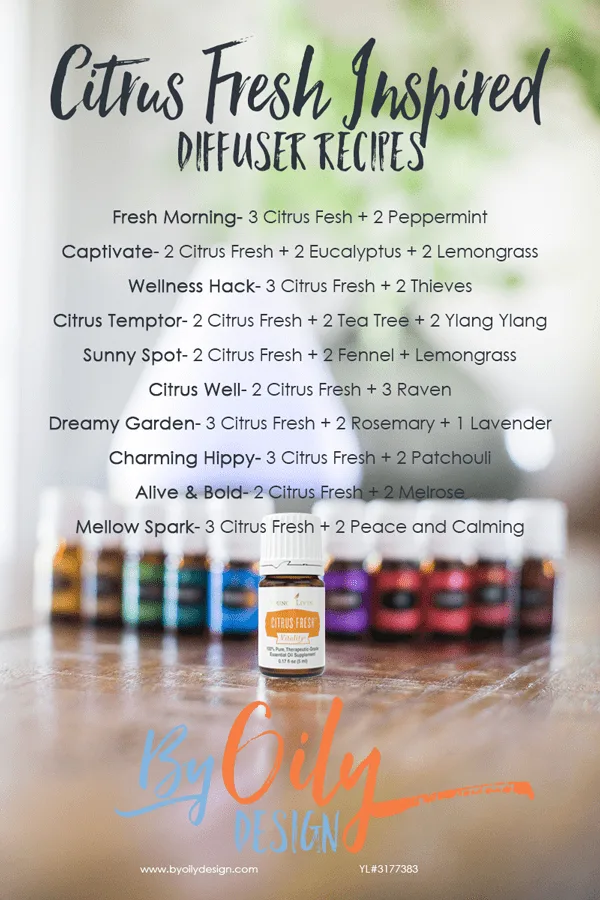 For an easy to print pdf of the Citrus Fresh Diffuser recipes, click on the image below and download the PDF document and print it out on an 8.5 x 11 sheet of paper.
Before you download this Citrus Fresh Inspired Diffuser recipe page, I was wondering if you could do me a favor? Would you share this post on Facebook using the blue Facebook button below? I'd love as many people as possible to see these great diffuser recipes!
[social_warfare buttons="Facebook, Pinterest"]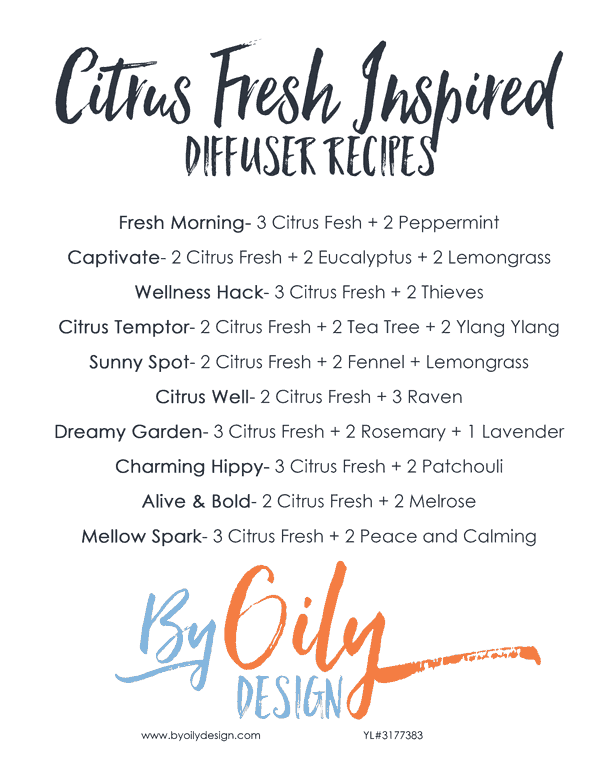 As always, my templates are free of charge. I do ask that you share my printable to-do list post with all your friends on Facebook and Pinterest!
[social_warfare buttons="Facebook, Pinterest"]
Because you know the more, the merrier! :=) You can use the handy little icons below this post to do so.
Looking to buy another diffuser check out my guide to picking the right essential oil diffuser type for your home!
[recent_posts style="1″ rows="one" title = "Amazing Content" text_excerpt="Y" mode="selectable_posts" posts_num="" selectable_posts="9240″ text_color="undefined" hide_author="" ][/recent_posts]
If you like the above Essential oils in diffuser recipes using Citrus fresh. Check out my other blog post. Where I use Citrus Fresh essential oil blends for perfume and I create a DIY body wash using Citrus Fresh. The body wash is a great wake me up recipe!
[recent_posts style="1″ rows="one" title = "Amazing Content" text_excerpt="Y" mode="selectable_posts" posts_num="" selectable_posts="8325, 7803, 6189, 5805, 5477″ text_color="undefined" hide_author="" ][/recent_posts]
Are you wanting to begin the process of detoxing your home from harmful chemicals? But don't know where to start?
Does the idea of learning all about Essential Oils feel like it's more information than you can handle?
Would you love the chance to find someone to help mentor you through the process? Someone who can help simplify and make learning fun?
What if I told you I would help you for FREE!