Homemade Laundry Detergent
Over three years ago, I began to make the switch from harsh chemicals in my home to using more natural alternatives.
One of the first things I "experimented" with was my Laundry Soap.
I wanted to start there because if you think about it you always have some sort of clothing or fabric touching your skin. And that means any chemical residue left behind when washing can then rub off on your skin and be absorbed by your body.
So many of the Commercial Laundry soaps contain ingredients labeled as fragrances that have been linked to illnesses such as cancer. And I just wasn't comfortable with my girls daily being surrounded by something that could build up in their systems and cause issues later in life.
So I began my quest to find the best homemade laundry detergent for my family.
*This post does contain affiliate links to products I use to create this recipe.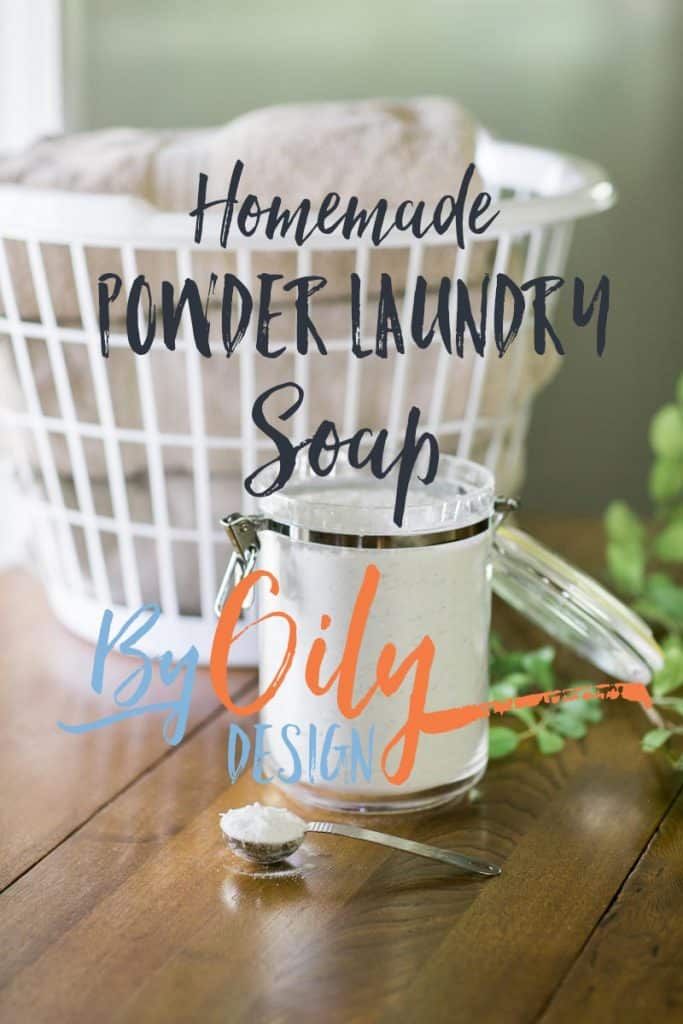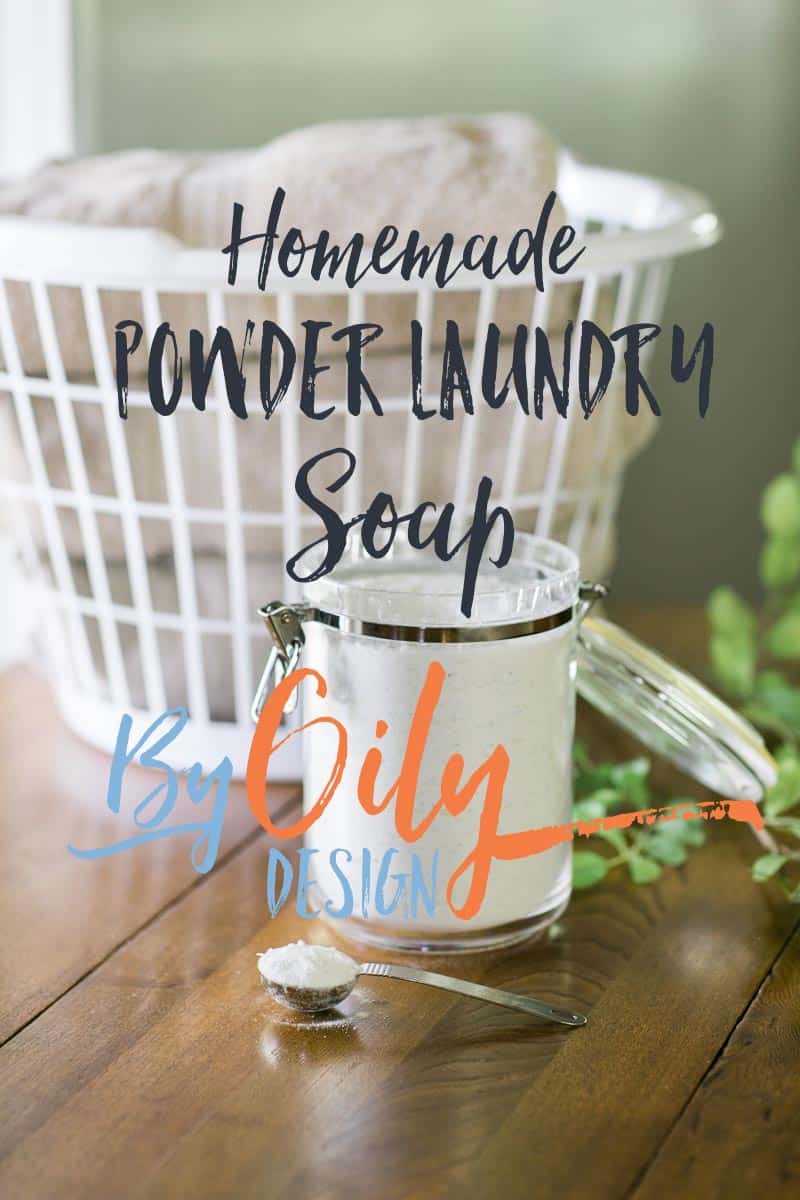 I will admit I first started with using Commerical Laundry soaps that are labeled as free and clear. I loved this Laundry Detergent brand, it did a great job getting our clothes clean but as a stay at home mom, I really wanted to see if I could save some money.
With a husband who farms and two little girls that love to get dirty, doing laundry in my house is not for the faint of hearts.
Does homemade Laundry soap really clean?
Oh does the question, "Does homemade laundry soap really clean?", strike a lot of debate.
I've decided you are either one of two camps, It does clean or homemade laundry soap is terrible for your clothes and doesn't work.
I'm personally of the camp it works for me.
I've used the below Homemade laundry detergent recipe without Borax for almost 9 yrs now and our clothes come out clean and not dingy and we live on a farm with that produces some pretty dirty clothing.
You will hear those that are against Homemade Laundry detergent talk about how it wears out clothing faster and that it leaves a residue.
But for me working on a farm wears our clothes out faster than any laundry soap could ever dream of. Plus my girls are growing out of their clothing so fast that their clothing is getting handed down faster than I can wash. Moms of kids you can probably relate.
So if you have clothing that needs extra gentle care or something you want to keep and wear for decades then maybe a homemade laundry soap is a bad idea for your cleaning routine. But for our way of life it works for us.
I also want to add that I have at times when I just didn't feel like making this simple laundry soap recipe, I will buy store brand laundry detergent like this one.
It's a great alternative but my youngest has the most sensitive skin ever and every time I use anything other than my homemade recipe or Young Living's Thieves Laundry Soap she breaks out in a rash everywhere the fabric has touched her skin. So she has cured me of being lazy.
Should you make your homemade laundry detergent without Borax?
For years I used a powder DIY Laundry detergent with Borax in the recipe but after hearing all the fears people were bringing up about the use of Borax, I decided to give my DIY Powder Laundry Soap recipe a little facelift and try the recipe without Borax.
The main deciding factor of removing Borax was due to the fact that I really didn't have time to do thorough research on the subject of the safety of Borax and I realized if I could come up with an effective DIY powder laundry soap with one less ingredient that meant I could save just a little more money.
You can read more about Borax safety on the Medical News Today website – Is borax safe to use?
For now, over 4 yrs, I have been using the Borax Free DIY Powder Laundry Soap with excellent results.
If my recipe can get extremely dirty and nasty farm clothes clean and still be gentle on our clothing I think I have a winner.
My DIY Laundry Detergent Ingredient Safety Research
I do want to add that before I wrote this blog post, I did take the time to do some more research on the subject of using Borax safely in a DIY Powder Laundry Soap.
Let's just say that the Borax safety issue is quite the Rabbit Hole and I still am not sure on which side of the hole I land.
I've decided to just say, if you use Borax or not, it should totally be your own personal decision.
I do not have a medical degree or a background in Chemistry (other than the few classes I was tortured into taking in college) so I'm not going to even pretend to tell you if it is safe or not for your use.
If you land on the "I want to use it side", this recipe will still work fabulously if you want to add a 4lb box of Borax to the mix. I like leaving it out so I can save the extra $5+ and my clothes get just as clean without it.
I did take the research one step further and made it a point to check to see if all the other ingredients I use are given a high safety level. The website I use to check is www.ewg.org It has become my new favorite website. It's been addictive for me to look up different products to see how they rate.
(Edited to add. I did this research before EWG was a sell out and back when you could trust their recommendations. Now so much has changes with EWG that I never use them for my research now.)
My goal was to have each of my ingredients in my DIY Powder Laundry Soap as an "A" or a "B" rating which is way better than the regular store-bought Tide detergent I used in the past which rate at a "D" or "F" on the EWG Database. An "A" Rate indicates very low toxicity to health and the environment along with sharing a detailed ingredients list. While "F" means the product is highly toxic or the product has little to no ingredient disclosure. I checked and the ingredients I use for my DIY Powder Laundry Soap all listed "A" except for OxyClean which was a "B" but Oxyclean does make an Oxyclean Baby if you wanted all your ingredients with an "A" Rating.
Borax rated an "F" for respiratory concerns and seeing I set my standard to "A" and "B" ratings I'm leaving it out.
For the Kirk's Castile Soap, I had to look it up in the Cosmetics Database where the rating is slightly different and is based on a numbered scale with "1 & 2" being "Low Hazard". The soap I use, Kirk's Castile Soap was a 2. If I could find the Kirk's Castile locally in the fragrance-free bar it would be a 1. Check out this link for the rating- Kirk's Castile Soap

Best homemade Laundry Detergent Recipe
The DIY Powder Laundry Soap I'm sharing today is a pretty concentrated recipe.
For a regular size load, I will use 1 TBSP for extra-large loads or dirty clothes I will use 2 TBSP.
For my husband's really really dirty farm clothes I will go up to 3 TBSP per load.
This recipe makes a large batch. It will make up to 165 – 2 TBSP wash loads. Making each wash about .12 cents.
This recipe is a very low suds recipe so it works great for top loading and HE washers.
I used it for years in a top load washer with great results and for the last year, I have used it in a top load HE washer with no problems. Also, my sister in law has a HE front load and she has used my recipe for 5 yrs with no issues.
What I love about the recipe is how simple it is to make.
How to make Laundry Detergent
To make this homemade laundry detergent it is a two-step process-
Grate the Kirk's Castile Soap
Mix and store all 4 of the ingredients in a large container
I love to store it in a glass container like this one which makes storage easy and super cute.
*Quick note- I bought the store brand Baking soda for this recipe only because it was on an awesome sale but I usually get the Arm and Hammered one.
Tips for making your own laundry detergent
Some ideas that will make mixing your DIY Powder Laundry Soap easy-
I suggest wearing a mask if you have breathing issues. I have Asthma so I always mix this outside with a mask on. Your working with fine powdery ingredients so I always lean to safety first.
I typically mix this in a 5-gallon bucket like this one so I have room to stir and not make a mess. Somes I will use just my hands to mix it, but I like to use a large spoon like this one too. If you have sensitive skin I would use a large spoon to mix.
I like to pour a little of each ingredient in at a time and them mix well and then repeat until I have all my ingredients mixed together. This ensures the best even mixture possible.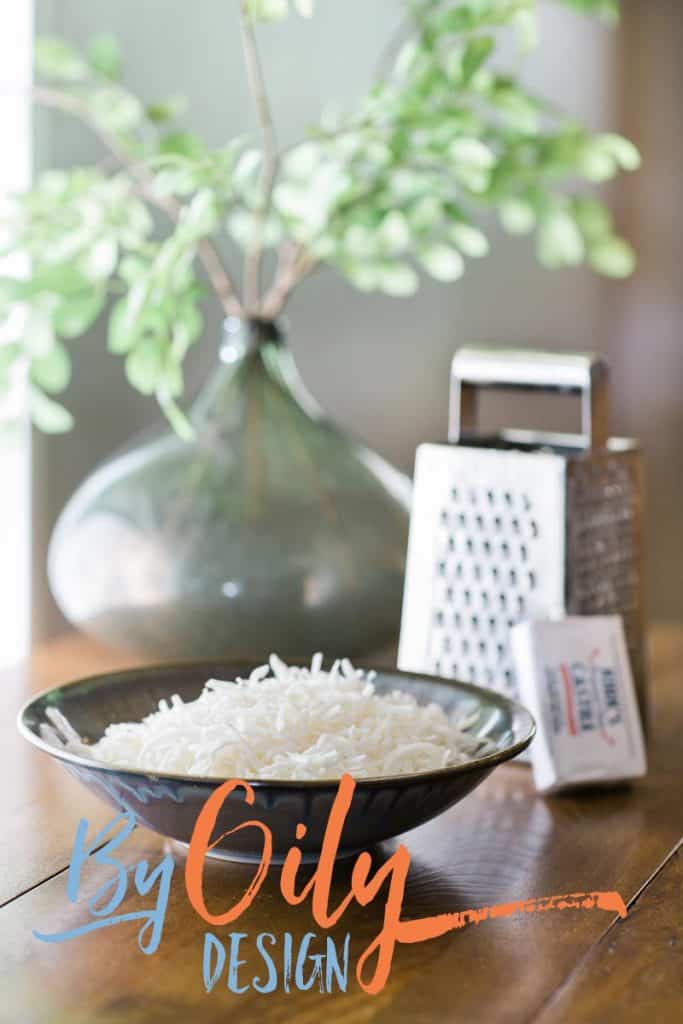 Ideas for the grating method-
I use a box grater like this one because it makes holding the grater safer and easy to grate.
The grating of your soap can be hard if your soap is really cold. So I usually like to lightly heat it in the microwave to barely warm it up. The amount of heating time really depends on your microwave but I usually start at 10 seconds and I heat it on a piece of paper towel.
When heating the soap in the microwave, you only want it slightly warm so that it is easier to grate. If you get the soap to hot it can burn you so use caution. I sometimes will wrap a paper towel around the soap to protect my fingers.
After grating, once the soap has cooled back down, you can break the pieces up even smaller just by using your fingers in the grated soap. The smaller the pieces the better your soap will mix.
Adding Essential Oils
In the recipe, I list adding essential oils as an option.
I love mixing up the scent of my laundry so mixing essential oils in my this laundry soap recipe is something I don't typically do.
I like to use wool balls in my dryer so that is when I use essential oils to scent our laundry.
You can check out my post on using essential oils with wool balls – https://www.byoilydesign.com/save-money-by-essentially-detoxing-your-laundry/
I also love to use 1 tbsp of this natural laundry detergent and then add 1/4 of a cap full of the Young Living Thieves laundry soap. That way I really get some cleaning power in my wash.
Where to get the essential oils to scent your laundry-
I'd first like to suggest picking a really good all-natural essential oil. there are many essential oil companies out there that include synthetics in their essential oils and why go to all the trouble to create an all-natural laundry detergent to then go and ruin it with using poor quality essential oils.
I'd love the opportunity to walk you through essential oils and help you choose the best oils to use for your needs.
When you purchase a Premium Starter kit through me you will receive Free one on one mentoring from me to help you get comfortable and using essential oils in your life.
I promise by the time we are done you will be a rockstar user of essential oils!
If you are not into getting a premium starter kit you can always opt-in for a Young Living basic kit. It is also a great way to get you started it's $45 for the basic kit that comes with Stress Away oil and then you could add a bottle of Lemon essential oil to your order for a great and inexpensive way to start.
Would you love the chance to find someone to help mentor you through the process?
What if I told you I would help you for FREE!
I'd love the opportunity to walk you through essential oils and help you choose the best oils to use for you. When you purchase a Premium Starter kit through me you will receive Free one on one mentoring from me to help you get comfortable and using essential oils in your life. I promise by the time we are done you will be a rockstar user of essential oils!
The above recipes are made using Young Living Essential oils. They are the only essential oils I trust to use on my family. The reason I use only Young Living is pure and simple, I know the quality that goes into Young Living oils. I only want the best and purest to use on my family and Young Living Guarantees that with their Seed to Seal pledge. If you are new to essential oils or have been using different brands, I'd love the chance to introduce you to Young Living essential oils. Let me help you get started on a healthier lifestyle for you and your family. To find out more, I'd love for you to check out my post on
It's a fun and informative post about how this normal, plain jane mom got started with essential oils and how you can too! check it out here- How to get started with Essential Oils.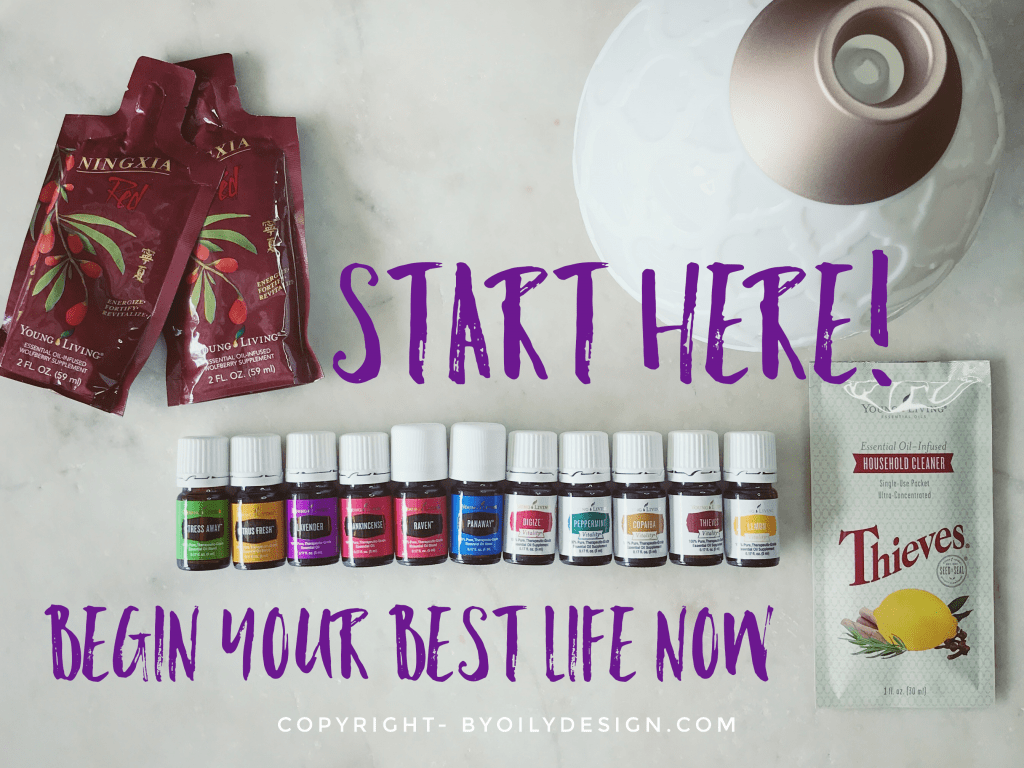 I hope once you try this you will leave me a comment and tell me how it has rocked your world too!
COPYRIGHT: © Ruth Rackley and By Oily Design, 2015. You may use the URL of this post to share it on social media. You may also use the URL of this post to link to it from another website/blog. However, no part of the text of this post may be copied and used in a social media status update or on another website/blog without prior written permission of the author. You may share the graphics/s associated with this post on social media as long as they are not edited in any way. However, you may not use the graphic/s associated with this post on another website/blog without prior written permission of the author. This post and the graphic/s associated with it may not be printed and distributed without the prior written permission of the author. Unauthorized use and/or duplication of this material is strictly prohibited.
DISCLAIMER: The information on this website is based upon my research and personal use of Young Living essential oils. The statements made and the products mentioned on this website have not been evaluated by the Food and Drug Administration and are not intended to diagnose, treat, cure, or prevent any disease. Please read the full disclaimer here

Homemade laundry soap that will save you money.