Homemade body scrub
Do you want your skin to look like a million bucks without having to spend? A natural homemade sugar scrub can boost the health and appearance of your skin and make you feel like you have spent an afternoon in a rejuvenating spa. In this post, learn about the benefits of sugar scrubs, how to make sugar scrub recipes at home using essential oils and simple ingredients, and how often to use them.
What is a natural sugar scrub?
A sugar scrub is a natural skin care product that is made up of sugar granules. It helps to exfoliate the dead skin cell buildup leaving you with soft skin. You can use it for your face and body without worrying about any reaction as it is completely natural. Sugar contains glycolic acid, which helps cleanse the skin and dissolve dead skin cells. It is also a humectant, so it does not strip the skin of its natural oils.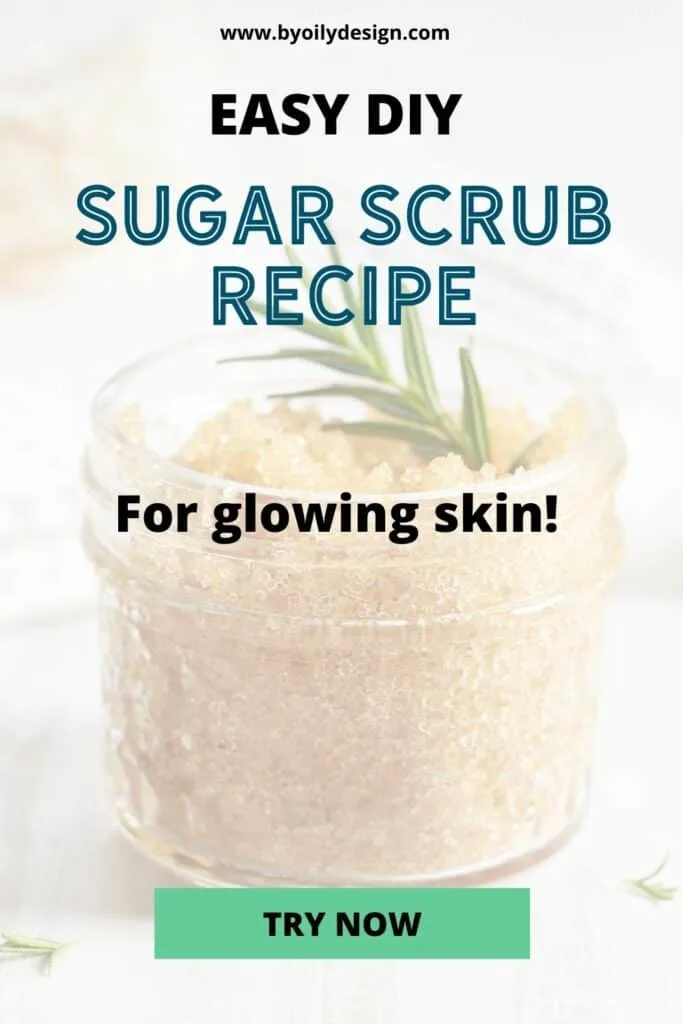 *This post contains affiliate links to the essential oils and other products I talk about in the post. Purchasing from the links here on my blog is no extra cost to you. As an Amazon Associate, I earn from qualifying purchases.
What are the benefits of using a DIY sugar scrub?
DIY sugar scrubs are natural, and you can use them even if you have sensitive skin.
Sugar scrubs are inexpensive as compared to store-bought varieties.
Sugar scrubs promote healthy and smooth skin and brighten up dull-looking skin.
Suga scrubs help naturally fight skin aging and promote the production of collagen, which helps your skin stay firm.
You can use sugar scrubs to prevent ingrown hair.
Sugar scrubs improve the efficacy of topical treatment. If you exfoliate your skin before applying a cream, the cream will penetrate your skin better.
Massaging your skin with an essential oil sugar scrub can also help you to relax and de-stress.
What do you need to make a good sugar scrub?
A good recipe for sugar scrub needs just three basic ingredients –
Sugar
Carrier oil
Essential oil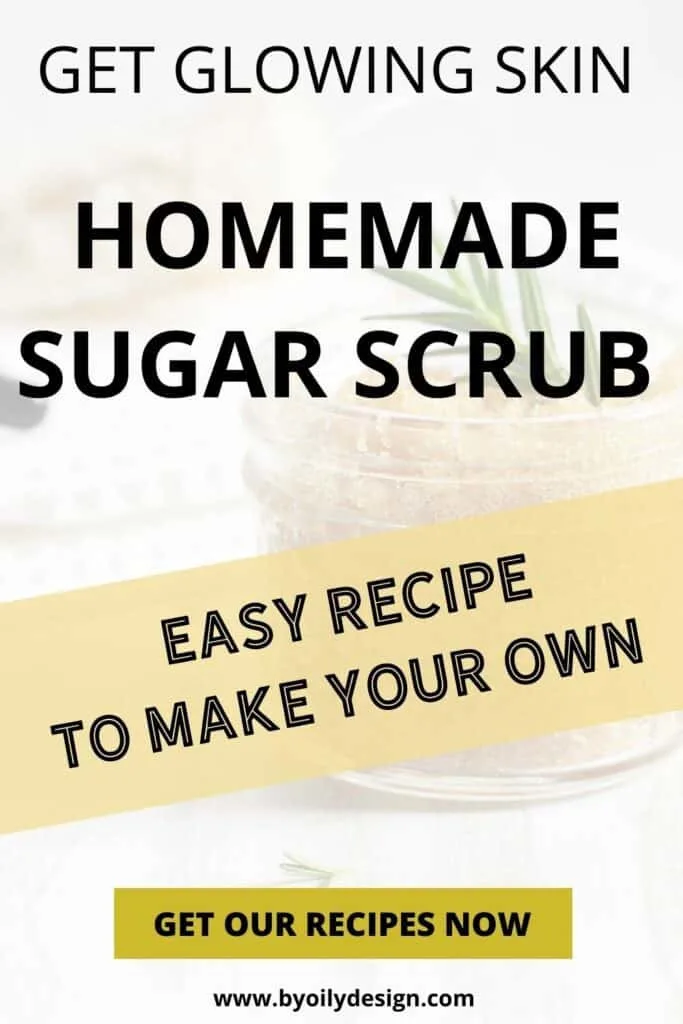 What is the best sugar to use for sugar scrubs?
While you can use the regular white granulated sugar available in your kitchen to make your DIY exfoliating scrub, there are plenty of other options available. Organic sugar is a great idea if you are creating the most natural DIY sugar scrub recipe.
Superfine sugar
This is a good choice if you have sensitive skin or if you want to use a scrub on your face.
Brown sugar
Brown sugar is gentler than regular granulated sugar. It also gives the skin a shiny glow.
Turbinado sugar (raw)
This raw sugar has large granules and is excellent for a body scrub. It is not highly processed, so it also retains essential minerals that are beneficial for the skin.
What is the best carrier oil for a sugar scrub?
You can try different carrier oils, also known as vegetable oil for your recipe for sugar scrub and see which one suits you the best. Use cold-pressed organic oils whenever possible. Here are some of the best options – Check out in-depth post on the best carrier oil for your skin type
Apricot oil
Apricot oil is non-greasy and is best suited for sensitive, dry and mature skin.
Avocado oil
It is heavy in texture but does not leave any residue. It helps maintain skin elasticity and is rich in nutrients.
Coconut oil
It is packed with antioxidants and has moisturizing and conditioning properties. It also helps skin with sun damage. Use fractionated coconut oil for your scrub as it is non-greasy.
Hazelnut oil
It is beneficial for oily skin as it has astringent qualities. It absorbs quickly and can be used for sensitive skins.
Jojoba oil
It is odorless, non-greasy, and can penetrate the skin quickly. It can be used for all skin types.
Olive oil
Olive oil is an excellent option if you have dry, itchy skin. However, since it is greasier than other oils, you can avoid adding it to recipes for face scrubs.
Grapeseed oil
This oil is light, and it absorbs quickly into the skin. It can decrease clogged pores and can be added to face scrubs.
Sweet almond oil
It is rich in vitamins and helps maintain skin elasticity. It promotes better circulation and protects from UV rays.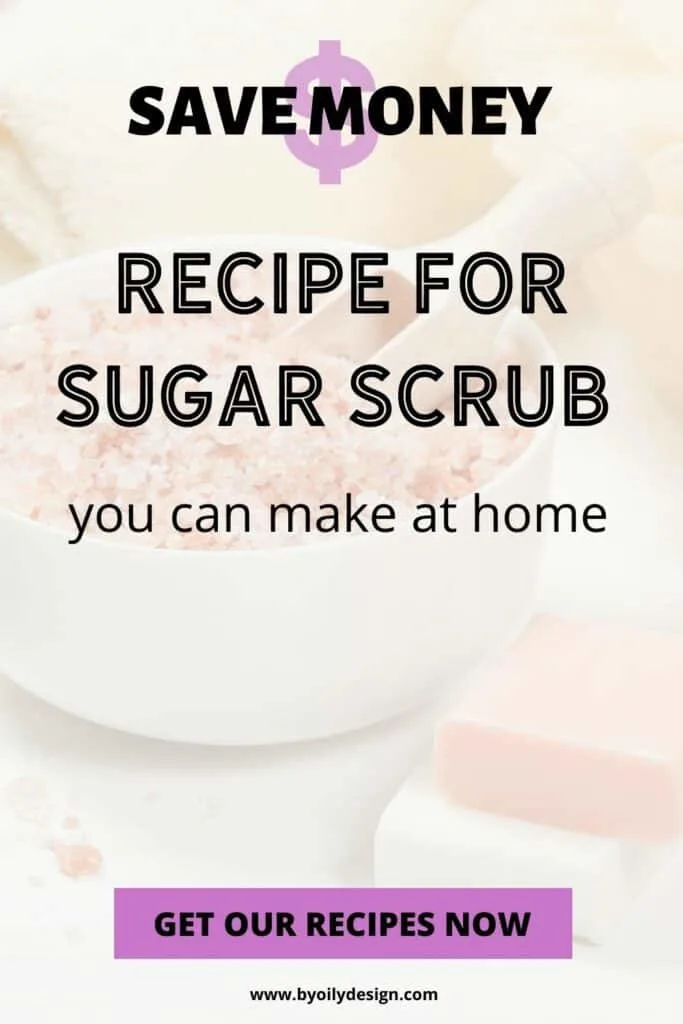 What are the best essential oils for a sugar scrub recipe?
Here are some of the best essential oils to add to your homemade sugar scrub recipe. Not only do essential oils have a great fragrance, but they also contain beneficial properties for your skin. I love playing around with the essential oils to create different scents.
Orange essential oil
Orange oil promotes collagen production and supports blood circulation. It improves skin texture and gives you younger-looking skin.
Lavender essential oil
It helps balance moisture levels and reduces redness and inflammation of the skin. It is a gentle oil that is good for sensitive skin.
Peppermint essential oil
Peppermint essential oil will make a good ingredient for your sugar scrub as it works well for oily and acne-prone skin.
Chamomile oil
Chamomile oil is rich in antioxidants, which help protect the skin from dirt, pollution, and UV rays. It also helps reduce blemishes and prevents flare-ups. It helps to calm inflamed or irritated skin.
Frankincense oil
Frankincense oil can help tone and lift the skin. It can enhance the appearance of more youthful skin.
Geranium oil
It tightens skin without reducing moisture and suppleness. It soothes inflamed skin and boosts skin's health and natural glow.
Tea tree oil
Tea tree oil helps to unclog pores, reduce redness and promote healing of existing breakouts. It also helps relieve dryness and flakiness of the skin.
Neroli essential oil
Neroli oil can revive skin at the cellular level. It can be used to avoid wrinkles and lighten scars.
As a note, I would personally avoid any sugar scrubs using Cinnamon oil. As it has been reported to cause allergic contact dermatitis in sugar scrubs- Cinnamon Sugar Scrub Dermatitis: "Natural" Is Not Always Best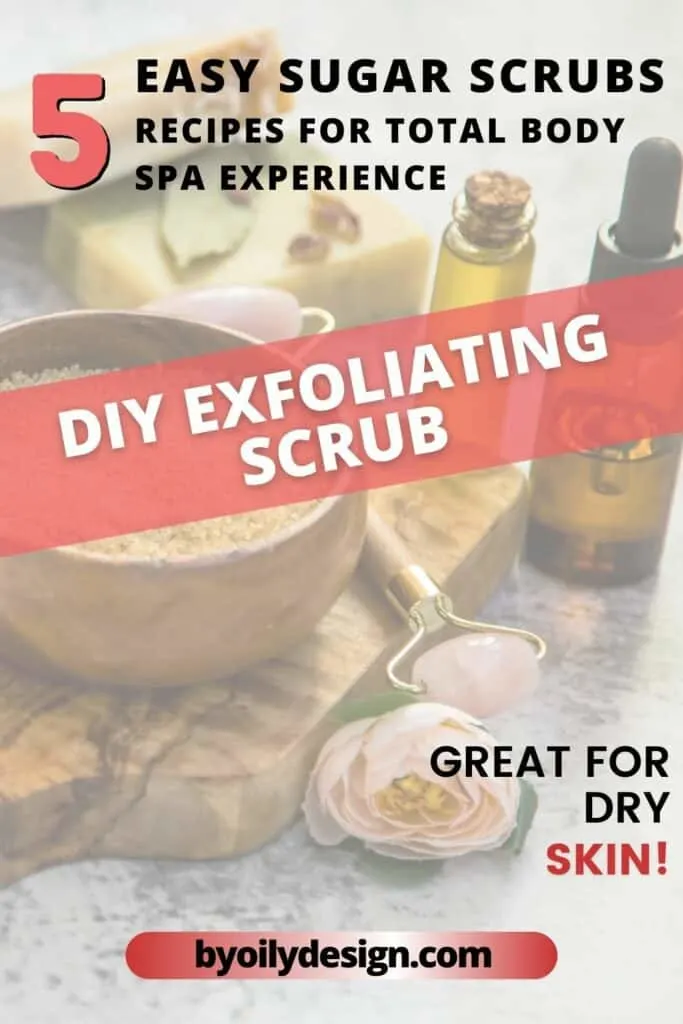 How to make a basic sugar scrub?
Now that you have chosen the natural ingredients for your sugar scrub, it is time to create your sugar scrub recipe.
1. Take a glass bowl and add one cup of sugar to it.
2. Add ¾ cup of the carrier oil you have chosen to it. You can add a little more oil if you find the scrub to be too dry.
3. Now, add a few drops of the essential oil of your choice to this mixture.
4. You can store this homemade scrub at room temperature in an airtight glass container for up to two months.

Here are some easy-to-make sugar scrub recipes for the body, face, lips, and legs for you to try. You can change the proportions of the ingredients to suit you. Pair these scrubs with our homemade body wash and face serum for a total spa day experience.
Sugar scrub for face – Lavender sugar scrub
Ingredients
1/2 cup of fine granulated sugar
½(a little less) cup of virgin coconut oil
5 drops lavender essential oil
5 drops frankincense oil
Method
Mix all the ingredients in a glass bowl and store them in an airtight container. I prefer to store in a glass mason jar. Your homemade sugar scrub for face is ready to be used. Take a small amount in your hands and lightly massage the scrub on your face and neck. Avoid the eye area. Rinse your face and neck with warm water and pat dry.
Sugar body scrub
Ingredients
1 cup of brown sugar
½ cup of sweet almond oil
Five drops of peppermint essential oil
Method
Mix all the ingredients. Ensure that the mixture is not too runny. Add more sugar to thicken the mix. You can also add a few capsules of vitamin E to this mixture for added benefits. Rinse your body so that your skin is wet. Now massage this scrub on your body in a gentle circular motion. FYI use caution around sensitive body parts when using peppermint oil. Rinse your body and apply moisturizer.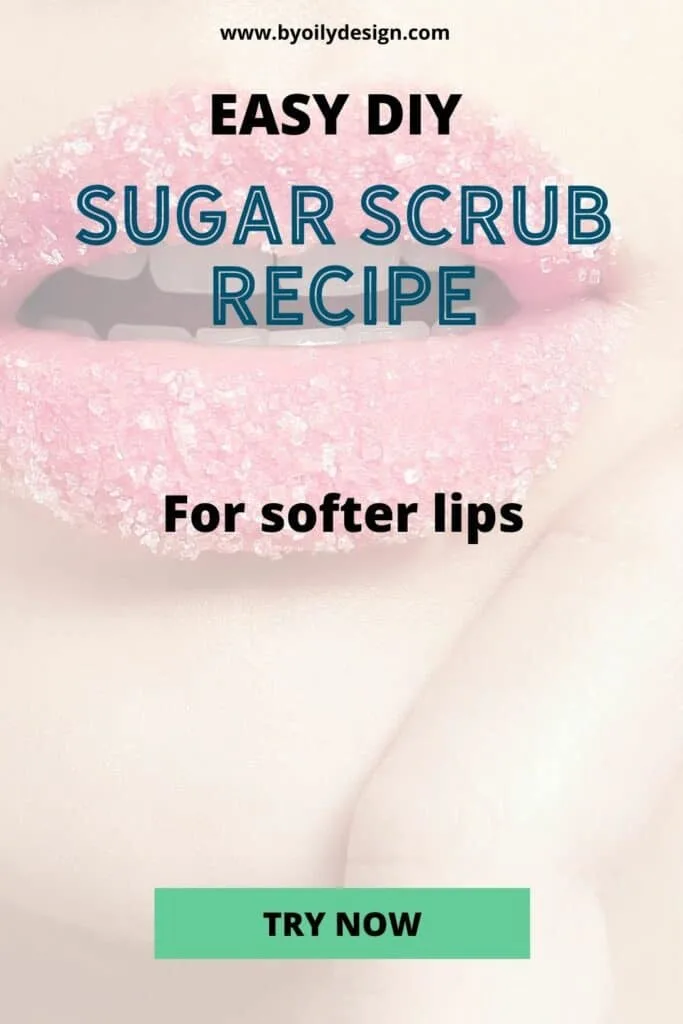 Sugar lip scrub – lavender lemon sugar scrub
Ingredients
1 -2 tablespoon brown sugar
1 teaspoon jojoba oil
½ tablespoon organic honey
1 drop lavender oil
1 drop lemon essential oil
Method
Mix the honey and jojoba oil in a glass bowl. Then add lavender and lemon essential oils. Now add brown sugar till the mixture reaches the desired consistency. Avoid going out in the sun for a while after using this scrub.
Sugar scrub for your legs
Ingredients
1 ¼ cup sugar
½ cup olive oil
15 drops lemon essential oil
Method
Put all the ingredients in a mason jar. Shut the lid and shake it well. This super simple recipe for DIY sugar scrub for legs will make your legs softer and smoother. This recipe without coconut oil is not sensitive to weather and does not harden. You can add it to a squeeze bottle and pour out the amount that you need. This is a great recipe to use in the winter time for dry skin.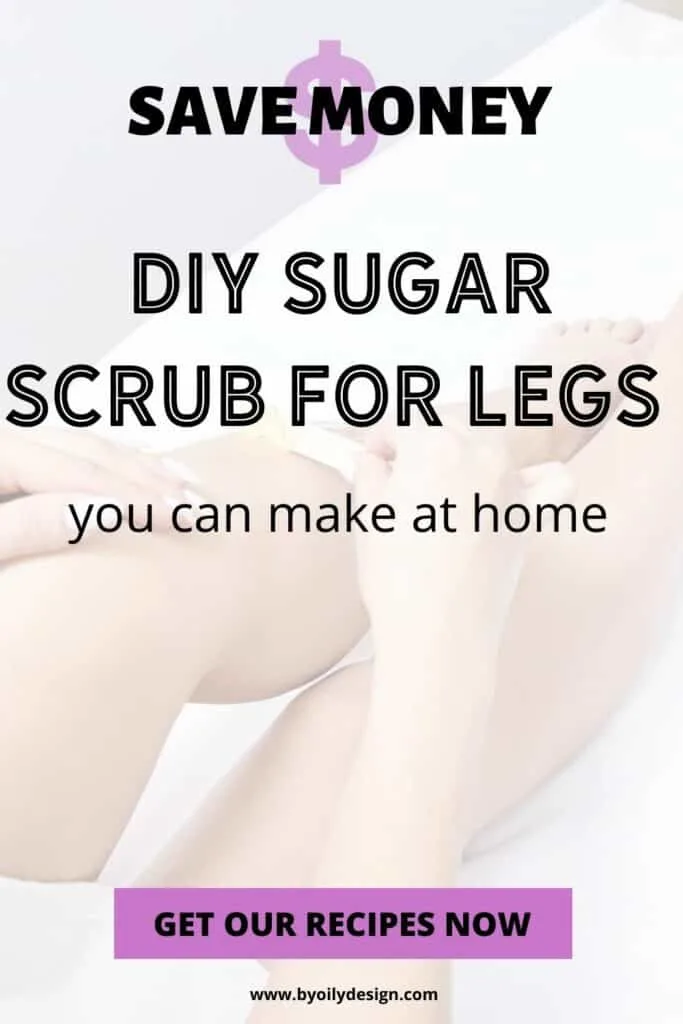 Sugar scrub for knees and elbows
The skin around our joints tends to be darker due to friction. However, a homemade scrub can quickly remedy this problem.
Ingredients
½ cup granulated sugar
½ cup coconut oil
10 drops citrus essential oil
Method
Mix all the ingredients in a mixing bowl and then store them in an airtight glass container. Scoop out a bit with a spoon whenever you want to use it and massage it gently on your elbows and knees.
Candy cane sugar scrub
If you are in a festive mood and want your sugar scrub to look as good as it works, you can make your own candy cane sugar scrub. Now, you don't need any candy canes to make this scrub, but it will look like one. This will make a great holiday gift. Just make a big batch and fill small mason jars with the scrub.
Ingredients
½ cup of white sugar
½ coconut oil
1 teaspoon vanilla
10 drops of peppermint essential oil
Red skin safe food coloring
A cocktail muddler
A decorative glass jar
Method
Combine the sugar, coconut oil, and vanilla, and peppermint essential oil in a mixing bowl. Remove half the mixture and add red food coloring. Now, layer in the white and red scrub and press down with a muddler after each layer.This is a good diy scrub for the body that gives that spa day feel. You can gift it to your friends during the holiday season.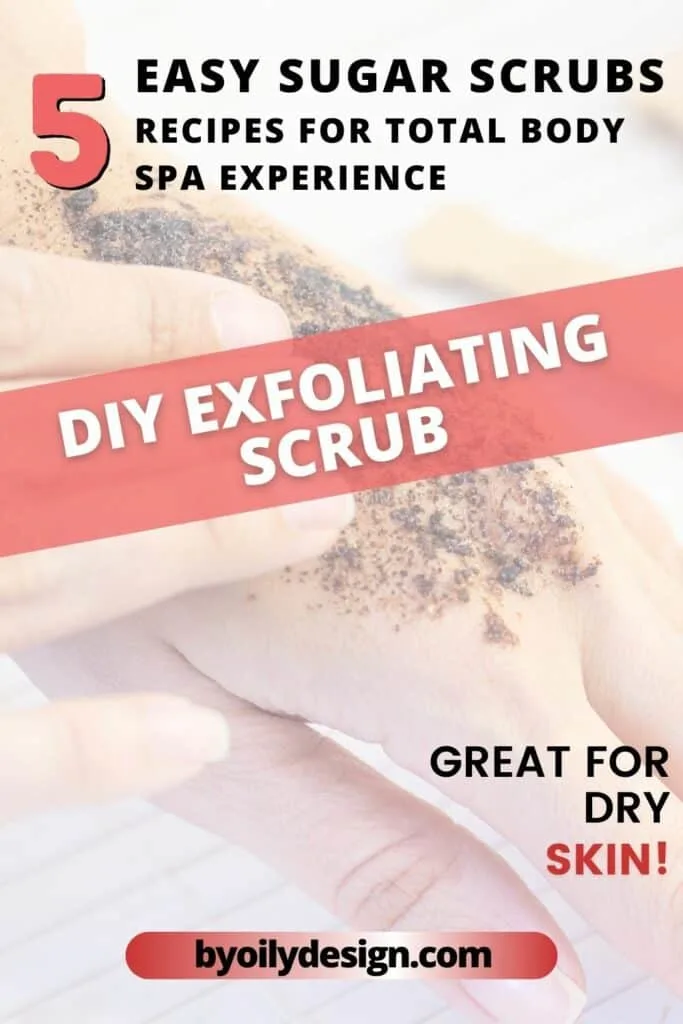 How often should you use sugar scrubs?
Sugar scrubs are an excellent way to remove the buildup of dead skin cells and make your skin smooth and glowing. However, you should be careful not to over-exfoliate as it can cause skin dryness and irritation.
If you have sensitive skin, you should exfoliate your body only once or twice a week.
People with normal skin should exfoliate two to three times a week.
If you have oily skin, you can use your sugar scrub three to four times a week.
Final notes
Sugar scrubs can be a great addition to your skincare routine. They exfoliate the dead skin off our body and moisturize it as well. You can use them on your body, face, lips, elbows, knees, and feet. Sugar scrubs are easy to make, are chemical-free, and inexpensive. So, why not give our simple sugar scrub recipe a try and enjoy the numerous benefits.
Recipe for Sugar scrub