5 Aromatherapy body wash recipes
Over the years, many of us have actively worked on making ourselves and our planet cleaner, healthier and happier. However, in our journey towards a more natural way of life, we often forget the basics. As we focus on eating organic food or wearing natural fibers, we tend to forget about the bath and shower products that we use daily. Just pick the bottle of the body wash that you use and read the label carefully. Just like with other skin care products you will find so many chemical ingredients there.
So, what's the way out? It's time to shift to homemade body wash and body cleansers. Not only are they all-natural and provide various benefits, but natural homemade body wash is also affordable and easy to make.
Read on to learn how to make homemade body wash that is natural and pure.
But before we do that, let us read about the various ingredients used to make DIY aromatherapy body wash and their benefits before we get started on the recipes.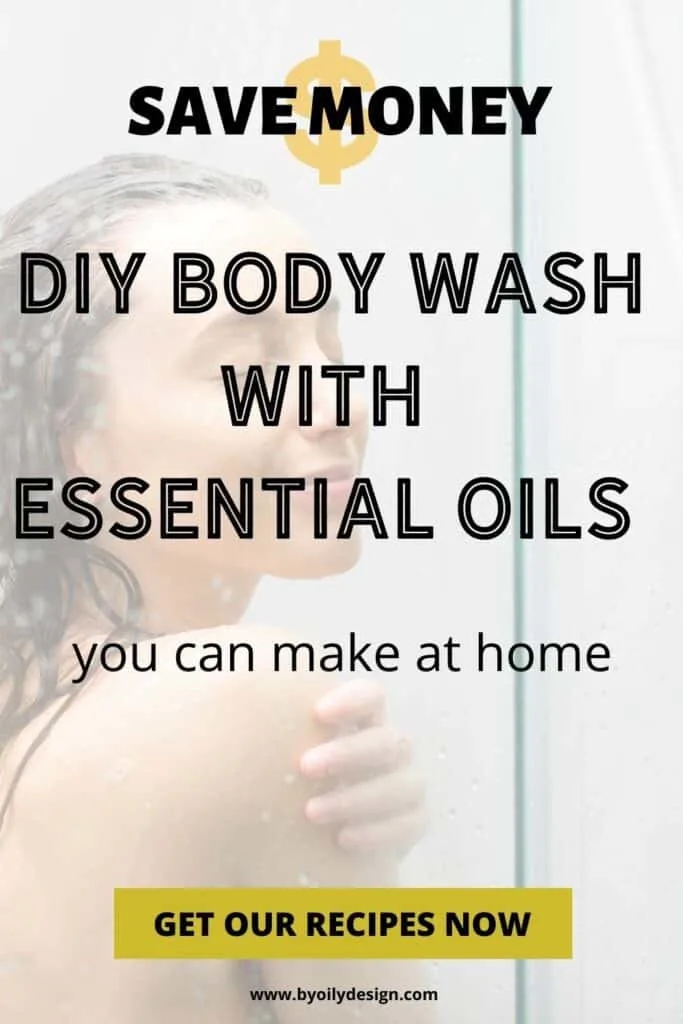 *This post contains affiliate links to the essential oils and other products I talk about in the post. Purchasing from the links here on my blog is no extra cost to you. As an Amazon Associate, I earn from qualifying purchases.
Homemade body cleanser ingredients
Castile soap
Castile soap is a plant-based product that is chemical-free and does not have any animal fat in it. It originated in the Castile region in Spain. Castile soap comes in both liquid and bar form. It is gentle and suitable for all skin types, including sensitive skin. It is naturally hydrating and encourages the natural process of shedding dead skin cells, and prevents blocked pores. Castile is used in most DIY foaming body wash recipes
Glycerin
Glycerin is a sugar alcohol that's derived from animal and plant sources. It is colorless, odorless, and has a slightly sweet taste. Its deep moisturizing power can reduce the appearance of wrinkles and maintain the skin's suppleness. It can help heal wounds, scratches, and blemishes as it promotes the natural maturation of skin cells.
Raw honey
Honey is truly a gift from nature, thanks to its many beneficial properties. The natural anti-inflammatory, antimicrobial and antioxidant properties of raw honey make it highly effective in treating various skin issues. It acts as a pore cleanser, exfoliator, fights acne, reduces wrinkles, and is helpful in sunburn. I use in this popular honey face mask that leaves my skin glowing.
Shea butter
Shea butter is a fat extracted from the African shea tree. It is rich in fatty acids, and its natural composition helps clear excess sebum from your skin. It is rich in vitamin E and A and can help prevent premature aging. Its anti-inflammatory properties prevent skin irritations.
Coconut oil
Coconut oil contains medium-chain fatty acids that reduce dryness and keep your skin moisturized. It has antibacterial, antifungal, and antiviral properties. Coconut oil reduces inflammation and promotes wound healing.
Jojoba oil
Jojoba oil is extracted from the seeds of the jojoba plant that is native to Arizona and California. It is deeply hydrating and provides long-lasting moisturization. It contains vitamin E, vitamin B, chromium, copper, and zinc, which help to nourish and protect the skin.
Olive oil
Olive oil is known for its health benefits, but it is equally beneficial for your skin. It protects and hydrates the skin and repairs damaged skin tissues. It boosts skin tone and reduces wrinkles. Another option is grapeseed oil which works great too.
Vitamin E oil
Vitamin E oil is a popular ingredient for skincare products. It moisturizes the skin and provides relief from itching caused by dry skin. It also prevents wrinkles and makes the skin look youthful.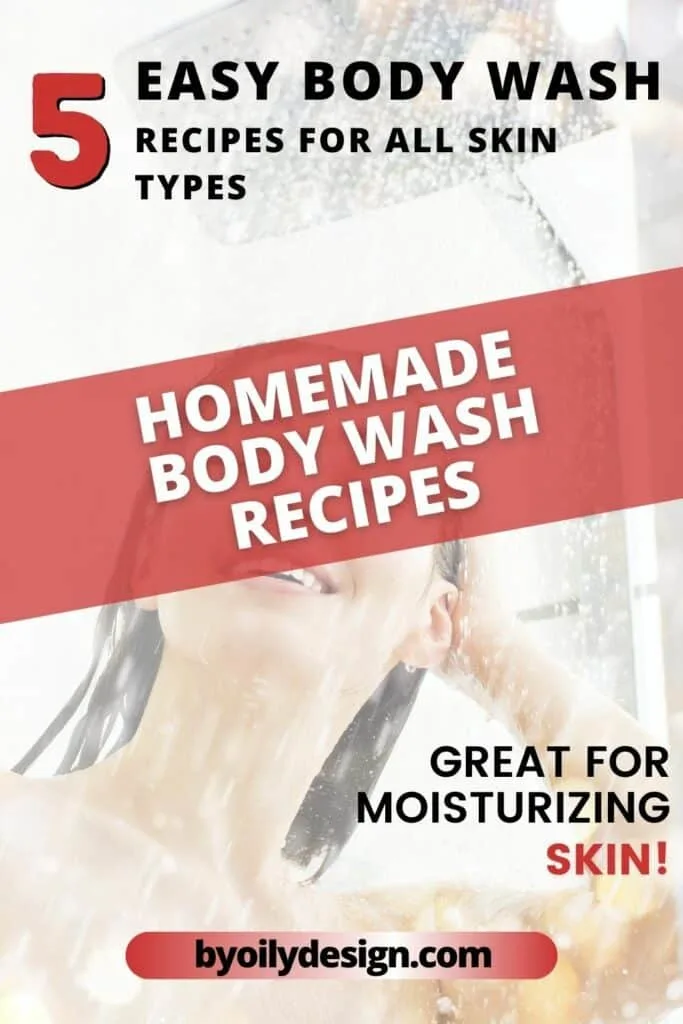 Five unique DIY body wash recipes
I love that these DIY body wash recipe are completely made with natural ingredients with zero artificial colors.
DIY Tea tree body wash
Ingredients
Honey – ½ cup
Tea tree oil – 50 drops
Coconut oil -4 teaspoons
Liquid castile soap – ½ cup
Directions
Put the coconut oil in a bowl and microwave it for a few seconds until it has melted.
Add raw honey and tea tree oil to the bowl and mix it well.
Slowly add the liquid castile soap to avoid creating suds.
Pour this mixture into the soap dispenser bottler.
This natural body wash recipe will keep your skin healthy and youthful. It has a long shelf life as it does not contain any water.
Peppermint and rosemary homemade body wash
Ingredients
Castile soap – ½ cup
Jojoba oil – 3 tablespoons
Glycerine- ¼ cup
Peppermint essential oil – 20 drops
Rosemary essential oil – 20 drops
Directions
Put castile soap, jojoba oil, and glycerine in a glass bowl and mix them well.
Add peppermint and rosemary oils to this mix and combine.
Pour this mixture into a soap dispenser bottle.
Shake well before every use.
Rosemary oil helps to improve focus and memory, while peppermint body wash benefits include energizing you and refreshing your body and mind. This is why these two oils make a great combination to be used in a body wash recipe. Adding peppermint and rosemary essential oils to liquid castile soap gives this body wash a unique aroma.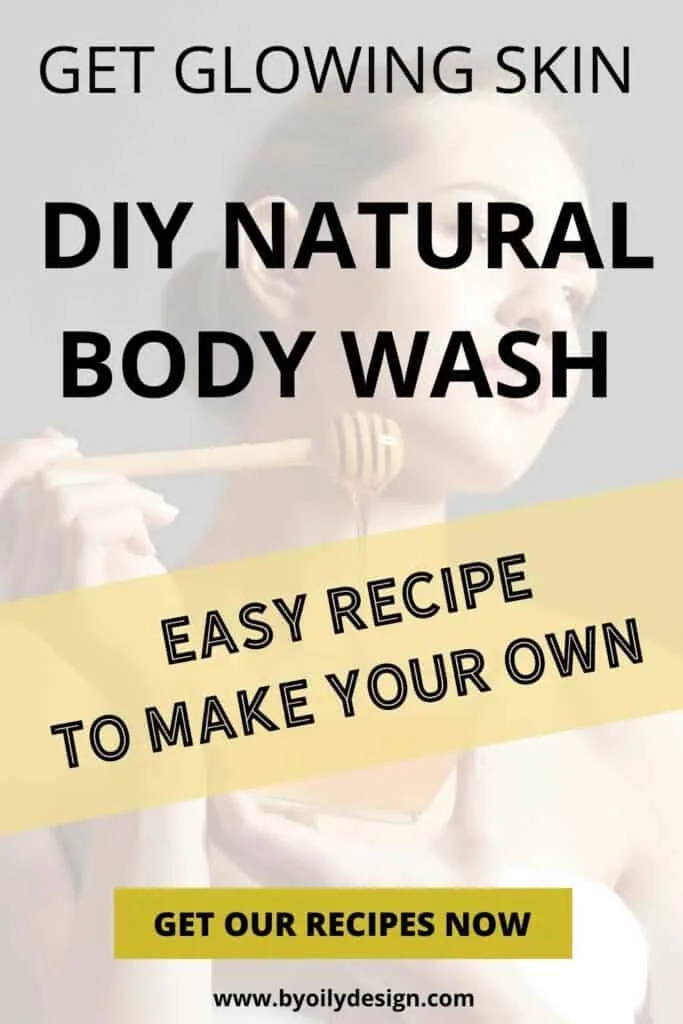 Honey aromatherapy body wash
Ingredients
Castile soap – 2/3 cup
Jojoba oil – 2 teaspoon
Vitamin E oil – 1 teaspoon
Raw honey – ¼ cup
Lavender essential oil – 10
Roman chamomile essential oil – 10
Sweet orange essential oil – 5 drops
Directions
Mix castile soap, raw honey, jojoba oil, and vitamin E oil in a glass bowl.
Add the essential oil to this mixture.
You can increase the quantity of the essential oils if you prefer a stronger aroma.
The mix of castile oil, raw honey, and jojoba oil will keep your skin soft and moisturized. Adding essential oils to body wash not only improves the aroma, and the sweet blend of these oils is designed to help you relax.
Shea butter body wash DIY
Ingredients
Shea butter – ½ cup
Sunflower oil – ½ cup
Liquid castile soap – 1 cup
Bergamot essential oil – 5 drops
Spearmint essential oil – 2 drops
Vetiver essential oil – 2 drops
Soap dispenser bottle
Directions
Melt shea butter in a microwave or use the double boiler method.
Remove from heat and set it aside for a few minutes.
Add the sunflower oil and mix well.
Add the essential oils.
Pour liquid castile soap into the mixture and mix well.
Pour this mixture into the soap dispenser bottle.
This creamy body wash is ideal for dry climate as it keeps your skin soft and forms a protective layer around the skin. It's great to use with a bath pouf. During the winter months the colder temperatures may cause the body wash to solidify, but you can place the glass bottle under warm running water to melt it.
All-natural body wash for sensitive skin
Ingredients
Castile soap – 1/3 cup
Full fat coconut milk – ¼ cup
Lavender oil -10 drops
Directions
Mix all the ingredients.
Store in a glass container.
Give the glass bottle a good shake to mix the shower soap well before using.
These natural products will protect your skin and moisturize it naturally. This body wash does not have a very long shelf life because it contains coconut milk. So, I suggest that you use it up quickly and I don't recommend using it with a pump bottle.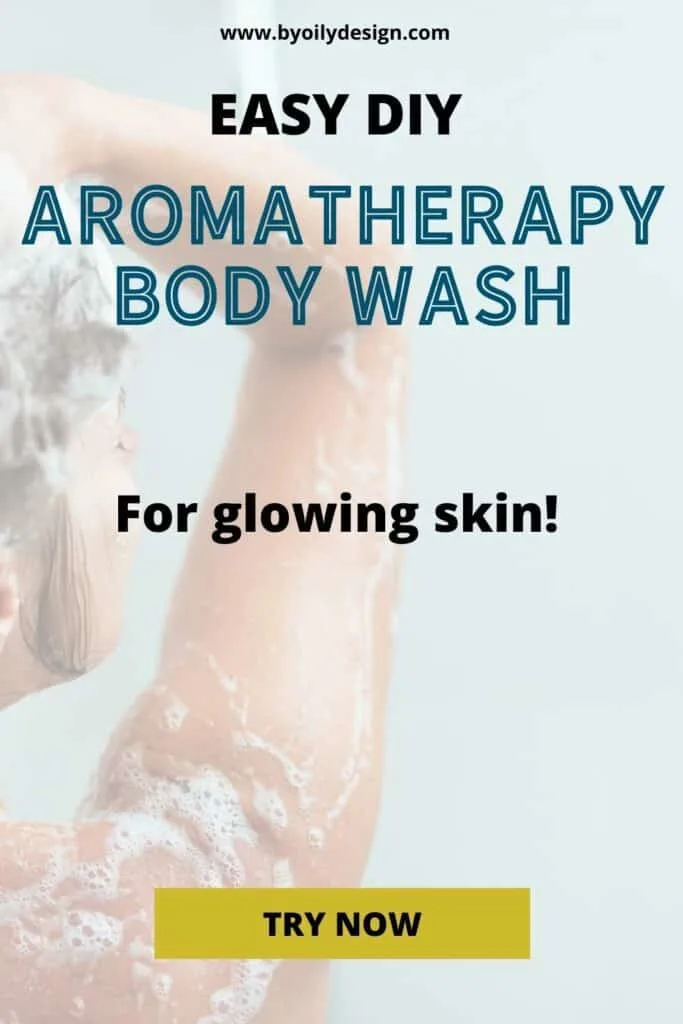 Some FAQs about how to make your own body wash
What essential oils can be used in homemade body wash?
Essential oils are a vital component of DIY body wash recipes. DIY body washes with different essential oils recipes help to nourish your skin and refresh your mind. I only use Young Living essential oils in my home. I'd be honored to help get you started with Young Living. Enroll with me here.
Other than the essential oils mentioned in the recipes above, you can use some of these favorite essential oils-
Uplifting oils
Peppermint essential oil
Orange essential oil
Lime essential oil
Grapefruit essential oil
Eucalyptus essential oil
Rosemary essential oil
Calming oils
Lavender essential oil
Bergamot essential oil
Geranium essential oil
Frankincense essential oil
Roman Chamomile essential oil
Ylang Ylang essential oil
What carrier oils can be used in homemade body wash recipes?
While olive oil, coconut oil, and jojoba oil are popular choices, you can also use sunflower oil, sweet almond oil, argan oil, apricot kernel oil, and sesame oil in your homemade body cleanser recipes. Fee free to substitute with your favorite carrier oil.
Can these natural DIY body washes cause a breakout?
While most natural products are kinder to the skin, they can lead to a skin breakout if you have sensitive skin or are allergic to any ingredients. If you are prone to breakouts, you must first make a smaller batch of the body wash and do a patch test.
How to make homemade body wash without castile soap?
Castile soap is one of the best options if you want a foaming body wash. It is all-natural and gentle on the skin. However, if you don't have castile soap, you can use unscented glycerin soap or olive oil soap.
How do you store your homemade body wash?
I suggest storing in glass containers or essential oil plastic containers that are labeled for use with essential oils.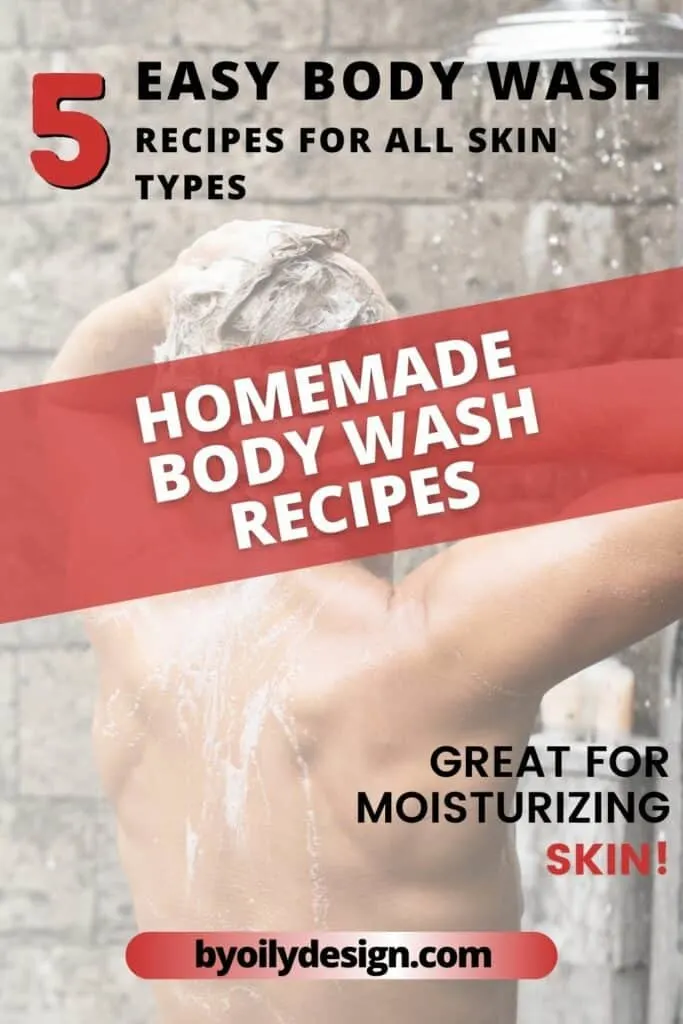 Final thoughts on how to make homemade body wash
There's nothing better than making natural options for skincare product at home. Not only is it fun to create new recipes and favorite scents, but you can also share them with your friends and family. In addition, it is also a great way to take care of your skin, your health, and the environment.
So why don't you go ahead and give these recipes a try? You will never look back once you realize how easy it is to make your own body wash at home. Let me know which recipes you tried and your experience in the comments below.
Natural body wash recipes