How to make bath salts
There is no better way to unwind after a long day than soaking in a warm bath after a tiring and trying day at work. Add bath salts to the mix, and your nighttime bath routine can become a wellness ritual. Bath salts detoxify, reduce aches, pains, and swelling and hydrate and soothe the skin.
Before you go running to the closest wellness shop, let me tell you that this self-care treat is super easy to make at home. Not only are DIY essential oil bath salts a great do-it-yourself project, but they are also a perfect gift for any occasion. DIY bath salts are also budget-friendly.
Keep reading to learn more about bath salts, their benefits, and how to make them at home.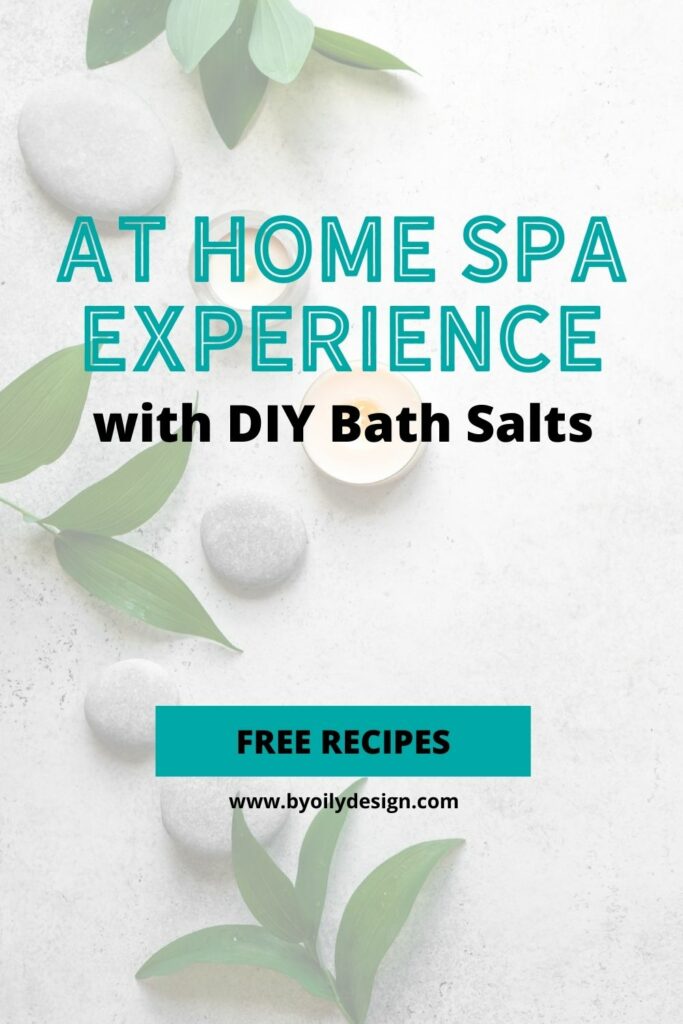 *This post contains affiliate links to the essential oils and other products I talk about in the post. Purchasing from the links here on my blog is no extra cost to you. As an Amazon Associate, I earn from qualifying purchases.
What are bath salts?
Bath salts are water-soluble, pulverized minerals that you add to bathwater. They are developed to mimic the properties of hot springs or natural minerals baths. You can also add essential oils, colors, or dried flowers to the recipes to improve the bath experience.
The use of bath salts is not new. They have been used for centuries and can work wonders for your physical and mental wellness.
History of bath salts
According to historical records, the Chinese have used bath salts for therapeutic benefits since 2700 BC. These records mention the use of over 40 types of salts.
During ancient times bath salts were used for curing all sorts of conditions and ailments. Besides creating brine for people to soak in, salt was used to make topical ointments to treat acne and wrinkles. This led to the establishment of communal bathhouses.
In 1753, an English doctor published an article on the beneficial effects of seawater made of natural salts. This helped establish clinics around the sea in France and Great Britain. The therapeutic bath salt treatment provided here came to be known as thalassotherapy, meaning sea care in Greek.
Bath salt treatments are still popular in spas around the world. Magnesium chloride, the main component in bath salts, is the same that ancient Greeks used. This mineral provides the bath salts the power to soothe tired muscles.
Types of bath salts
With the recent upsurge in the popularity of bath salts, there are many options available in the market now.
Here are the most popular bath salts and some bath salt recipes you can make own DIY bath salts at home –
Epsom salts
This salt-like crystal is made up of naturally occurring magnesium sulfate. It is named after a saline spring in Epsom, England. Magnesium aids muscle and nerve function and the production of melatonin, the sleep hormone.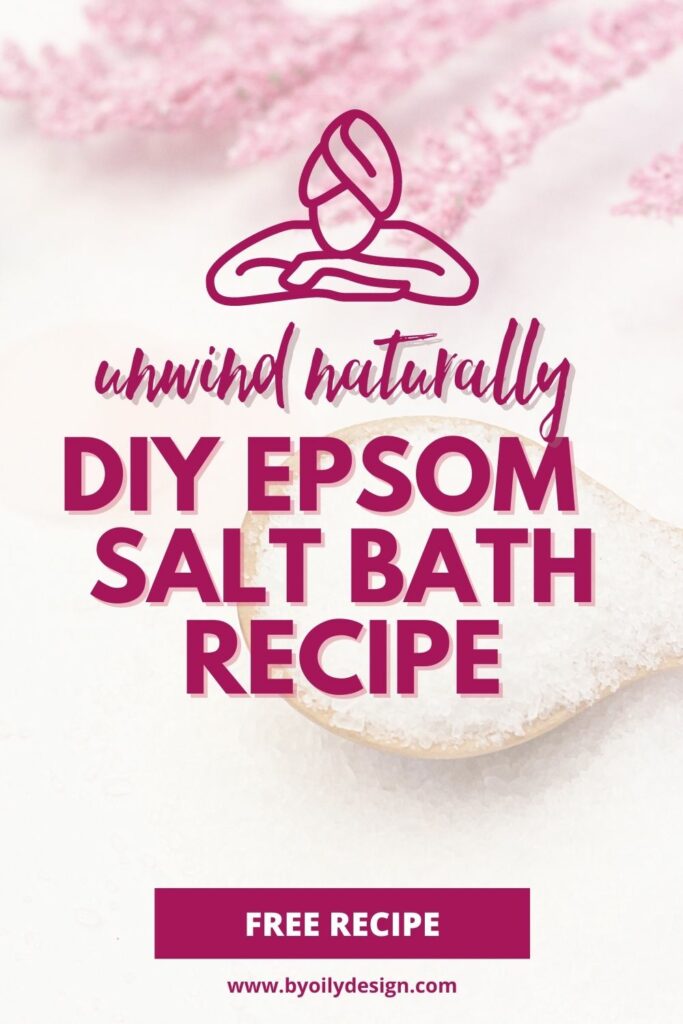 How to make bath salts with Epsom salts?
Besides relaxation, this Epsom salt bath recipe will also provide you support for overworked muscles. It contains Frankincense and chamomile oil, which are very effective as muscle relaxants.
DIY bath salt recipe with Epsom Salt
Sea salts
Sea salts are made by evaporating the salty seawater. Unlike table salt, coarse sea salts are natural and retain many trace minerals and nutrients.
Dead sea salt is one of the most famous sea salt. Besides sodium chloride, it contains magnesium, sulfates, and potassium.
Gray bath salt is another sea salt harvested from the Brittany region of France. It is low in sodium and contains iron, calcium, potassium, copper, and zinc.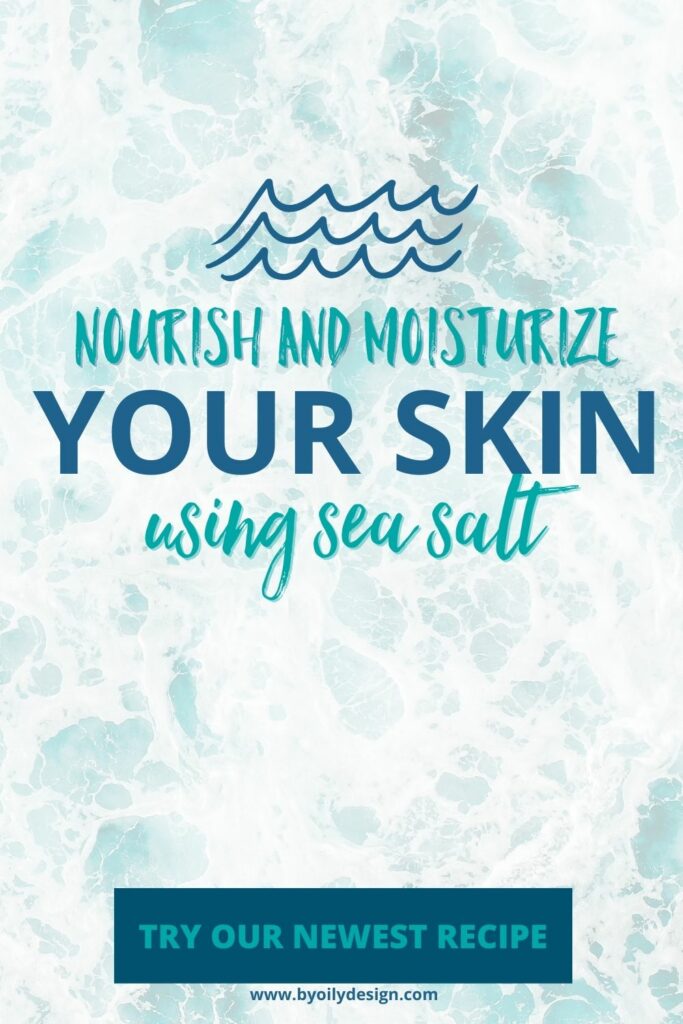 How to make bath salts using coarse sea salt?
People from around the globe visit the dead sea for its medicinal properties. Bathing in magnesium-rich Dead sea salt has many benefits. You can use the salts from the dead sea to make your own bath salts at home to soothe sore muscles, nourish and moisturize your skin and detoxify cells.
Himalayan salt
The Himalayan salt is harvested from the salt deposits created years ago when the Himalayan mountains formed. The many layers of sedimentation protected these salts from volcanic eruptions. This salt is considered the most beneficial as it contains up to 84 trace minerals, which give it a pink hue. This pink hue also makes recipes using pink Himalayan salt popular choices for a handmade gift of bath salts. It looks amazing and smells amazing when lavender buds and an essential oil blend of Lavender and Rose are added.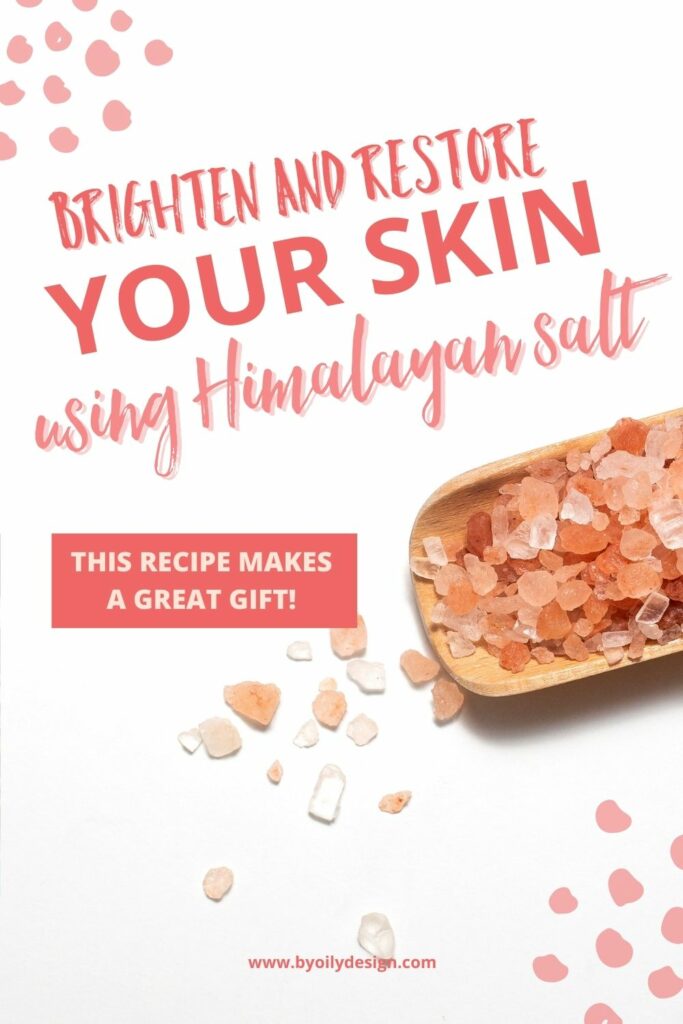 How to make bath salts using Himalayan salt?
Lung Support
This Epsom salt and baking soda bath salt with simple ingredients can rejuvenate your body and provide respiratory support.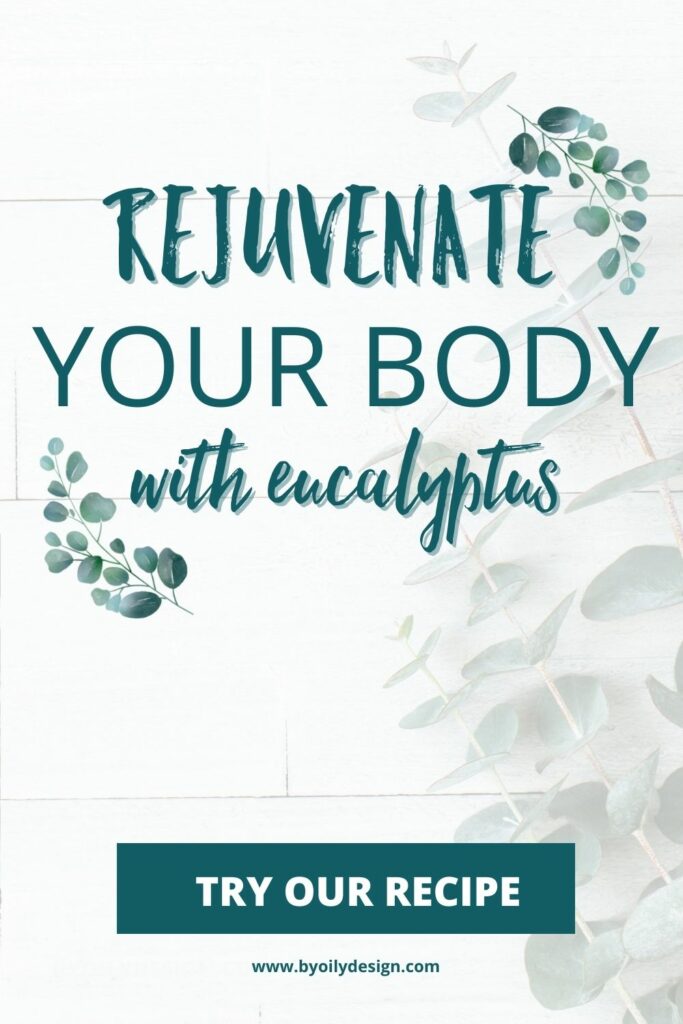 Energy mix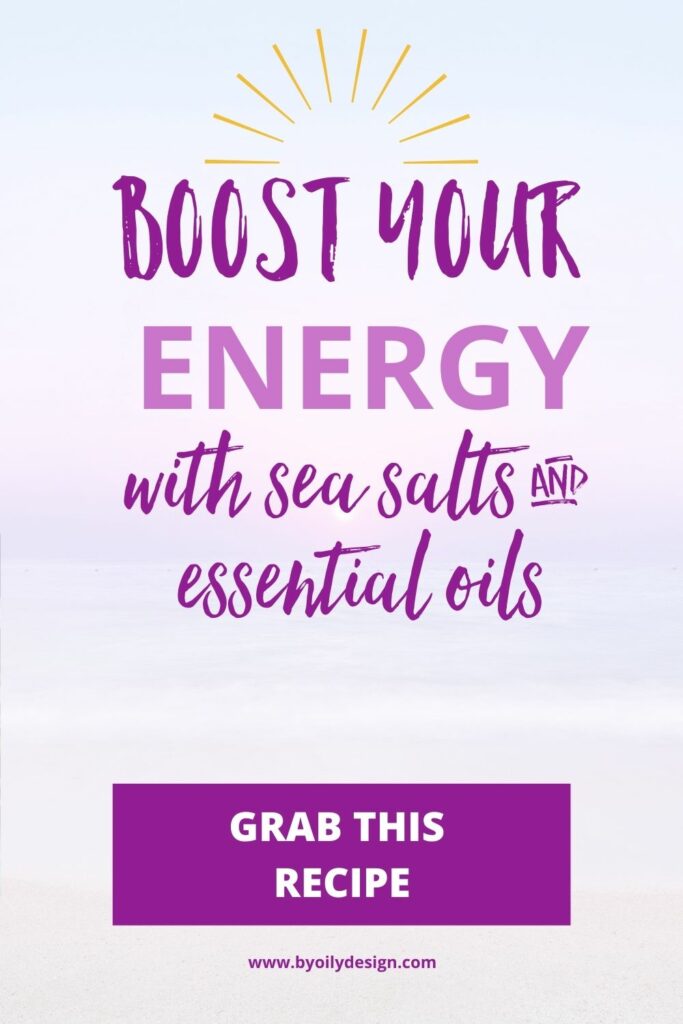 Other ingredients of bath salt recipes
Besides different salts, these recipes also use ingredients like baking soda and essential oils. All elements have their specific purpose.
Baking soda
Baking soda helps dissolve oil on your skin. It also helps absorb the essential oils, which help to keep your aromatherapy bath salts smelling great.
Dried flowers
Adding a few spoons of dried flowers like rose petals, lavender buds and calendula can add to the beauty of bath salts. They make your gift look even more beautiful.
Carrier oils
Jojoba oil, argan oil, avocado oil fractionated coconut oil, and evening primrose oil are some of the best carrier oils to use in your DIY bath salts. They are light and get absorbed into the skin quickly.
Essential oils
Essential oils work on your senses to make bath salts more pleasing. You can use any combination of essential oils you like depending on the effect you are trying to achieve. Just remember it is important to use good quality essential oils like Young Living. Also, it is important to keep the number of drops of essential oils to less than 10 for a good soak. No need to waste oils or to cause skin irritation from the improper use of too much essential oil.
Bath salt benefits
Epsom Salt benefits: Relieves pain, eases cramps, lowers blood pressure, improves cardiovascular health, secures cellular fluid retention, helps with gout, exfoliates the skin, treats sore feet, relieves constipation, helps with hemorrhoids.
Himalayan Salt Benefits: Relaxes and lowers stress, detoxify the body, adds beneficial minerals to your bath, reduces pain, improves healthy slumber, deep cleans, clears sinuses, and relieves respiratory problems.
Sea Salt benefits: Moisturizes the skin, relieves pain, promotes relaxation, detoxifies, and treats rheumatoid arthritis.
Besides sea salts, the bath salts recipes mentioned above contain essential oils, baking soda, and other ingredients. Together they provide numerous bathing salt benefits.
Help detoxify the body
Bath salts help to pull out toxins from the body gently. The minerals present in the salts also help to replenish the body.
Ease aches and pains
Epsom salts are a tried and tested remedy for easing aches and pains. Magnesium plays a vital role in healthy muscle function.
Relieves stress
Soaking in a tub of warm water can be relaxing. Adding sea salts to hot bath water benefits your health and can make the experience even better. The minerals in bath salts support physical and mental health and reduce tension.
Improves sleep
A relaxing soak in the bath can help you sleep better. Magnesium in bath salts can regulate melatonin, a critical hormone for deep and restful sleep.
Hydrates skin
Bath salts can help give you healthy and glowing skin. Epsom salts and sea salts can calm irritation and redness of the skin.
Best essential oils for homemade bath salts
Here's a list of some essential oils to use in your bath salt recipes. Creating a homemade bath salts recipe on your own is easy. just remember to keep the ratio of 10 drops of essential oil to 1 cup epsom salt or salt of your choice.
Lavender oil – It helps you relax and sleep better. It's excellent for the skin.
Rose essential oil – It promotes relaxation and calm. Its moisturizing properties help keep skin soft.
Tea tree oil –This oil is known for supporting healthy-looking skin and nails.
Chamomile essential oil – This calming oil can help you if you are struggling with turning off the world and getting sleep.
Bergamot essential oil – The light citrusy aroma is calming, refreshing, and relaxing.
Eucalyptus essential oil – This oil helps support respiratory and sinus health.
Vetiver essential oil – This humectant oil provides moisture to dry skin and a relaxing aroma.
Neroli Oil – This oil encourages sleep support and promotes relaxation.
Best essential oil blends for homemade bath salts
Here are some essential oil blends that you can use in your recipes. Mix these blends with 1 cup of your favorite bath salt.
Pure bliss
Lavender essential oil – 5 drops
Ylang Ylang essential oil – 3 drops
Grapefruit essential oil – 2 drops
Earthy peace
Sandalwood essential oil -3 drops
Patchouli essential oil – 3 drops
Lavender essential oil -4 drops
Breathe easy
Eucalyptus essential oil -2 drops
Lavender essential oil- 6 drops
Peppermint essential oil – 2 drops
Sweet dreams
Vetiver essential oil – 3 drops
Clary sage essential oil -3 drops
Juniper berry oil – 2 drops
How to use bath salts?
Fill your bathtub halfway with warm bath water and add about ½ cup of prepared bath salts to it.
Use your hand to swirl the water in the tub to dissolve the bath salts.
Now turn the water on again and fill the tub as high as you like.
Check the temperature of the water before you get it.
Soak in this water for 20 minutes.
Once you have finished your bath, rinse your body with cool water to remove salt and oils and apply a moisturizer.
Other ways to use bath salts
Footbath
Don't have a tub to soak in? Did you know footbaths can give you the same detoxing that a full tub soak can give?
Also, If your feet smell a lot, you can add bath salts to some warm water and wash your feet with it. This will ensure your feet smell fresh.
Pro Tip – A Foot soak with bath salts is an excellent way to soften dry skin before a pedicure.
Body scrub
To make a body scrub with, add 1/3 cup olive oil to one cup of the prepared bath salts. Mix all the ingredients to create a thick paste. Use your hands to apply it to your body in a circular motion. Focus on areas with dry and bumpy skin.
Side effects of salt water bath
There are several bath salt benefits for mental and physical health. However, they can present a slight risk for some people. If you have an open wound or a skin infection, you should avoid using bath salts.
People with chronic psoriasis, acne, or even atopic dermatitis, should consult their dermatologist before using. People suffering from an allergic reaction should also avoid using.
You also risk exposure to microplastics when you use sea salts. Microplastics are a by-product of plastic waste. They are tiny bits of plastics found in water sources. Some bath salts may contain microplastics, depending on where they are sourced from. The Mediterranean sea is considered very polluted with microplastics.
DIY essential oil bath salts FAQs
How much bath salts to use per bath?
You can start with using ½ cup of bath salts per bath. Later, using 1 cup per bath should suffice.
Do I need a carrier oil for bath salts?
While adding carrier oils to bath salts is not essential, it is always better to add them. We use carrier oils in aromatherapy to dilute essential oils for therapeutic use.
What essential oils can you not put in your bath?
We all like to enjoy a relaxing bath with essential oil bath salts, but some essential oils do not belong in your bathtub. These include –
Basil
oregano
Thyme
Nutmeg
Black pepper
Camphor
Cassia
Clove
Ginger
wintergreen
Trust me, the above oils when applied undiluted to the skin can cause major burning and irritation. Avoid them in bath salts completely.
Citrus Oils should be avoided in baths if you plan to be out in the sun anytime in the next 18-24 hours.
How to make bath salts without coconut oil?
Coconut is one of the most common carrier oil used in DIY bath salt recipes. However, if you don't like coconut oil or are allergic, you can use other carrier oils like jojoba oil, almond oil, or rosehip oil.
Why are my bath salts clumping?
When moisture gets into the bath salts, they dissolve slightly and clump together. Store bath salts in a dry place and an air-tight container to prevent clumping. Make smaller batches and use them quickly.
How long do bath salts last?
Bath salts can last up to 6 months, depending on the ingredients used and how you store them. If you keep them in a sealed container and away from humidity, they will last longer.
Can I bathe with eucalyptus oil?
Yes, you can use eucalyptus oil in your bath as it helps support overworked muscles. Inhaling the vapors of this oil also helps to open the nasal passages. However, use very little of this oil as too much eucalyptus oil can irritate. 1-2 drops of eucalyptus is more than enough oil for a bath.
Can I put lemongrass oil in my bath?
Lemongrass oil is an excellent oil to soak in especially after any physical activities that are tough on the joints like sports. It is also great for the skin. You must always dilute this oil with a carrier oil before you use it in your bath.
How to use bath salts in a bucket?
You don't need a fancy tub to enjoy bathing salt benefits. All you need is a bucket or large bowl that is ¾ filled with warm water. Add around five tablespoons of your favorite bath salts like lavender bath salts and stir so that they get dissolved completely. Add a few drops of olive oil to the water and dip your hands or feet inside the bucket to enjoy its benefits.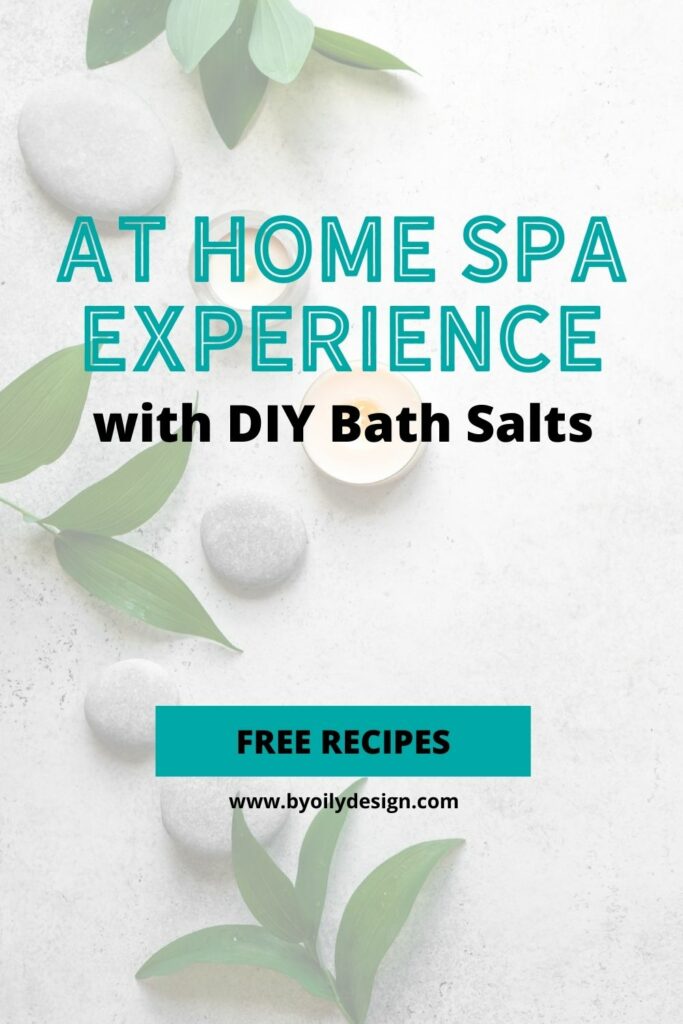 Final notes
Now that you know some excellent bath salt recipes, you have the perfect excuse to enjoy a nice relaxing bath. Besides destressing, you will also detoxify your body, moisturize your skin and enjoy a restful sleep.