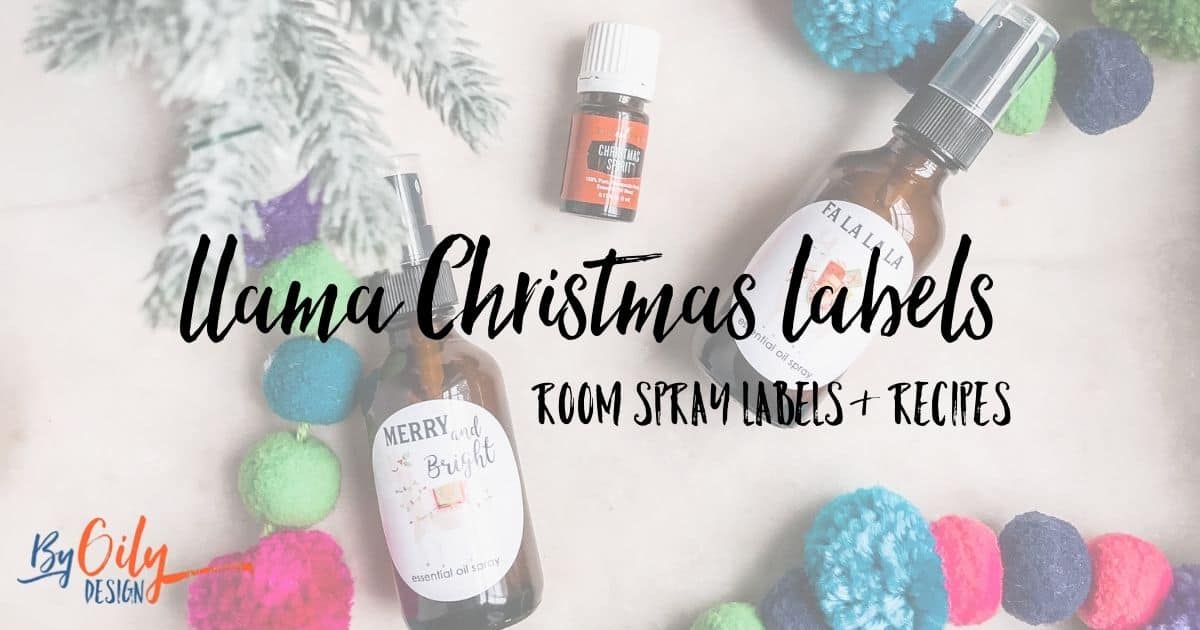 For the last three years, I've had so much fun creating Free Christmas printable labels for essential oil room spray bottles.
Everyone loves the simple gift of a great smelling Christmas room spray and when you put a beautiful label on the bottle it really makes it look special.
As I began researching options for this year's Christmas room spray recipes and matching Free printable Christmas labels I knew I wanted something whimsical and funny.
And cute adorable Christmas Llamas totally fit that bill.
To be honest, every time I look at them I smile and giggle.
I figured I was on to something when I stubbled on Llama Christmas decorations while checking out the Hobby Lobby decorations.
But It also got me asking, What is a Christmas Llama? And what is with the whole Llamas and Christmas?
So in this post, we are going to quickly cover some Christmas Llama trivia but hang tight I'm also going to teach you how to make Christmas essential oil room sprays and give you free access to download my Christmas Llama Free printable Christmas labels.
What is the Christmas llama?
Where did the Christmas Llama come from?
How to Make Christmas Essential oil room sprays
Free Christmas printables in a PDF format of Llama Christmas labels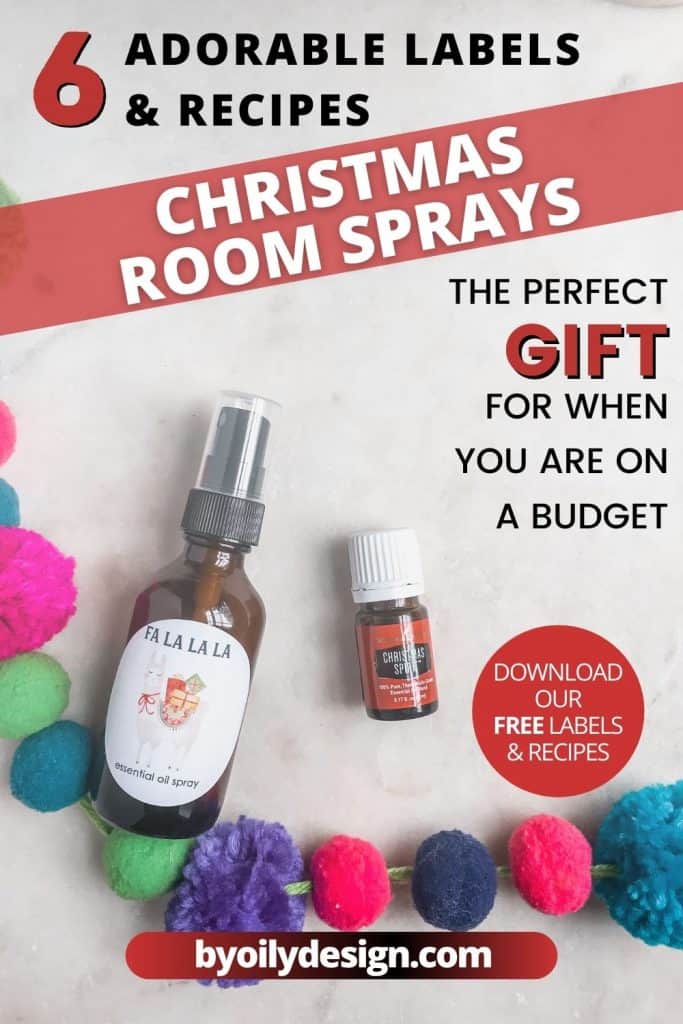 *This post contains affiliate links to the essential oils and other products I talk about in the post. Purchasing them here from my blog is no extra cost to you but I do earn a commission that helps in the cost of running this blog. As an Amazon Associate, I earn from qualifying purchases from Amazon. Thanks for your support!
What is the Christmas llama?
Maybe your like me and wondering what is with Llamas and Christmas?
Back in 2018, Christmas llamas sort of made this weird debut of sorts.
The only connection to December that I can find is National Llama day which lands on December 9th. This day is celebrated in Canada and the Americas.
So we can kind of see the connection between Llamas and December what about Christmas?
Where did the Christmas Llama come from?
Llama Love has been on the rise.
Did you know that llamas make loveable cuddly pets and love their owners, unlike the aggressive spitting Alpaca?
I personally think the Christmas Llama was created from the fact that people love wordplay with the name llama.
I figure some marketing genius figured out the "Fa La La La Llama" would be fun on Christmas Cards and wrapping paper.
And who doesn't think that a llama wrapped in Christmas lights and a scarf isn't just adorable?
Don't believe me how popular llamas are for Christmas? Check out all the adorable Christmas Llama inspired handmade items on Etsy.
The easiest DIY essential oil gifts
Hands down my favorite easy DIY essential oil gifts are essential oil room sprays.
I'm a busy mom, homeschooler and business owner. I need easy and fast. But I want them cute and it has be something people will be excited to use.
Trust me, this DIY essential oil gift is always a hit and I have people proud to show off and use their room sprays for their holiday parties and for just making their home smell amazing.
A few years ago, I made these Christmas Essential Oil room sprays that were a huge hit not only for me but for so many of my readers. I couldn't believe how viral that post went and all the thank you emails from readers were so wonderful to read.
Last year, we had a repeat of people I want to share the essential oil Christmas love with because I actually received requests. How cool is that?
I decided to make an all-new set of Christmas labels for use on glass bottles. The theme for those Free Christmas printables room spray bottles was all about Christmas Scents and making your home smell like a real Christmas Tree. It again was a huge hit.
Then this year I figured I was on a roll so let's make a fun design and the Christmas Llama design was born.
Not making room sprays but other Essential Oil Christmas gifts? Don't worry I have you covered, check out this post with Printable Christmas gift labels for any project you have in mind!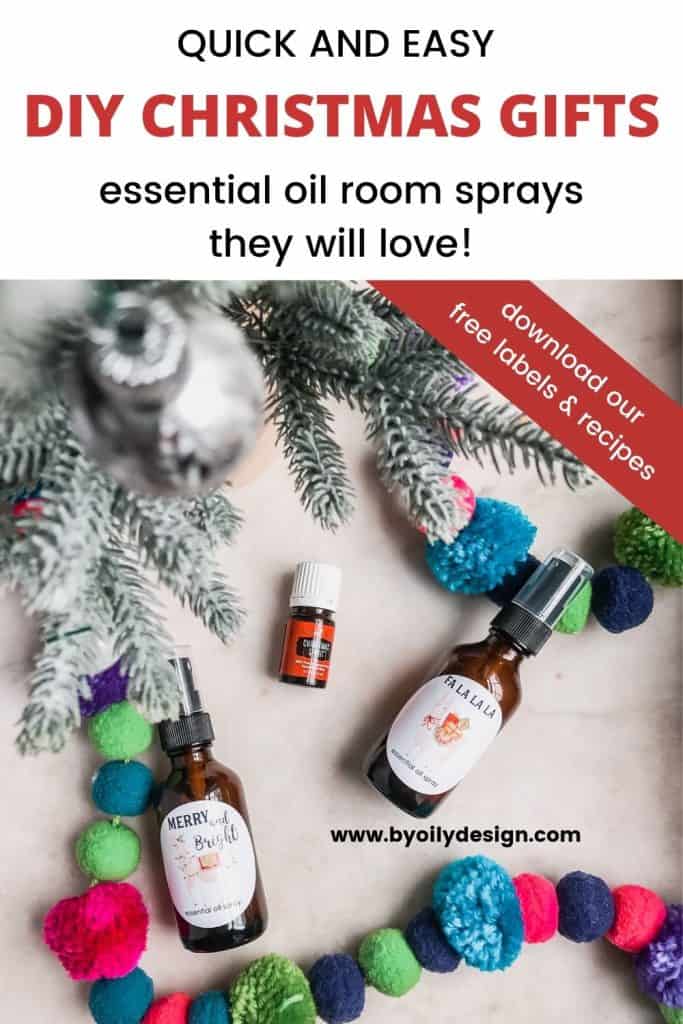 How to Make Christmas Essential oil room sprays
I love to make essential oil room sprays because they are so easy to make.
All you need is a glass bottle, a few essential oils, salt and water.
If you can count you can make essential oil room spray.
I even let me girls help me.
The supplies you need to make these amazing Essential Oil room sprays (Affiliate links)
2 oz amber glass spray bottles
Distilled Water
Essential Oils listed in the recipe
2" round Avery printable Labels #22817
For an easy to print pdf of the DIY Essential Oil Christmas Room Spray recipes and labels, Fill out the opt-in below and check your email for the download link.
Don't forget to pin this so you have it handy if you ever loose them and want more!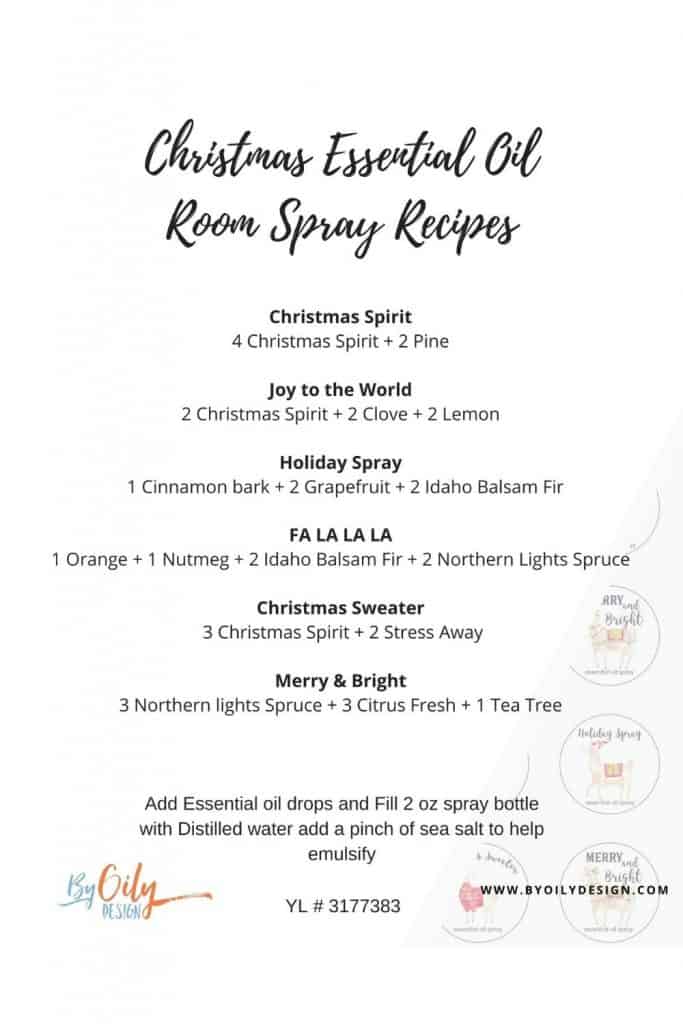 You will then be able to download the PDF document and print it out on an 8.5 x 11 sheet of paper. Super easy!
Before you download this DIY Christmas Room Spray recipes page, I was wondering if you could do me a favor?
Would you share this post on Facebook using the blue Facebook button below?
I'd love as many people as possible to see these great recipes and labels! Also, don't forget to pin it to your Pinterest DIY board or your Christmas Inspiration boards. That way you have this post for easy reference later if you need it!
Free Christmas printables in a PDF format of Llama Christmas labels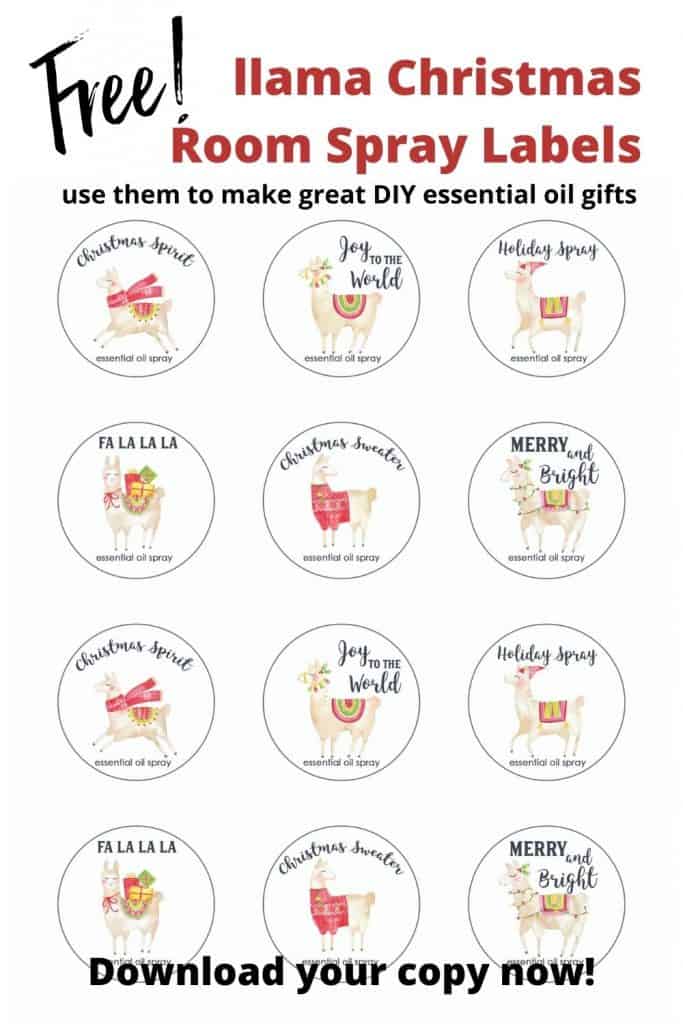 Interested in using Essential oils to clean your house? I'd love to help you get started.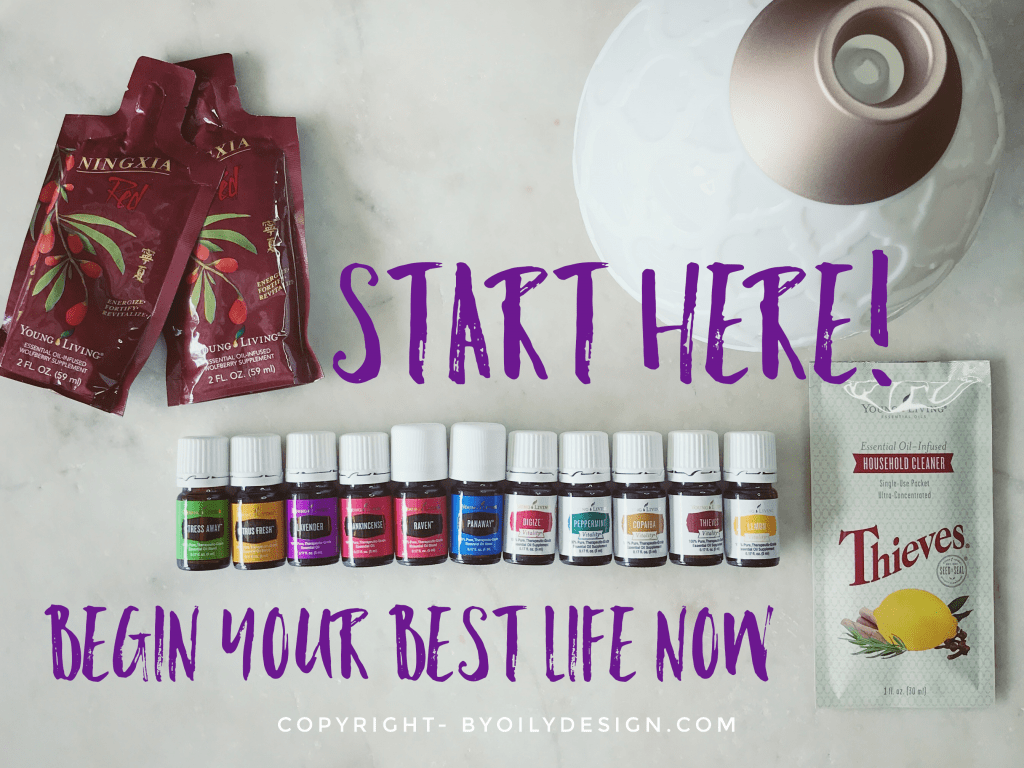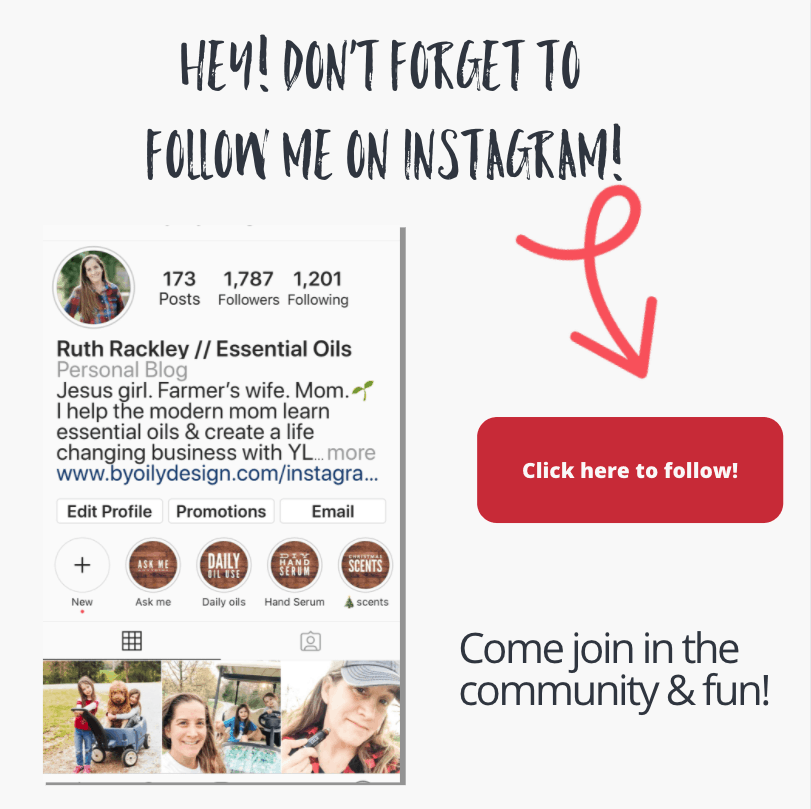 Christmas printouts