One of my favorite all time essential oils is Lemon. Lemon essential oil benefits are so many I could go on for days talking about them. I have to admit, I probably use this oil if not once a day for something it's multiple times.
*This post contains affiliate links to the essential oils and other products I talk about in the post.
I think it was the first oil from my premium starter kit that I had to reorder. I got that addicted to its fresh scent. (Don't have a premium starter kit? Get your's here)
Lemon Essential Oil Benefits
One of my favorite ways to use Lemon Essential Oil is in my diffuser. Some Lemon Essential Oil benefits you can enjoy with diffusing are Lemon's ability to promote clarity of thought and purpose with a fragrance that is invigorating, enhancing and warming.
In other words, it smells great and it is an essential oil that can have a way of making you happy and making your house smell amazing. Most of all, I love how with a touch of a button, I can neutralize a bad smell in my house, like stinky garbage or a wet dog, just by diffusing lemon. Talk about a great lemon essential oil benefits, no stinky house.
Want to see 13 of my go to Lemon diffuser recipes?
If you like these recipes I hope you will try out my other diffuser recipe post!
Feel free to adjust the drop amounts to your liking. Remember, if you are new to experiencing lemon essential oil benefits go easy on a number of drops you use. Even after diffusing became old hat for me, when I try a new oil for the first time I always take it easy and 1/2 the recipe just to test our sensitivity to it.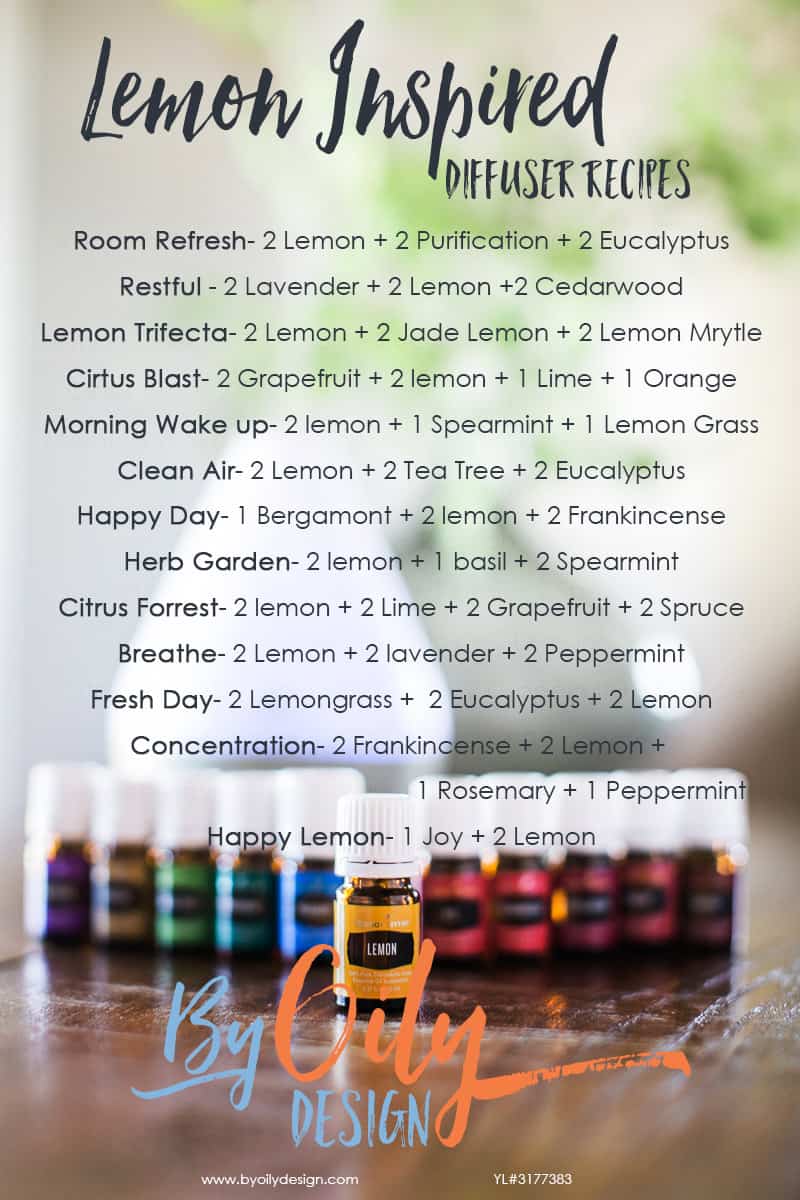 [clickToTweet tweet="13 lemon inspired diffuser recipes to quickly refresh your home so it smells amazing. Free PDF download" quote="13 lemon inspired diffuser recipes to quickly refresh your home so it smells amazing. Free PDF download"]
For an easy to print pdf of the Lemon inspired Diffuser recipes, click on the image below and download the PDF document and print it out on an 8.5 x 11 sheet of paper.
Before you download this Lemon Inspired Diffuser recipe page, I was wondering if you could do me a favor? Would you share this post on Facebook using the blue Facebook button below? I'd love as many people as possible to see these great diffuser recipes!
[social_warfare]
As always, my templates are free of charge, but I do ask that you share my printable to-do list post with all your friends on Facebook and Pinterest!
Because you know the more, the merrier! :=) You can use the handy little icons below this post to do so.
Looking to buy another diffuser check out my guide to picking the right essential oil diffuser type for your home!
[recent_posts style="1″ rows="one" title = "Amazing Content" text_excerpt="Y" mode="selectable_posts" posts_num="" selectable_posts="9240″ text_color="undefined" hide_author="" ][/recent_posts]
At the beginning of the blog post, I mentioned that the Lemon essential oil benefits are many. Check out my other blog posts where I use other Lemon essential oil Benefits in my DIY projects.
1- One of my favorites is my DIY face Serum. Lemon essential oil benefits play a huge part in promoting clear skin and more even skin tones. I can't tell you how much I love this serum even two years later I still use it all the time and my skin has never looked better.
2- Check out this Lemon Carpet refresher recipe. It makes your carpets smell so fresh. Even little girls can be a little stinky, love this quick and cheap way of keeping their rooms smelling clean.
3- Seasonal Wellness DIY – My go to quick and easy support for those times of year when seasonal stuff starts to get you down.
Are you wanting to begin the process of detoxing your home from harmful chemicals? But don't know where to start?
Does the idea of learning all about Essential Oils feel like it's more information than you can handle?
Would you love the chance to find someone to help mentor you through the process? Someone who can help simplify and make learning fun?
What if I told you I would help you for FREE!